Dear Friend,
Thank you for taking the time to read my e-newsletter. These periodic updates allow me to keep constituents informed about state and local issues through email without burdening taxpayers with printing and mailing costs.
If you find this information to be useful, I also invite you to visit my website at www.senatorlangerholc.com and on Facebook or Instagram.  If you do not wish to receive these e-newsletters, please click the unsubscribe button at the bottom of the page.  If you would like to contact my office, please go to my web page and click the contact button.  Please do not reply directly to this e-mail.
Senator Wayne Langerholc, Jr

Harrisburg Happenings
Drug-Free Calendar Contest Winners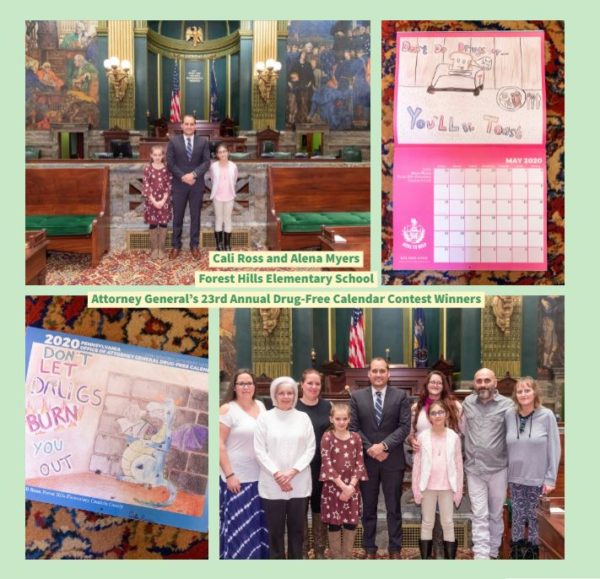 Cali Ross and Alena Myers, students at Forest Hills Elementary School, were honored Wednesday, December 12, as winners in the Office of the Attorney General's 23rd Annual Drug-Free Calendar Contest. Cali's entry was selected for the cover of the 2020 calendar and Alena's entry will be featured for the month of May. I was pleased to be in Harrisburg to present Senate citations to Cali and Alena. (l-r Alena Myers, Sen. Langerholc and Cali Ross)
Farm to School Grant Program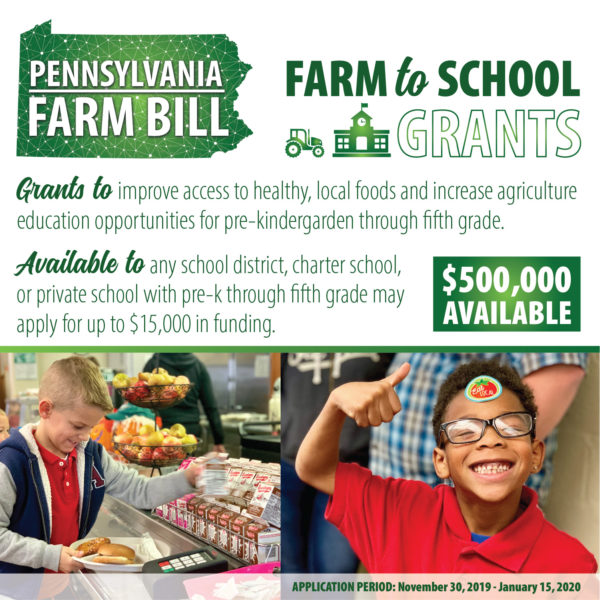 I'm pleased to announce that the Department of Agriculture is opening the Farm to School Grant Program. Made possible by the PA Farm Bill, this Grant Program offers schools the opportunity for funding to help improve access to healthy, local foods, and increase agriculture education opportunities for Pre-k through 5th grade. Application deadline is January 15, 2020. If you are interested, please apply at https://www.esa.dced.state.pa.us/login.aspx
Perfect Gift
The holiday shopping season is underway and fishing license gift vouchers make great presents and stocking stuffers for family members and friends.
Give the Gift of Fishing.
District Happenings
Clearfield Office Relocation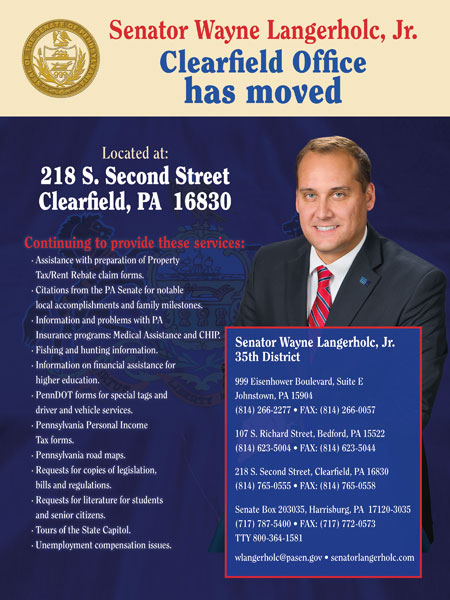 Eagle Scout Award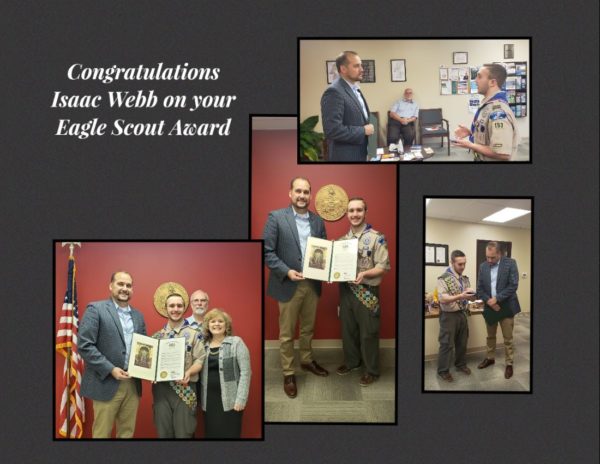 I had the honor of presenting a Pennsylvania State Senate Citation to Isaac Webb, who recently earned the rank of Eagle Scout. Isaac is a member of Troop 2183, which is sponsored by St. Mark's Episcopal Church in Johnstown. For his Eagle Scout community service project, Isaac organized the dedication of the 1889 Park Stream Trail Bridge in St. Michael, Cambria County. Congratulations, Isaac, on this prestigious honor!
McDonald's is commemorating NASA's 50th anniversary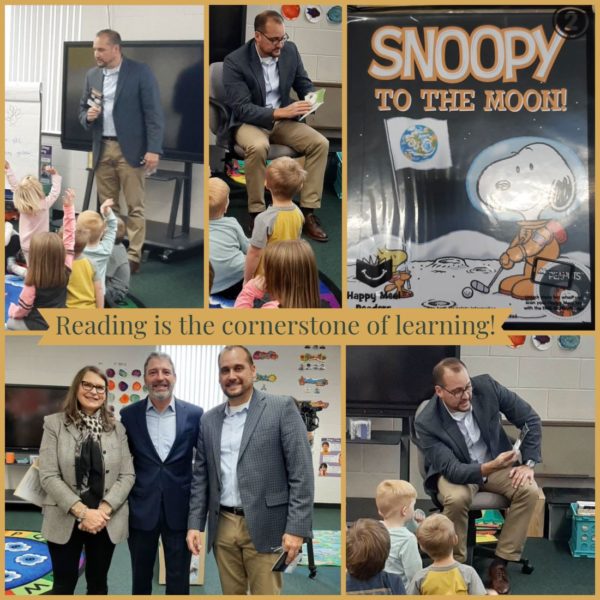 McDonald's is commemorating NASA's 50th anniversary of the lunar landing by offering four space adventure books in their Happy Meals. I had the opportunity to read to students at The Learning Lamp to help kick-off this program. Thank you for the invite!
WWII Exhibit at the Bedford County Historical Society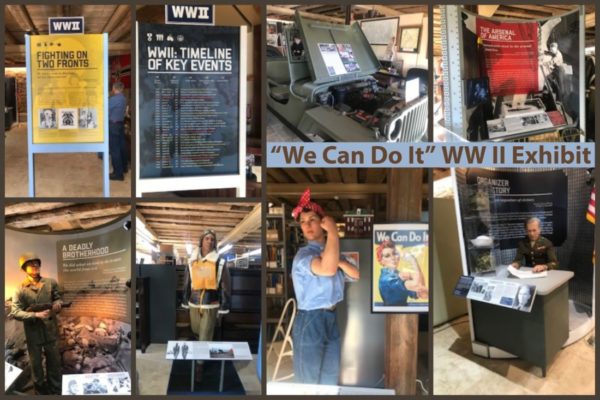 The Bedford County Historical Society held a ribbon cutting for the Senator John Heinz HISTORY CENTER TRAVELING EXHIBITION featuring the 'We Can Do It' WWII Exhibit. The exhibit will be featured at the historical society through January 28th, 2020. Please take the opportunity to stop by the historical society located at 6441 Lincoln Highway, Bedford, and see this wonderful exhibit.
2019 Distinguished Citizen of the Year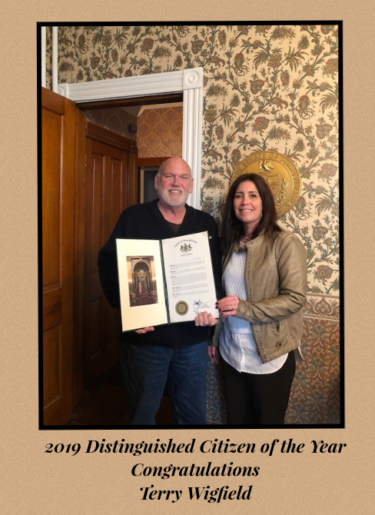 Andrea Schickling, from my Clearfield office, presented Terry Wigfield, Executive Director of Clearfield EMS, with a Senate Citation for being honored as a 2019 Distinguished Citizen of the Year by the Greater Clearfield Chamber of Commerce. Terry has been with the Clearfield EMS Inc. for over 25 years and a strong voice in the Clearfield Community for over 35 years. I extend my warmest congratulations to Terry on receiving this prestigious recognition.

Visitors to Harrisburg
I would like to remind constituents, to please feel free to stop in my office, Room 187, when you are visiting the capitol.  My staff and I welcome the opportunity to say hello to you.  If you are visiting on a session day, I can also introduce you as my guest during session.  Feel free to call 717-787-5400 if you know in advance that you will be visiting the capitol.  If you are interested in a capitol tour, you can schedule your visit online.
How We Can Help You?
Here are some of the ways that my office can assist you:
Assistance with preparation of Property Tax/Rent Rebate claim forms.
Citations from the PA Senate for notable local accomplishments and family milestones.
Information and problems with PA Insurance programs: Medical Assistance and CHIP.
Fishing and hunting information.
Information on financial assistance for higher education.
PennDOT forms for special tags and driver and vehicle services.
Pennsylvania Personal Income Tax forms.
Pennsylvania road maps.
Requests for copies of legislation, bills and regulations.
Requests for literature for students and senior citizens.
Tours of the State Capitol for individuals or groups.
Unemployment compensation issues
Reminder to Follow Me on Social Media
My Facebook page provides not only legislative updates but those all-important PennDOT construction updates for our district. I post pictures of constituents that I meet and information on other local events happening in our neighborhoods and communities. You can also follow me on Twitter and Instagram – my handle is @SenLangerholc. If you haven't already, check out my social media pages.