In this Update:
Bridge Dedication for Private First Class Kenneth John Ivory
House Passes Senate Bill 382
Honoring Eagle Scout Nathan James Knepper
Reopening of the Bedford Driver License Center
Clearfield Giving Trees Program
Visit From Cub Scouts Pack 51
Downtown Johnstown Christmas Stroll & Light Up Night
Moshannon Valley YMCA Hosts Fall Family Festival
Litter Hawk Youth Award Program
Christmas Family Fun Returns to Bedford
Webinar for First-Time Environmental Grant Applicants
Apprenticeship Week: Information for Employers and Job Seekers
November is American Diabetes Month
---
Bridge Dedication for Private First Class Kenneth John Ivory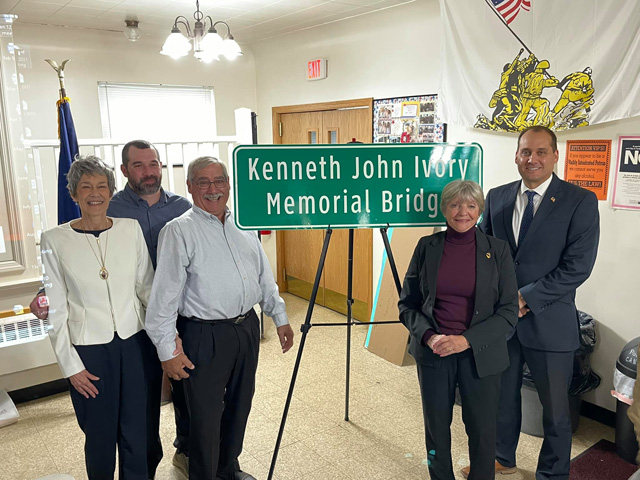 This week, we celebrated the life of Kenneth John Ivory and dedicated the bridge carrying State Route 1008 over Chest Creek after this brave soldier. Private First Class (PFC) Kenneth John Ivory was born on April 2, 1947, in Chest Springs, Cambria County, Pennsylvania. Growing up on a farm in Cambria County meant long days of hard physical work, which gave PFC Ivory a sense of pride and accomplishment of being the 3rd generation on the same farm. After PFC Ivory graduated from Bishop Carroll High School in 1965, he enlisted in the U.S. Army in March 1966. He served during the Vietnam War in Company A, 1st Battalion, 5th Cavalry Regiment of the 1st Cavalry Division. PFC Ivory was killed in action on October 17, 1966 in the Thua Thien Province.
Act 51 of 2021 by the General Assembly will forever solidify Ken's courage and patriotism at the bridge on Eckconrode Mill Road, which is near the Ivory farm where Ken and his brother, Wayne, fished and swam. Hopefully, others may learn of his bravery and sacrifice with the dedication of the Kenneth John Ivory Memorial Bridge.
House Passes Senate Bill 382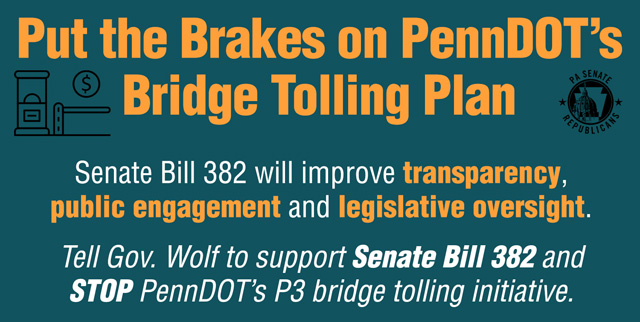 I thank the House Leadership and Chairman Tim Hennessey for prioritizing my Senate Bill 382 to reform the Public-Private Transportation Partnership (P3) statute and to stop PennDOT's hostile P3 bridge tolling takeover. It is over one year since PennDOT's P3 Board passed the resolution to toll bridges on the interstate system or expressway. The General Assembly and the motoring public have been shielded from answers on the size, scope, and tolling structure. This aggressive overreach must be tempered with compromise, particularly since Pennsylvania can leverage $4 billion in new funding from Congress's Infrastructure Investment and Jobs Act.
Honoring Eagle Scout Nathan James Knepper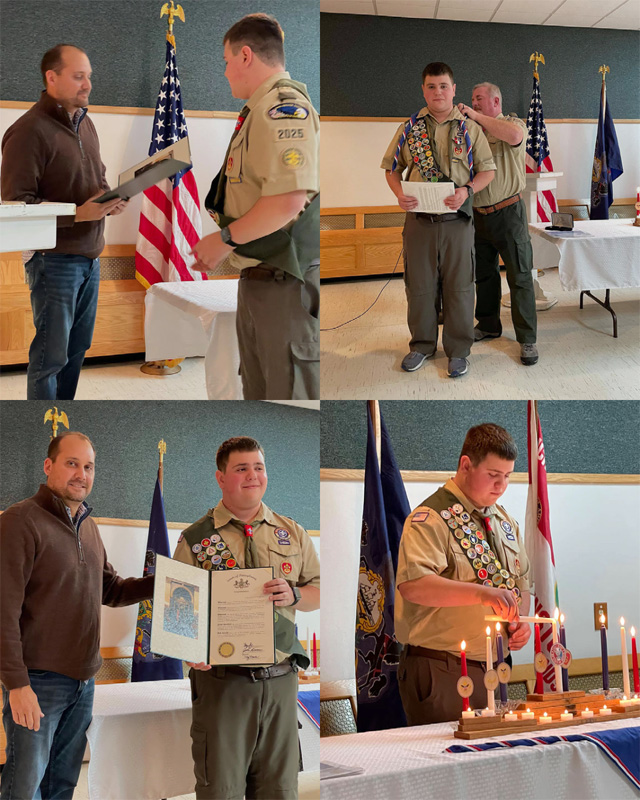 It was my honor to attend Nathan James Knepper's Eagle Scout Court of Honor. Please join me in congratulating Nathan on earning his Eagle Scout. Congratulations and best wishes for continued success.
Reopening of the Bedford Driver License Center
Representative Carl Walker Metzgar, Representative Jesse Topper and myself are pleased the Pennsylvania Department of Transportation (PennDOT) has announced the reopening of the Bedford Driver License Center (DLC) on Friday, November 19, 2021.
The Bedford DLC was closed as a result of extensive flooding due to remnants of Hurricane Ida. This is the second time the facility was closed in the last year, with the prior time occurring during the Wolf Administration's COVID-19 shutdowns.
I am pleased that the collaboration between myself and Reps. Topper and Metzgar resulted in the reopening of this vital center. Now, constituents will be able to access this facility and all of the driver license and identification services it offers. We will continue fighting for improved customer service at this facility, which has a poor record of being closed.
To view the letter we received from Transportation Secretary Gramian click here.
Clearfield Giving Trees Program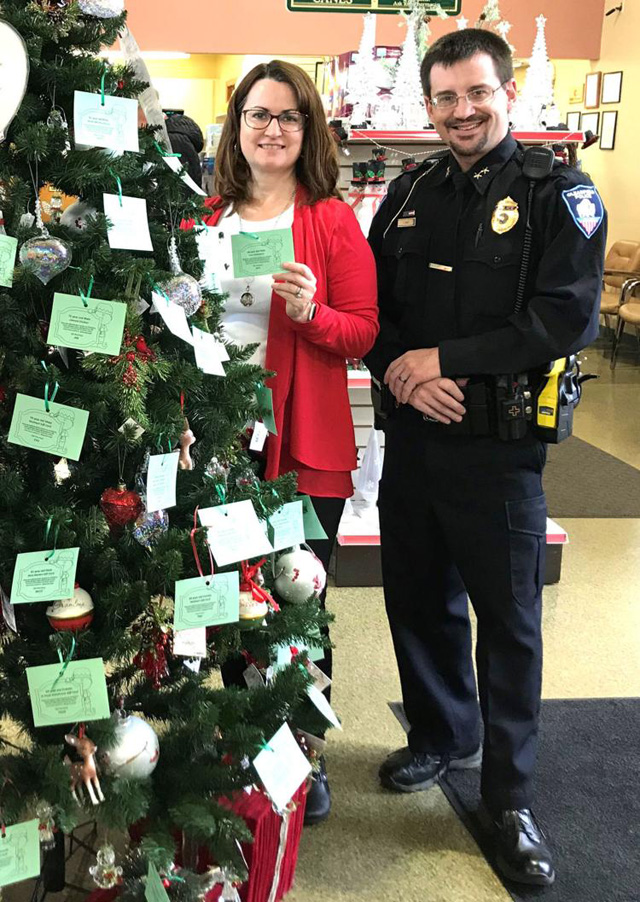 The Clearfield Boro Police Department and the Clearfield County Area Agency on Aging have partnered to create the "Giving Trees" program for older residents. Individuals can stop by one of the locations to pick a tag from November 19 through December 17.
The locations include: CVS Pharmacy Clearfield, Shaw Public Library, Family Dollar Store of Clearfield, South Side Subs of Curwensville, and Leyo's Supermarket of Coalport.
Visit From Cub Scouts Pack 51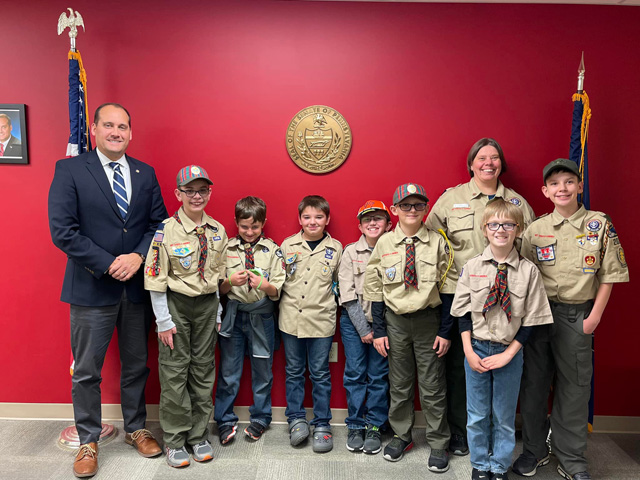 Thank you to Cub Scouts Pack 51 and Den Leader Rhonda Eash for stopping by my Richland Office this week. I enjoyed the questions and conversation.
Downtown Johnstown Christmas Stroll & Light Up Night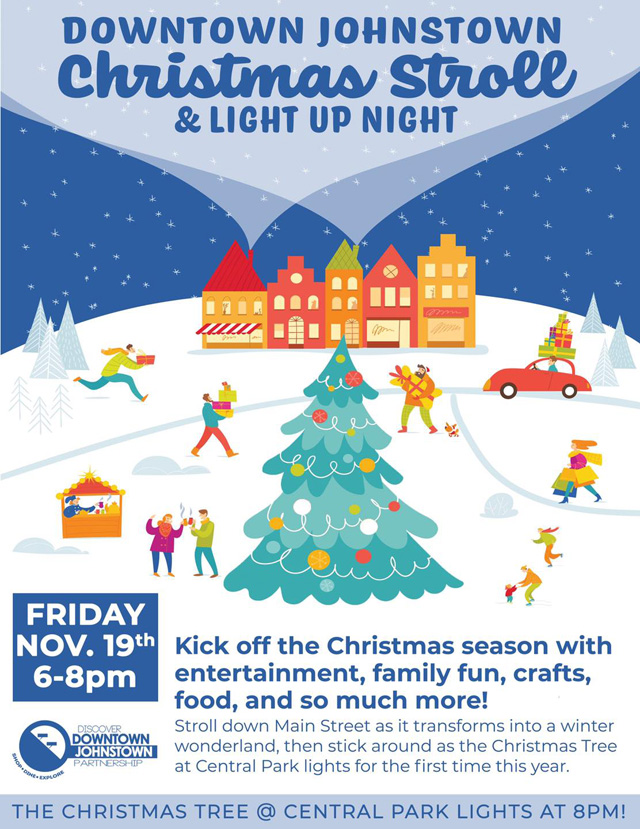 This Friday from 6:00 p.m. to 8:00 p.m. is Johnstown's Hometown Christmas Stroll & Light Up Night. Bring the whole family to experience a wonderful evening filled with food trucks, live music and much more.
The Christmas Craft & Vendor Shop in downtown Johnstown will be having their Cops for Tots program starting this Friday during Light Up Night. The Cops for Tots program collects toys to be distributed by Johnstown Police Department to children while they are out on calls or in the community.
Toys can be dropped off at the shop Monday through Fridays from 11 a.m. to 9 p.m. and Saturdays and Sundays from 5 to 10 p.m. at 110 Franklin Street, Johnstown.
Moshannon Valley YMCA Hosts Fall Family Festival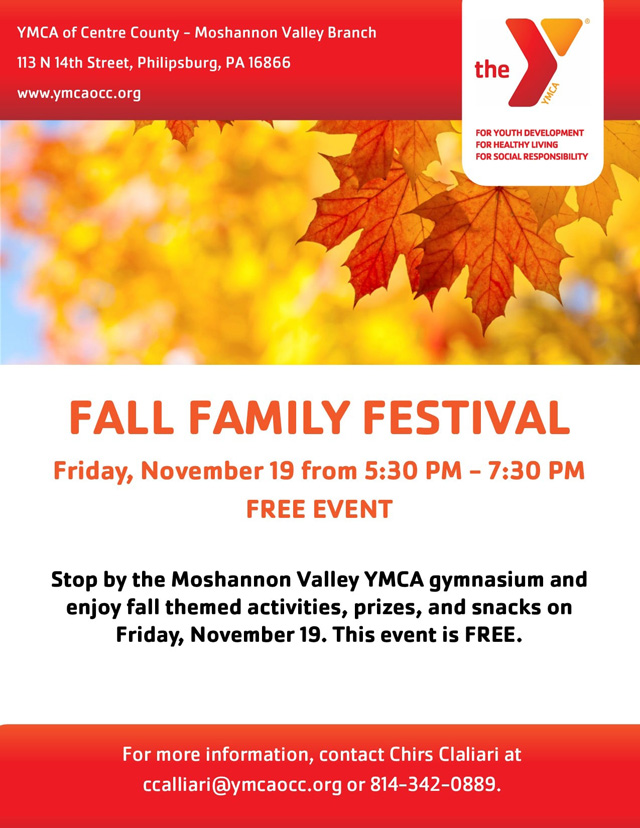 Litter Hawk Youth Award Program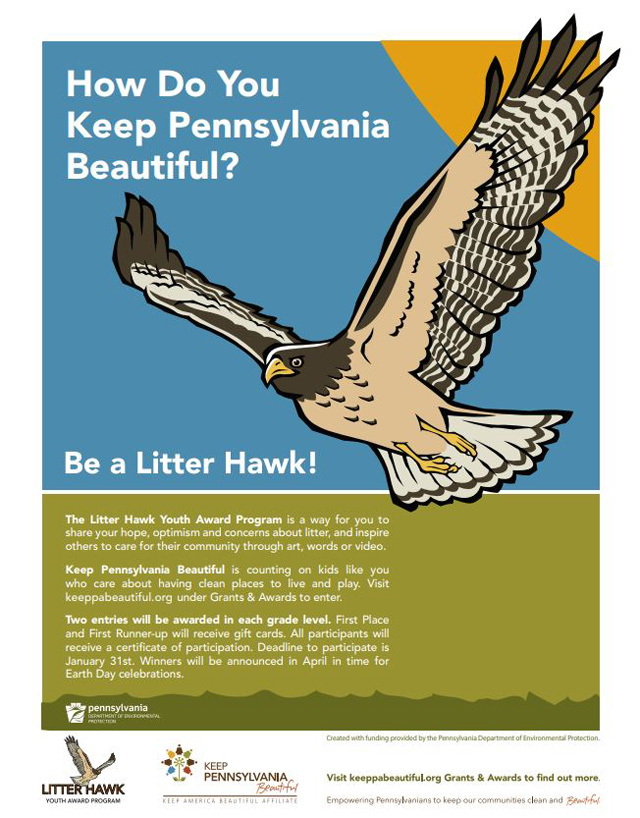 Keep Pennsylvania Beautiful is announcing its Litter Hawk Youth Award Program, a recognition program for students in Kindergarten through 6th Grade, who complete a designated project specific to their grade level. Kids can participate individually or as part of a lesson initiated by schools, home-schools, scout troops, 4-H clubs, environmental clubs or other organized groups.
The program is a way for kids to share their hope, optimism and concerns about litter and inspire others to care for their communities through art, words or video.
Kids are asked to address the theme: How do you keep Pennsylvania beautiful?
Projects include: Kindergarten through 4th grade – Poster & Grades 5 and 6 – Essay or video
Two winners will be chosen in each grade level. First place will receive a $25 gift card. First runner-up will receive $15 gift card. All participants will be recognized with certificates. The deadline to participate is Jan. 31, 2022. Winners will be announced in April in time for Earth Day celebrations.
For more information, downloadable promotional posters and an online entry form, visit here. Additional questions can be answered by Kylie McCutcheon at kmccutcheon@keeppabeautiful.org or 877-772-3673 ext. 114.
Christmas Family Fun Returns to Bedford
Mark your calendars for the Christmas Family Fun event hosted by Downtown Bedford, Inc., Dec. 4th from 1pm – 6pm. There will be a free showing of Dr. Seuss' How The Grinch Stole Christmas followed by Santa's arrival and lots of fun events in the downtown square! Don't forget to bring an unwrapped child's toy to benefit Bedford County Children in need!
Webinar for First-Time Environmental Grant Applicants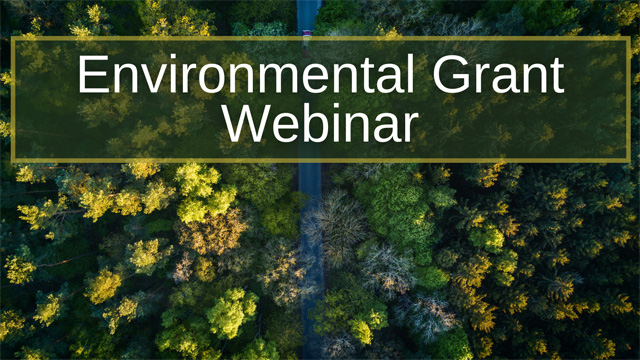 Organizations, municipalities, businesses and farmers can register now for a free webinar on applying for state environmental grants.
The webinar is geared toward first-time applicants and based on survey feedback, and will cover the essentials of applying. It will also look at seven grant programs and answer questions.
Hosted by the Department of Environmental Protection, the webinar will be held Thursday, Dec. 2, from 11 a.m. to 12:30 p.m. You can find more information and register here.
Apprenticeship Week: Information for Employers and Job Seekers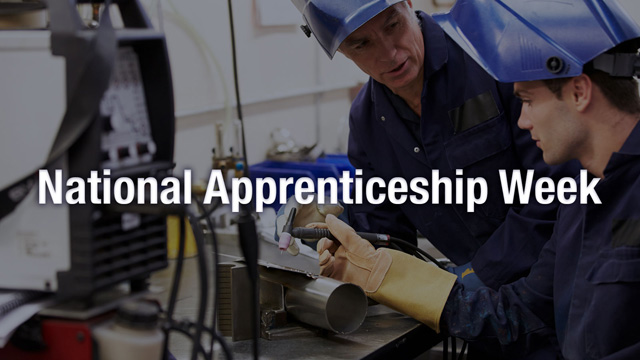 National Apprenticeship Week is a reminder apprenticeships play a critical role in producing a skilled workforce by connecting aspiring workers with employers in need, and that resources are available to make that connection happen.
According to state Labor and Industry Department estimates, nearly nine out of 10 apprentices are employed after they complete their apprenticeship, and the majority take jobs with a starting salary of $60,000 a year or more. Apprenticeships also allow Pennsylvanians to graduate with little to no student debt.
There are 1,585 apprenticeships registered with the state, along with 74 pre-apprenticeships. You can learn about the different kinds of apprenticeships, how to secure one and more here.
November is American Diabetes Month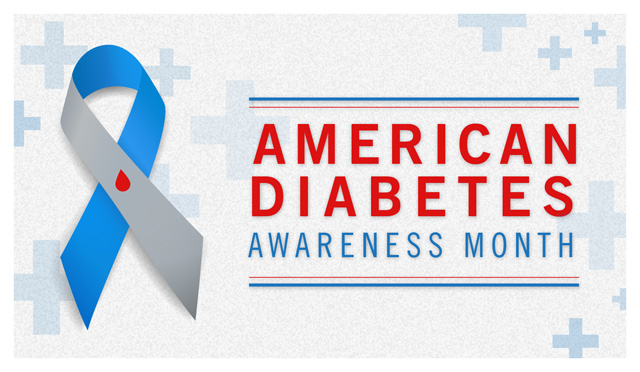 More than 1.1 million Pennsylvanians, or 11.1% of adults, have diagnosed diabetes. An additional 303,000 have diabetes but don't know it.
More than 34% of the adult Pennsylvania population have prediabetes with blood glucose levels that are higher than normal but not yet high enough to be diagnosed as diabetes.
Complications from diabetes include heart disease, stroke, amputation, end-stage kidney disease, blindness and death. American Diabetes Month is an opportunity to learn about the risks, how to manage diabetes, and more.