Dear Friend,
Thank you for taking the time to read my e-newsletter. These periodic updates allow me to keep constituents informed about state and local issues through email without burdening taxpayers with printing and mailing costs.
If you find this information to be useful, I also invite you to visit my website at www.senatorlangerholc.com and on Facebook or Instagram.  If you do not wish to receive these e-newsletters, please click the unsubscribe button at the bottom of the page.  If you would like to contact my office, please go to my web page and click the contact button.  Please do not reply directly to this e-mail.
Senator Wayne Langerholc, Jr

Harrisburg Happenings
Military Family Education Program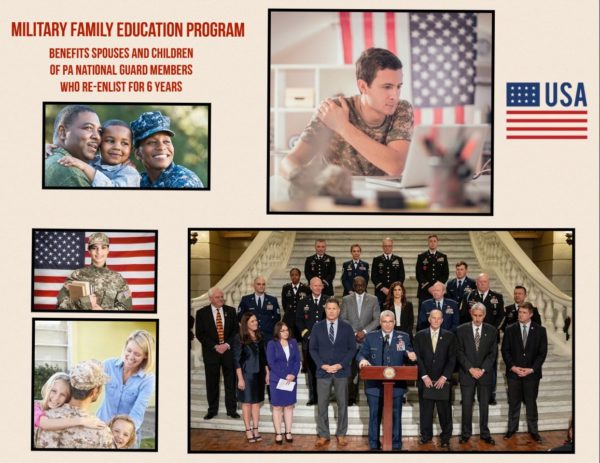 Enrollment is now open for tuition benefits created by the General Assembly this year: PA Guard members who re-enlist for 6 years receive 5 years of tuition-free college education at a PHEAA-approved school for their spouses and children. It's a first-in-the-nation benefit.
https://www.pa.ng.mil/Offices-Programs/Education-Services/Military-Family-Education-Program/
District Happenings
Paint the Plow Contest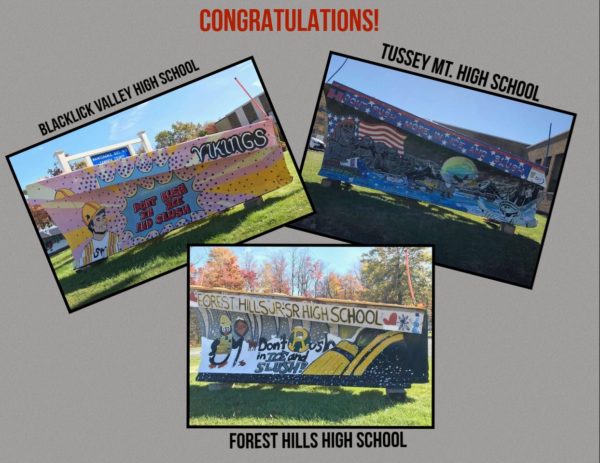 Congratulations to the winners of the 'Paint the Plow' Contest
in the 35th Senatorial District!
Bedford County
Judges Pick: Tussey Mountain High School
"Fan Favorite": Tussey Mountain High School
Cambria County
Judges Pick: Forest Hills High School
"Fan Favorite": Blacklick Valley High School
Veterans Day Parade and Flag Raising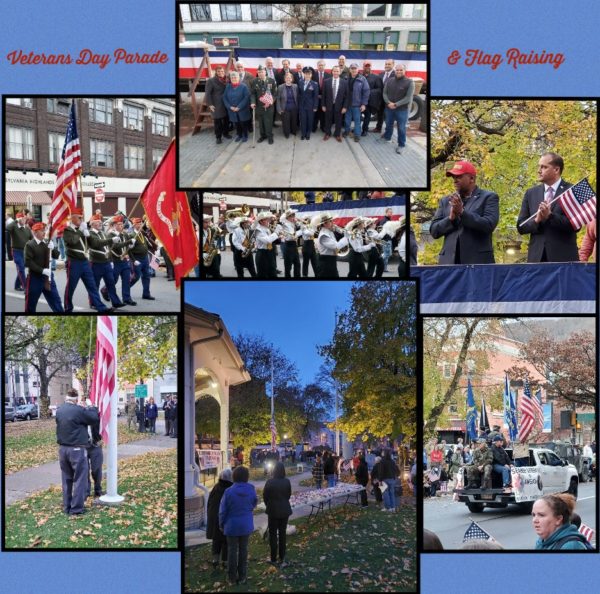 Honoring our Veterans during the Conemaugh Valley Veterans Day Parade and Flag Raising Ceremony held in Downtown Johnstown and Central Park.
Pennsylvania Opioid and Prevention Crisis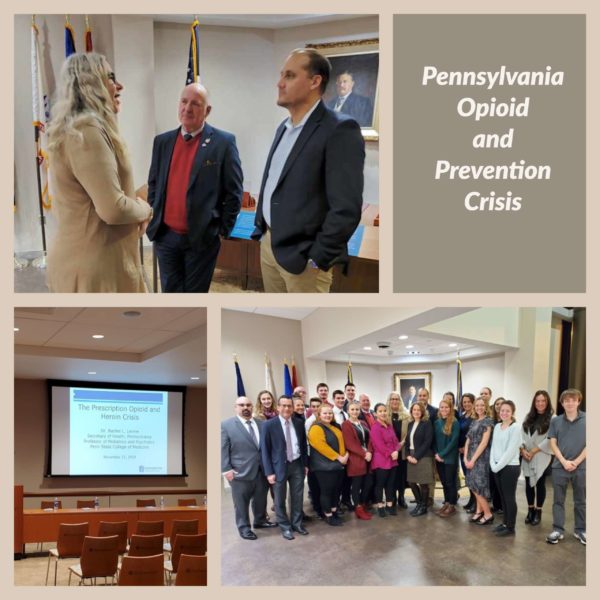 Wednesday evening I attended a discussion on the Pennsylvania Opioid and Prevention Crisis with Pennsylvania Secretary of Health Dr. Rachel Levine at the University of Pittsburgh at Johnstown.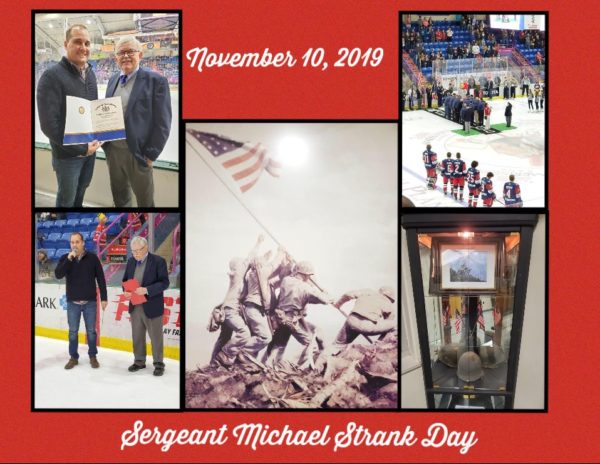 Sunday, November 10, 2019 was designated as Sergeant Michael Strank Day, on what would have been his 100th birthday. Sergeant Strank was one of six American heroes photographed raising the American Flag atop Mt. Suribachi during the battle of Iwo Jima. Six days later, Sergeant Strank was killed in action.
We can never forget his bravery and heroism, as well as all men and women who paid the ultimate sacrifice while defending our freedom and democracy.
Bedford County Chamber of Commerce Legislative Breakfast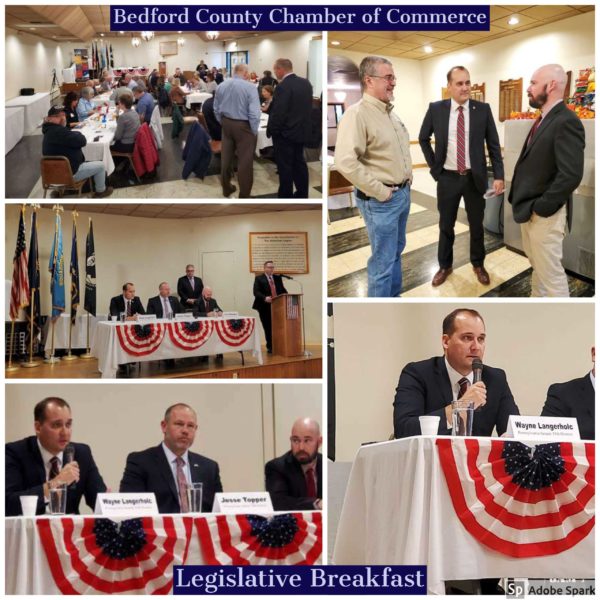 Last week I participated in the Bedford County Chamber of Commerce (PA) Legislative Breakfast with PA State Rep. Jesse Topper & PA State Rep. Carl Walker Metzgar. It was a great opportunity to share recent and upcoming legislation as well as provide an update on the state of the Commonwealth.
Cambria Regional Chamber Luncheon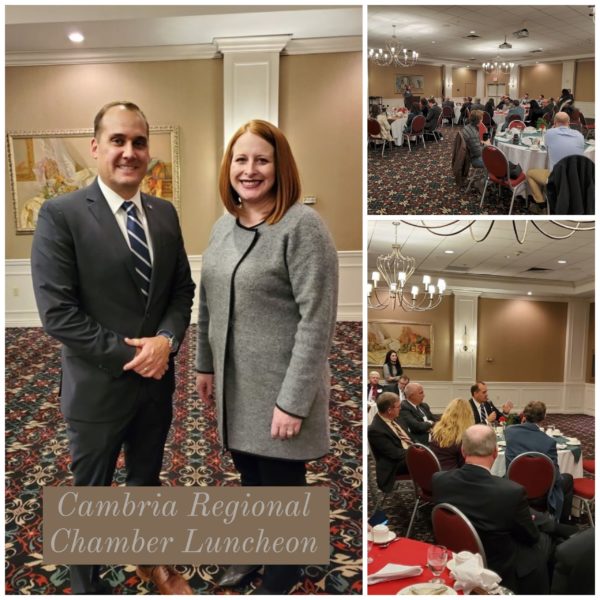 Last week I attended the Cambria Regional Chamber Luncheon at the Holiday Inn in Johnstown. I want to thank Deputy Secretary of Multimodal Transportation Jennie Granger for attending and the informative discussion on transportation-related issues.
250th Anniversary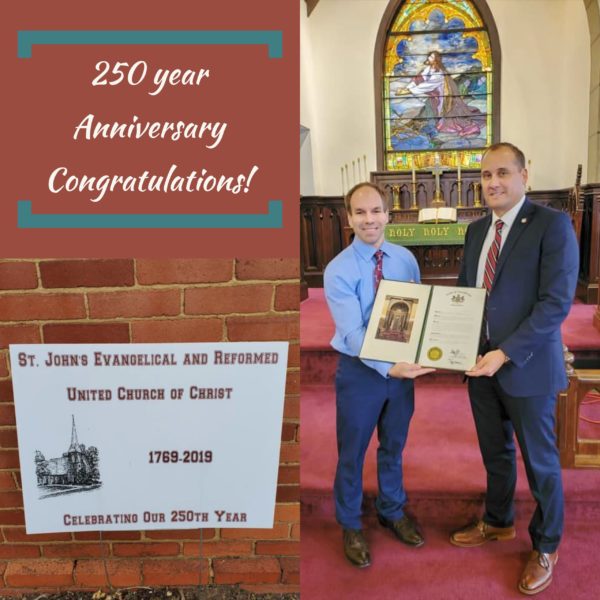 I had the honor of presenting Saint John's Evangelical and Reformed United Church of Christ with a 250th Anniversary Pennsylvania Senate Citation. The church is currently under spiritual guidance of the Reverend Brady Plummer. Congratulations to Saint John's on this momentous occasion!
125th Anniversary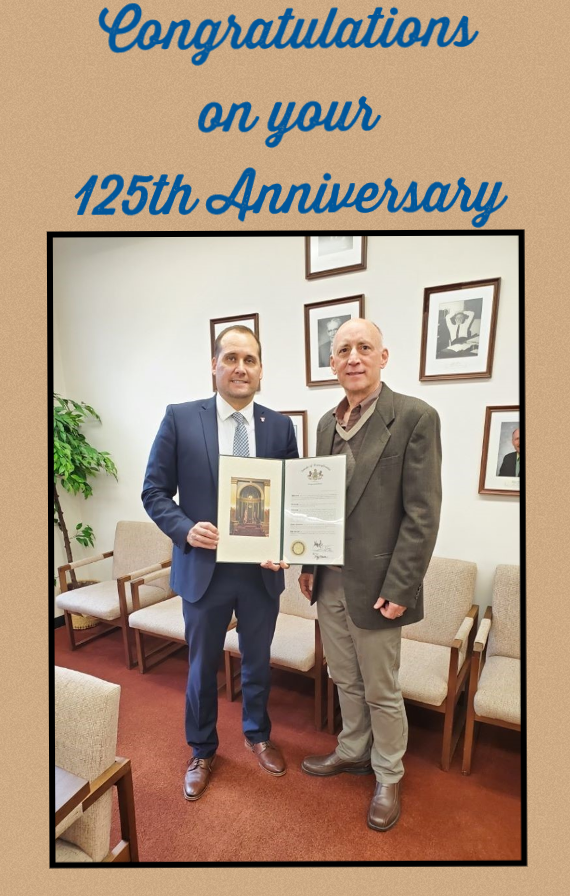 I was honored to present Monty Kunes, President, Kurtz Bros., with a citation for celebrating 125 years in business. Kurtz Bros. Inc, has been providing supplies to facilitate the education of children from early childhood through graduation since 1894. I want to extend our warmest wishes for a future with ever-increasing success.
60th Anniversary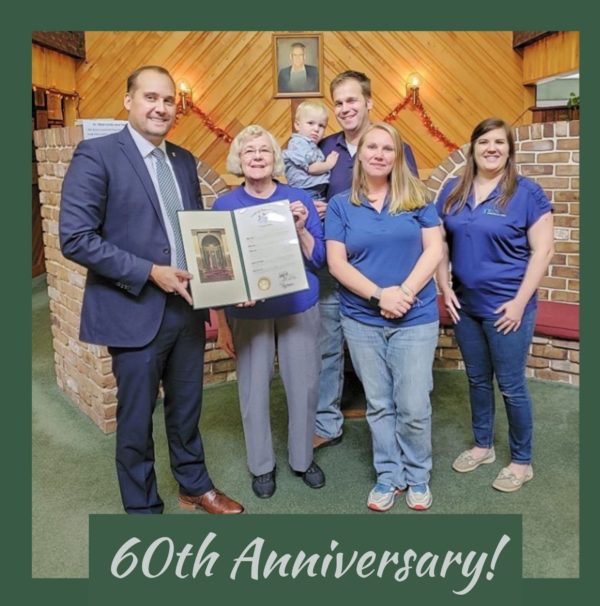 Rich Chiropractic Clinic, LLC is celebrating their 60th anniversary this year. I was honored to present a citation for this momentous occasion and wish them nothing but continued success for the future.
Service Above Self Award
I had the honor to recognize Jeff Bellmore with a Pa Senate Citation. Mr. Bellmore was recently awarded the Service Above Self award by the Curwensville Rotary Club for his lifelong involvement with the Boy Scouts of America. Jeff also has served his community as a member of the Curwensville Regional Development Corporation, the Curwensville Loyal Order of Moose Lodge, the Rescue Hose & Ladder Co., Noble Lodge No. 480 of the Free and Accepted Masons, the Scottish Rite, the Jaffa Shrine and the Clearfield Shrine Band. Congratulations on this well-deserved award and your many years of serving your community in many capacities!
Mr. Bellmore, Scoutmaster of Boy Scout Troop 13 of Curwensville, also accepted the citation celebrating Troop 13's 75th anniversary. I heartily congratulate Troop 13 of the Boy Scouts of America as it recommits itself to the ideal and traditions which have sustained it for 75 years!
50 Years of Service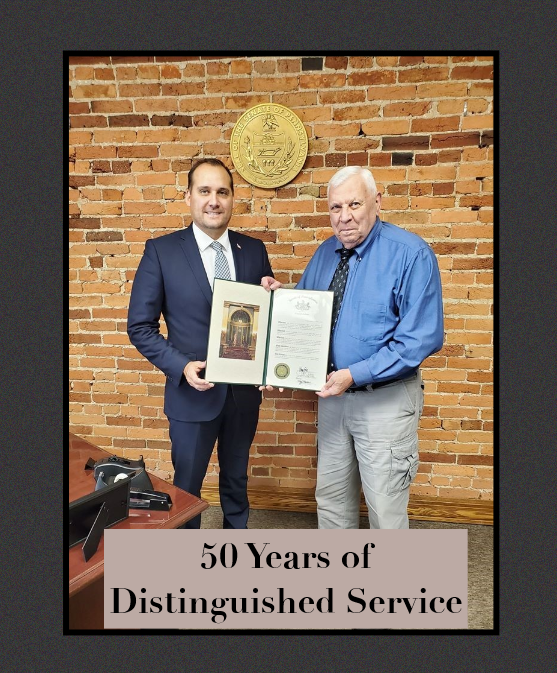 I presented a Pennsylvania State Senate Citation to Charles C. Guelich. Recently, Mr. Guelich was honored for 50 years of dedicated and distinguished service to the Clearfield Lodge No. 314 of the Free and Accepted Masons. I want to congratulate Charles on this well-deserved recognition!
50 Years as Bus Driver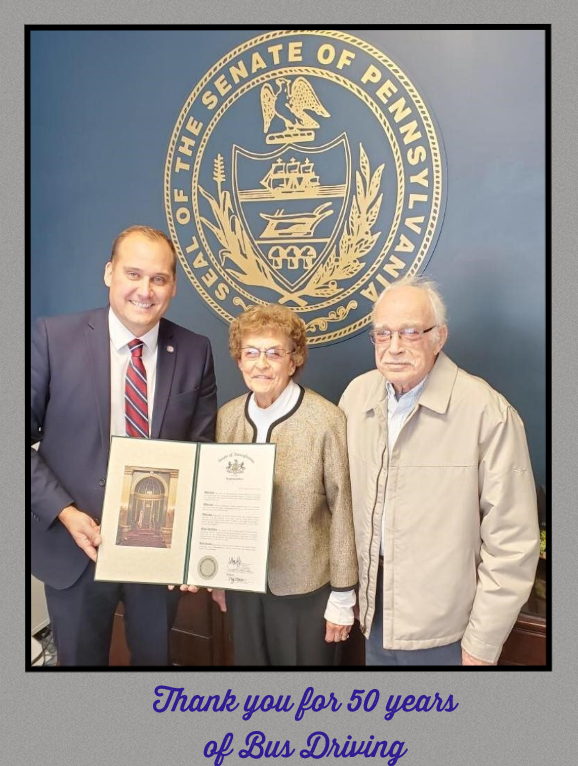 Congratulations to Norma Zembower on her retirement after more than 50 years of being a school bus driver for the Bedford Area School District. Norma began driving bus No. 7 in 1968. Throughout her career, she has striven to adhere to the highest standards of service and has rightly earned the respect and admiration of her many friends and colleagues.
Congratulations on years of extraordinary commitment to the students of the Bedford Area School District and your community!
Happy Birthday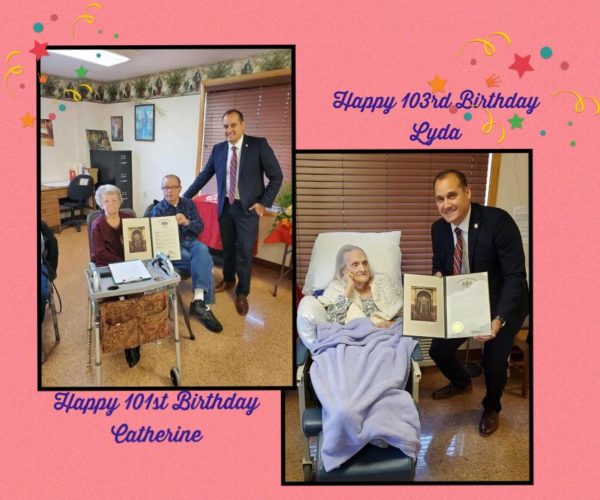 I had the privilege to stop by PennKnoll Village and present citations to two centenarians in recognition of their recent birthdays.
Catherine Bowser was born September 9, 1918 and recently celebrated her 101st birthday. Lyda Herold was born August 28, 1916 and just turned 103 years old. It was a pleasure to meet both of these wonderful women.
51 Years of Service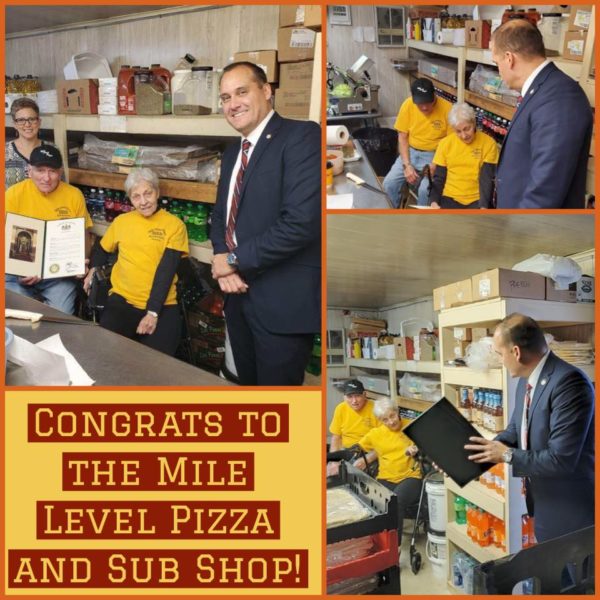 Last week I presented a Pennsylvania Senate Citation to The Mile Level Pizza & Sub Shop in Bedford recognizing their recent anniversary. I want to congratulate the owners Ed and Mary Creps on 51 years of excellence and wish them continued success!
Upcoming Events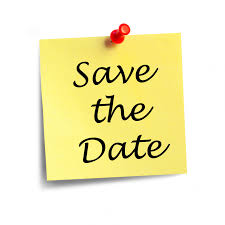 Shop, Eat, Spend and Enjoy – Local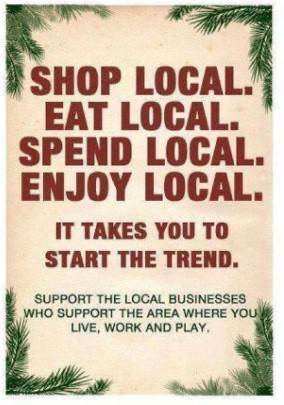 Planning your holiday shopping? Don't forget Small Business Saturday on November 30th and patronize brick and mortar businesses that are small and local. Shop, Eat, Spend and Enjoy – Local.
Watch for more information on our Facebook page and upcoming ENewsletters.

If you are not already subscribed to this newsletter please sign up here.