Dear Friend,
Thank you for taking the time to read my e-newsletter. These periodic updates allow me to keep constituents informed about state and local issues through email without burdening taxpayers with printing and mailing costs.
If you find this information to be useful, I also invite you to visit my website at www.senatorlangerholc.com and on Facebook or Instagram.  If you do not wish to receive these e-newsletters, please click the unsubscribe button at the bottom of the page.  If you would like to contact my office, please go to my web page and click the contact button.  Please do not reply directly to this e-mail.
Senator Wayne Langerholc, Jr

Harrisburg Happenings
Cambria County Association for the Blind and Handicapped
I had the opportunity to welcome families and employees from the Cambria County Association for the Blind and Handicapped, or CAB for short, who were here on Monday brighten a rainy day in Harrisburg. Thank you to all who made the trip to stop in my office and say hello!
Legislation to End Child Marriages Passes the Senate
On Tuesday, the State Senate passed legislation that I co-sponsored that would close loopholes allowing child marriage to occur in Pennsylvania.
Senate Bill 81 would eliminate all legal exceptions that allow for the marriages of children under the age of 18. Pennsylvania is currently one of 18 states that does not specify a minimum age at which a person can be married.
Child marriage is abuse. These children have been lost in the dark and it's about time we found them. This bill is a 'child protection' bill, ensuring children's' lives aren't damaged or endangered by such a major decision at a young age.
Current Pennsylvania law allows for those under 18 to marry with a custodial parent or guardian's consent and those under 16, to marry if a judge thinks it's in the marriage license applicant's best interest and with parental consent.
According to Unchained at Last, an organization that works to end child marriages, children who are forced into marriage before the age of 18 face lifelong, devastating consequences in terms of health, education, economic opportunities, and quality of life.
Pennsylvania Association of School Administrators and School Board Association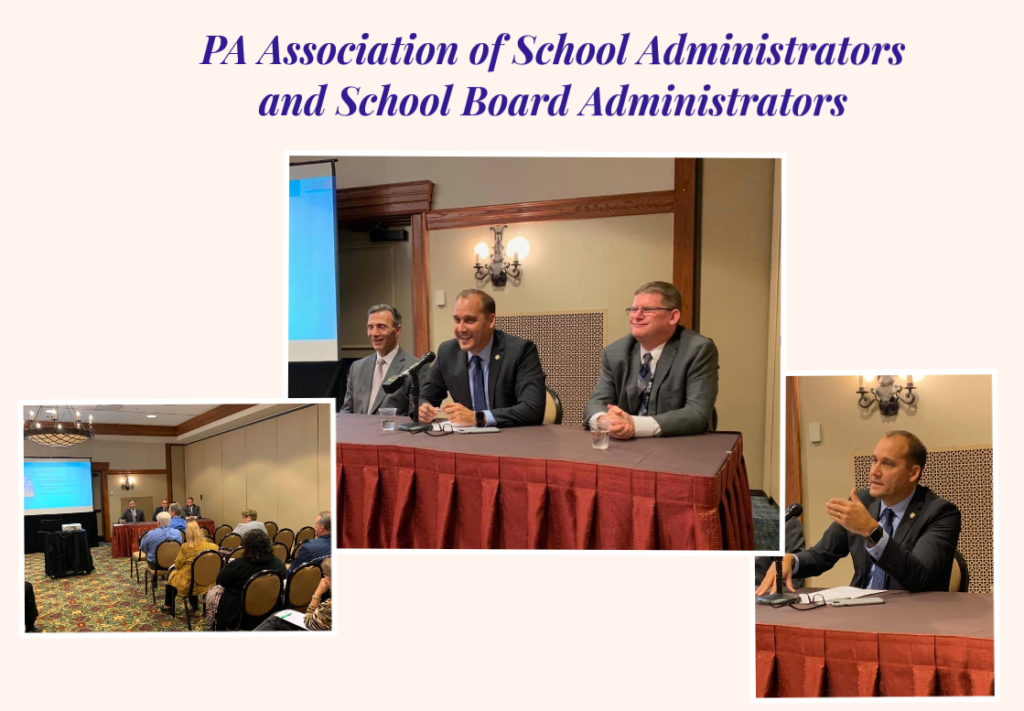 The Pennsylvania Association of School Administrators (PASA) and the Pennsylvania School Boards Association (PSBA) held a conference for school leaders in Hershey on October 17. I participated in a panel discussion on school safety and security.
District Happenings
Flood City 11U All-Star Baseball Team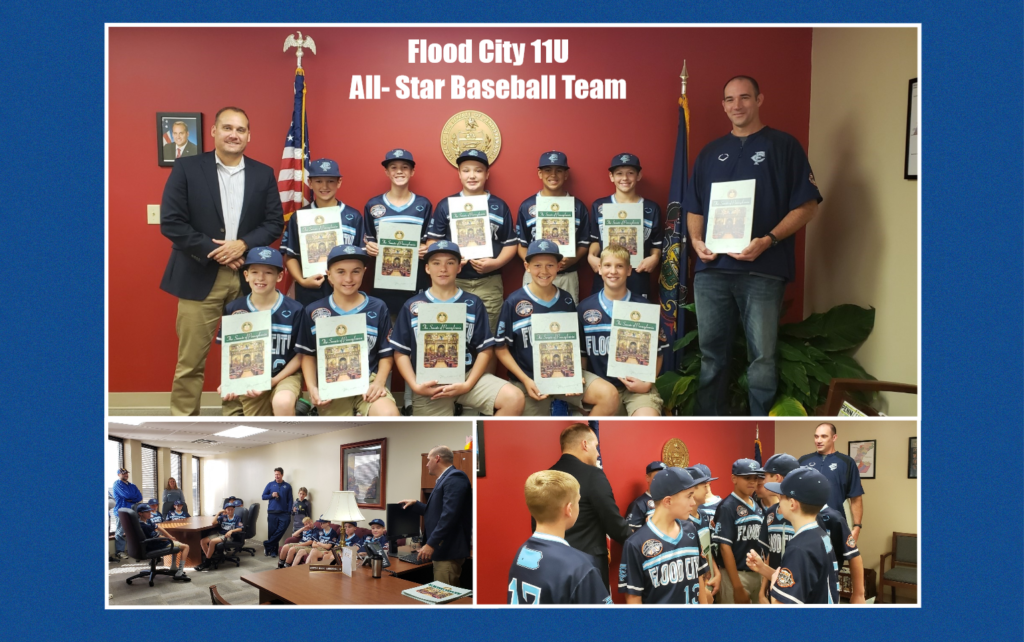 I had the privilege of presenting Senate Citations to the Flood City 11U All-Star Baseball Team for winning the 2019 Cal Ripken 11U Major 70 Middle Atlantic Regional Baseball Championship. Congratulations to these fine athletes.
Classic Elements Grand Opening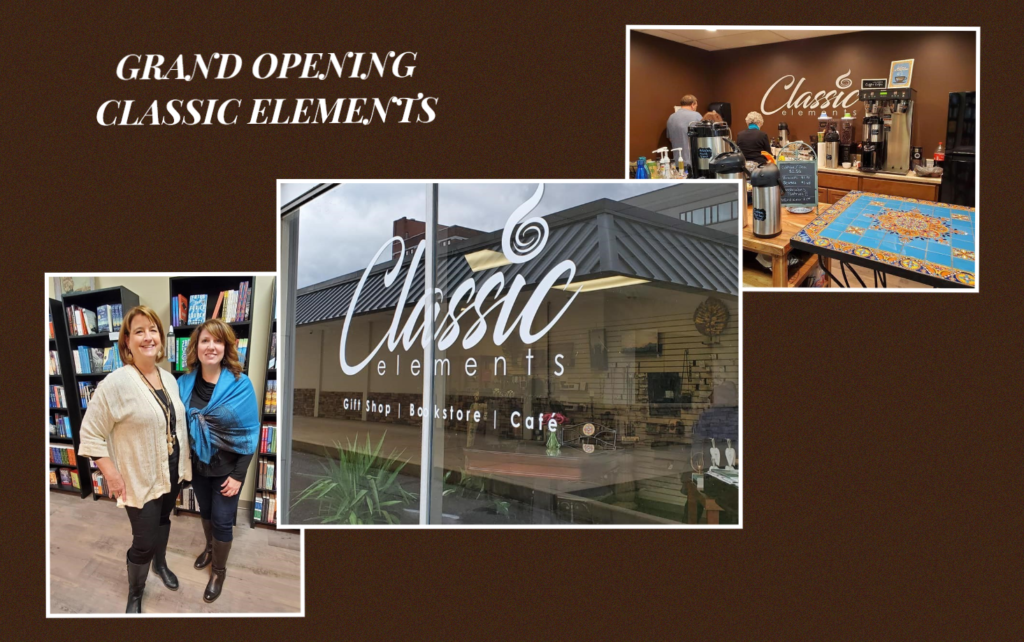 I would like to congratulate Jennifer Galiote and Michele Adams on the Grand Opening of Classic Elements on Main Street in Johnstown. I wish them much success with their Gift Shop, Bookstore, and Cafe. Congratulations and best wishes!
Annual Greater Clearfield Chamber of Commerce Dinner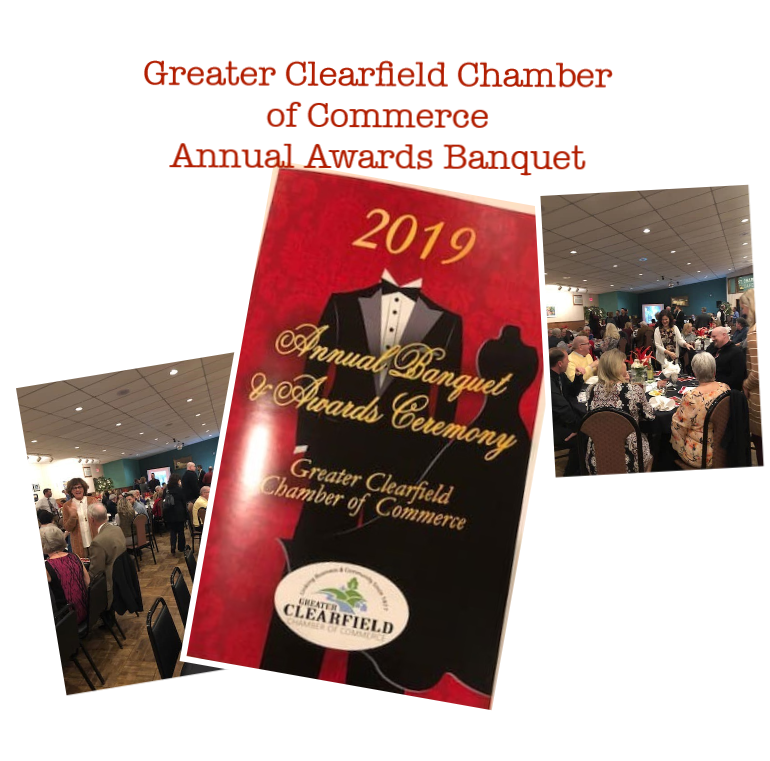 My staff attending the Annual Greater Clearfield Chamber of Commerce Awards Banquet honoring local businesses and residents for the contributions they have made to the community. Thank you to the many award winners, you commitment and dedication to Clearfield County and the 35th Senatorial District have not gone unnoticed.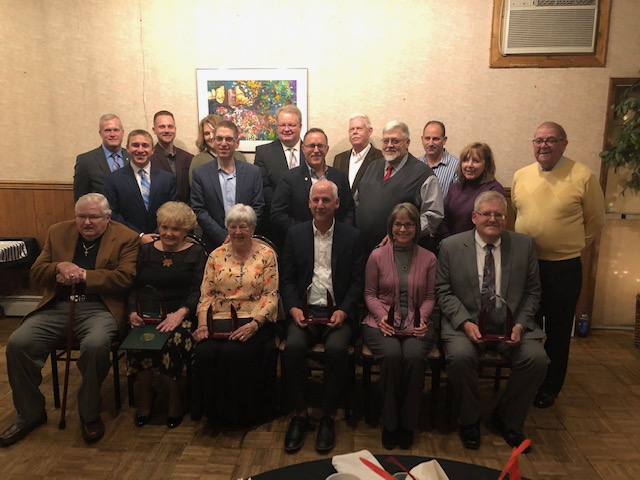 (Seated L-R) James and Donna Malloy; Lifetime Achievement Award Goodman's IGA Foodliner; Small Business of the year Beardsley Funeral Home; Shining Star Award Kathleen Gillespie; Distinguished Citizen of the year Clearfield Area School District; Major Employer of the year Terry Wigfield (not present); Director's Choice Award Tribute to Veterans Kiosk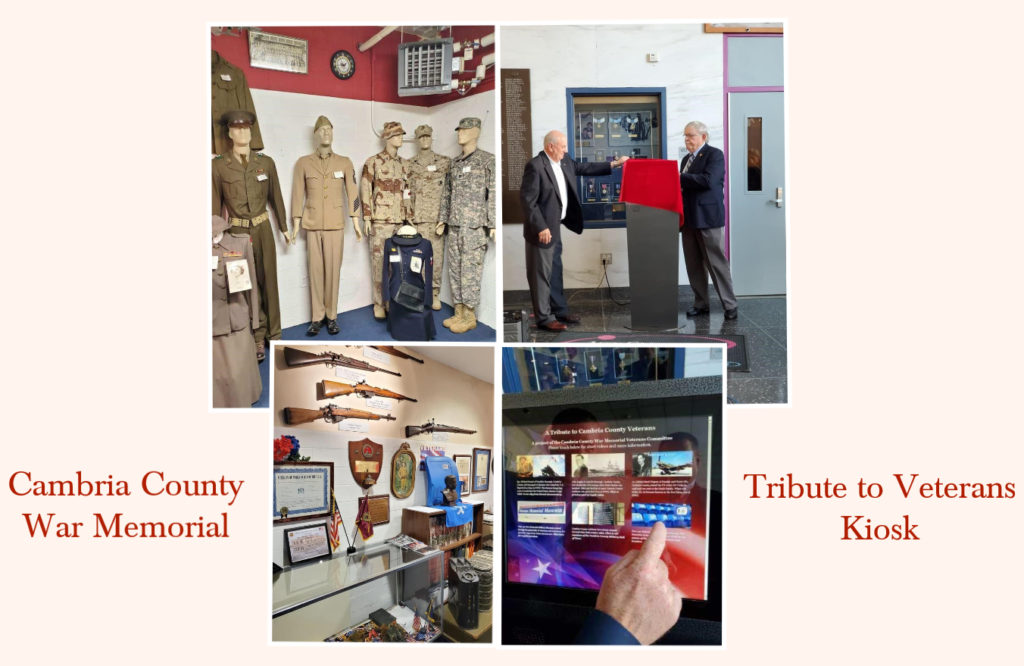 On October 15, the new Tribute to Cambria County Veterans kiosk was unveiled. This great tribute will ensure we always remember the sacrifice of the brave men and women who have fought for our great country!
Mile Level Pizza & Sub Shop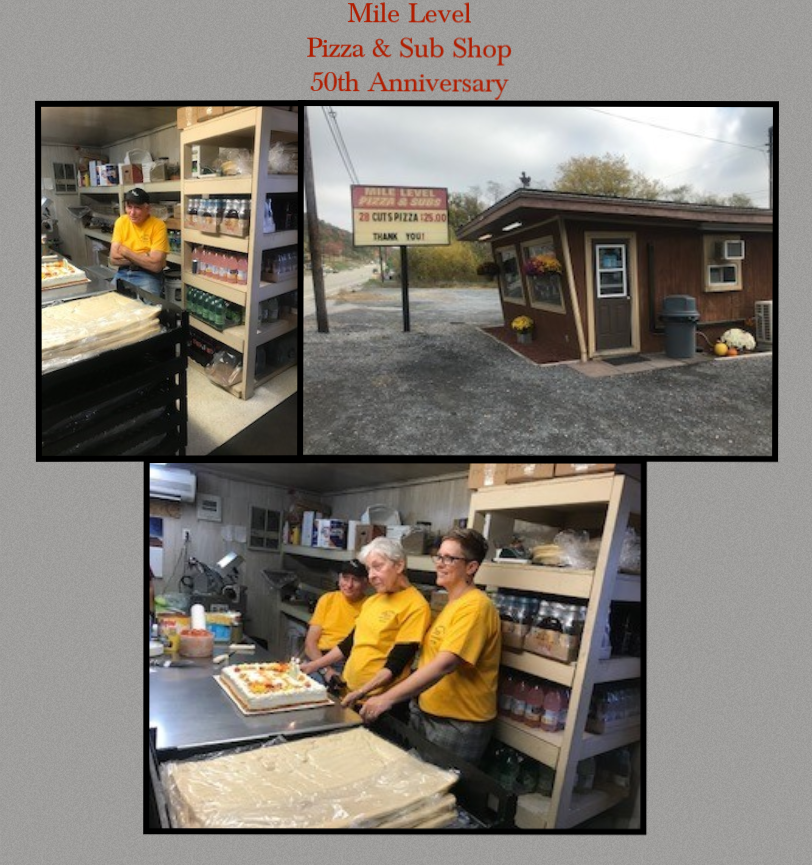 Congratulations to Ed and Mary Creps owners of The Mile Level Pizza & Sub Shop on their 50th anniversary! Family owned and operated, this pizza and sub shop started with a handshake and is still one of Bedford County's favorites!
Strollo's True Value Home Center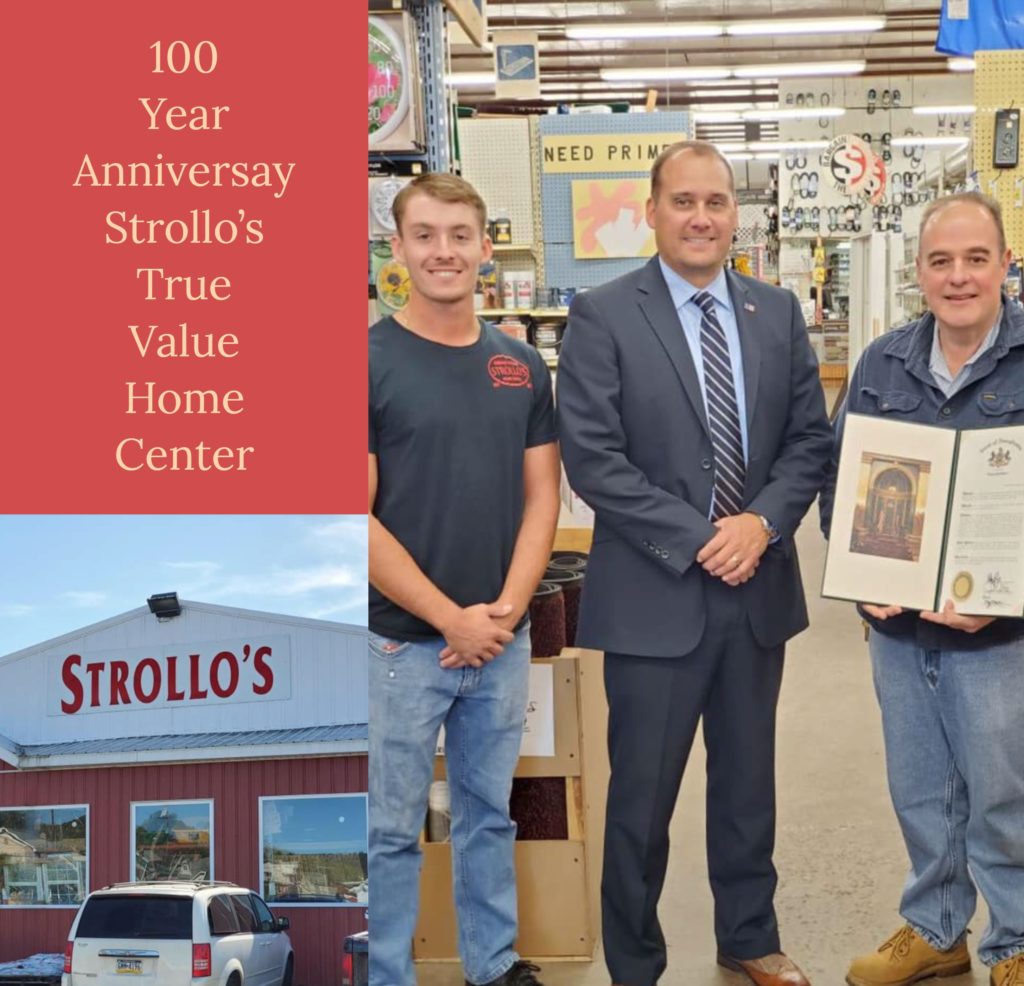 I presented a Senate of Pennsylvania 100th Anniversary Citation to Strollo's True Value Home Center in Northern Cambria. Established in 1919 by Mike Strollo, along with his sons Adam and Tony, the hardware store is currently in its fifth generation of family management after Ben Strollo took over in 2018.
I want to congratulate the Strollo family and all their staff members as they celebrate 100 years in business and wish them future growth, development, and success.
The Drag Shop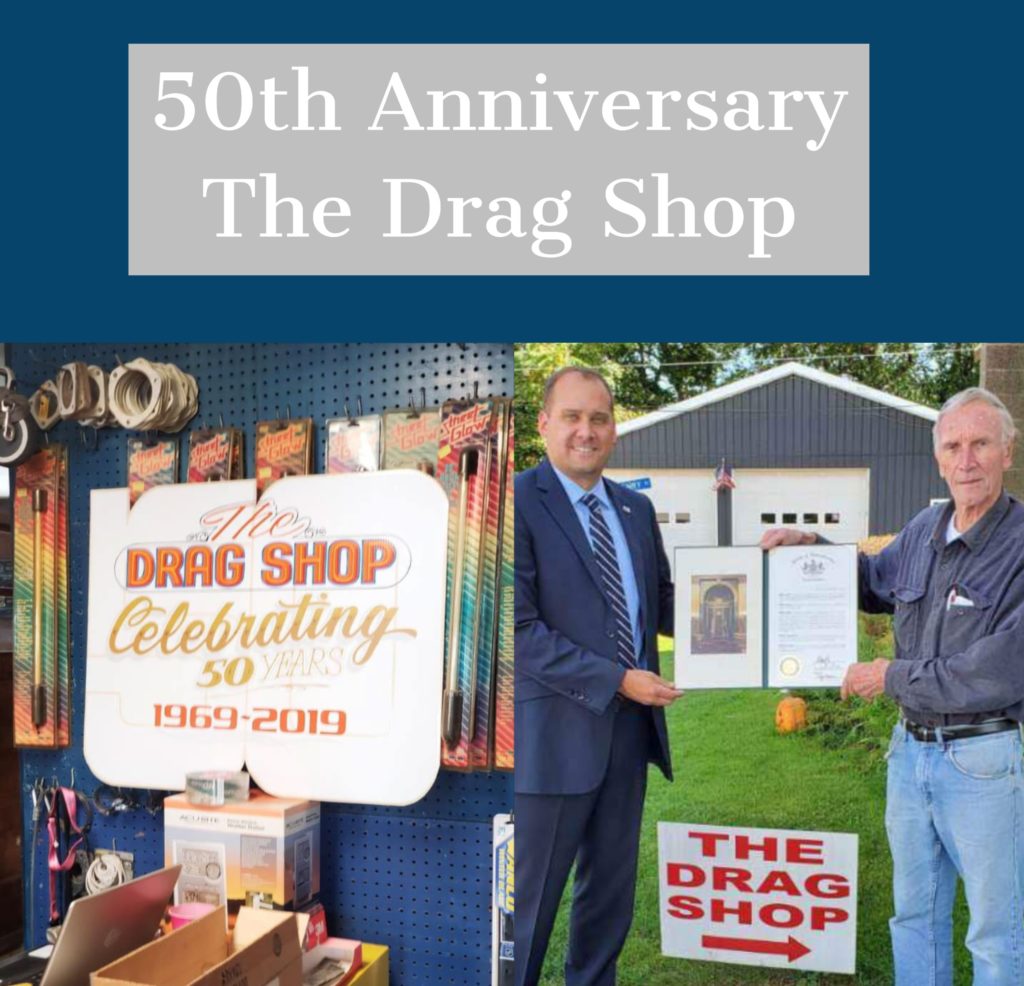 Founded in 1969 by Bart Kilraine and Greg Lesak, the Drag Shop moved to its current location on Automotive Street in 1971. It offers custom items, such as pickup truck bed liners and covers, floor liners and small engine fuel to fit specific models of vehicles. The Drag Shop has maintained a tradition of excellence and has served the ever-changing needs of the community for 50 years. I want to congratulate everyone associated with the Drag Shop and wish them ever-increasing success in the future.
I presented a Pennsylvania Senate Citation to the Drag Shop in Carrolltown, Cambria County, as they celebrate their 50th Anniversary.
Bedford County Airport Authority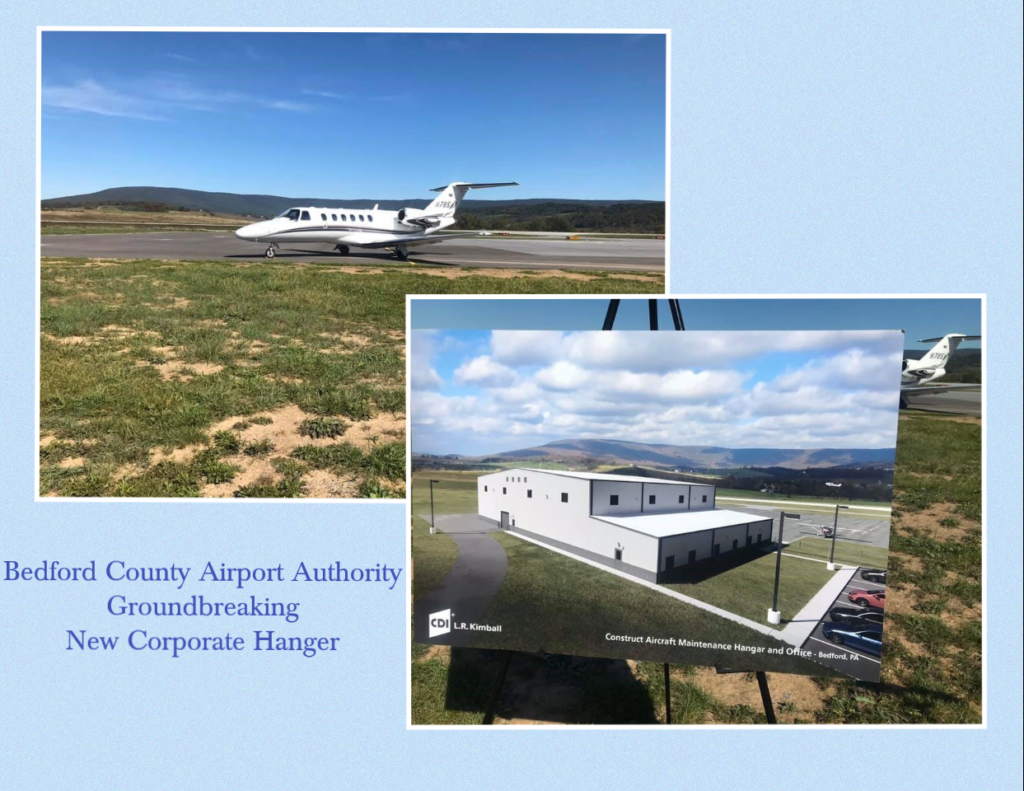 Congratulations to the Bedford County Airport Authority on their groundbreaking celebration for their new corporate hangar! A great community effort to keep Bedford County moving forward.
Dr. Kory's University of Pittsburgh – Johnstown Political Geography Class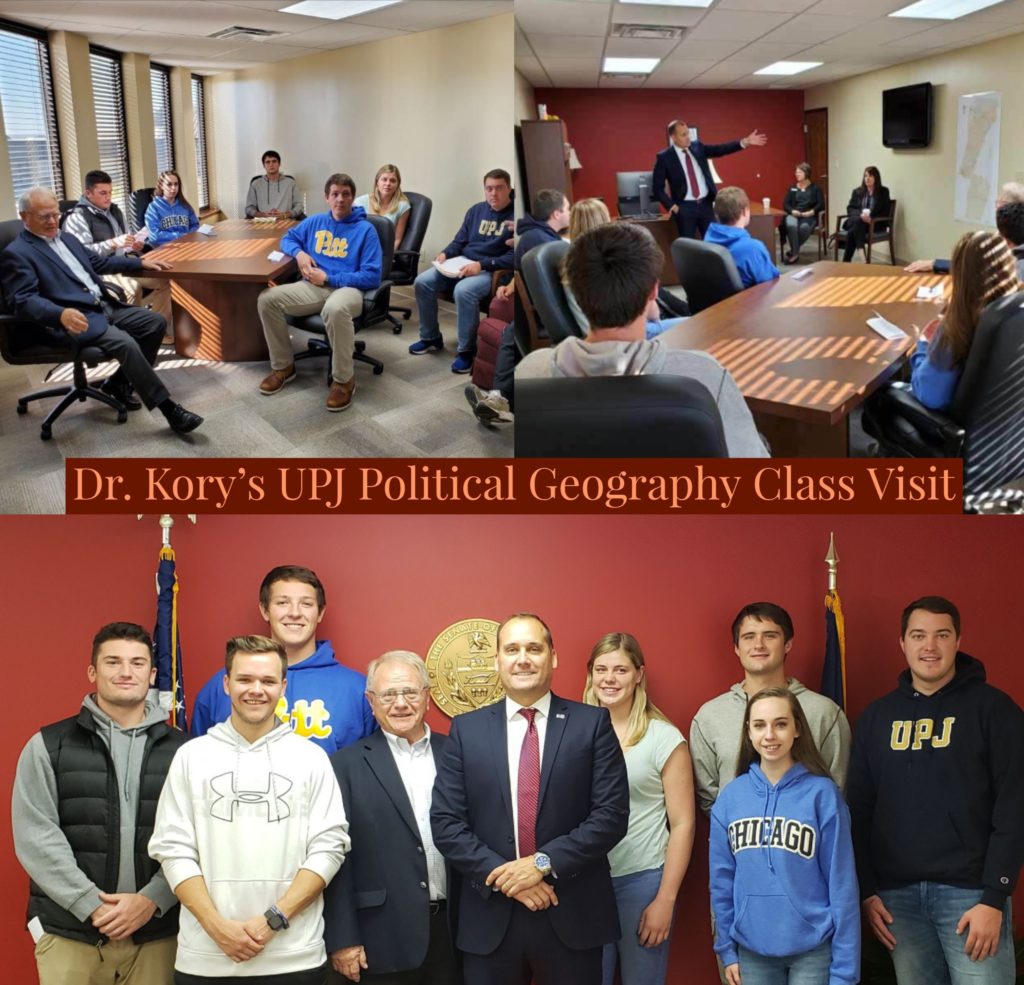 I had the pleasure of meeting with Dr. Kory's Political Geography class from the University of Pittsburgh at Johnstown. As usual it was a wonderful opportunity to meet with the students discussing the 35th Senatorial District, emerging political issues and the path I took to become the Senator of the district.
Mt. Calvary Lutheran Church of Johnstown – 75th Anniversary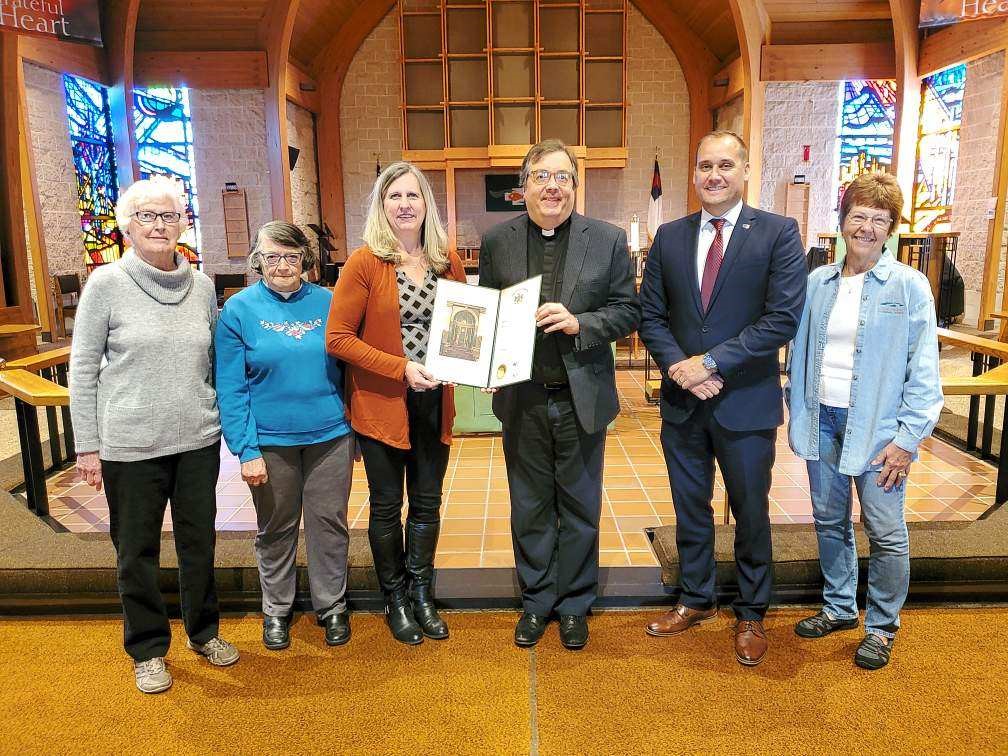 I presented a 75th anniversary Senate Citation to the Mt. Calvary Lutheran Church of Johnstown, PA. Established in 1944, and before a chapel was dedicated in 1947, members would meet in individual's homes, local fire halls and even the basement of a tavern. Today, the church is under spiritual guidance of the Reverend Scott Klimke and is located in Richland Township, Cambria County. I want to congratulate Mount Calvary as they celebrate their 75th Anniversary and offer my best wishes. (l-r Ethel Warshel, Mary Ann Mapes, Kim McMullen, Pastor Scott Klimke, Senator Langerholc and Lois Sholtis)
Mother of Sorrows – 100th Anniversary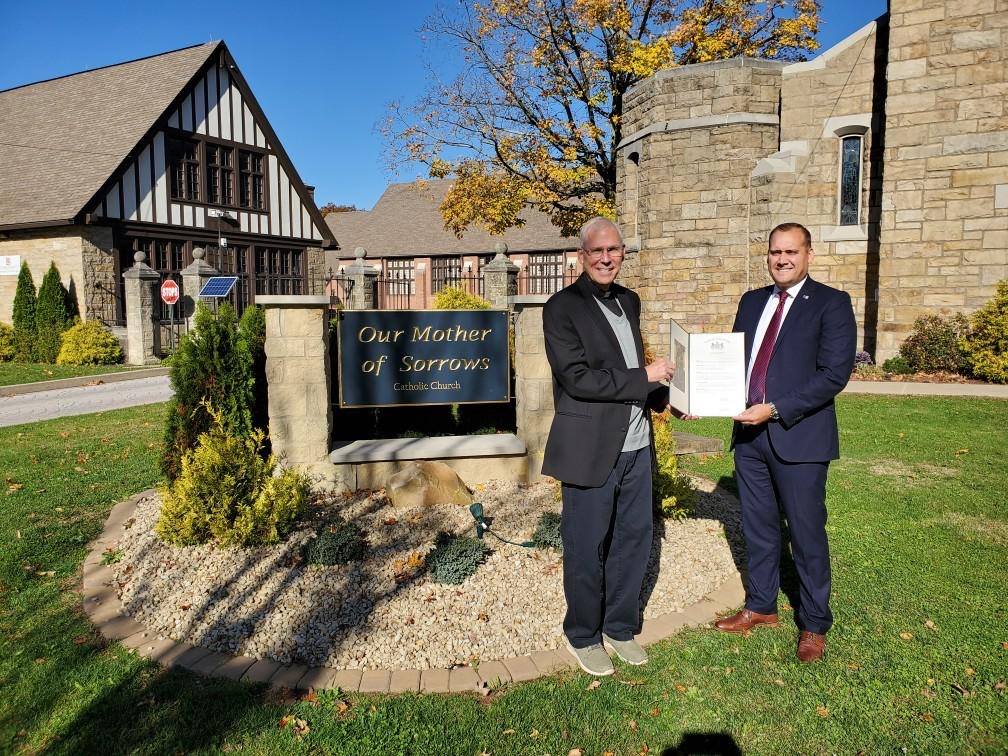 A 100th Anniversary Senate Citation was presented to the Reverend Mark Begley of Our Mother of Sorrows Johnstown, PA. The church has begun a year-long series of events to celebrate its centennial anniversary. I wish them a prodigious year of celebration and offer my congratulations on this momentous occasion.
Veterans Appreciation Breakfast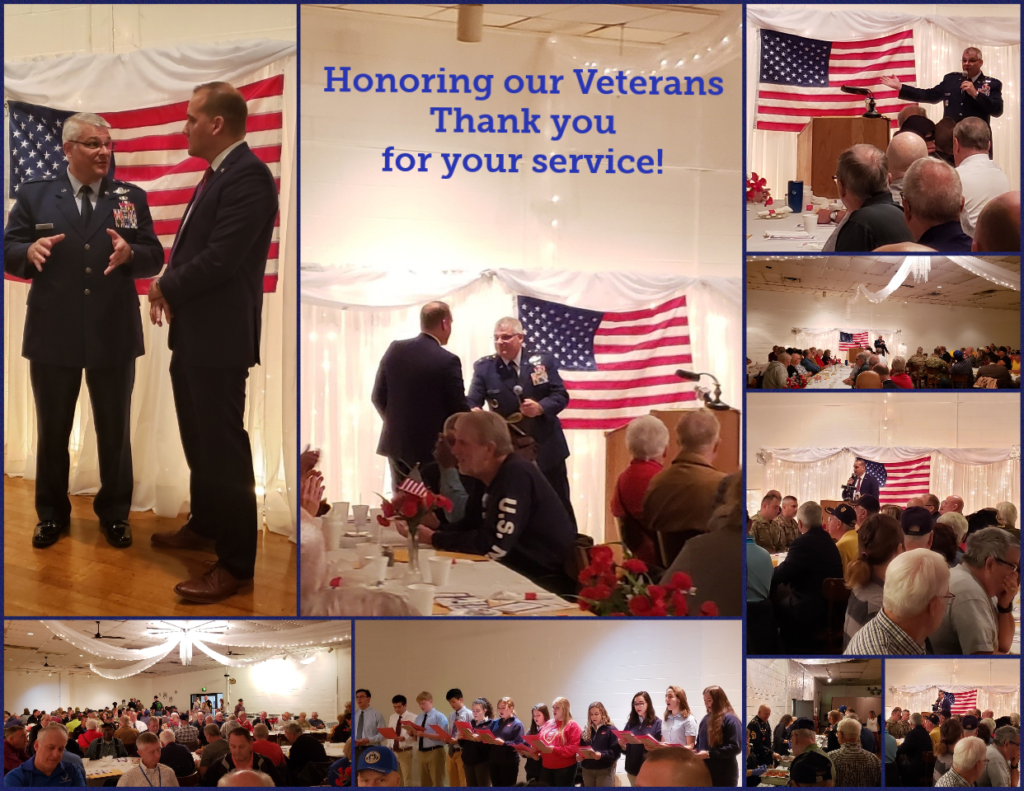 This week I had the pleasure to honor veterans from Cambria, Clearfield and Bedford Counties. Thank you to everyone who came out for breakfast. I enjoyed getting to speaking with so many of you. Thank you for your service. We as a nation owe you a debt of gratitude. A special thank you to our guest, Major General Anthony J. Carrelli, Pennsylvania's Adjutant General, for coming to Johnstown to speak to our veterans. It was truly an honor and a privilege to be among so many who have given so much.
Visitors to Harrisburg
I would like to remind constituents, to please feel free to stop in my office, Room 187, when you are visiting the capitol. My staff and I welcome the opportunity to say hello to you. If you are visiting on a session day, I can also introduce you as my guest during session. Feel free to call 717-787-5400 if you know in advance that you will be visiting the capitol. If you are interested in a capitol tour, you can schedule your visit online: http://www.pacapitol.com/plan-a-visit/tours.cfm

If you are not already subscribed to this newsletter please sign up here.