Dear Friend,
Thank you for taking the time to read my e-newsletter. These periodic updates allow me to keep constituents informed about state and local issues through email without burdening taxpayers with printing and mailing costs.
If you find this information to be useful, I also invite you to visit my website at www.senatorlangerholc.com and on Facebook or Instagram.  If you do not wish to receive these e-newsletters, please click the unsubscribe button at the bottom of the page.  If you would like to contact my office, please go to my web page and click the contact button.  Please do not reply directly to this e-mail.
Senator Wayne Langerholc, Jr

District Happenings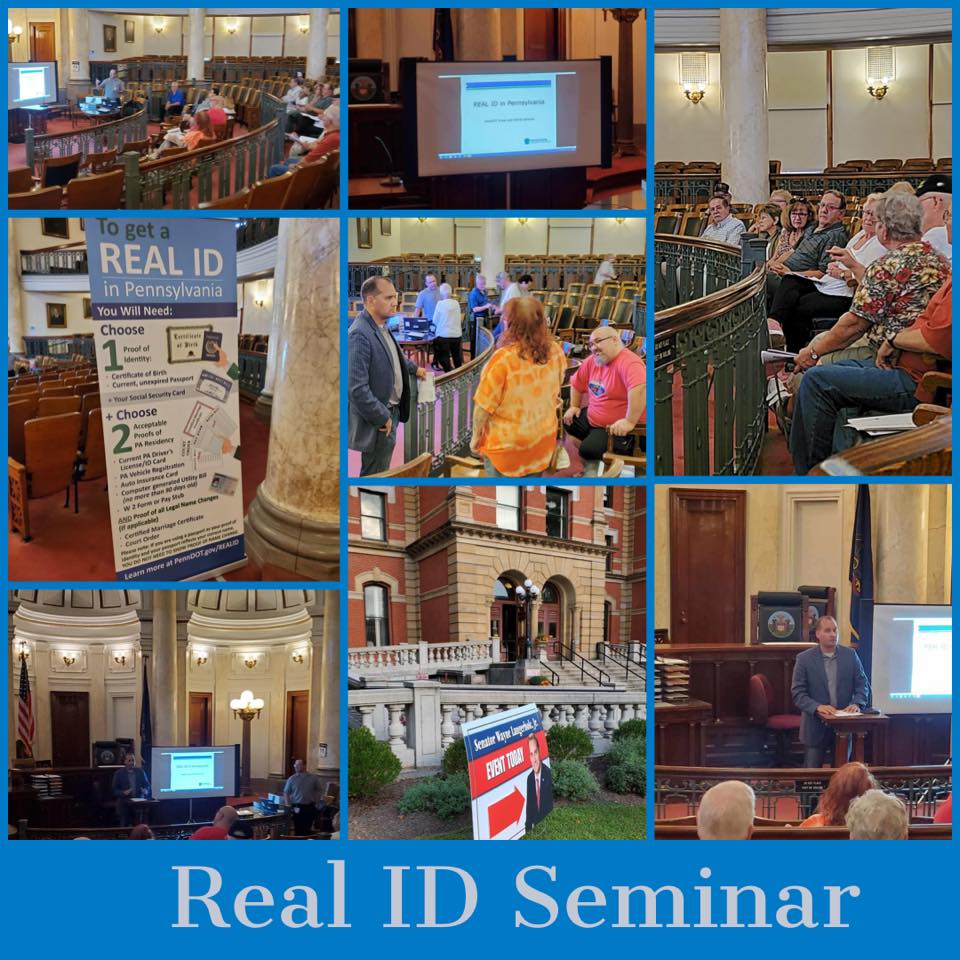 A Real ID Seminar was held at the Cambria County Courthouse on September 11, 2019 to answer questions and concerns that constituents may have regarding the upcoming deadline of October 1, 2020.
Thank you to everyone that attended the seminar and a special thank you to the presenters from PennDOT and the Cambria County Register of Wills office.
For information on Real ID feel free to reach out to one of my district offices for assistance.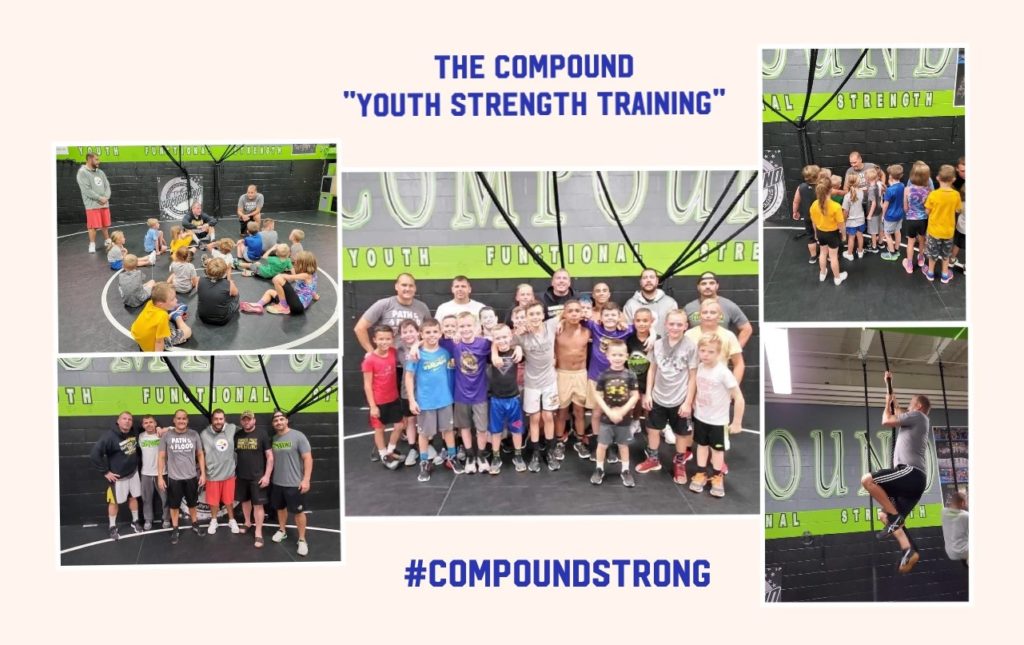 I want to thank Bill Bassett from The Compound "Youth Strength Training" in Johnstown for inviting me to a workout. This facility focuses on youth athletes and is home to many state and national wrestling champions.
I enjoyed the workout and speaking to the youth participants and their trainers. Again, thank you! #CompoundStrong
$1.2 million in State Grants for Local Projects
Eight local organizations have been awarded state funding for projects to protect the environment and enhance recreational opportunities for area residents. The grants were awarded by the Commonwealth Financing Authority (CFA) under its Watershed and Restoration Program and Greenways, Trails and Recreation Program.
I am pleased that tax dollars are returning to our communities to help fund these important projects. These grants will help restore and protect our waterways, protect our environment, enhance recreation opportunities and improve the quality of life for area residents.
The Central Mainline Sewer Authority was awarded a $60,000 state grant for a stream bank stabilization project along Jefferson Street in Washington Township, Cambria County. The grant will be used to rehabilitate approximately 126 feet of a severely eroded stream bank of the Little Conemaugh River and properly bury an exposed section of its sanitary sewer conveyance line that has been unearthed over time due to erosion.
Seven organizations received funding for greenways, trails including Portage Borough, which will use its $499,800 grant for improvements and repairs to the Trout Run Flood Protection project. The borough is proposing to restore the stream bank stability and flood-carrying capacity of portions of the Portage Flood Protection Project on Trout Run. The project will involve replacement of the failed portion of the crib wall, protection of exposed footing areas in multiple areas, removal of gravel bars, and repair of settled ground surface areas behind the crib wall.
The Cambria County Conservation & Recreation Authority in Ebensburg was awarded $244,375 to design a bike and pedestrian link to multiple trails located in the City of Johnstown.
The Western Pennsylvania Conservancy received $13,725 for the acquisition of 18.87 acres of forestland to expand the Sideling Hill Creek Natural Area located in Mann Township, Bedford County. The acquisition would increase the total acreage of Sideling Hill Creek Conservation Area to approximately 376 acres.
The City of Johnstown will use its grant of $100,000 for improvements to Roxbury Park to address maintenance and safety concerns. Phase II improvements to the park will consist of the installation of upgraded equipment and facilities at the park's integrated playground, new surface base materials to replace the existing worn surface, repairs to dugouts and storm water drainage improvements on and around multiple baseball and softball fields.
Gallitzin Borough, Cambria County, received $70,616 for multi-phase improvements to the Gallitzin Athletic Park. The project includes the installation of a walking trail extension to the upper parking lot, restroom facility, concession stand, park benches, picnic tables and rehabilitation of existing bleachers and trash receptacles.
Adams Township Boys League Inc. in Salix was awarded $45,000 to assist with the expansion of the Adams Township Recreation Park. The project will include installation of a multi-function playground structure, a swing set, and two concrete ADA parking spaces that will connect to the park by installing a crushed limestone trail.
Washington Township received $247,350 for improvements to the Memorial Park Trail in Washington Township, Cambria County. The township intends to enhance safety of the existing trail by adding light fixtures to each road crossing, extending the trail another mile and a half, and constructing two new bridges to cross over Bear Rock Run. The project will also include planting shade trees along the existing trail and adding a new vegetation layer that will aid in mitigating storm water runoff. This area will then be converted to multi-use sports fields.
The Commonwealth Financing Authority (CFA) was established in 2004 as an independent agency of the Department of Community and Economic Development (DCED) to administer Pennsylvania's economic stimulus packages. The CFA holds fiduciary responsibility over the funding of programs and investments in Pennsylvania's economic growth.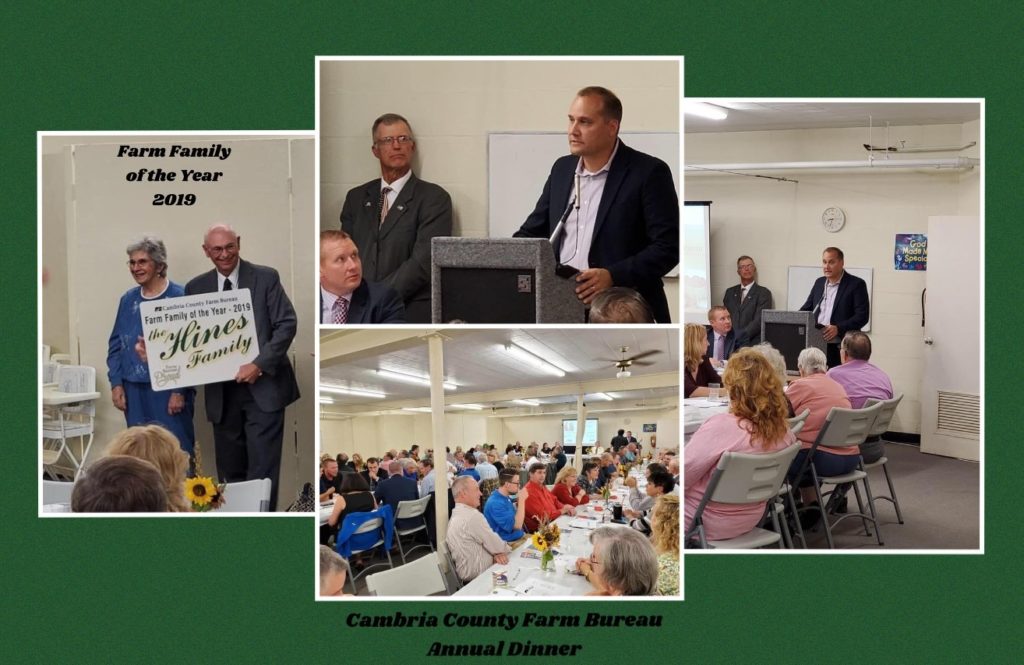 I had the privilege of speaking at the Cambria County Farm Bureau Annual Meeting and Dinner at St. Monica Church Social Hall in Chest Springs. It is always a pleasure to speak with my constituents in the farming community and learn what issues and concerns they may have.
A huge congratulations to the Hines Family for being named the "Farm Family of the Year for 2019".
Grant Opportunities
Application Period Opens for School Safety and Security Grants
Schools and community groups can apply now for grants to help boost school safety and reduce the risk of community violence.
The School Safety and Security Grant Program provides grants to school districts, intermediate units, area vocational-technical schools, charter schools and private residential rehabilitative institutions for a wide variety of projects to improve school safety.
The grants fund projects including hiring mental health professionals, purchasing security-related technology, completing safety and security assessments, implementing violence prevention curricula, offering counseling services for students, and creating other programs to protect students.
A total of $18.72 million will be distributed to all schools that submit a qualifying application, and an additional $33.78 million in grants will be awarded on a competitive basis.
An additional $7.5 million will be awarded to improve community safety and reduce the risk of violence through projects including mentoring and intervention for at-risk children and families; promoting communication between school entities and law enforcement; linking the community with local trauma support and behavioral health systems; and other programs designed to reduce community violence.
The application period for grants is open now through November 4. More details about the program are available at the PCCD School Safety and Security webpage.
PennDOT's Multimodal Grant Program

The window to submit applications for the latest round of PennDOT's Multimodal Grant until November 8, 2019. Funds can be used for enhancing roadways, bridges, transit facilities, sidewalks, bicycle lanes and other improvements.
All eligible applicants such as local governments, non-profits, economic development organizations and other public transportation agencies are encouraged to apply through PennDOT's website at www.penndot.gov and click on Multimodal Program under the "Projects & Programs" menu
Upcoming Events
Veterans Appreciation Breakfast
Thursday, October 24, 2019
8:30 am
Our Sons Main Event
229 Main Street
Johnstown, PA 15901
Deadline to Register is Friday, October 11, 2019
Join your fellow brothers and sisters in arms as we honor all veterans of the 35th Senatorial District. Our special guest is Major General Anthony J. Carrelli, Pennsylvania's Adjutant General. General Carrelli is responsible for the command, control and supervision of Pennsylvania's Army and Air National Guard units, six state-owned Veterans' homes, and programs for Pennsylvania's nearly 800,000 veterans.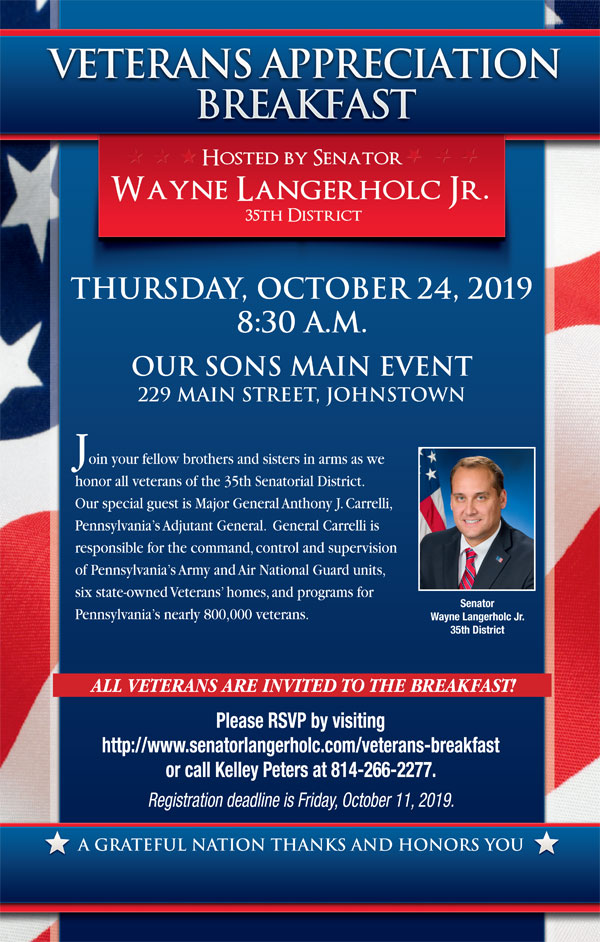 Visitors to Harrisburg
I would like to remind constituents, to please feel free to stop in my office, Room 187, when you are visiting the capitol. My staff and I welcome the opportunity to say hello to you. If you are visiting on a session day, I can also introduce you as my guest during session. Feel free to call 717-787-5400 if you know in advance that you will be visiting the capitol. If you are interested in a capitol tour, you can schedule your visit online: http://www.pacapitol.com/plan-a-visit/tours.cfm

If you are not already subscribed to this newsletter please sign up here.