In This Update
Senate Votes to Give Schools Final Say on School Sports, Spectators
Broadband Deployment Could Get a Boost from Senate Action
Senate Passes Measure to Allow Expert Witnesses in Cases of Domestic Violence and Human Trafficking
Local Organizations Receive $275,000 in Grants for Historic Preservation Projects
Senate Action Prompts Wolf Administration to Relent on Restaurant Restrictions
Bill Requiring Legislative Approval of RGGI Goes to the Governor
Applications Available Now for Additional Unemployment Payments
Bill Moves Forward to Protect Young Victims of Sexual Assault
Senate Votes to Observe Moment of Silence Honoring Lives Lost in 9/11 Attacks
Dairy Relief Grants Still Available
Symposium Scheduled on VA Benefits
---
Senate Votes to Give Schools Final Say on School Sports, Spectators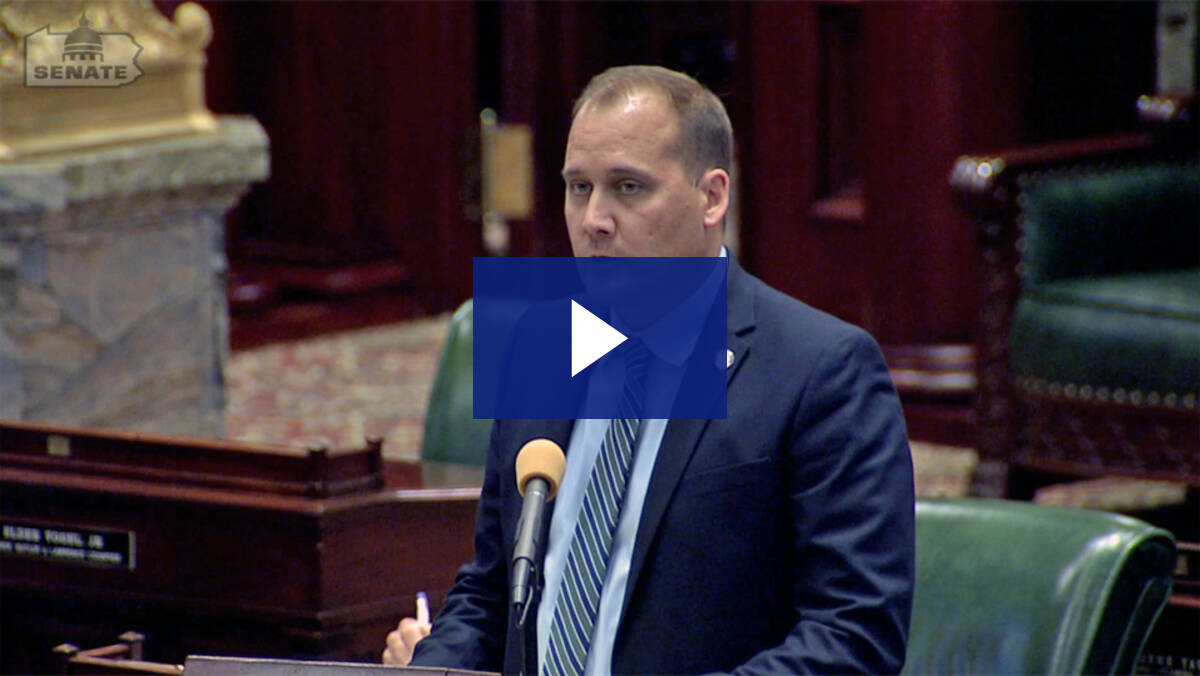 The Senate gave final approval to a bill this week that would ensure school districts could make the final decision on whether to allow school sports, extracurricular activities and spectators during the 2020-21 school year. The bill would remove the uncertainty that has been created by the Wolf Administration's unclear and constantly shifting guidance for schools.
The bill would allow school districts to develop their own health and safety plans that reflect the realities facing schools during the COVID-19 pandemic. The health and safety plans would be required to be posted online and submitted to the Department of Education.
Under the bill, any individual who has COVID-19 in a transmissible stage would be prohibited from participating in any sporting event or extracurricular activity.
Broadband Deployment Could Get a Boost from Senate Action
This week the State Senate unanimously approved Senate Bill 835, which I prime sponsored that would establish a grant program to extend deployment of broadband services in underserved areas of the state.
Access to broadband has become even more crucial during the COVID-19 health crisis, connecting residents with services and information. Specifically, we have heard from parents of students who are taking classes remotely, school officials, farmers, individuals tele-working, senior citizens and fire and emergency workers.
Senate Bill 835 will provide funding to improve access to high-speed broadband internet in rural areas of PA, which currently do not have access to reliable networks. It would limit funding to entities that have demonstrated the ability to construct and administer internet services and require that they provide 25 percent of the funding for the project.
The COVID-19 pandemic has brought into view what we in rural Pennsylvania have known for some time – broadband is essential to connectivity, education, safety and productivity. The time is now to ensure all state residents are afforded the same opportunities.
Senate Passes Measure to Allow Expert Witnesses in Cases of Domestic Violence and Human Trafficking
This week the State Senate approved a bill I sponsored that would allow expert witnesses in cases of domestic violence and human trafficking.
Senate Bill 1170 would amend the Judicial Code to permit the Commonwealth to call expert witnesses in court cases involving domestic violence and human trafficking in order to provide a clearer picture of the crime and how it impacts victims and affects their behavior.
The state judicial code currently allows expert witnesses to testify in cases of sexual violence about the dynamics of the crime, the victim's response and the impact of sexual violence on victims both during and after the assault.
These types of expert witnesses have been crucial to helping jurors understand the tremendous trauma that a sexual assault can have on a victim and how that trauma can affect their behavior and their overall health. Seeing how valuable these experts have been to providing justice to victims of sexual assault, and the links between the three crimes, I believe these expert witnesses should also be permitted in cases of domestic violence and human trafficking.
In the last 10 years, more than 1,600 people have died from domestic violence-related incidents in Pennsylvania. In 2019, 112 victims lost their lives to domestic violence in Pennsylvania.
Human trafficking is the second-largest criminal enterprise in the world and it has taken root in Pennsylvania. In 2017, 210 human trafficking cases were reported in the state. The number jumped to 275 in 2018. Within the first six months of 2019, Pennsylvania had 126 reported cases of human trafficking.
Local Organizations Receive $275,000 in Grants for Historic Preservation Projects

Four organizations in the 35th Senatorial District have been awarded almost $275,000 in state funding through the Keystone Historic Preservation Grant Program to rehabilitate several sites. The following grants were awarded:
Johnstown Redevelopment Authority – $50,000 to preserve the John Ludwig House at 662 Main St. in Johnstown, a location used by American Red Cross founder Clara Barton during relief efforts after the 1889 Johnstown Flood.
Johnstown Area Heritage Association – $100,000 to upgrade and replace failing HVAC and electrical systems at the Johnstown Flood Museum and rehabilitate the exterior building fabric.
Center for Metal Arts (CMA) – $25,000 for rehabilitation of the National Historic Landmark Cambria Mill Office Buildings to accommodate the CMA's visitor area, galleries and administrative offices.
Pittsburgh Gateways Corporation – $99,969 for stabilization of the Pattern Shop as part of the Center for Metal Arts' educational blacksmithing program in Johnstown's Cambria Iron and Steel Historic Landmark.
These grants are vital to rehabilitating and restoring local landmarks. They also help to promote economic development, create jobs and improve our communities.
The funding comes from the Commonwealth's Keystone Recreation, Park and Conservation Fund. This fund was established by the Pennsylvania General Assembly in 1993 using revenue from the voter-approved sale of bonds and from a portion of the state realty transfer tax.
Keystone Historic Preservation Grants, which require a 50/50 cash match, are available for the preservation, restoration and/or rehabilitation of historic resources listed in or eligible for listing in the National Register of Historic Places. The grants are administered on a competitive basis.
Senate Action Prompts Wolf Administration to Relent on Restaurant Restrictions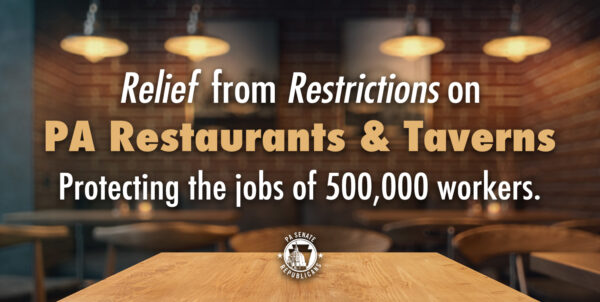 The Wolf Administration announced updated guidance this week that will allow restaurants to open at 50 percent capacity. The announcement came on the same day that the Senate Law and Justice Committee unanimously passed a bill that would have removed the governor's 25-percent cap on occupancy and allowed restaurants to operate at 50 percent capacity until the current COVID-19 emergency declaration ends.
I was pleased to see that Governor Wolf finally recognized the extreme pressures his restrictions have placed on Pennsylvania's restaurant and tavern industry; however, his announcement falls short of providing these businesses with the relief they desperately need. The Governor is now adding additional burdens to restaurants by requiring them to self-certify to affirm the safety standards they already have in place and limit the hours they can sell alcohol by mandating a 10 p.m. "last call" provision. Further, his announcement does not address the continued ban on bar service, meal requirements to purchase alcohol, or the private event limitation of 25 people. His announcement is one step forward and three steps back.
I'm hopeful when the Senate returns to session, we will consider House Bill 2513 to provide the much needed relief to our restaurants.
Bill Requiring Legislative Approval of RGGI Goes to the Governor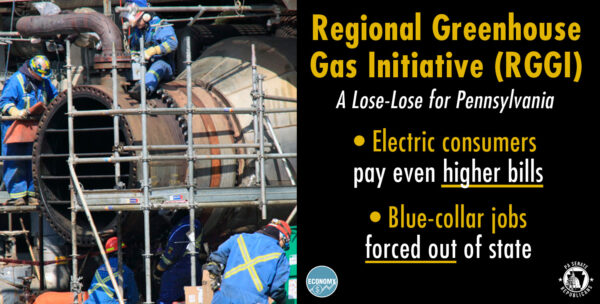 Pennsylvania's participation in the Regional Greenhouse Gas Initiative (RGGI) could cost the state thousands of jobs and hundreds of millions of dollars in economic activity. The Senate approved a bill this week that would prevent the Department of Environmental Protection (DEP) from participating in RGGI or enacting any similar carbon tax on Pennsylvania employers without the approval of the General Assembly.
Under the bill, DEP would be required to provide a public comment period of at least 180 days on RGGI legislation and hold a minimum of four public hearings in communities that would be directly impacted by the proposal.
After the public comment period, DEP would be required to submit a report to the House and Senate Environmental Resources and Energy committees detailing the specific economic and environmental impacts that joining RGGI would have on impacted communities and the Commonwealth. Lawmakers would then have the final say on whether the state should join RGGI or any similar compacts that would enact a carbon tax on Pennsylvania employers.
Applications Available Now for Additional Unemployment Payments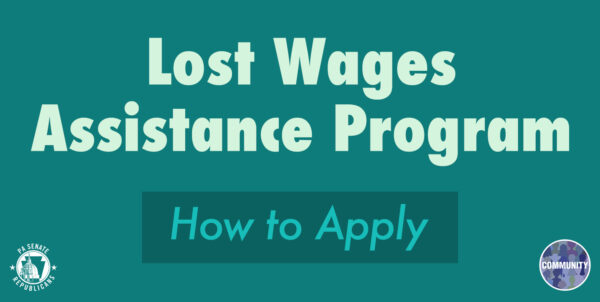 The Pennsylvania Department of Labor and Industry is accepting applications now for President Trump's Lost Wages Assistance program to provide an additional $300 per week in unemployment payments for many residents impacted by the COVID-19 pandemic. The department began taking applications on Sunday.
More details about eligibility and applications are available here.
Bill Moves Forward to Protect Young Victims of Sexual Assault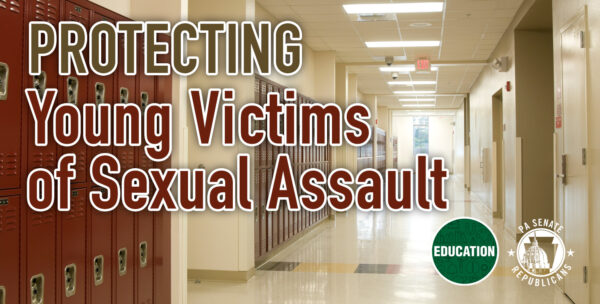 The Senate approved a bill this week that would protect young victims of sexual assault against the possibility of having to attend school with their attackers. The legislation would require schools to remove any student convicted or adjudicated delinquent of sexual assault against another student enrolled at the same school.
Senate Votes to Observe Moment of Silence Honoring Lives Lost in 9/11 Attacks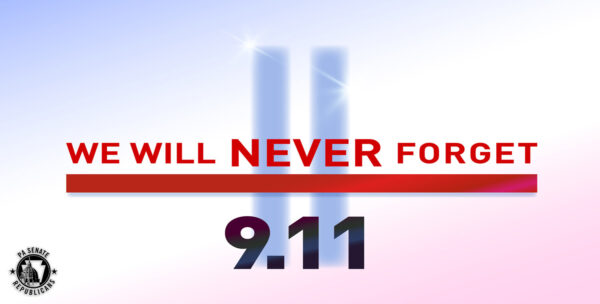 In recognition of the 19th anniversary of the September 11 terrorist attacks, the Senate voted this week to observe a moment of silence in schools to honor our fellow Americans who lost their lives on that fateful day. The bill also will ensure model curriculum is developed to help students understand the significance of these attacks in our nation's history.
In addition, the bill would create a similar moment of silence in recognition of Pearl Harbor Day on December 7.
Dairy Relief Grants Still Available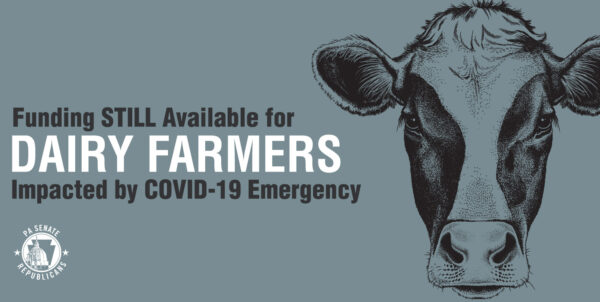 Many Pennsylvania farms were forced to dispose of milk during the COVID-19 pandemic due to severe disruptions in supply lines. Farmers who dumped milk during the crisis can apply to receive a share of $15 million in relief payments offered through the Dairy Indemnity Program.
The program, which was funded through the federal Coronavirus Aid, Relief, and Economic Security (CARES) Act, provides relief payments of at least $1,500 for dairy farms that experienced a loss due to discarded or displaced milk during the pandemic. Farmers can also apply for a prorated portion of any remaining funds.
Farmers must apply by September 30 in order to receive funding. So far, $13.5 million of the $15 million dedicated to the program is still available for farmers to claim.
Symposium Scheduled on VA Benefits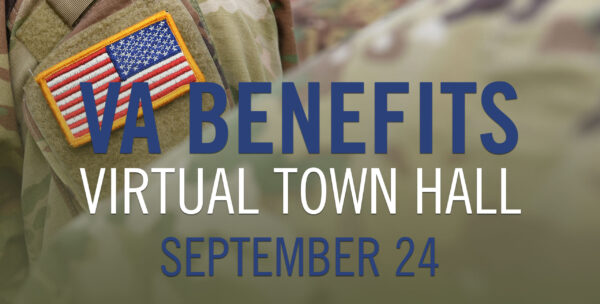 The Veterans Benefit Administration will host a virtual town hall meeting on September 24 for community groups, non-profits and faith-based organizations that are interested in helping to connect veterans in their area with the benefits they have earned through their service to our country.
The symposium is scheduled to run from 9 a.m. until 5 p.m. Groups can sign up to participate here. More information on VA benefits are available on the U.S. Department of Veterans Affairs website.