In this Update:
Citation Presented to Eagle Scout Noah Rose
Cambria County Job Fair
Virtual Hiring Event for Veterans
Veterans Food Drive Continues
Ebensburg Bark For Your Park
Clearfield County Charitable Foundation Accepting Grant Applications
ID.ME REMINDER!
International Overdose Awareness Day
Homes Within Reach 2021
Unconventional Gas Well Fund Grant Program
Legislative Review: Supporting Veterans
Public Hearing on Child Protective Services Law Revisions
Education Financial Assistance Available to Eligible Children of Veterans
Game Commission Offering Learn to Hunt Webinars
Observing Aviation's Contribution to Pennsylvania and America
---
Citation Presented to Eagle Scout Noah Rose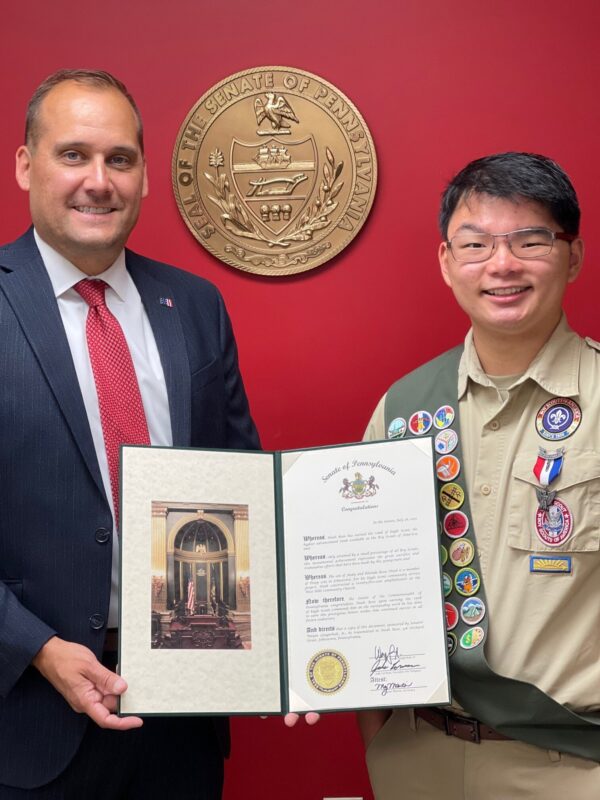 I had the honor of presenting a citation to Noah Rose who recently achieved the rank of Eagle Scout. Noah is a member of Boy Scout Troop 2183 in Johnstown and constructed a twenty-five-seat amphitheater at the West Hills Community Church for his service project.
Congratulations Noah on this impressive accomplishment! Best wishes for continued success in all your future endeavors.
Cambria County Job Fair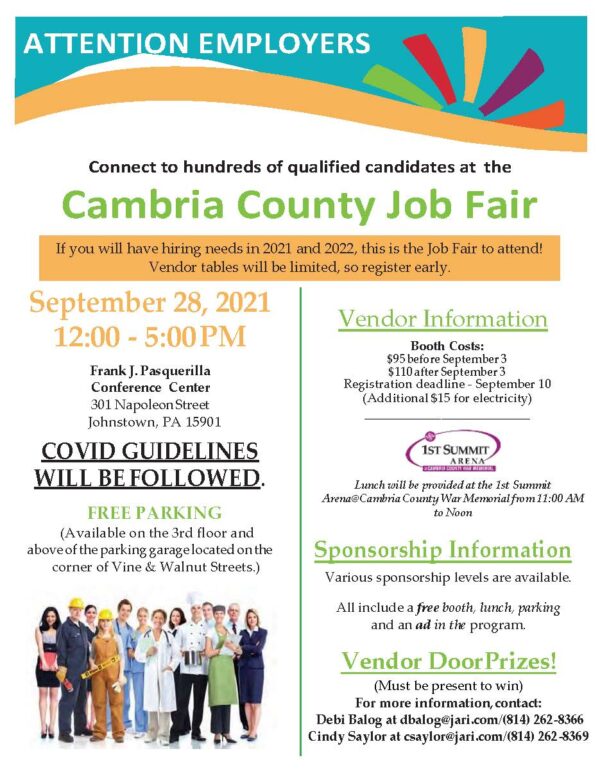 The 24th Annual Cambria County Job Fair will be held from 12:00 pm to 5:00 pm on Tuesday, September 28, 2021, at the F.J. Pasquerilla Conference Center located in downtown, Johnstown. Employers will have the opportunity to recruit from a diverse group of qualified candidates. Job seekers of all ages are encouraged to attend and to bring their resumes.
Local workforce experts will be available to answer questions and provide information on job search resources, as well as recruitment information for employers. There is no cost for job seekers to attend. The exhibitor fee is $95.00 per table. The deadline for exhibitor registration is Friday, September 10th.
Job seekers can attend Employer Expectations and Your Job Search preparation workshops on September 20th, 22nd or 24th from 1:00 pm to 2:30 pm at the PA CareerLink of Cambria County.
Workshop topics include:
Resume Writing
Interview Techniques
Zoom and Social Media Etiquette
Employer Expectations
Job Retention
Preparing for a Job Fair
To register for the workshops, call the CareerLink at 814-534-2500.
Sponsors to date include: Highmark, Interim Healthcare. Leonardo DRS, Richland Woods Assisted Living, Senior Life of PA, Croyle-Nielsen Therapeutic Associates, Riggs Industries, WorkLink Staffing, Sargent's Personnel Agency, Lockheed Martin AeroParts Inc. JARI, PA CareerLink Cambria County, Southern Alleghenies Workforce Development Board and The Tribune-Democrat.
Click here for employer registration information. The list of participating employers can be viewed here.
View the Cambria County Job Fair YouTube video at https://youtu.be/_0_EuwtFTLE.
Virtual Hiring Event for Veterans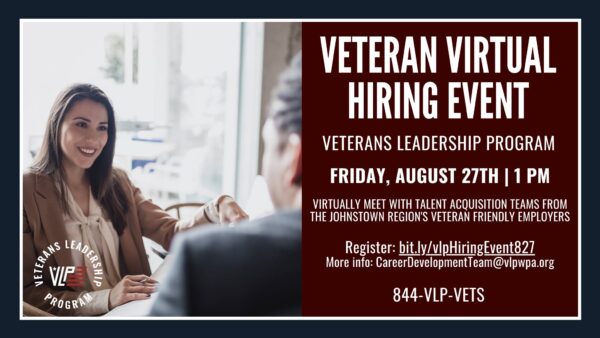 Veterans Leadership Program will be hosting a virtual career fair for the military community on Friday, August 27 a 1pm. Register: bit.ly/vlpHiringEvent827
For more info about Career Development Services, contact: CareerDevelopmentTeam@vlpwpa.org.
Veterans Food Drive Continues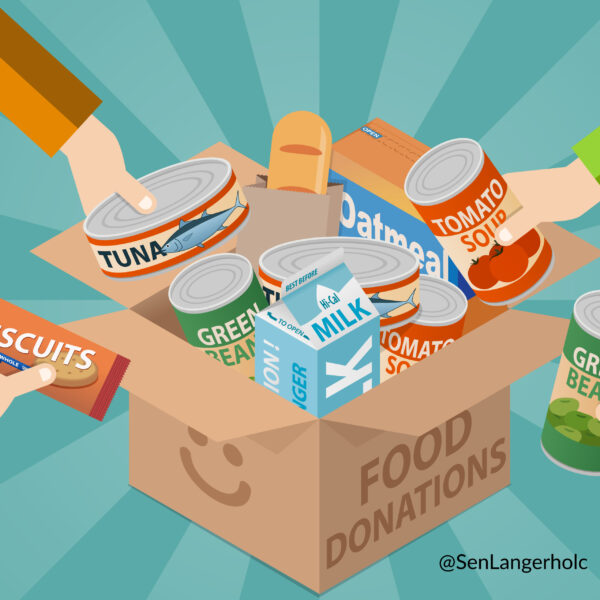 Laurel Highlands Historical Village continues to collect food, paper goods, Hygiene Products for area veterans who need our help. You can take your donations to The Johnstown Galleria mall food court or Lottery booth, also Hoss's in Ebensburg or Johnstown, and Kimmie's Kitchen in Mundy's Corner. Please consider helping our veterans in need. For any questions, please call their office at 814-241-6123.
Also, Hiram G. Andrews Center, 727 Goucher St., Johnstown, provides a box of food to any veteran who shows up at Hiram G. Andrews the last Thursday of the month from 1200 and 1230 hrs local. They will sometimes go longer if they still have food left over after 1230 hrs.
Ebensburg Bark For Your Park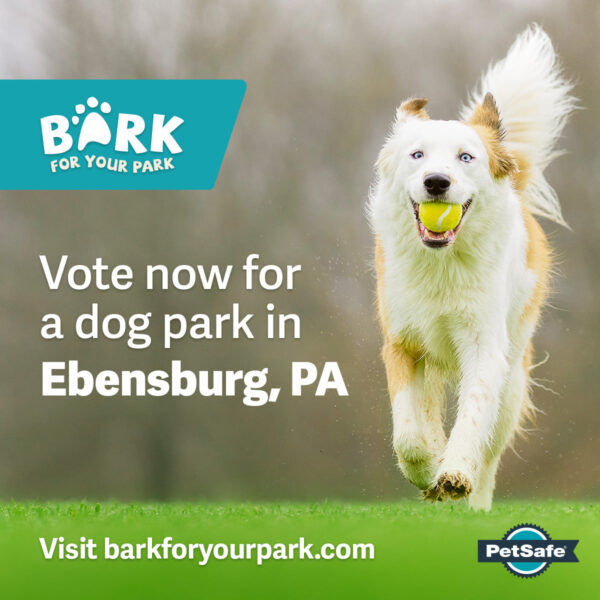 Your votes can help Ebensburg win $25,000 towards a new Dog Park! The top five communities with the most votes will win! Thank you to everyone who has been voting daily, and please keep them coming! Vote here!
Virtual PA CareerLink Event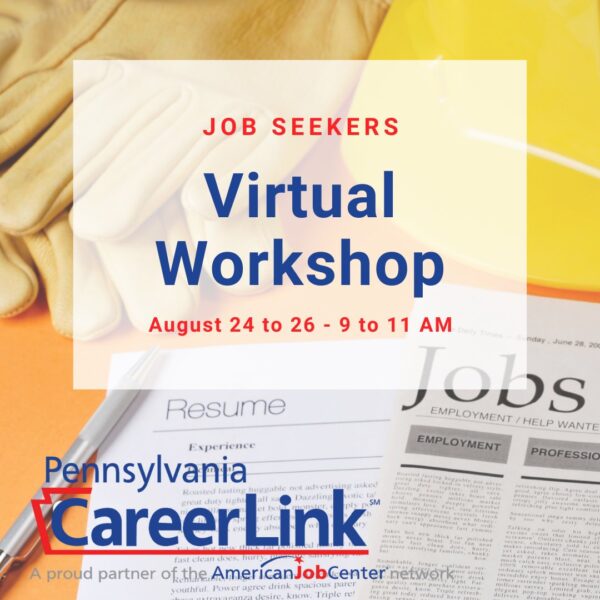 PA CareerLink will be hosting a virtual workshop August 24th-26th from 9 am – 11 am daily. This event will assist individuals in learning more about their individual skillsets as well as exploring the current jobs available to see if a job is right for them.
Sign up now: https://ecs.page.link/haFEt or call (814) 534-2500.
Clearfield County Charitable Foundation Accepting Grant Applications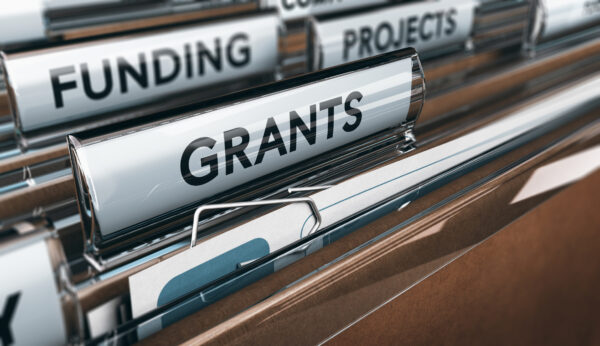 The Clearfield County Charitable Foundation is ready to accept applications for the 2021 CCCF Grant Program.
Application forms can be downloaded from the website at http://clearfieldcharitablefoundation.org/forms-downloads or can be requested by email at cccfexecdir@outlook.com.
The deadline for submission of the completed applications is Friday, Sept. 24. After the applications are submitted, the CCCF Grant Committee will review and score the applications, then make recommendations to the CCCF Board of Directors who will award the grants during their October board meeting.
ID.ME REMINDER!

No one from ID.me will ever ask you for your credit card information! Some people have reported finding a phone number online for ID.me assistance. THIS IS FRAUD! The best way to get help with ID.me is to request help directly from their website. DO NOT GIVE ANYONE YOUR CREDIT CARD INFORMATION!
DCNR Now Accepting Grant Applications
The Department of Conservation and Natural Resources (DCNR) is now accepting electronic applications for grants aiding snowmobile- and all-terrain vehicle-related projects.
No match is required for this funding; however, applications providing matching funding will be given additional consideration. Here is a link to DCNR's application process, which is open until Sept. 30:
https://apps.dcnr.pa.gov/grants/
International Overdose Awareness Day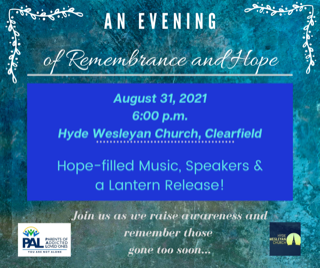 The Clearfield Parents of Addicted Loved Ones (PAL) Group, in partnership with REST, Inc. and the Hyde Wesleyan Church, will be holding a memorial service on August 31, 2021 – International Overdose Awareness Day — to remember those lost to overdose and other drug-related deaths.
The memorial service, called "An Evening of Remembrance and Hope" will begin at 6:00 p.m. at the Hyde Wesleyan Church, 1215 Riverview Road, Clearfield. The public is encouraged to attend this service which will include music, speakers and a lantern release in honor of those gone too soon. Any family members who have lost a loved one to overdose or other drug-related death are requested to please email their loved one's name and pictures to bobbie@restfamilies.org to be compiled into a memorial video which will be played during the service. All submissions should be made no later than August 23rd. Interested participants are also welcome to call 814-762-2933 with any questions.
Homes Within Reach 2021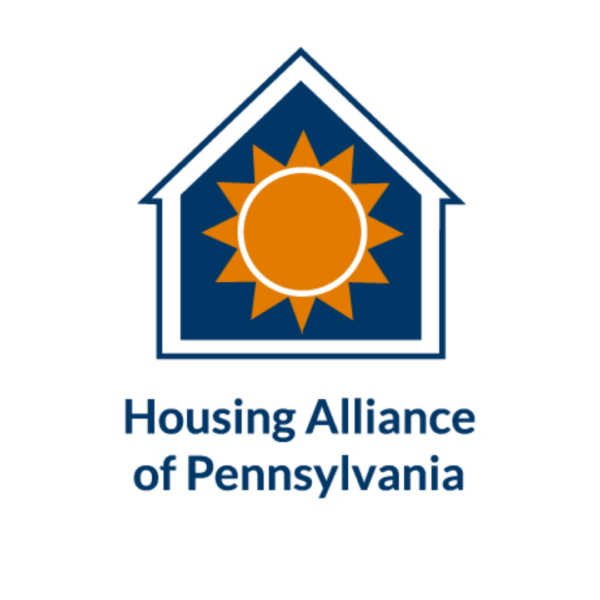 Applications are open for scholarships for Homes Within Reach conference registration. The PA Department of Community and Economic Development will provide scholarships to conference attendees working for organizations and agencies that serve the PA CoC Balance of State counties working to prevent and end homelessness. The Balance of State covers 55 of Pennsylvania's 67 counties. This includes 35 counties that are part of the Eastern PA CoC and 20 counties in the Western PA CoC.
In addition to these scholarships, the Housing Alliance of Pennsylvania will be providing scholarships to people with lived experience. These scholarships are funded through our annual conference Scholarship Raffle.
The deadline for consideration is Friday, September 24th at 11:59pm.
Please feel free to call the Housing Alliance of Pennsylvania at 215-576-7044 if you have any questions or email info@housingalliance.pa.org.
Complete conference program information can be found here.
Unconventional Gas Well Fund Grant Program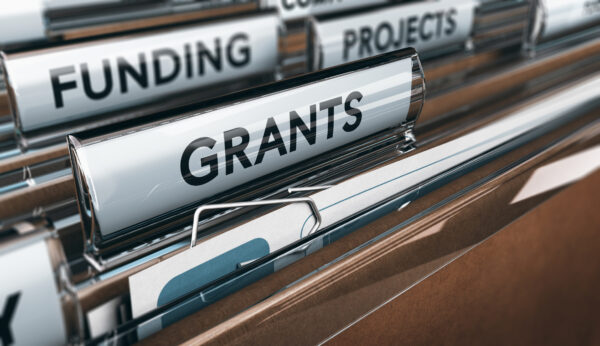 The 2021 grant application period for the Act 13 Unconventional Gas Well Fund (UGWF) Grant Program is now OPEN. The application period closes October 15, 2021. The Act 13 UGWF Grant Program provides grants for volunteer and career fire, emergency medical services, and rescue companies throughout the 40 Pennsylvania counties where unconventional gas well drilling has been permitted, or those counties that directly border the permitted counties, and who respond to gas well related emergencies. More information is available on the State Fire Commissioner's home page at Act 13 UGWF Grant Program (pa.gov).
Legislative Review: Supporting Veterans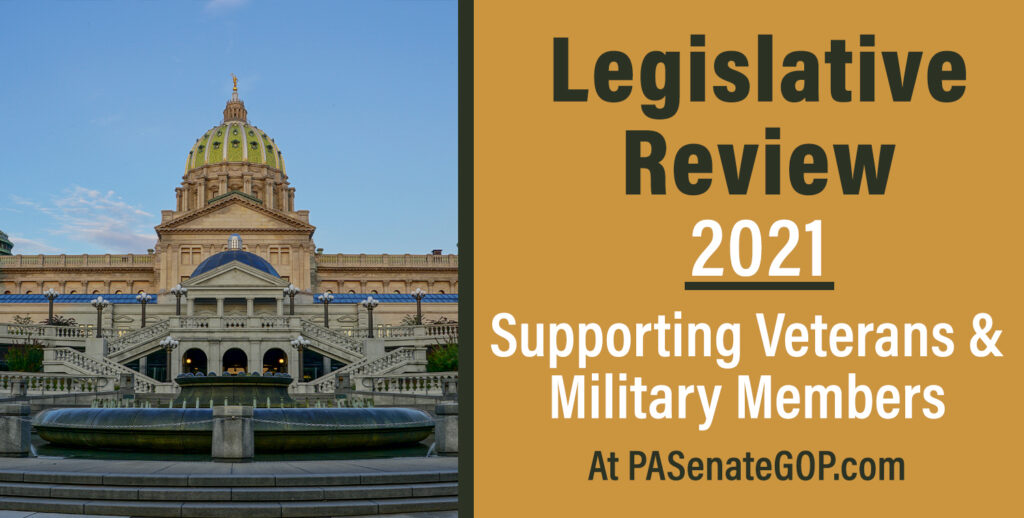 Pennsylvania is home to nearly 800,000 veterans in addition to active members of the military. Supporting these men and women, and their families, is a top priority. The Senate passed several bills this year to assist Pennsylvanians who served our nation.
Act 31 of 2021 extends employment protections to Pennsylvania citizens who are members of another state's National Guard.
Act 55 of 2021 increases the maximum donation amounts to the Veterans' Trust Fund from $3 to $5 when applying for or renewing a driver's license, ID card or vehicle registration and from $6 to $10 when applying for a two-year vehicle registration.
Act 63 of 2021 adds a member of the State Veterans Commission to the Pennsylvania Long-Term Care Council.
Senate Bill 248 designates March 6 as Persian Gulf War Veterans Day and October 7 as Global War on Terrorism Veterans Day.
Senate Bill 486 provides members of the Pennsylvania National Guard and reserve components of the U.S. Armed Forces who serve on active duty, as well as their spouses, preference for placement into job training programs for one year after discharge.
You can find a full list of bills of note passed by the Senate in 2021 here.
Public Hearing on Child Protective Services Law Revisions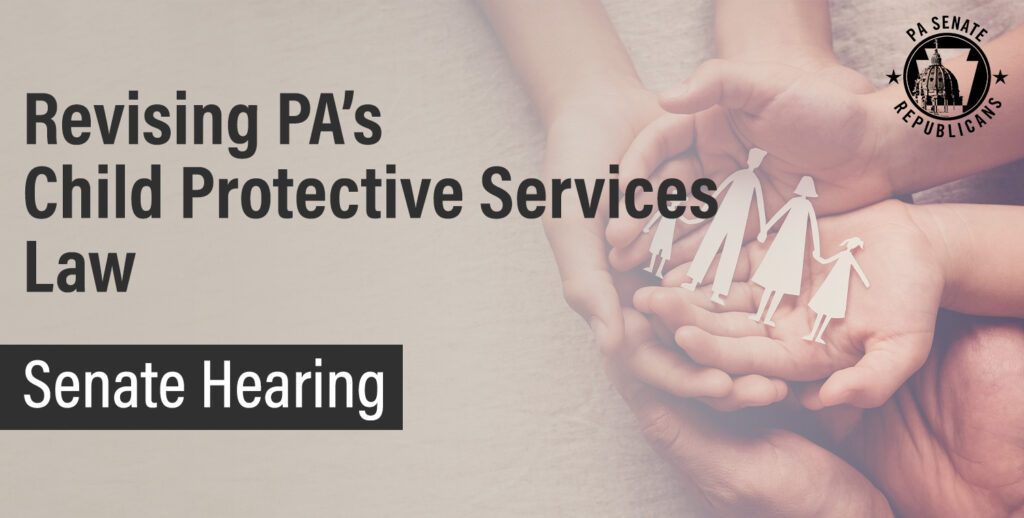 Proposed changes to a state law aimed at protecting children from abuse was the topic of a Senate hearing this week.
The Senate Aging and Youth Committee took testimony on revisions to Pennsylvania's child protective services law proposed by the state Department of Human Services. Among the changes would be the removal of time frames for the expungement of state records on child abuse cases.
Currently, state law requires that unfounded child protective services reports and invalid general protective services reports be expunged from the state database after one year and that validated general protective services reports be expunged after 10 years or until the youngest child in the report turns 23. The change is aimed at aiding efforts to identify children at risk of future abuse.
You can watch the hearing and read testimony here.
Education Financial Assistance Available to Eligible Children of Veterans
The Educational Gratuity Program provides financial assistance for those attending post-high school education or training at an approved institution in the Commonwealth.
The program supports children of honorably discharged veterans who have 100% service-connected disabilities and served during a period of war or armed conflict, or children of veterans who die or died in service during a period of war or armed conflict. All applicants must have a financial need.
Payments will not exceed $500 per term or semester per qualified child to each approved educational institution over a total of eight terms or semesters. More information on the program and how to apply can be found here.
Game Commission Offering Learn to Hunt Webinars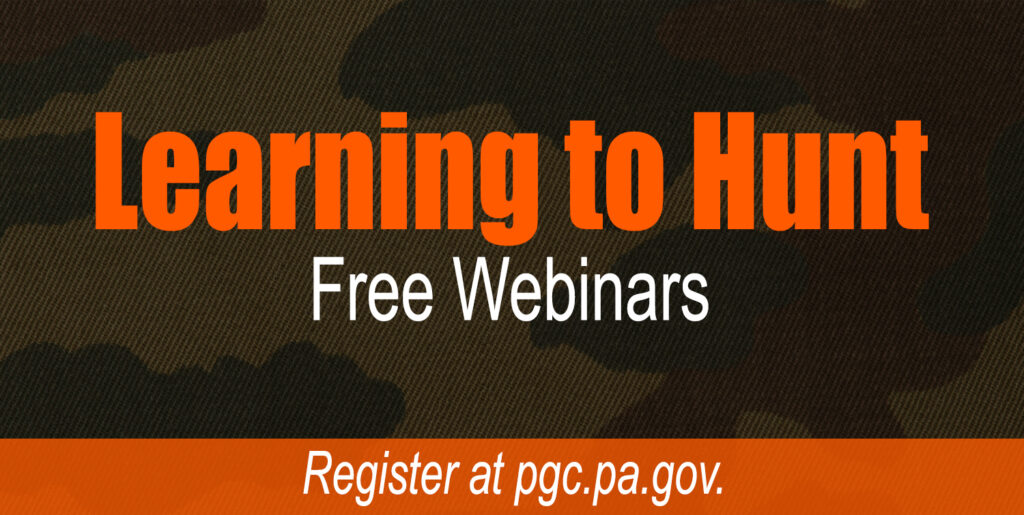 The Pennsylvania Game Commission is offering a series of free webinars to provide new and existing hunters of all ages information on finding places to hunt, selecting a firearm, regulations, biology of game species, hunting tips and preparing wild game for the table.
The series kicks off Aug. 19 with a "Squirrel Hunting 101" webinar at 7 p.m. Additional live webinars will be on Sept. 9 and Sept. 21, also beginning at 7 p.m. The series continues into October with a "Pheasant Hunting 101" webinar at 7 p.m. on Oct. 7 and again on Oct. 26.
The webinars will be about an hour long and hosted by Game Commission staff. Each webinar will include a live Q&A session at the end. Advanced registration to view the webinars live is required at the Learn to Hunt page.
Observing Aviation's Contribution to Pennsylvania and America

Today is National Aviation Day that celebrates the history of flight! We stand with our local airports that generate $23.6 billion in economic activity and support more than 300,000 jobs. Blue skies ahead!