Dear Friend,
Thank you for taking the time to read my e-newsletter. These periodic updates allow me to keep constituents informed about state and local issues through email without burdening taxpayers with printing and mailing costs.
If you find this information to be useful, I also invite you to visit my website at www.senatorlangerholc.com and on Facebook or Instagram.  If you do not wish to receive these e-newsletters, please click the unsubscribe button at the bottom of the page.  If you would like to contact my office, please go to my web page and click the contact button.  Please do not reply directly to this e-mail.
Senator Wayne Langerholc, Jr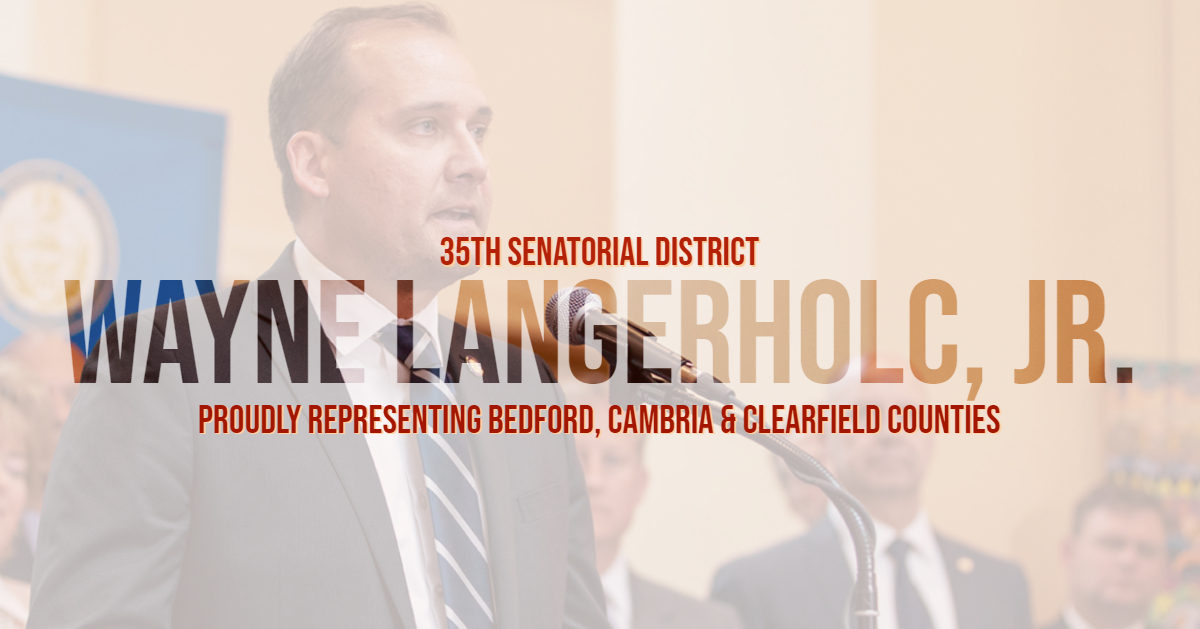 Harrisburg Happenings
Summer Spotlight
This week's Summer Spotlight will focus on the work I have been doing as the Chairman of the Senate Education Committee. In this position, I work with committee members on all aspects of Pennsylvania's education system, including school safety, basic education funding, early education, special education, career and technical education, and post-secondary education. Our children are our greatest asset and we must do whatever necessary and possible to ensure they receive the best education.
Throughout my time as Senator, I have made a point to work directly with local school administrators, teachers, parents, students and employers on education issues. It is important to hear from them and involve them in the conversation.
In June, the Senate and House passed the following education bills which were signed by the Governor:
Act 18 of 2019 (Martin) amends the Public School Code to provide for $60 million for the School Safety and Security Grant Program, improves the grant award process, and expands grant eligibility to private schools for school safety. In addition, it provides for the establishment of threat assessment teams and training on trauma-informed approaches to education for school leaders and professional educators. Establishes a grant program that enables schools to purchase telepresence equipment to support the education of homebound students.
Act 64 of 2019 (Phillips-Hill) gives school districts the option to implement flexible instructional days in the event of an emergency school closure.
Act 70 of 2019 (Browne) amends the Public School Code to create the Public Higher Education Funding Commission to review and make recommendations related to a higher education funding formula and higher education issues. As Chairman of the Education Committee, I will have a seat at the table as these important issues are discussed.
Additionally, Act 70 included recommendations from the Public School Building Construction and Reconstruction (PlanCon) Advisory Committee. This will allow school buildings to be upgrade for safety improvements, maintenance of existing buildings and new construction.
District Happenings
AAABA Tournament
Congratulations to Martella's Pharmacy for making it to the championship in this year's AAABA tournament. This team of exceptional athletes continues to prove themselves through hard work and dedication. I am honored to represent a district filled with such excellent athletes!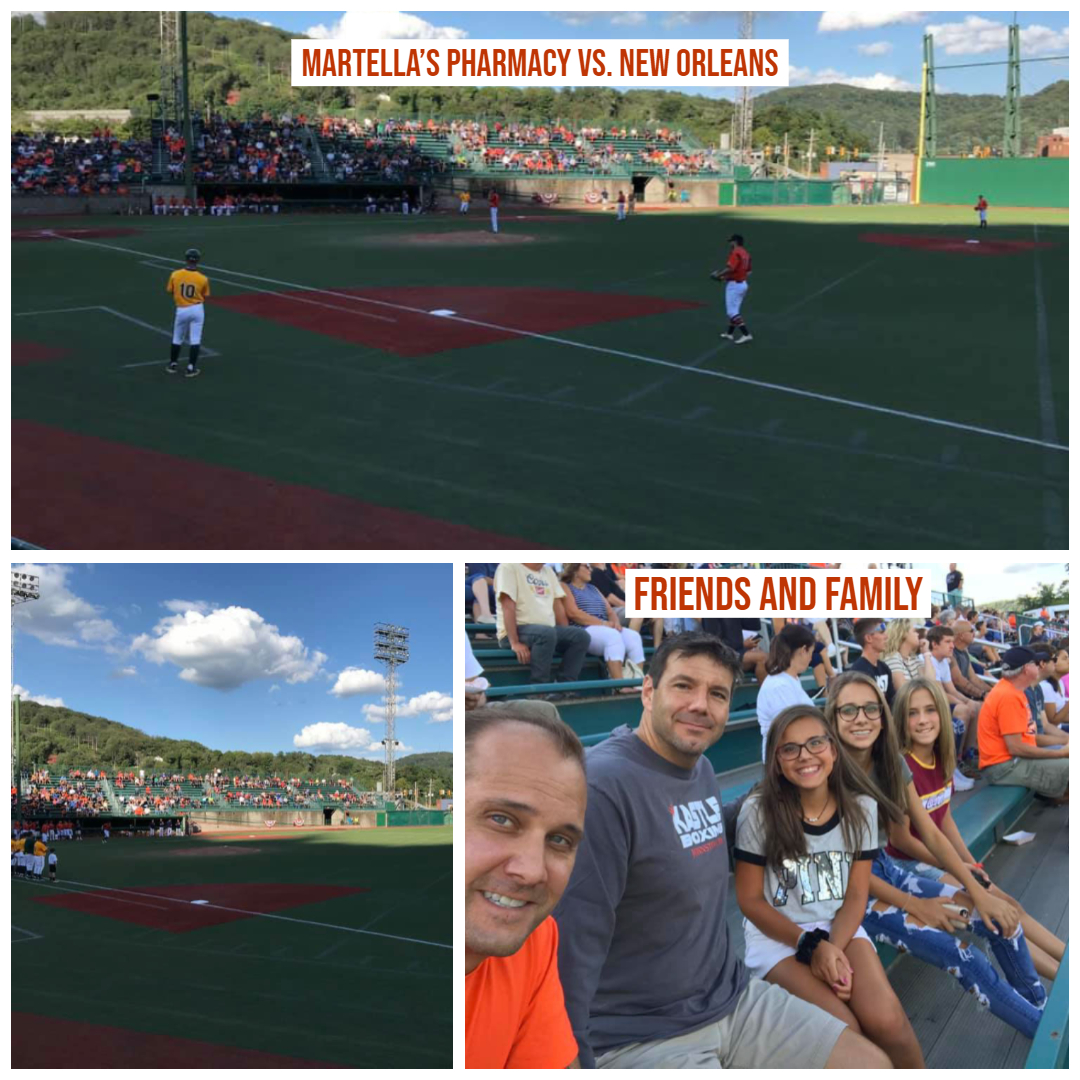 Senate Education Committee Public Hearing
On Wednesday, I chaired the Senate Education Committee hearing on public charter schools at Everett Area Junior – Senior High School. During the hearing, the Education Committee had the chance to hear testimony from area educators, statewide officials and charter school representatives on how to establish a fairer approach to funding charter schools.
The current charter school funding mechanism was established 22 years ago and since then has been criticized for creating funding inequities and conflict between traditional public schools and public charter schools, including cyber charter schools. The issues this topic brings forward need to be fully reviewed, discussed and addressed to provide more predictability and fairness.
It is clear from what we heard on Wednesday that we need to establish fair, commonsense approaches that will provide education funding in a way that supports all public students no matter where they attend school. The Committee will be looking at several measures that will reform the current charter law.
To watch the hearing in its entirety, please visit https://education.pasenategop.com/081419/
Senior Expo
Additionally on Wednesday, I attended Rep. Topper & Rep. Metzgar's Senior Expo in Bedford. It was a wonderful opportunity to share with our seniors what state services are available, answer questions and listen to their concerns. It was nice to speak with the exhibitors in attendance as well. There are many options for our senior citizens in Bedford County and it was great to see so many seniors in attendance.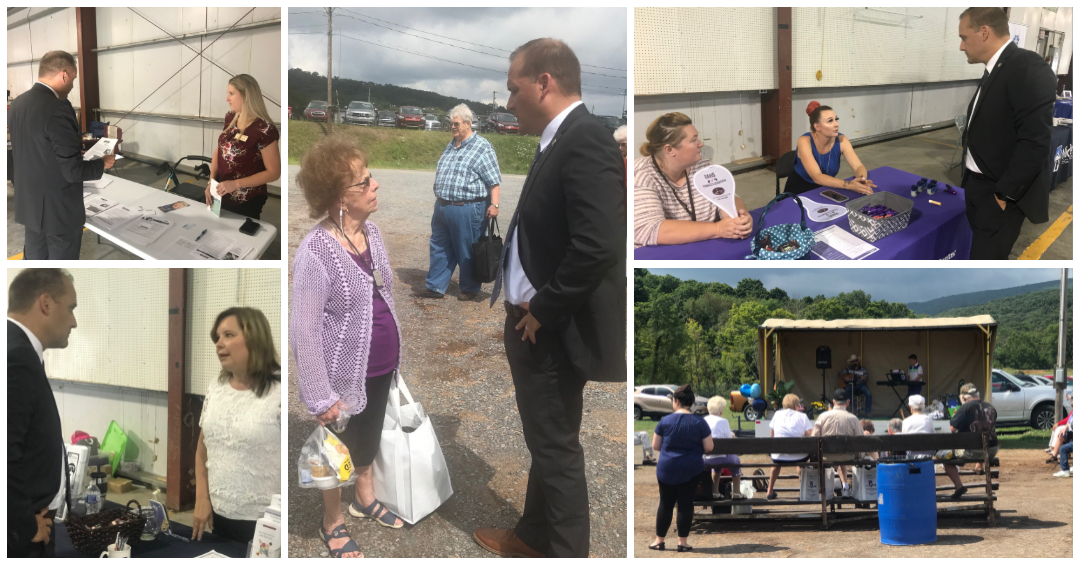 2019 PA CareerLink Summer Youth Employment Program
Today was the last day of the eight week program which gave youth from the Johnstown area the opportunity to work on community projects. In addition to this, the participants worked in areas such as maintenance, mortician's assistant, auto body technician, office assistant, and grounds keeping to name a few. Most of the participants in this program were working their first jobs and some will even find their career. I want to congratulate and commend these fine young men and women and wish them future success as they are our leaders of tomorrow.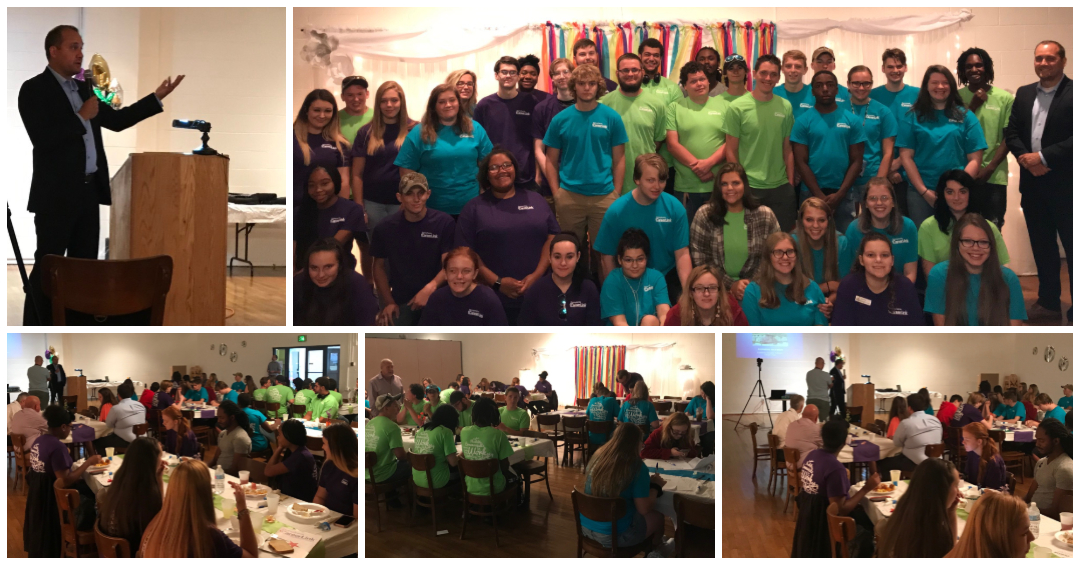 Richland Days
Today kicks off the 12th annual Richland Community Days in Cambria County. Events will include great food, Inflatables, Trackless Train, Rock Climbing Wall, Petting Zoo, Hay Rides, Giggles the Clown, Kids' Karaoke, activities at the barn, stage performances, Wing-Eating Contest, Ice Cream-Eating Contest and much more!
My team and I will have a booth set up and would love for you to stop by with any questions or just to say hi!
Satellite Offices
I am excited announce that our offices are now at a location near you! Please feel free to stop by during our office hours! My Broad Top Township office's first day is coming up this Tuesday, August 20th.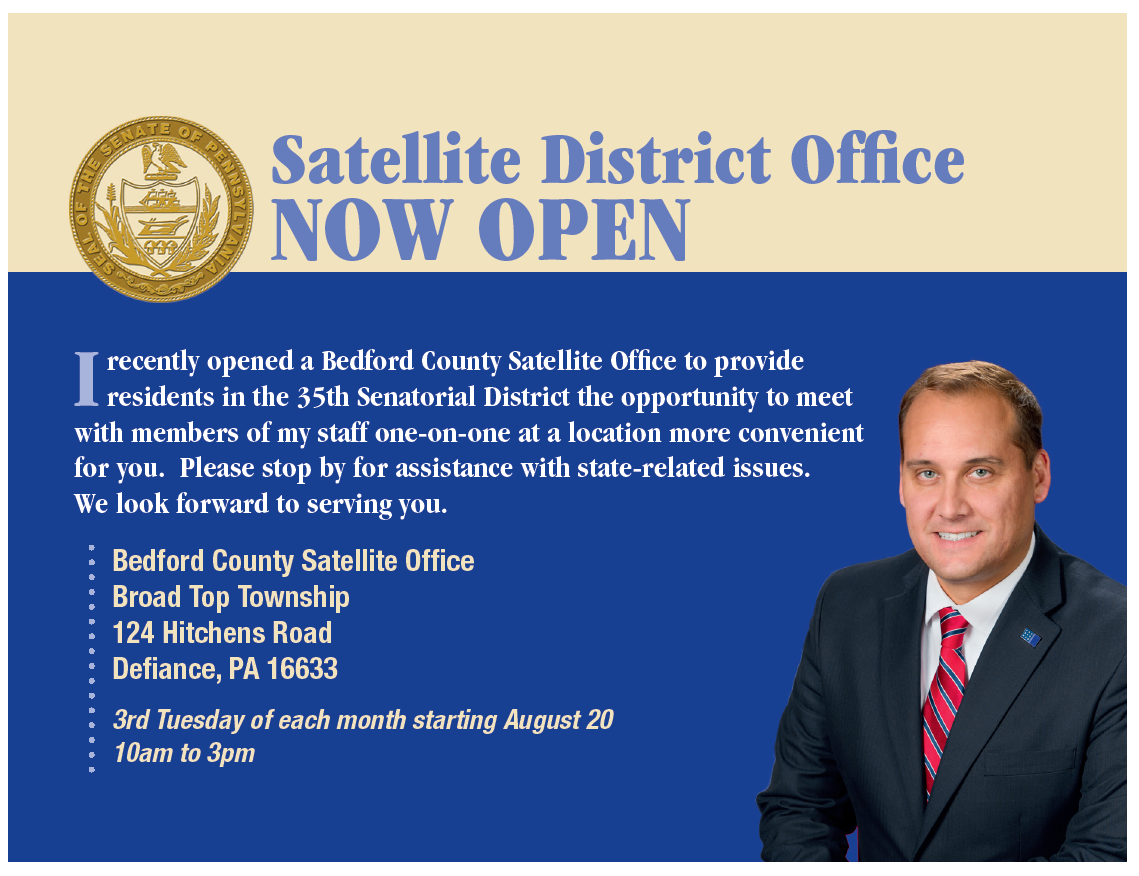 Grant Opportunity
#FarmingFirst
Attention local meat processors: Driven by the Senate GOP's #FarmingFirst Initiative, the Very Small Meat-Processor Grant Program is now live.
The grants are for up to $50,000, and are for meat-processing business with annual sales of less than $2.5 million and fewer than 10 employees. Funds can be used for:
The first-time purchase of equipment to comply with Federal standards
The costs associated with technical assistance of advice from food safety specialists.
More details can be found here:
https://www.agriculture.pa.gov/Pages/Very-Small-Meat-Processor-Grants.aspx. The application period closes on September 30, 2019.
Visitors to Harrisburg
I would like to remind constituents, to please feel free to stop in my office, Room 187, when you are visiting the capitol. My staff and I welcome the opportunity to say hello to you. If you are visiting on a session day, I can also introduce you as my guest during session. Feel free to call 717-787-5400 if you know in advance that you will be visiting the capitol. If you are interested in a capitol tour, you can schedule your visit online: http://www.pacapitol.com/plan-a-visit/tours.cfm

If you are not already subscribed to this newsletter please sign up here.