Dear Friend,
Thank you for taking the time to read my e-newsletter. These periodic updates allow me to keep constituents informed about state and local issues through email without burdening taxpayers with printing and mailing costs.
If you find this information to be useful, I also invite you to visit my website at www.senatorlangerholc.com and on Facebook or Instagram.  If you do not wish to receive these e-newsletters, please click the unsubscribe button at the bottom of the page.  If you would like to contact my office, please go to my web page and click the contact button.  Please do not reply directly to this e-mail.
Senator Wayne Langerholc, Jr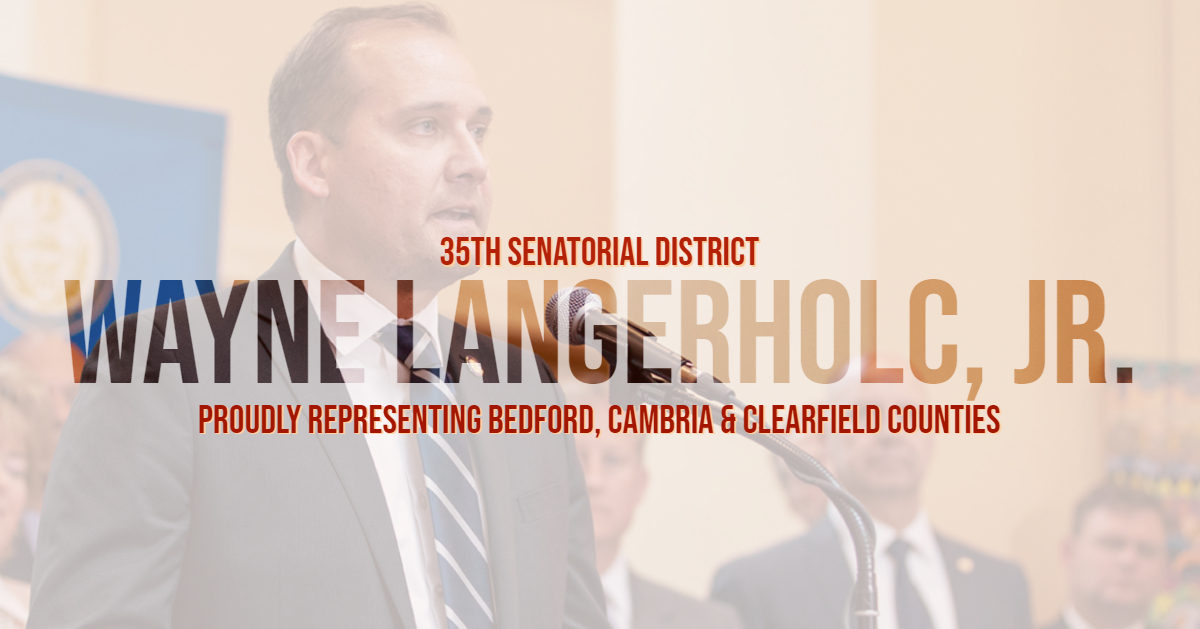 Harrisburg Happenings
Summer Spotlight
This week's Summer Spotlight will focus on the work I have been doing to modernize Vehicle Emissions Testing in Pennsylvania. As many of you know, this is has been one of my top priorities since being elected as your State Senator. Back in June, the State Senate overwhelmingly passed a range of bills designed to reform Pennsylvania's vehicle emissions testing program, also known as the Vehicle Emissions Inspection and Maintenance (I/M) Program.
Pennsylvania's current I/M program requires motorists in 25 counties to participate in an annual emissions testing for cars, vans, and trucks with a model year 1975 and newer. In Pennsylvania from 2011-2017, an average of 5.7 million vehicles were tested each year and an average of 96 percent of vehicles passed the test. This demonstrates annual vehicle emissions testing is ineffective and outdated. Furthermore, we are meeting or exceeding federal air quality standards. However, there has not been any action in recent years to modernize the onerous, costly regulations of the I/M program.
On May 10, 2019, I was part of the Senate Transportation Committee hearing on "Exempting Eligible Counties from Vehicle Emissions Testing" and we have since collected information from multiple federal transportation and environmental protection programs that has left us convinced that we can make meaningful changes to this unnecessary sanction created 30 years ago.
The broad package of bills passed in June is designed to reduce our regulations and requirements to the emissions testing. Of those five, I was the champion of Senate Bill 744 which exempts Blair, Cambria, Lackawanna, Luzerne, Lycoming, Mercer, and Westmoreland Counties from emissions testing.The other five bills in this package are:
Senate Bill 742 (K. Ward) exempts vehicles newer than eight years from emissions testing.
Senate Bill 743 (K. Ward) changes the annual emissions testing to a two-year testing requirement for subject vehicles older than eight years.
Senate Bill 745 (Stefano) replaces the outdated tests in the regions of Pittsburgh and
Philadelphia for vehicles with model year 1992-95 and light-duty trucks with model year 1996 or newer.
Senate Bill 746 (Vogel) extends the date for existing emissions inspection stations to obtain new emissions testing equipment from November 1, 2019, to July 1, 2021.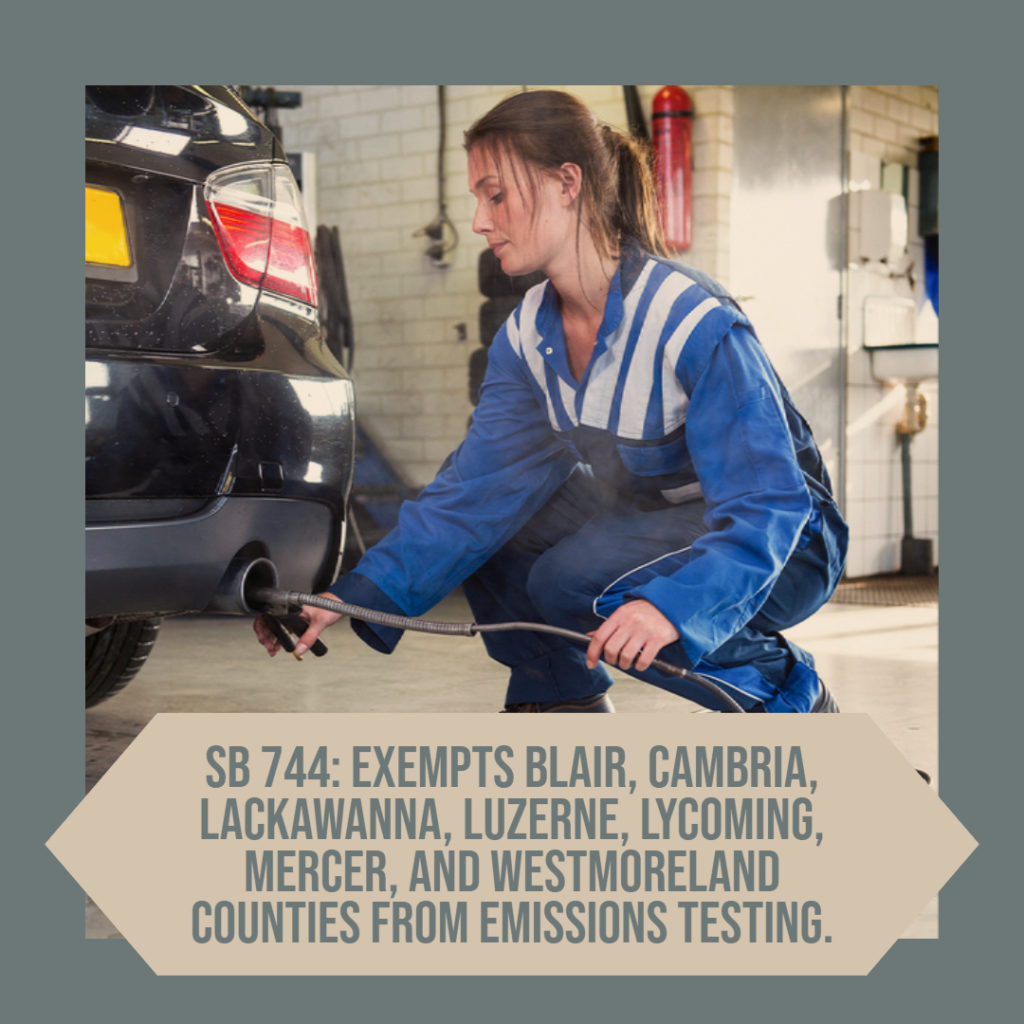 District Happenings
AAABA
Last Monday night marked the start of the 75th annual All American Amateur Baseball Association (AAABA). The AAABA Tournament has been played in Johnstown, Pennsylvania, for over seven decades now.
The annual event, includes 16 teams representing cities throughout the Eastern, Southeastern and Midwest regions of the United States. Alumni includes hundreds of future Major League Baseball and major Division I college players. It is an honor to represent a county, which hosts prestigious events such as this.
Last week was one for the books with this year's immaculate sponsors, ambassadors, hall of famers, youth and extraordinary teams.
Thank you to AAABA for inviting me to throw the ceremonial first pitch! I also presented a Senate Citation to commentate the 75th Anniversary of this great event! What a fun night!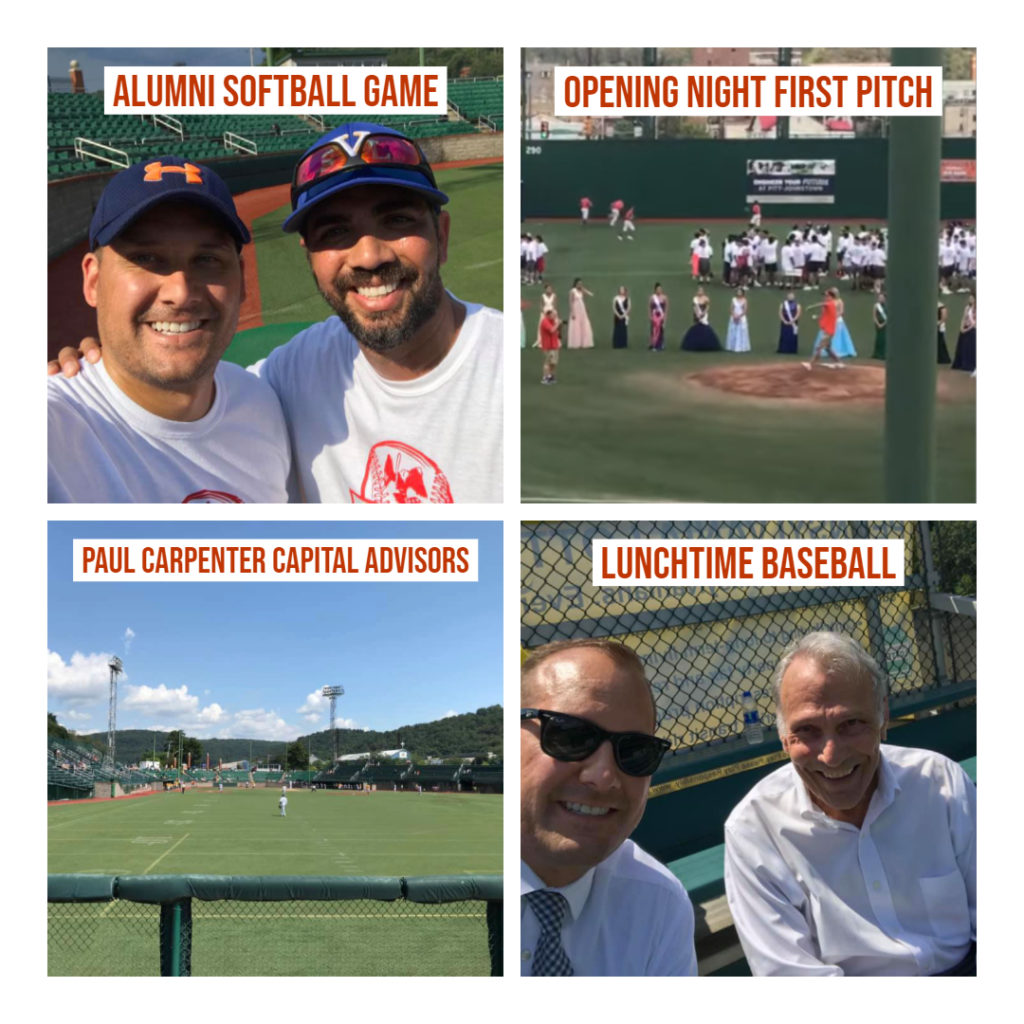 Lunch with JARI
Last Tuesday afternoon JARI hosted several international investment representatives that work for DCED. I had the opportunity to talk with the representatives from many different countries on the business opportunities here in Johnstown as well as the strengths of the region. Thank you JARI for sponsoring this event.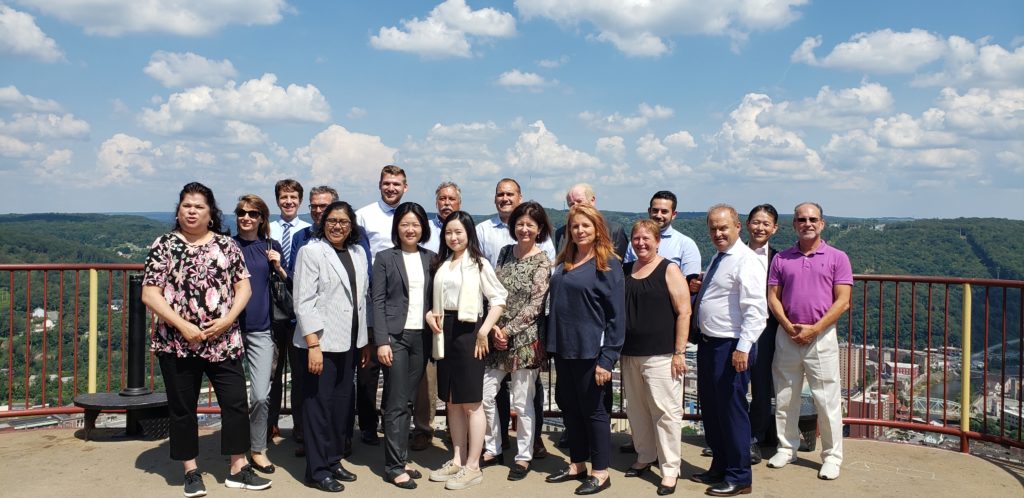 Marie Fritz
Last Tuesday I had the privilege of presenting a Senate Citation to Marie Fritz, who was recently honored with the 23rd Volunteer Spotlight Award from Lift Johnstown. LIFT Johnstown encourages community service and works to recognize people who are making a difference in the Johnstown area. Marie has volunteered her time and talents to numerous organizations. She is a shining example of community spirit whose many contributions are worthy of deep gratitude and respect. I want to congratulate Marie on this richly deserved recognition and wish her all the best in the future. Congratulations!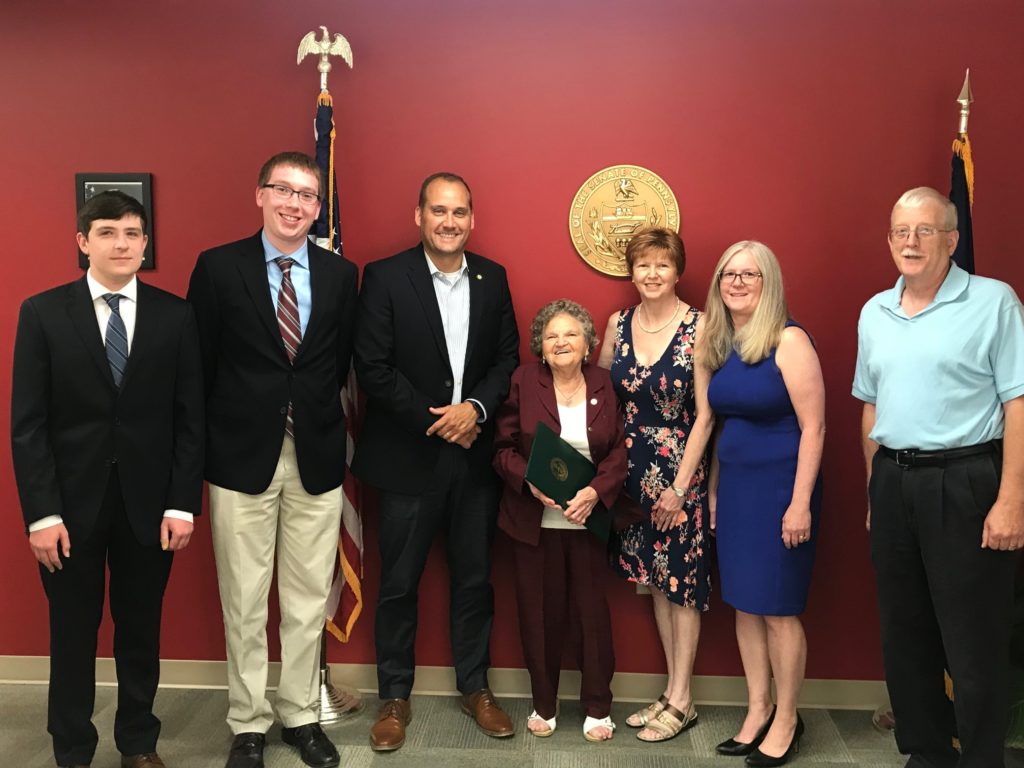 Happy Birthday Josephine
It was my pleasure to recognize Josephine Pyle who recently celebrated her 105th Birthday.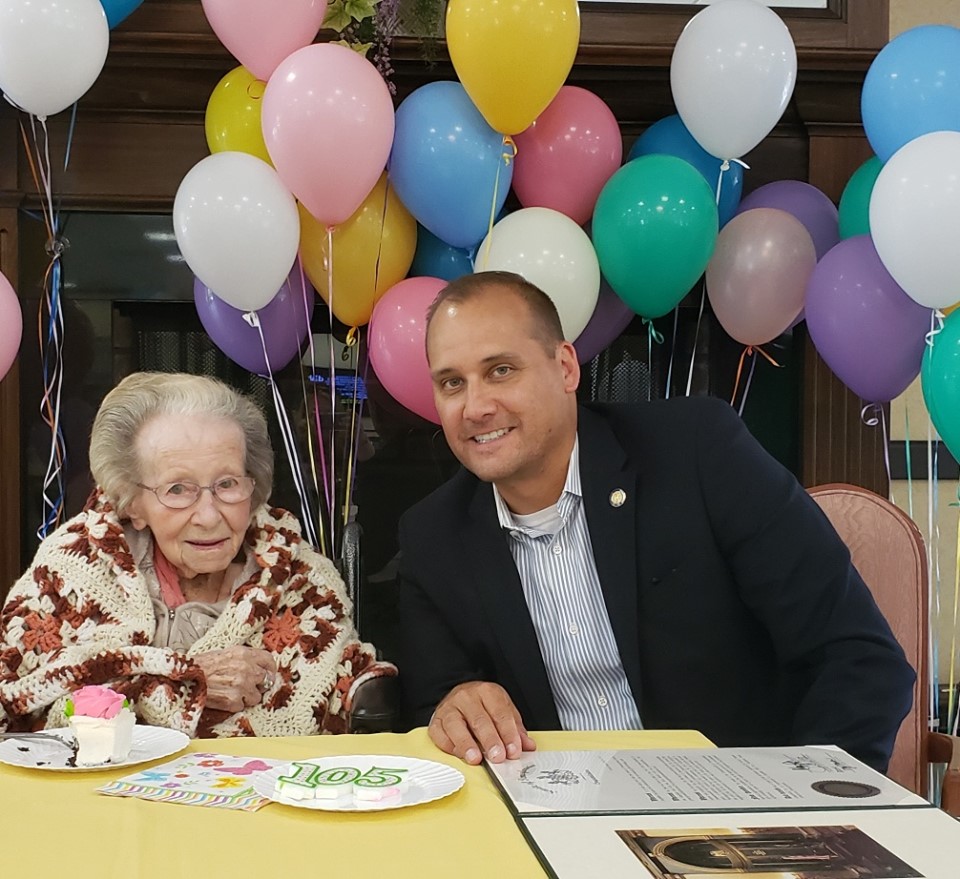 Croatian Hall/Club
I had the honor of presenting the President and members of the Croatian Hall/Club with a Senate Citation commemorating their 125th Anniversary. Congratulations!
(l-r) Senator Langerholc, Patty Respet-Secretary, Lorene Yuran-Recording Secretary, and Louis Respet-President.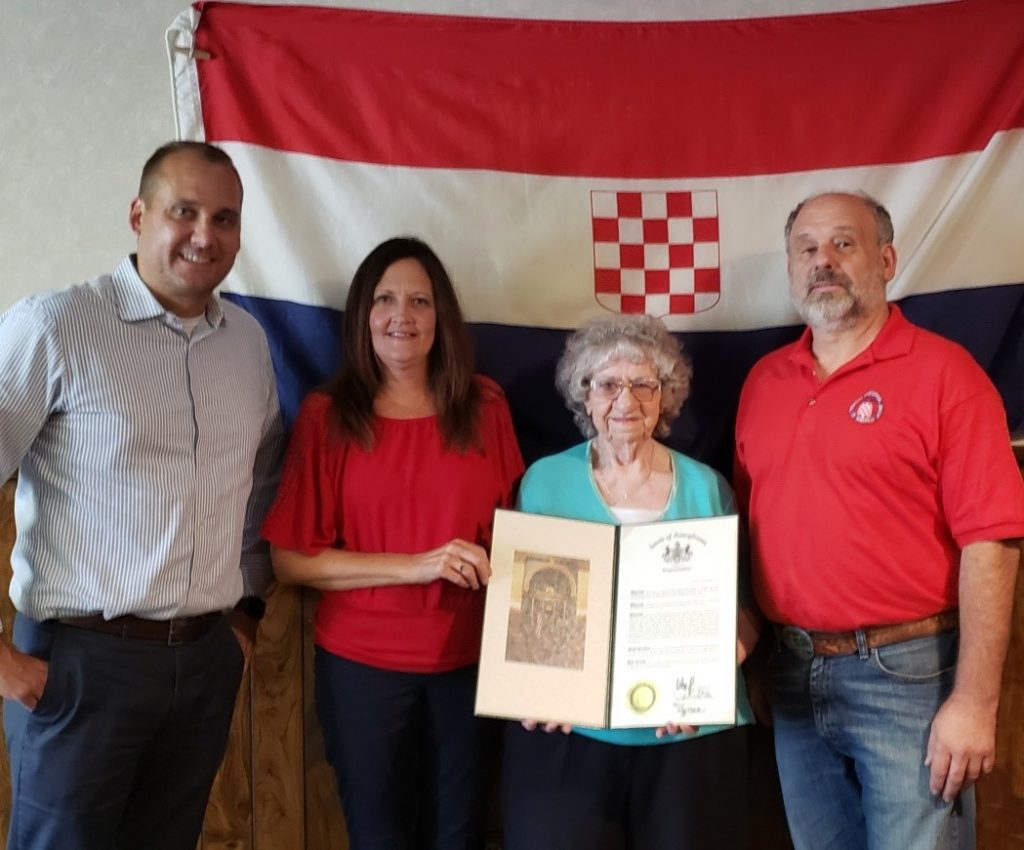 Legislative Farm Tours
I have had a great time participating in the first two of 3 Legislative Farm Tours in the 35th Senatorial District.
Last Wednesday was my first stop at Windy Legacy Farm in Olanta, PA, Clearfield County. Thank you to Bryan and Dr. Andrea Loar for allowing me the opportunity to see your operation and discuss issues that affect our farmers.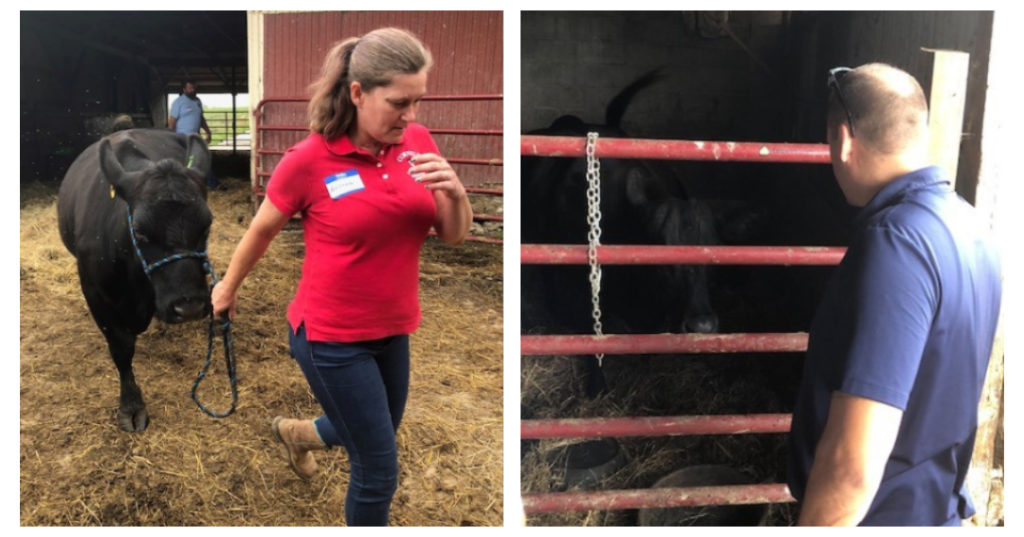 Last Friday my 2nd stop on the Legislative Farm Tour was in Bedford County at Moyer's Rolling Green Acres in Manns Choice owned by Glenn, Evelyn and Matt Moyer. The Moyer's milk 400 head of cross-bred Jerseys, Holsteins, and Swedish Reds in a 40-cow rotary parlor built in 2004. It was a great opportunity to see their operation and discuss some issues that they feel affect farmers on a daily basis. A great day in Bedford County!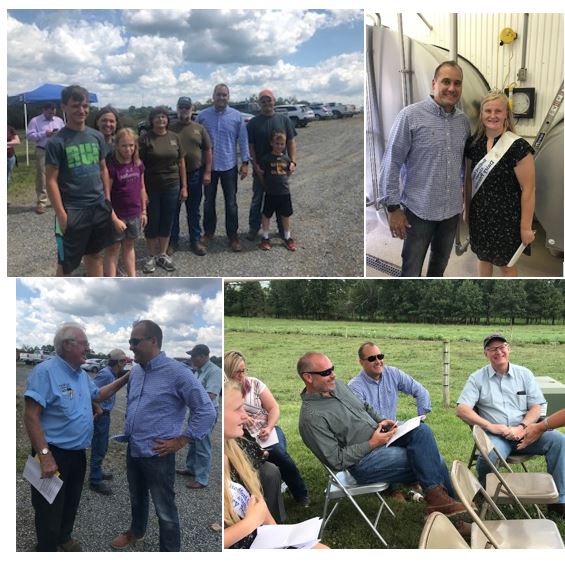 Logan Clancy
Congratulations to Logan Clancy of Boy Scout Troop 9 on achieving the rank of Eagle! It was an honor to present him with a citation from the Pennsylvania State Senate! For his Eagle Project, Logan built new and improved games for&n St. Francis School, Clearfield to use in their Fall Festival and Saint Patrick's Day Bazaar events.
Logan is off to Penn State Main Campus to study film. Good luck Logan!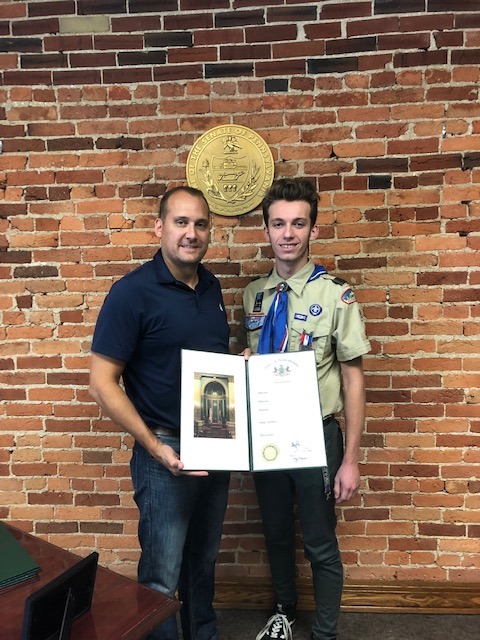 New Satellite Offices
I am excited announce that our offices are now at a location near you! Please feel free to stop by during our office hours!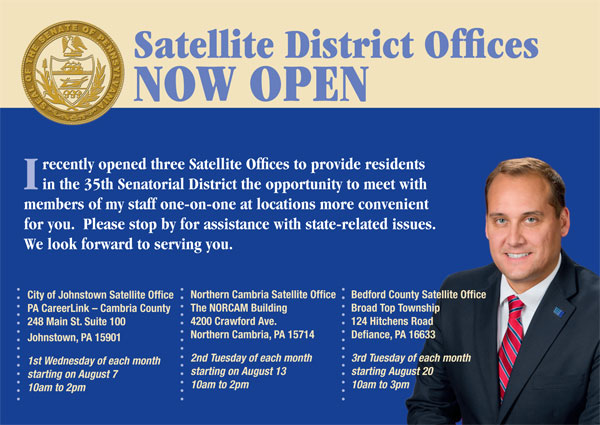 Upcoming Events
Committee Hearing in Bedford County
The Senate Education Committee to Hold Public Hearing on Charter School Funding
The Senate Education Committee that I chair will hold a public hearing on charter school funding at 1 p.m. on Wednesday, August 14, at Everett Area High School located at 1 Renaissance Circle in Everett, PA.
Among those scheduled to testify are area superintendents, state education officials, and representatives of charter schools.
The hearing will be streamed live on www.facebook.com/PASenateGOP/ and www.senatorlangerholc.com.
VCI Job Fair
VCI is hiring Behavior Health Veterans Representatives. Job Seekers should be at Hiram G. Andrews Center on August 21 and seated 9 am. For questions call Veteran Community Initiatives, VCI at 814-255-0355.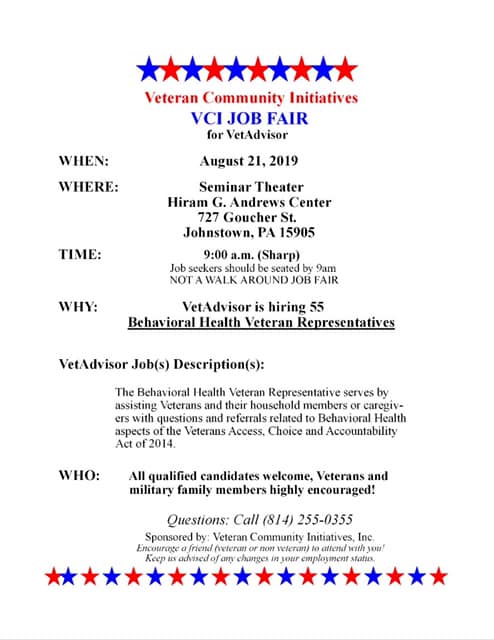 Visitors to Harrisburg
I would like to remind constituents, to please feel free to stop in my office, Room 187, when you are visiting the capitol. My staff and I welcome the opportunity to say hello to you. If you are visiting on a session day, I can also introduce you as my guest during session. Feel free to call 717-787-5400 if you know in advance that you will be visiting the capitol. If you are interested in a capitol tour, you can schedule your visit online: http://www.pacapitol.com/plan-a-visit/tours.cfm

If you are not already subscribed to this newsletter please sign up here.