Dear Friend,
Thank you for taking the time to read my e-newsletter. These periodic updates allow me to keep constituents informed about state and local issues through email without burdening taxpayers with printing and mailing costs.
If you find this information to be useful, I also invite you to visit my website at www.senatorlangerholc.com and on Facebook or Instagram.  If you do not wish to receive these e-newsletters, please click the unsubscribe button at the bottom of the page.  If you would like to contact my office, please go to my web page and click the contact button.  Please do not reply directly to this e-mail.
Senator Wayne Langerholc, Jr

On the Governor's Desk for Signature
Bill to Allow for Wider Farm Equipment on Pennsylvania Roads
I am pleased that the House of Representatives approved my legislation (SB338) which increases the allowable width for farm equipment under the Pennsylvania Vehicle Code from 16 feet to 18 feet to accommodate the more common, larger equipment that farmers are using on their land that represents current industry standards.
I look forward to Governor Wolf signing my bill into law.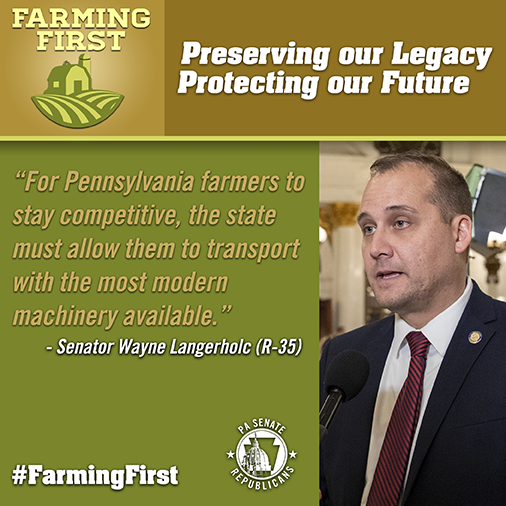 Legislation Establishing Bill of Rights for PA Sexual Assault Survivors Heads to the Governor
SB399 has passed both chambers of the General Assembly and now heads to the Governor for his signature. SB399 would enact a comprehensive bill of rights in Pennsylvania for survivors of sexual assault. The legislation reflects a federal Survivors' Bill of Rights that was signed into law in 2016. It would guarantee basic rights for sexual assault survivors, including:
Preserving their rape kit, without charge, for the full statute of limitations, or 20 years, whichever is shorter.
Being informed of any result of sexual assault evidence kit results, including DNA matches and toxicology reports.
Being informed, in writing, of policies governing the collection and preservation of a sexual assault evidence kit.
Upon written request, receiving written notice within 60 days of intended destruction or disposal of evidence.
Upon written request, being granted further preservation of the kit.
Being informed of these rights.
Not being prevented from, or charged for, receiving a forensic medical exam.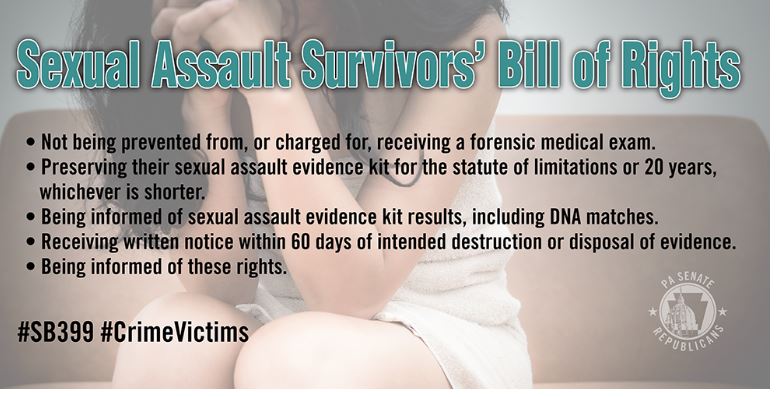 Onto the House for Consideration
Connecting Individuals In Recovery With Meaningful Occupations Through Local Workforce Development Boards
SB118, The "Recovery to Work Pilot Program" will assist those individuals in recovery by finding meaningful employment which is essential to their long term recovery. Employment provides not only a sense of purpose and renewed confidence but it also allows individuals to support themselves and their families.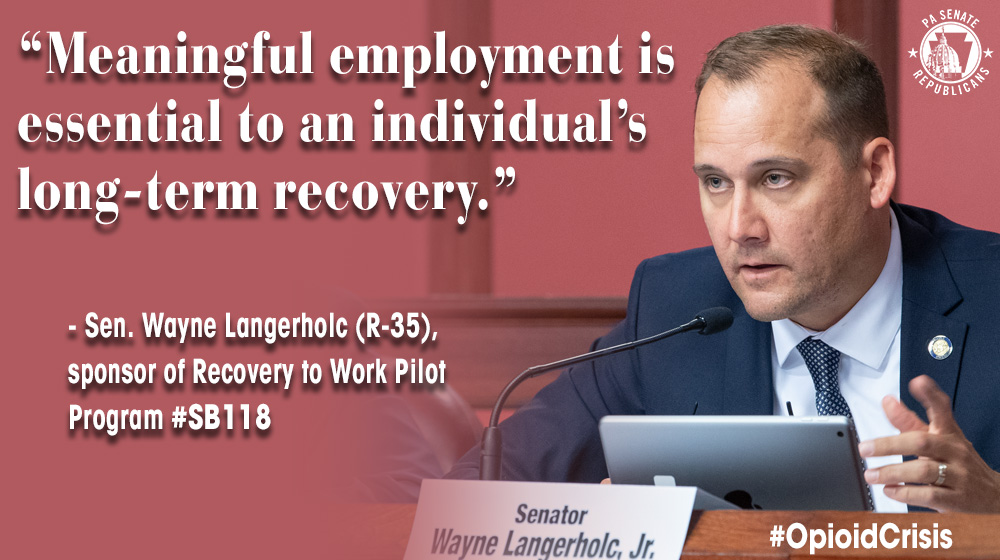 This legislation was approved by the Senate and moves into the House of Representatives for approval. This bill is part of a package of bills put forth by the Senate that aims at combating the heroin and opioid epidemic in the Commonwealth.
Senate Republicans highlighted the bills at a news conference this week. Audio and video of the news conference is available below.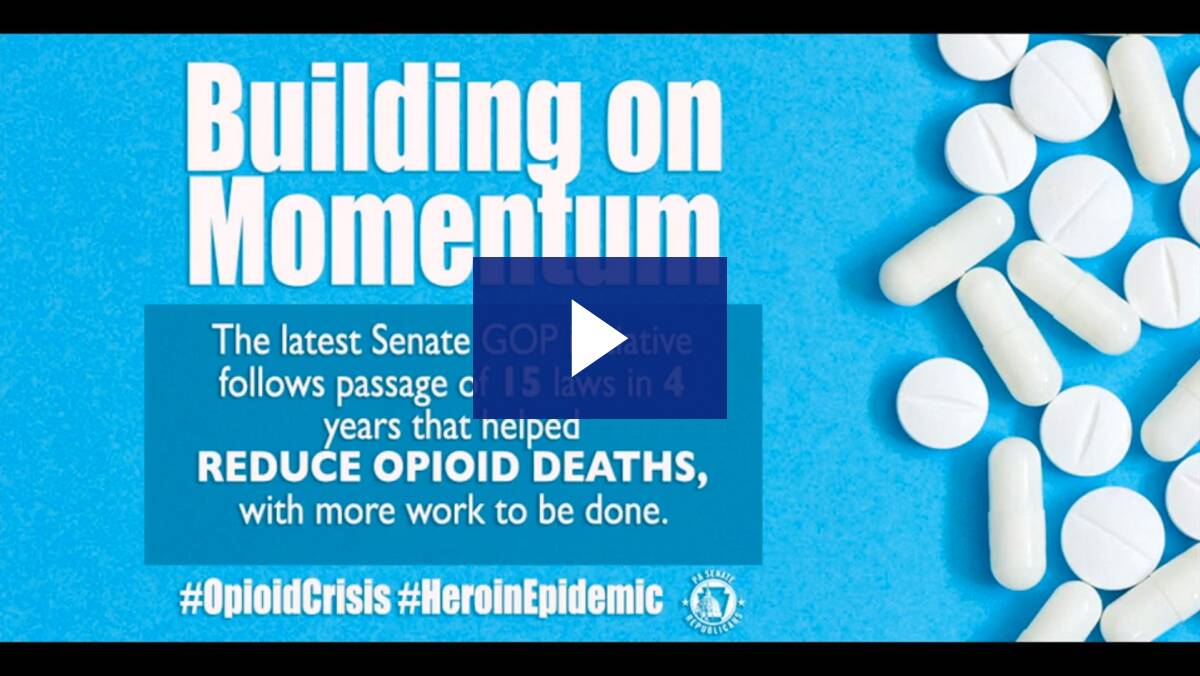 District Happenings: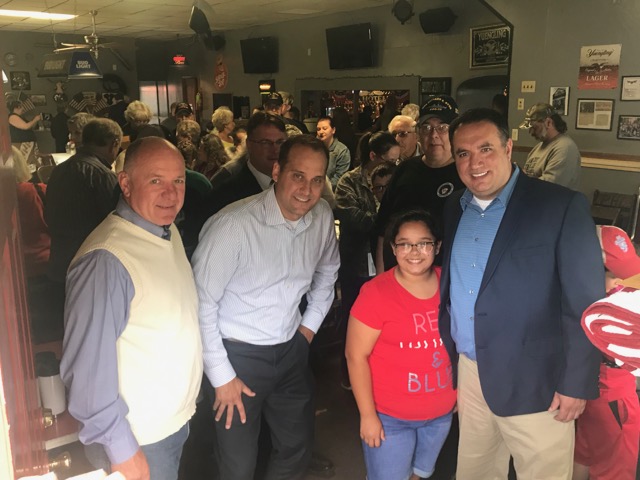 It was my pleasure and honor to participate in the Laurel Highland's Historical Village & Rocky's Tavern Annual Cambria County Veterans Recognition Event on Saturday June 15, 2019. Thank you to all of our veterans.
Harrisburg Happenings: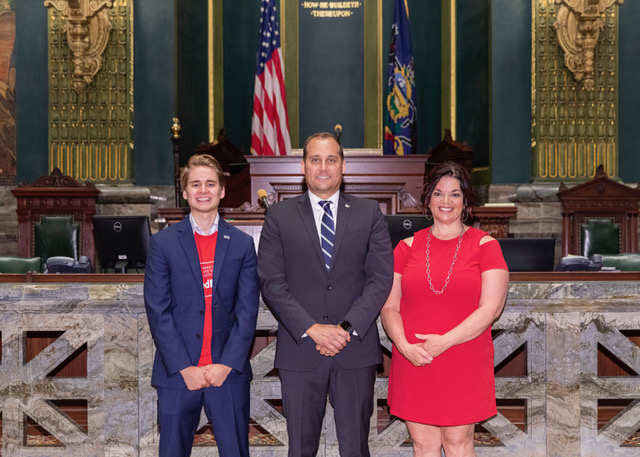 Nancy Weaver Behe and Adam Stiner stopped by my Harrisburg office to advocate for education funding, educator salaries and address the teacher shortage as part of PSEA-PA State Education Association lobby day.
I had the pleasure to introduce Bo Bassett from Forest Hills Elementary School in Cambria County. Bo recently won his fifth consecutive State Title in the 80 lb weight class for 11-12 year olds at the Pennsylvania Junior Wrestling tournament.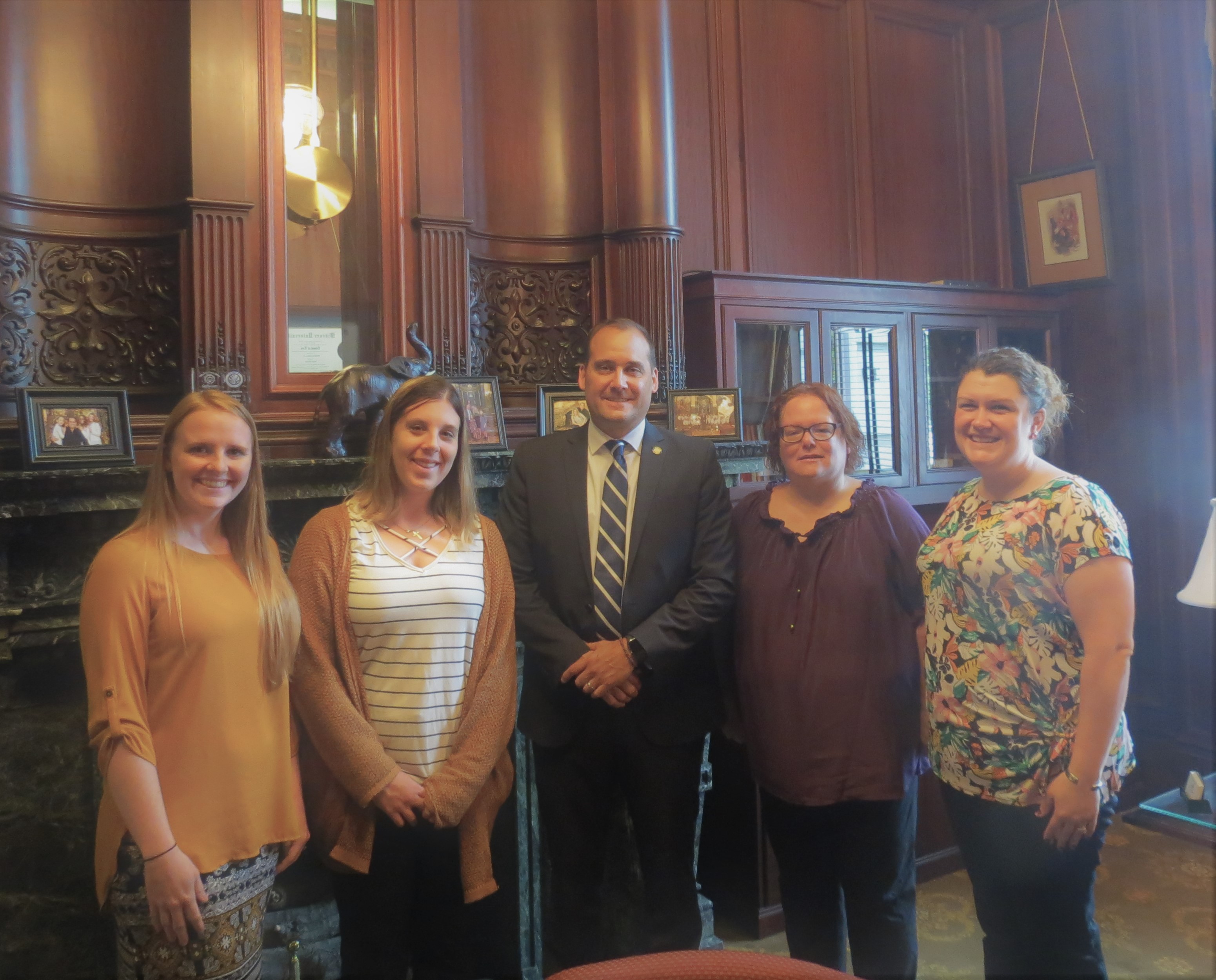 Earlier this week I had the pleasure of seeing Tracy Weaver, Pennsylvania Association for the Education of Young Children, and representatives from Begin With Us Child Care and Preschool, Inc., Taryn Walker, Allison Gressler and Chelsea Hallinan. They stopped by my office to discuss early education initiatives. (l-r Taryn, Allison, Sen. Langerholc, Tracy and Chelsea)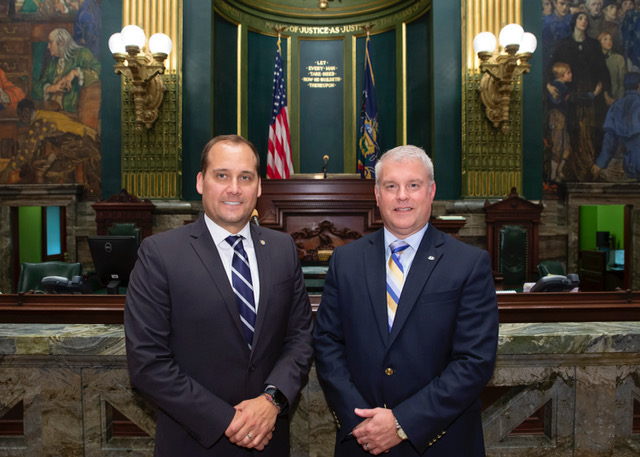 Curt Vasas, Principal of Forest Hills High School was in Harrisburg for PA Education Leaders Advocacy Day.
Visitors to Harrisburg
I would like to remind constituents, to please feel free to stop in my office, Room 185, when you are visiting the capitol. My staff and I welcome the opportunity to say hello to you. If you are visiting on a session day, I can also introduce you as my guest during session. Feel free to call 717-787-5400 if you know in advance that you will be visiting the capitol. If you are interested in a capitol tour, you can schedule your visit online: http://www.pacapitol.com/plan-a-visit/tours.cfm

If you are not already subscribed to this newsletter please sign up here.