In This Update:
Senate Passes Interim State Budget and COVID-19 Relief Bills
Senate Approves Langerholc Bill to Help Employers, Workers to Battle Opioid Abuse
Has Your Polling Place Moved for Tuesday's Election?
New Guidance Available on Outdoor Dining, Pro Sports
PUA System Will Now Send Paper Checks to Claimants
Recently Expired Licenses Still Acceptable for Notary Identification
License to Carry Firearm Permits Extended to July 31
New Guidelines Released for FBI Background Checks
---
Senate Passes Interim State Budget and COVID-19 Relief Bills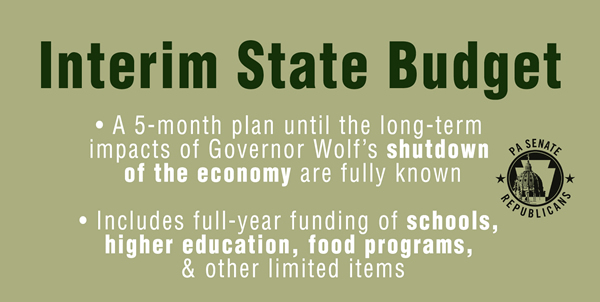 Yesterday, the Senate approved an interim budget for Fiscal Year 2020-2021 including a plan to direct $2.6 billion in federal CARES funding to support individuals, small businesses, schools, organizations and county governments that were most severely impacted by COVID-19.
Our Commonwealth has been decimated by this virus and the continued inability to allow businesses to reopen. Today we took action to help those individuals and entities who are so desperate for assistance by allocating federal dollars and passing a base budget with no frills.
House Bill 2387 is an interim spending plan that provides five months of funding for most state agencies and services for FY 2020-21. The appropriations in HB 2387 are based primarily on current funding for agencies and services in the Fiscal Year 2019-20 budget, but allocated at a five-month level. Full-year funding is provided for a few select line items in HB 2387, notably for education and food security programs.
This is by no means an ending point to the budget discussion. We will continue to work in the coming days and weeks to supplement this partial budget. Our main priority was to not hamper our businesses, individuals and schools any longer.
As Chairman of the Senate Education Committee, I am particularly pleased that the CARES bill will provide crucial funding for two grant programs under the School Safety and Security Fund that will benefit both public and private schools.
Schools, students and families were tremendously impacted by this public health crisis, so I'm pleased that funding has been targeted to support our education system. Our schools will continue to face major challenges as they prepare for the fall reopening.
Senate Bill 1108 appropriates a portion of Pennsylvania's federal CARES (Coronavirus Aid, Relief, and Economic Security) funding for critical needs created by the COVID-19 pandemic. Funding in the package includes:
$692 million for long-term living services providers.
$625 million for counties that did not receive a direct subsidy from the federal government.
$260 million for providers of intellectual disability and autism services.
$225 million to help Pennsylvania's small businesses recover.
$175 million to provide rent and mortgage assistance to low- and middle–income families impacted by the pandemic.
$150 million to help school districts meet the challenges created by COVID-19 through school safety and security funding.
$116 million for child-care services.
$72.2 million to support higher education students.
$50 million to support first responders.
$40 million for agricultural and food insecurity programs.
$28 million for community programs, including domestic violence programs ($10 million), homeless assistance ($10 million) and legal services ($8 million).
$20 million for Cultural and Museum organizations.
$9 million for early childhood education programs ($7 million for Pre-K Counts and $2 million for Head Start Supplemental Assistance).
Senate Approves Langerholc Bill to Help Employers, Workers to Battle Opioid Abuse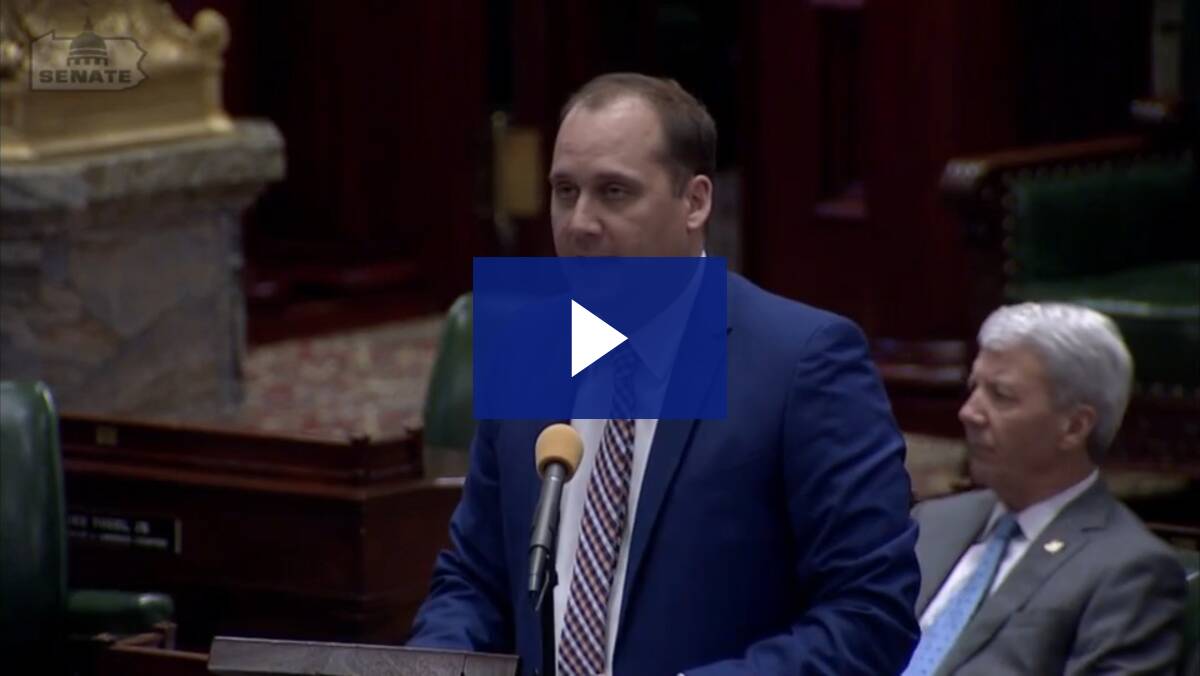 This week the Senate approved legislation I sponsored that would require employers who have a certified safety committee as part of their workers' compensation program to include information about the risks associated with the use of opioids.
Currently, the Pennsylvania Workers' Compensation Law allows employers to receive a 5 percent discount on their workers' compensation insurance premium if they establish a certified safety committee within their workplace to deal with hazard detection and accident prevention.
In addition to these current requirements, my bill would charge safety committees with providing information about the dangers of using opioids and painkillers. This is just one more tool to use as we continue to combat our opioid abuse problem in the Commonwealth."
Senate Bill 594 now goes to the House of Representatives for consideration.
Has Your Polling Place Moved for Tuesday's Election?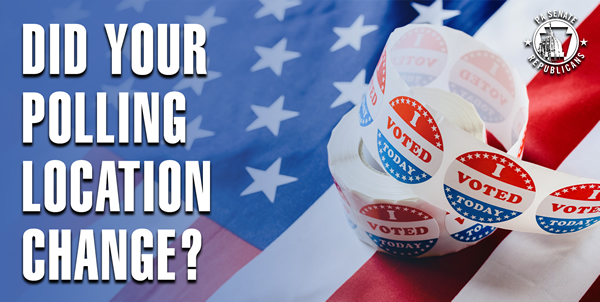 Because some polling places may be consolidated or relocated due to the COVID-19 public health emergency, it is important for all voters to double-check where they should go to vote before they head out to cast their ballots in the primary election on Tuesday.
Voters can find their polling place on the Department of State's website by entering their county, city and street name. The department also offers recommendations and additional information for voters.
New Guidance Available on Outdoor Dining, Pro Sports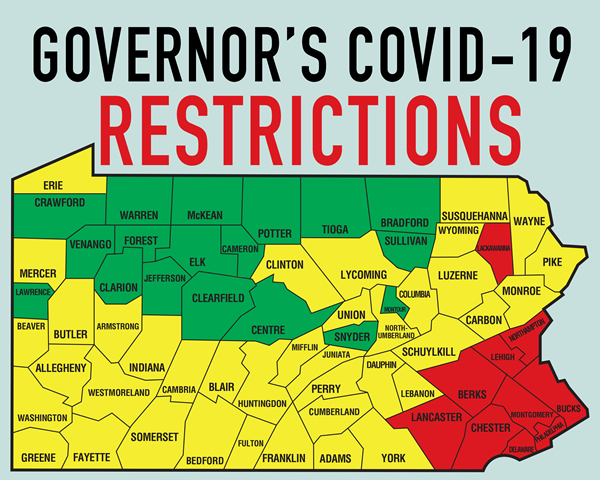 Restaurants in the green and yellow phase of reopening could add dine-in services in outdoor seating areas under new restaurant industry guidance issued this week. Restaurants in green-phase counties are permitted to offer dine-in services both indoors and outdoors now, so long as social distancing and sanitation measures are in place. Dining venues in yellow-phase counties can begin offering outdoor dine-in services on June 5.
A new order from the Department of Health also details not only the new dining options available, but also additional guidelines for other businesses in counties in the green phase of reopening, including barber shops, salons, gyms and other services.
In addition, new guidance could allow professional sports to resume in counties in the green or yellow phase of reopening if teams develop a COVID-19 safety plan. Spectators would be prohibited on the interior or exterior of the venue property.
Frequently asked questions about the Wolf Administration's business guidelines are available here.
PUA System Will Now Send Paper Checks to Claimants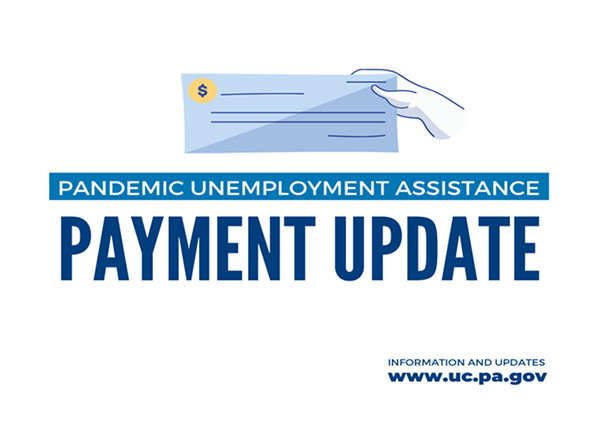 The Department of Labor and Industry recently uncovered cases of attempted fraud in which scammers tried to use the personal information of victims to file for benefits and route payments into their own bank accounts. In response to these cases, claimants in the Pandemic Unemployment Assistance (PUA) system will now receive benefits via paper checks delivered through the U.S. Postal Service instead of receiving payments by direct deposit.
Anyone who receives a paper check in the mail who did not file for PUA benefits should return the uncashed check to:
Department of Treasury Comptroller's Office
Attn: Mark Accorsi
Room 113, Finance Building
Harrisburg, PA 17120
More information on combatting unemployment fraud is available here.
Recently Expired Licenses Still Acceptable for Notary Identification
Pennsylvania driver's licenses are often used as a form of identification for notaries who do not personally know a client. The Department of State recently clarified that any state driver's license or photo identification that has expired since March 16 still qualifies for notary purposes.
PennDOT recently announced that the expiration date for all driver's licenses and non-driver photo identification cards that expire between March 16 and June 30 has been extended until June 30.
License to Carry Firearms Permits Extended to July 31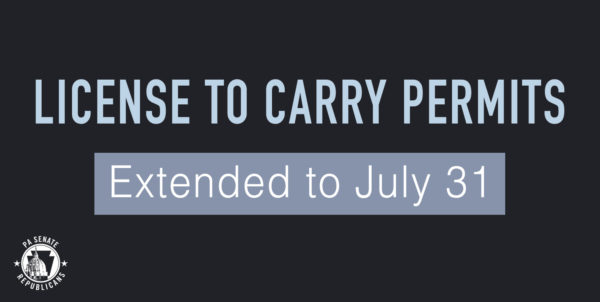 Individuals who have a license to carry firearms permit that expired on or after March 19 will now have their permits extended until July 31. The extension will give Pennsylvanians additional time to renew permits since many county courthouses and sheriff's offices are closed or limiting services during COVID-19.
More information from the Pennsylvania State Police on carrying firearms is available here.
New Guidelines Released for FBI Background Checks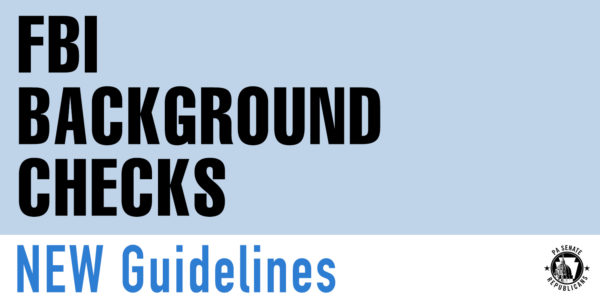 Many individuals who are required to complete a Federal Bureau of Investigation (FBI) background check as a condition of employment have run into problems due to a lack of available fingerprinting services during the COVID-19 pandemic. I supported a new law the Senate approved in April that extends the time period for workers to complete background checks.
New guidance from the Department of Human Services offers more information about mobile fingerprinting, treatment of new hires, special requirements for child care employees, renewals, recertification and more.