In this Update:
Court Decision to Halt Bridge Tolling
REACHland Connect Sidewalk Project
Reminder Lyme Disease Seminar Tonight
Concealed Carry Educational Seminar
16th Annual Jackson Township Fishing Derby
Grampian Post Office Temporarily Closed
Senior Spotlight
Ribbon Cutting of Heart of the Earth Crystals & Jewelry
Tour of Green Diamond Companies
Ribbon Cutting of Qscapes
Veterans Food Drive
2022 State of the City Address
Help Available for Historical Records Care
Tips for Cars and Motorcycles Sharing the Road
Watching the Development of the Capital's Young Peregrine Falcons
Lowering Your Risk of Skin Cancer
Honoring the Work of EMS Personnel
---
Court Decision to Halt Bridge Tolling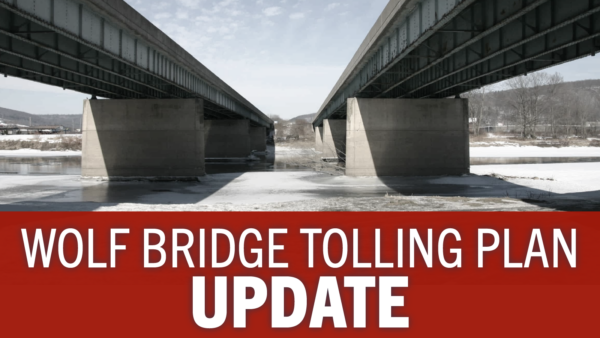 The Commonwealth Court of Pennsylvania granted a preliminary injunction which stops Gov. Tom Wolf's Major Bridge P3 Initiative until further court action occurs.
As chairman of the Senate Transportation Committee, I applauded the court's order. On Wednesday, the Commonwealth Court ruled in favor of halting PennDOT's Major Bridge P3 Tolling Initiative. I have been challenging PennDOT's overreach since being named Chairman of the Senate Transportation Committee in January 2021. The court's ruling on the preliminary injunction is restoring proper checks and balances on PennDOT's power. I now urge Gov. Wolf to work with the legislature and find a compromise that is in the best interests of the Commonwealth.
I held several hearings to better understand how PennDOT was authorized to move forward with few details and without approval from the General Assembly. I also sponsored Senate Bill 382, which would require the P3 process to be more transparent, while stopping this current initiative.
This order halts PennDOT's tolling of the following bridges:
REACHland Connect Sidewalk Project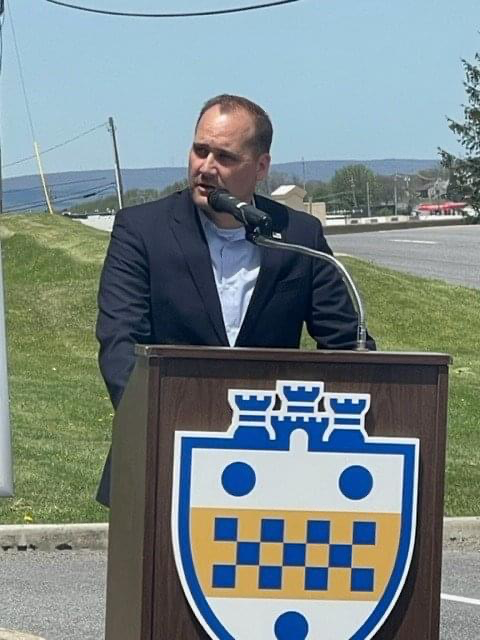 I joined Pennsylvania Department of Transportation's Deputy Secretary for Multimodal Transportation, Jennie Louwerse, at the Groundbreaking Ceremony for the University of Pittsburgh at Johnstown's REACHland Connect Sidewalk project. REACHland (Recreational, Environmental Sustainability, Academic, Commercial District and Healthy-Living) is a multi-phase initiative to connect campus and community with culture and commerce. The project is scheduled for this summer.
Reminder Lyme Disease Seminar Tonight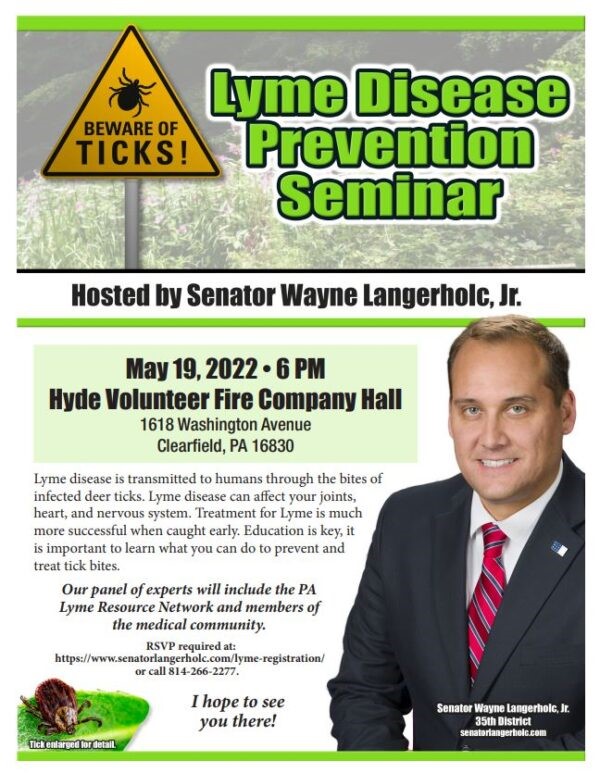 This seminar will focus on tick bite prevention, as well as how to improve early diagnosis of Lyme disease and other tick-born infections. Register here.
Concealed Carry Educational Seminar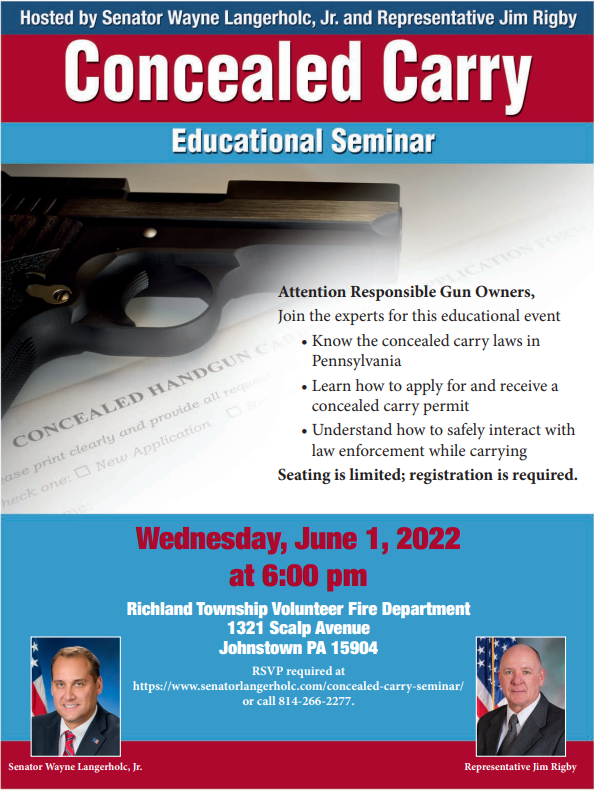 This seminar will address PA Gun Laws, how to apply for a conceal carry permit, how to safely interact with law enforcement while carrying a firearm and much more. Register here or by calling my office at 814-266-2277.
16th Annual Jackson Township Fishing Derby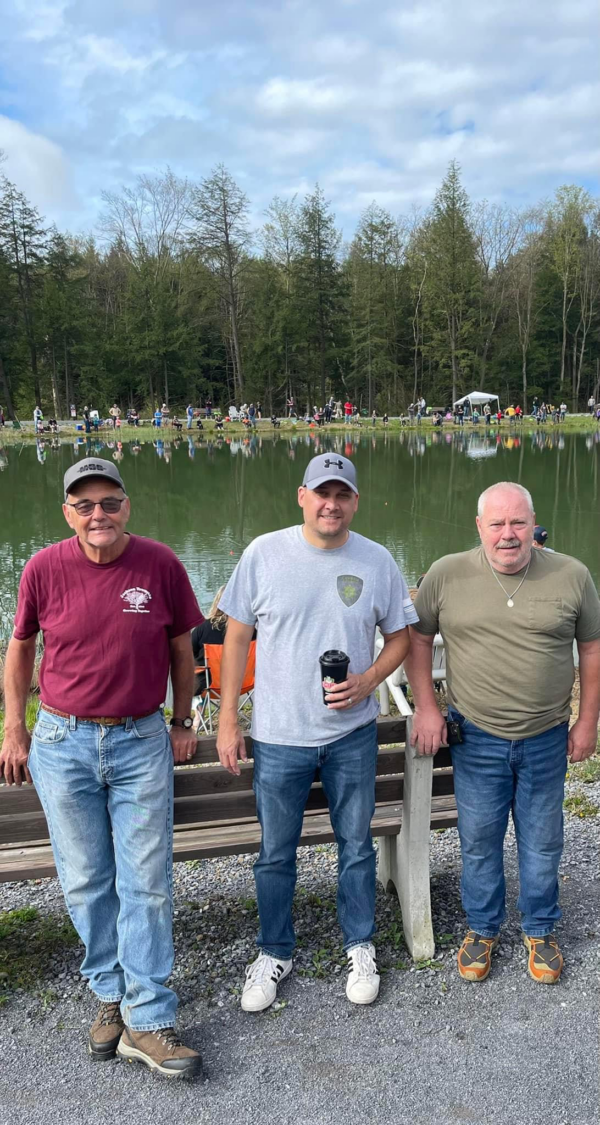 What an awesome time on Saturday at the 16th Annual Jackson Township Fishing Derby in Cambria County. Great time had by all!
Grampian Post Office Temporarily Closed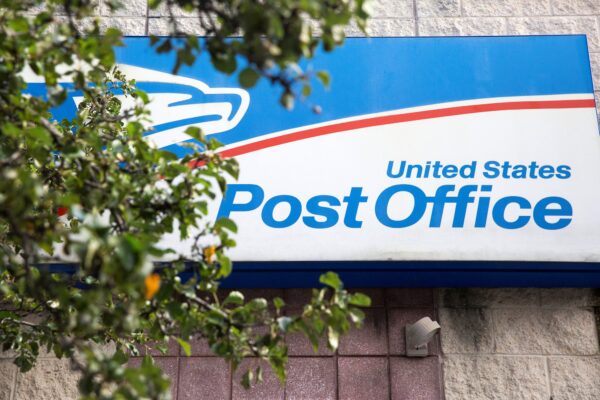 Attention Clearfield County Residents: The Grampian Post Office will be closed until further notice due to a vehicle crash over the weekend. Customers who have post office boxes can retrieve their mail at the Curwensville Post Office, 525 State St, Curwensville Monday – Friday 7:30 a.m. to 11 a.m and noon to 4:30 p.m and Saturday 9 a.m. to noon. Customers should also have a form of photo identification on them when claiming their mail.
Senior Spotlight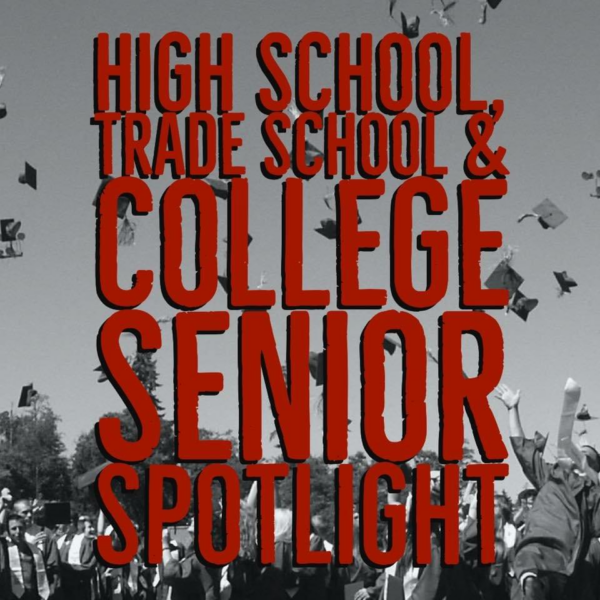 As the school year comes to a close, I would like to once again honor the graduates of the 35th Senatorial District by acknowledging their accomplishments and goals in my "Senior Spotlight".
Do you know of someone graduating from high school, trade school, or college from Bedford, Cambria, Centre, or Clearfield counties that has made an impact on their community, accomplished a goal, been accepted to a college or technical school, joined the armed forces, or any other amazing accomplishments? If so, please submit their name, brief description of their accomplishments, and photo here.
Ribbon Cutting of Heart of the Earth Crystals & Jewelry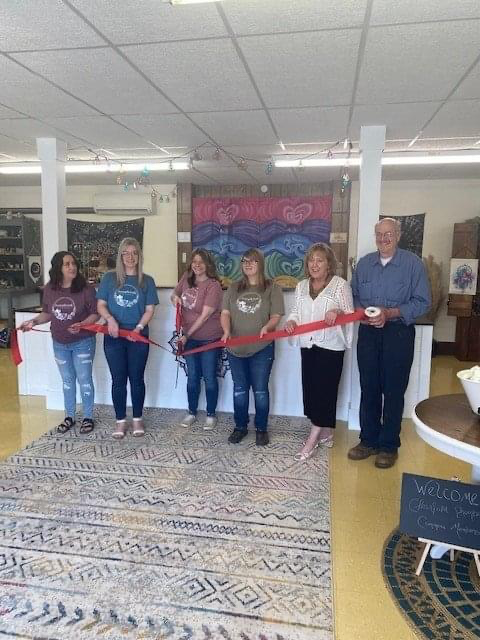 My staff joined the Greater Clearfield Chamber of Commerce for the grand opening and ribbon cutting ceremony for Heart of the Earth Crystals & Jewelry in Hyde. Congratulations!
Tour of Green Diamond Companies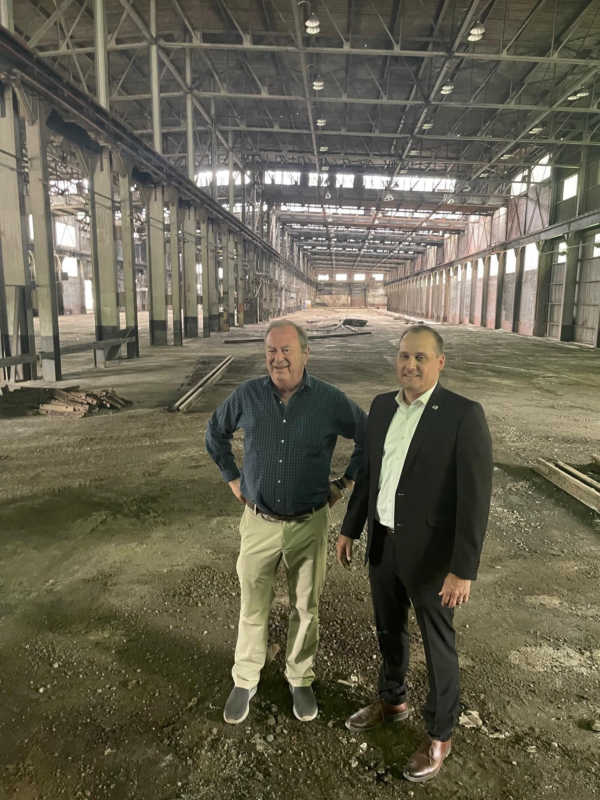 I had the opportunity to tour the Green Diamond Companies facility in Franklin Borough, Cambria County. Thank you for investing in the 35th Senate District and look forward to working with you in the future.
Ribbon Cutting of Qscapes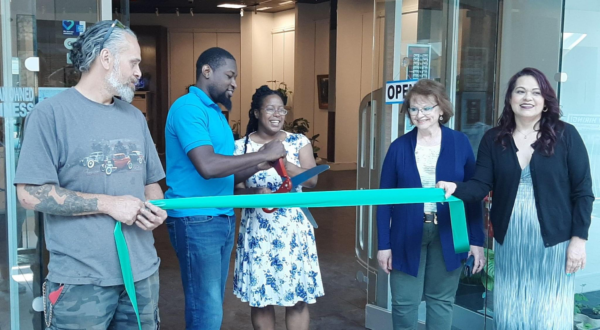 My staff attended the ribbon cutting at Qscapes located in the Galleria Mall in Johnstown. QScapes offers rare plants, artwork and aquascaping. Congratulations and best of luck to you!
Veterans Food Drive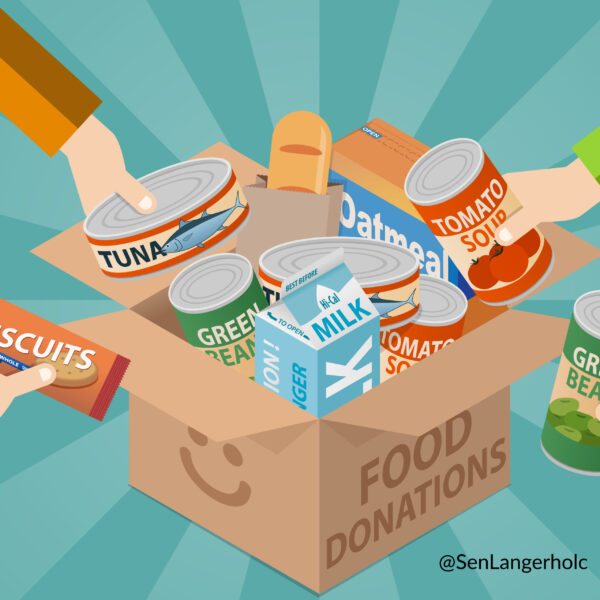 Laurel Highlands Historical Village Inc NP will be holding a Veterans Food Drive this Friday, May 20th, at the Walmart Ebensburg from 8 a.m. to 6 p.m. They are in need of non-perishable foods, hygiene and paper products. If you can't make it out on Friday, please, see below for additional drop-off locations:
Galleria Johnstown
Hoss's Steak & Sea House Restaurants (Richland and Ebensburg locations)
Kimmie's Kitchen – 3767 William Penn Ave, Mundy's Corner
Stagers Store- 696 Dulancey Drive, Portage
Randy's Bi Lo Foods Windber – 1514 Jefferson Ave, Windber
Rizzo Chiropractic Holistic Health & Wellness – 400 N Center St, Ebensburg
Corner Coffee Shoppe -810 Scalp Ave, Johnstown
For more information please call 814-241-6123.
2022 State of the City Address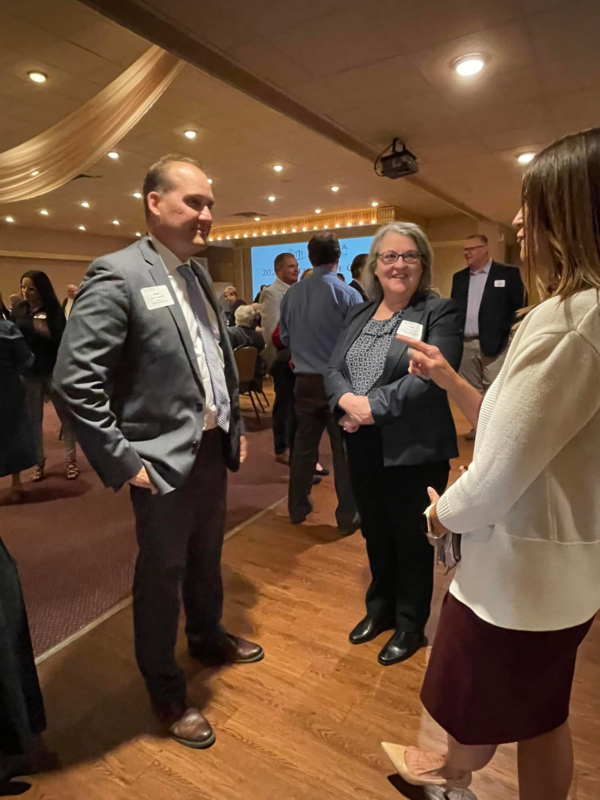 This week, I attended the 2022 State of the City Address in Johnstown! Thank you to the Cambria Regional Chamber for hosting.
Help Available for Historical Records Care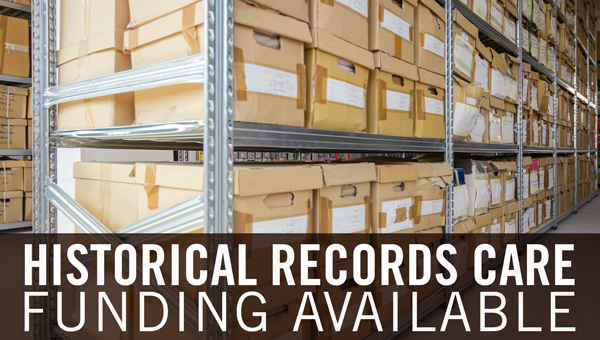 Area historical societies, libraries and other records repositories can apply now for state grants to improve the preservation of historically valuable records.
The Historical & Archival Records Care grant program provides funding assistance for surveying, inventorying, preserving, arranging and describing historical records significant to Pennsylvania, as well as for records reformatting and equipment.
The competitive grant program is administered by the Pennsylvania Historical and Museum Commission, the official history agency of Pennsylvania. The application deadline is Aug. 1.
Tips for Cars and Motorcycles Sharing the Road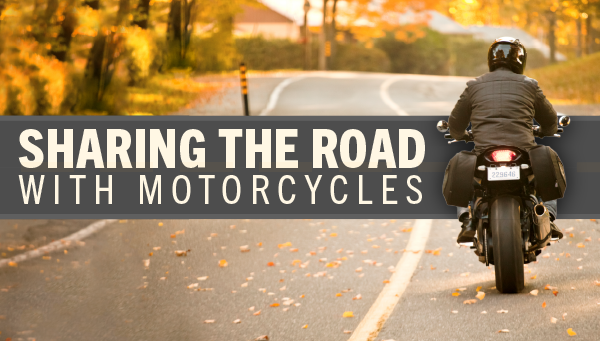 As warmer weather brings more motorcycles to our roadways, it's a good time to consider some safety tips for sharing the road:
Be aware that motorcycles are small and may be difficult to see. Check mirrors and blind spots before changing lanes and at intersections.
Allow more following distance, at least four seconds of distance between a motorcycle and your vehicle.
Remember that motorcycles have the same rights and privileges as any vehicle on the roadway.
Allow a motorcyclist a full lane width as the motorcyclist needs the room to maneuver safely in all types of road conditions.
There were 3,578 crashes involving motorcycles on Pennsylvania roadways in 2021, resulting in 226 fatalities, an increase in both from 2020. For more information on motorcycle safety, visit the PennDOT website.
Watching the Development of the Capital's Young Peregrine Falcons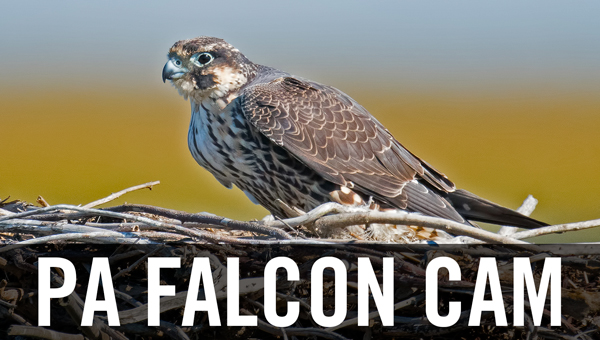 Pennsylvanians are tracking the development of young peregrine falcons nesting on a ledge of the Rachel Carson State Office Building in Harrisburg.
The live Falcon Cam provides a window into the lives of the falcon nestlings and adult birds. The peregrine falcon was removed from the federal Endangered Species List in 1999 and the Pennsylvania Threatened List in 2021 but remains federally protected under the Migratory Bird Treaty Act and the state Game and Wildlife Code. Eighty-three falcons have hatched in Harrisburg since reproduction began in 2000.
The birds are banded and tracked throughout North America by biologists and birdwatchers.
Falcons born on the ledge at the Rachel Carson building have been tracked to Florida and Canada. The next phase should start around May 22, as these falcons attempt their first flights.
Lowering Your Risk of Skin Cancer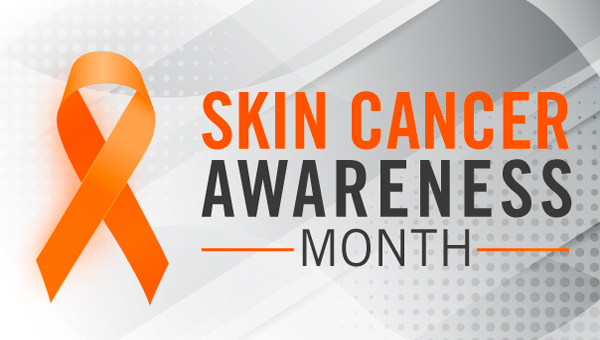 With more than five million cases diagnosed in the United States each year, skin cancer is America's most common cancer. Fortunately, it is also one of the most preventable.
Reducing your exposure to ultraviolet (UV) rays can lower your chances of getting skin cancer, according to the Centers for Disease Control and Prevention. Anyone can get skin cancer, but people with certain characteristics are at greater risk, such as a lighter natural skin color, certain types and a large number of moles, a family history of skin cancer and more.
You can learn about ways to reduce your risk of skin cancer here.
Honoring the Work of EMS Personnel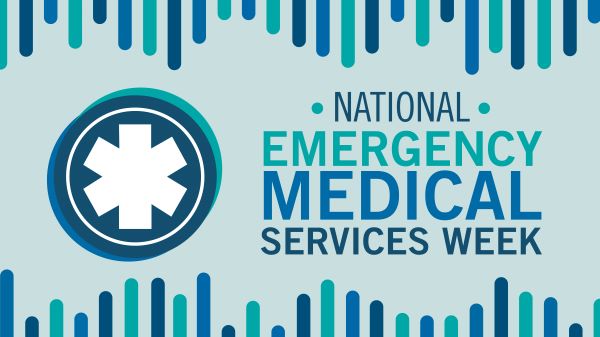 This week, we celebrate the men and women who serve our community during the worst or most challenging moments, and who ensure their patients receive high-quality, compassionate and lifesaving care.
Members of EMS teams, whether career or volunteer, engage in thousands of hours of specialized training and continuing education to enhance their skills. We owe them our gratitude for their time and dedication.