In this Update:
Senate Adopts Langerholc Resolution to Fix Section 8
Senator for a Day Event
Senate Approves Langerholc's Special Prosecutor Legislation for Crimes Occurring on Philadelphia Mass Transit
Senior Spotlight
Upcoming Events in Senate District 35
Meeting with Constituents in Harrisburg
Safeguarding-Taxpayer Funded Public Assistance from Waste, Fraud and Abuse
Prohibiting Drug Injection Sites in PA Communities
Preventing Tax Increases and Keeping Tax Dollars Local
Grants to Improve Access to Healthy Food
Recognizing National Mental Health Awareness Month
---
Senate Adopts Langerholc Resolution to Fix Section 8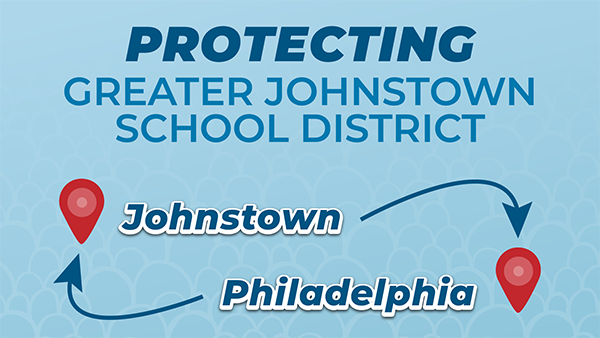 The Senate approved my resolution urging the federal government to address the abuse of the porting process in the Housing Choice Voucher program.
Portability, or porting, is the process by which a family can transfer their Housing Choice Voucher rental subsidy when they move to a location outside the jurisdiction of the agency that gave them the voucher.
Individuals are circumventing the Philadelphia Housing Authority's wait list by claiming residency in Johnstown, obtaining vouchers, staying for a few months and leaving, opening the door for more individuals to take advantage of the system.
Senate Resolution 45 calls on the U.S. Department of Housing and Urban Development (HUD), which administers the program, to address the abuse of the porting process.
This abuse of housing vouchers is creating a strain on the Johnstown community. It burdens our schools and health and human services providers. Our police are seeing a large number of cases from offenders who don't live in our area. We welcome any individual who wants to come to Cambria County to live, work and raise a family. But I won't stand by while this program is abused to distort the intent of housing aid and disrupt the lives of long-term residents.
In addition, I am sponsoring Senate Bill 98 to create establish Public Housing Safety Committees within each Public Housing Authority to properly vet individuals with a recent criminal record to determine if they present a threat to the health and safety of the community.
The Senate Urban Affairs and Housing Committee came to Johnstown last year to receive testimony on the effect porting and other housing issues have on the Johnstown community.
You can view my remarks on Senate Resolution 45 here.
Senator for a Day Event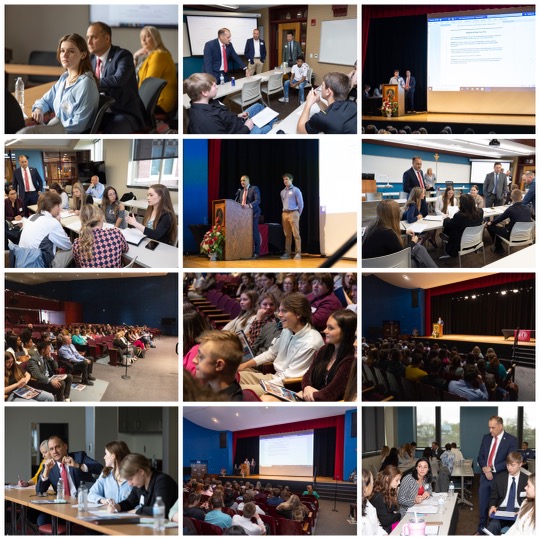 This week, I hosted a Senator for a Day event at Saint Francis University. Students from across the 35th Senatorial District attended the event and participated in a committee meeting as well as a Senate Session. It was great to hear so many great ideas from our future leaders!
Senate Approves Langerholc's Special Prosecutor Legislation for Crimes Occurring on Philadelphia Mass Transit

The Senate approved my legislation to crack down on the unchecked crime crisis plaguing Philadelphia's mass transit system.
The Southeastern Pennsylvania Transportation Authority (SEPTA) is the sixth largest mass transit agency in the United States and provides essential transit services for one-third of Pennsylvania's population. Riders and SEPTA employees have raised alarms on the increasing number of people they have to deal with who are addicted to drugs, experiencing homelessness and suffering from serious mental illness.
The Senate Transportation Committee traveled to Philadelphia on May 9, 2022, to collect testimony on the safety and sustainability of SEPTA. Members heard firsthand that law enforcement is stymied by a failure to follow through after arrests are made.
Senate Bill 140 would require the Pennsylvania Attorney General to appoint a special prosecutor from a county of the first class to institute prosecutorial jurisdiction when heinous crimes occur on SEPTA's property in Philadelphia.
This prosecutor would address the sweeping inaction of the current Philadelphia District Attorney (DA) and ensure scofflaws will answer for their crimes since the current DA has a systemic record of failing to prosecute assaults on victims.
This dereliction of duty has cast a negative light on the City of Philadelphia and the commonwealth, which has significantly impacted safety and ridership. The working families, students and visitors of Philadelphia are in dire need of prosecutorial solutions, and my legislation will help restore law and order on SEPTA's buses, trolleys, trains and stations.
The bill now moves to the House of Representatives for consideration.
To watch additional floor debate click here.
Senior Spotlight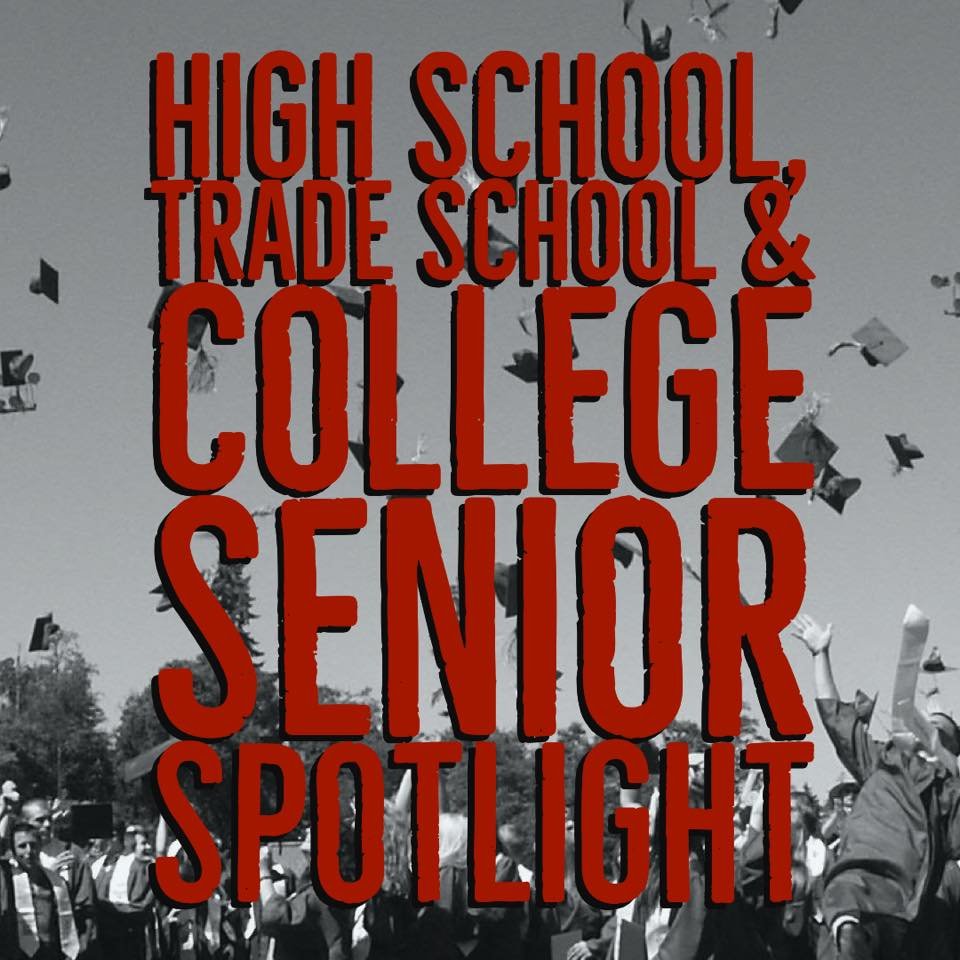 With graduation rapidly approaching, I would like to honor the graduates of the 35th Senatorial District once again by acknowledging their accomplishments and goals in my "Senior Spotlight".
Do you know of someone graduating from high school, trade school, or college from Cambria, Centre, or Clearfield counties that has made an impact on their community, accomplished a goal, been accepted to a college or technical school, joined the armed forces, or any other incredible accomplishments?
If so, please submit their name, brief description of their accomplishments, and photo here.
Upcoming Events in Senate District 35
Cambria County Residents: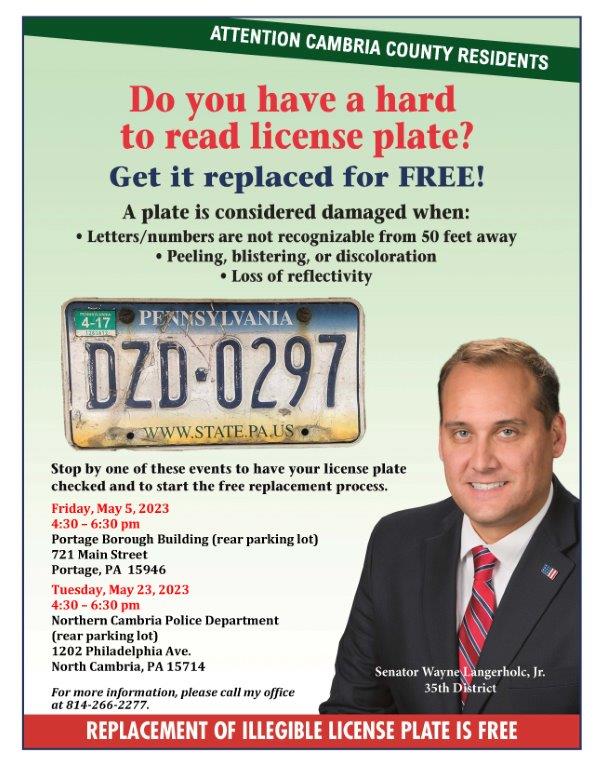 We will be at the Portage Borough Building on May 5th and at the Northern Cambria Borough Police Department on May 23rd for license plate replacement events. We will also be holding replacement events in Ebensburg and Johnstown!
Students and Parents: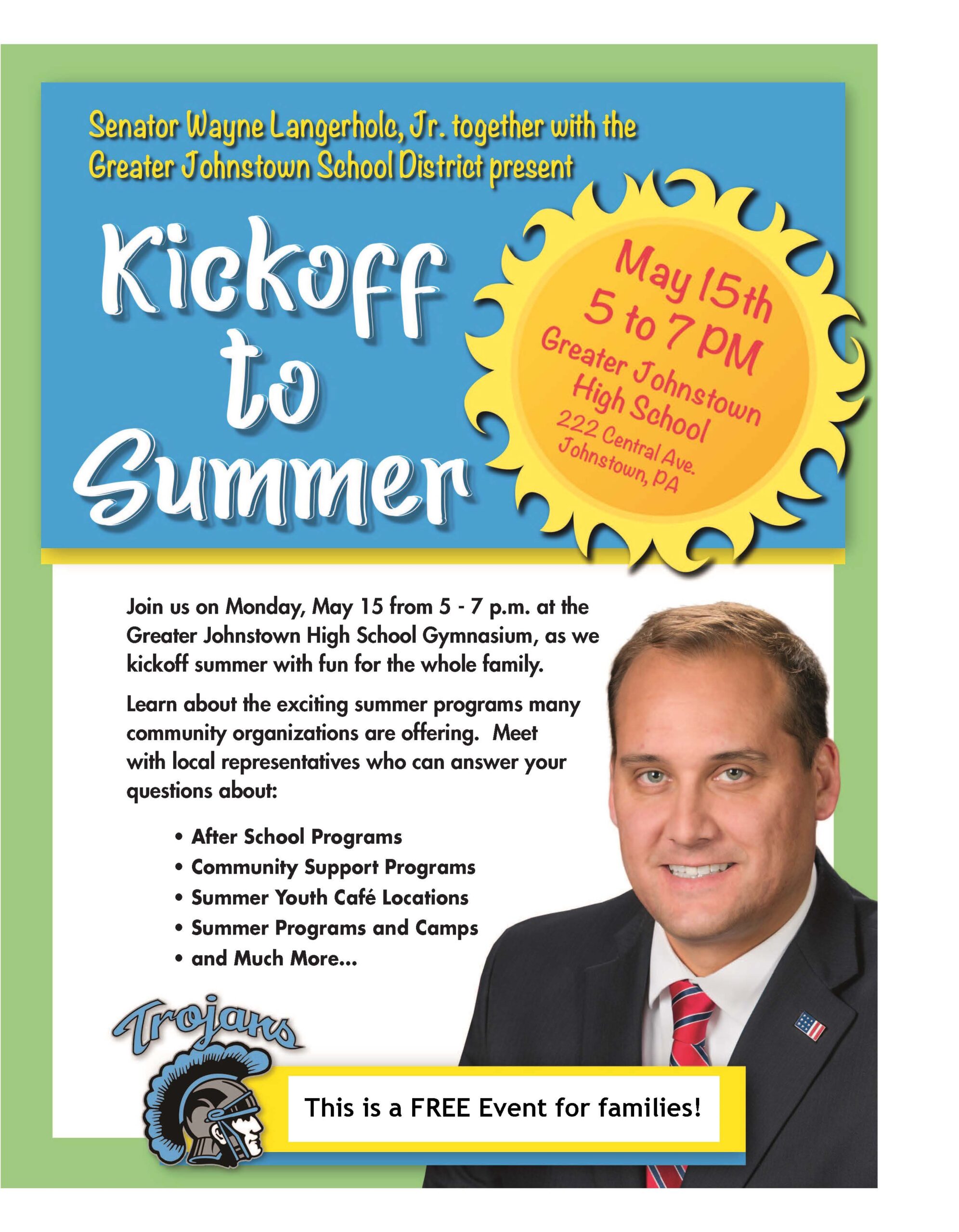 I will be hosting a Kickoff to Summer Event on May 15 at the Greater Johnstown High School Gymnasium from 5-8 p.m.
Centre County Residents: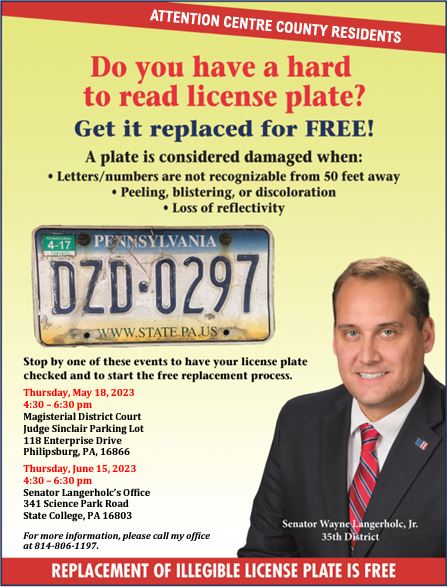 License Plate Replacement Events are scheduled for May 18th in Philipsburg and June 15th at my office in Ferguson Township.
Clearfield County Residents: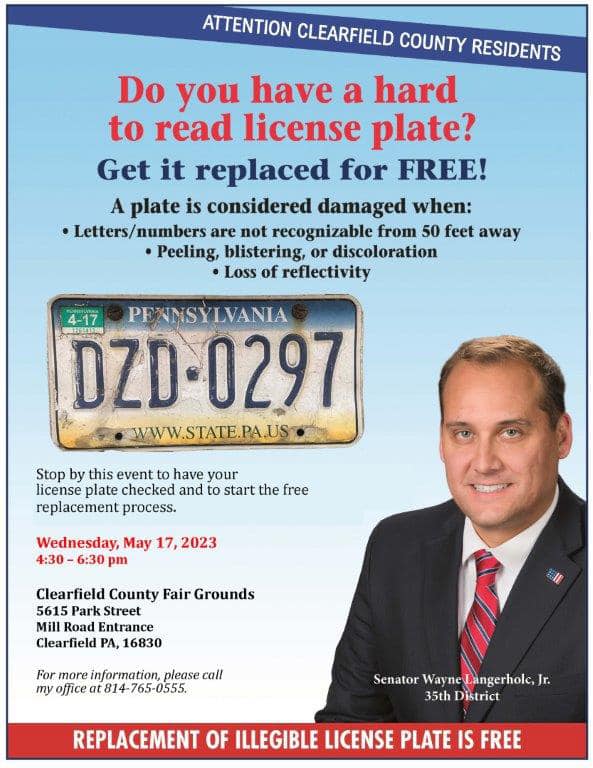 On May 17th, I will be hosting a License Plate Replacement Event at the Clearfield County Fair Grounds from 4:30 – 6:30 pm.
Attention Clearfield County Seniors: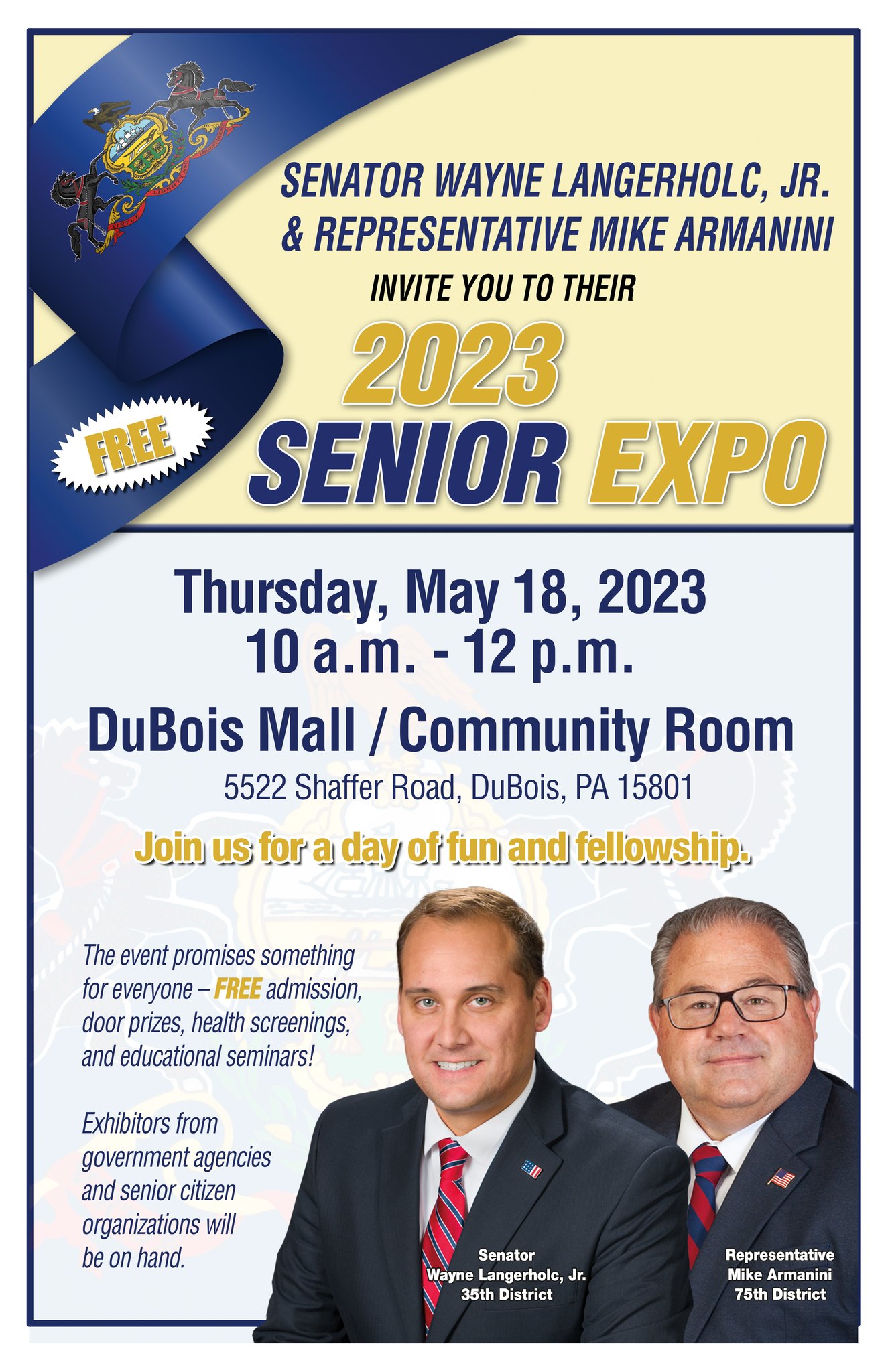 Stop by the DuBois Mall on May 18th from 10:00 a.m. – 12:00 p.m. for a Senior Expo. This event is FREE to attend and will give you an opportunity to meet with local and state organizations who can provide valuable resources for older adults, caregivers and their families. I hope to see you there!
Attention Non-Profits: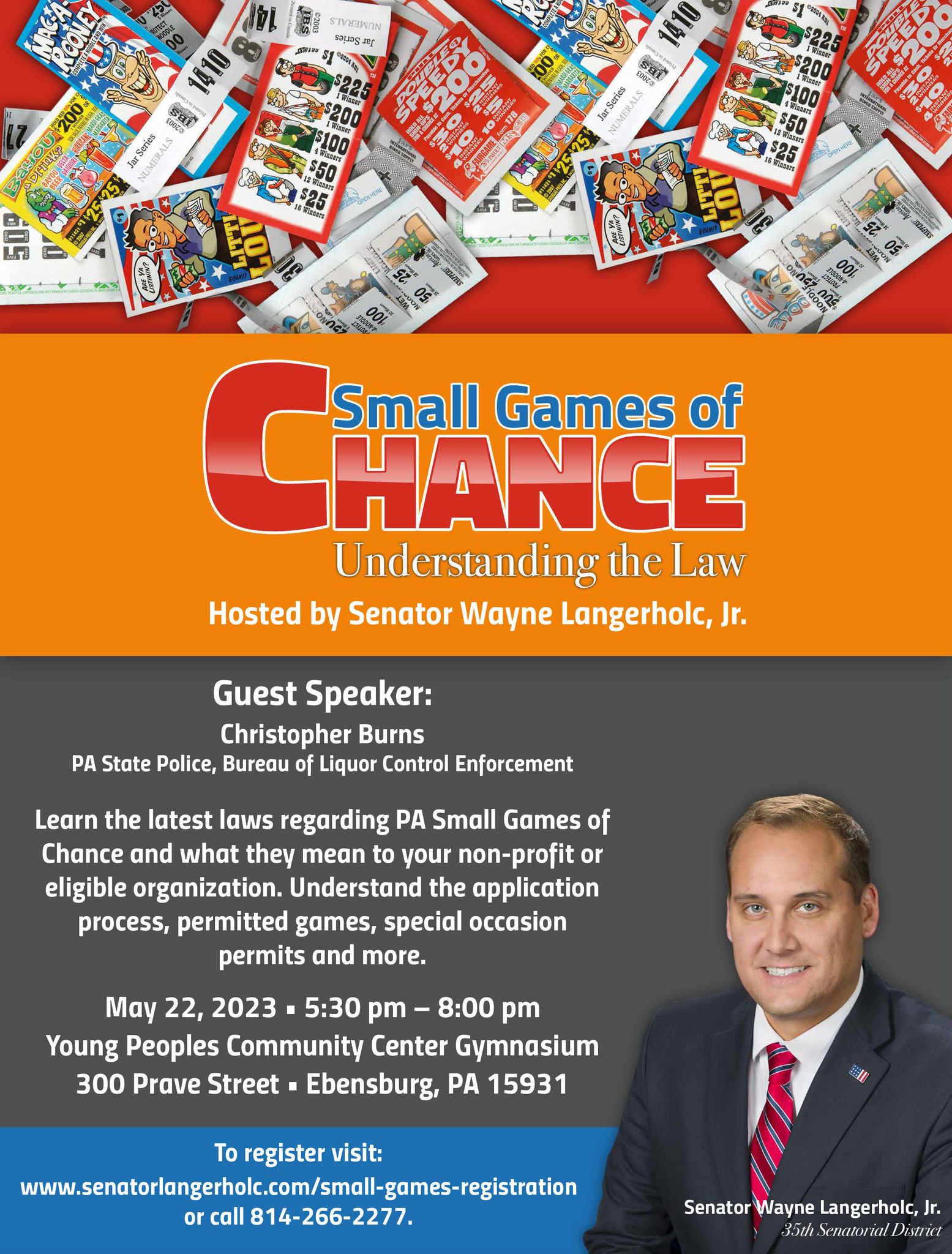 Please join me on May 22nd from 5:30pm – 8:00 pm at the Young Peoples Community Center in Ebensburg for a Small Games of Chance Seminar presented by PA State Police, Bureau of Liquor Control Enforcement. To register visit here.
Meeting with Constituents in Harrisburg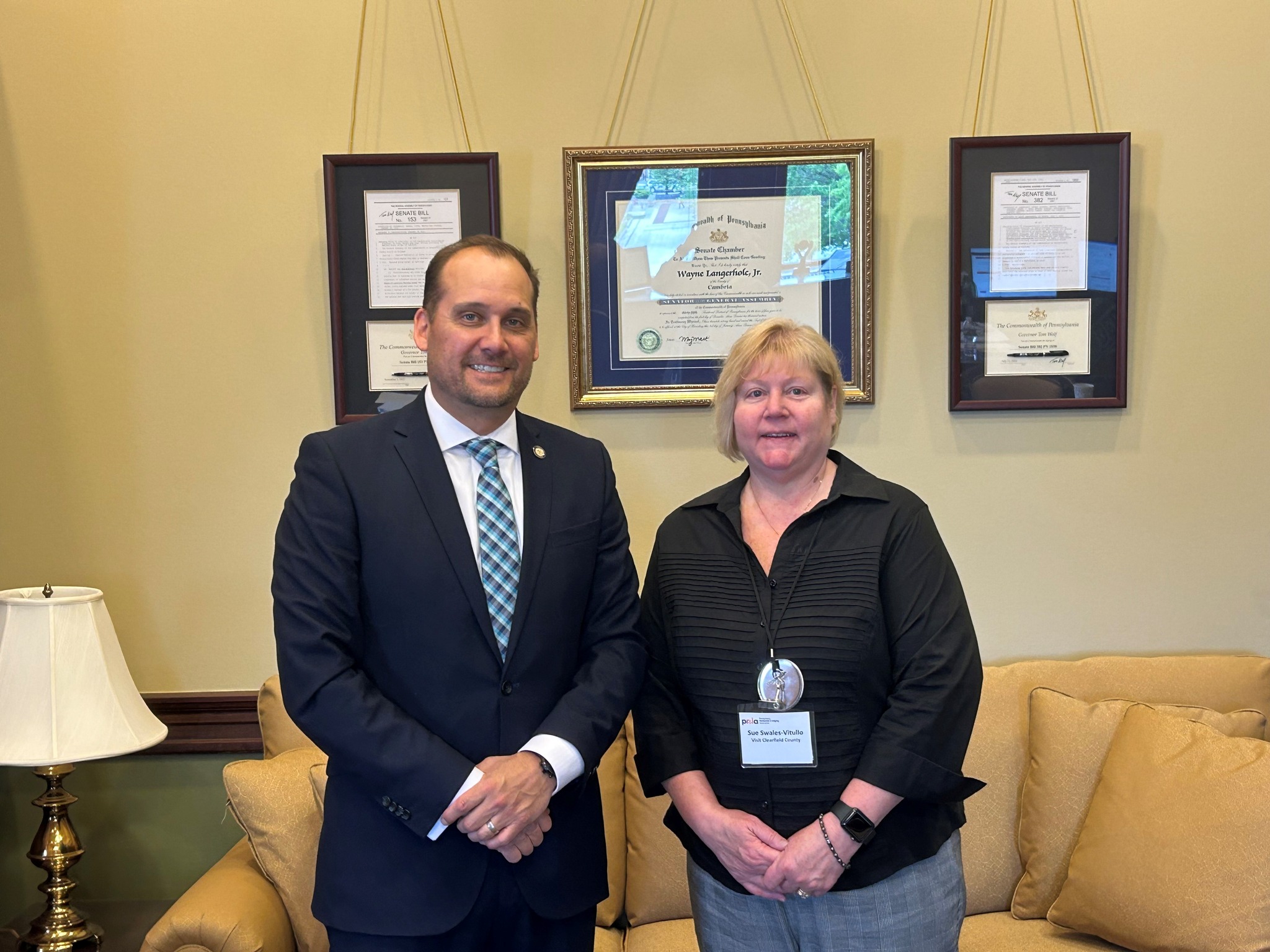 I had the opportunity to meet with Sue Swales-Vitullo from Clearfield on behalf of the Pennsylvania Restaurant & Lodging Association.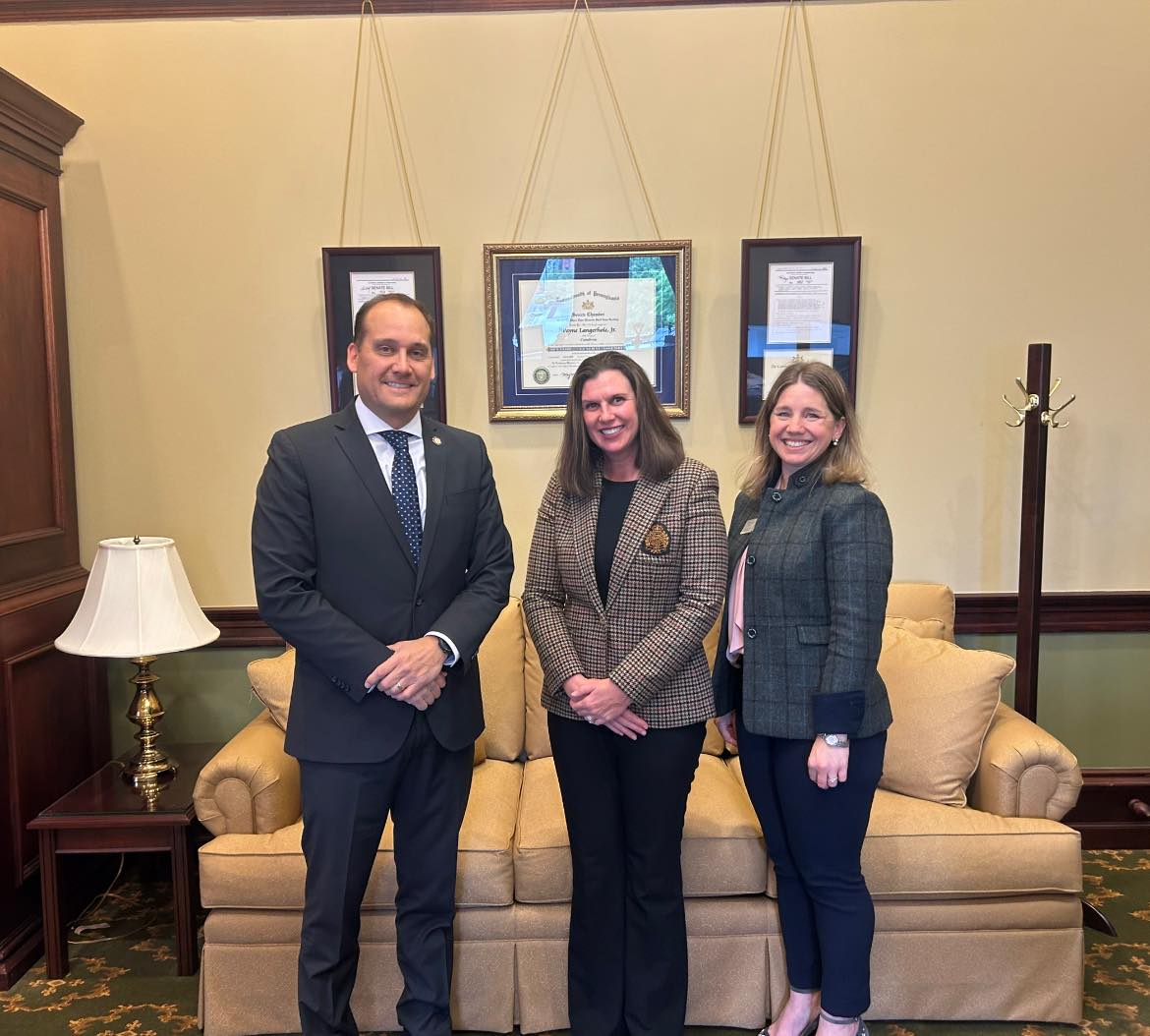 It was great speaking with Kary Milan and Vanessa Houser from Mount Aloysius College about the exciting opportunities the school has for their students!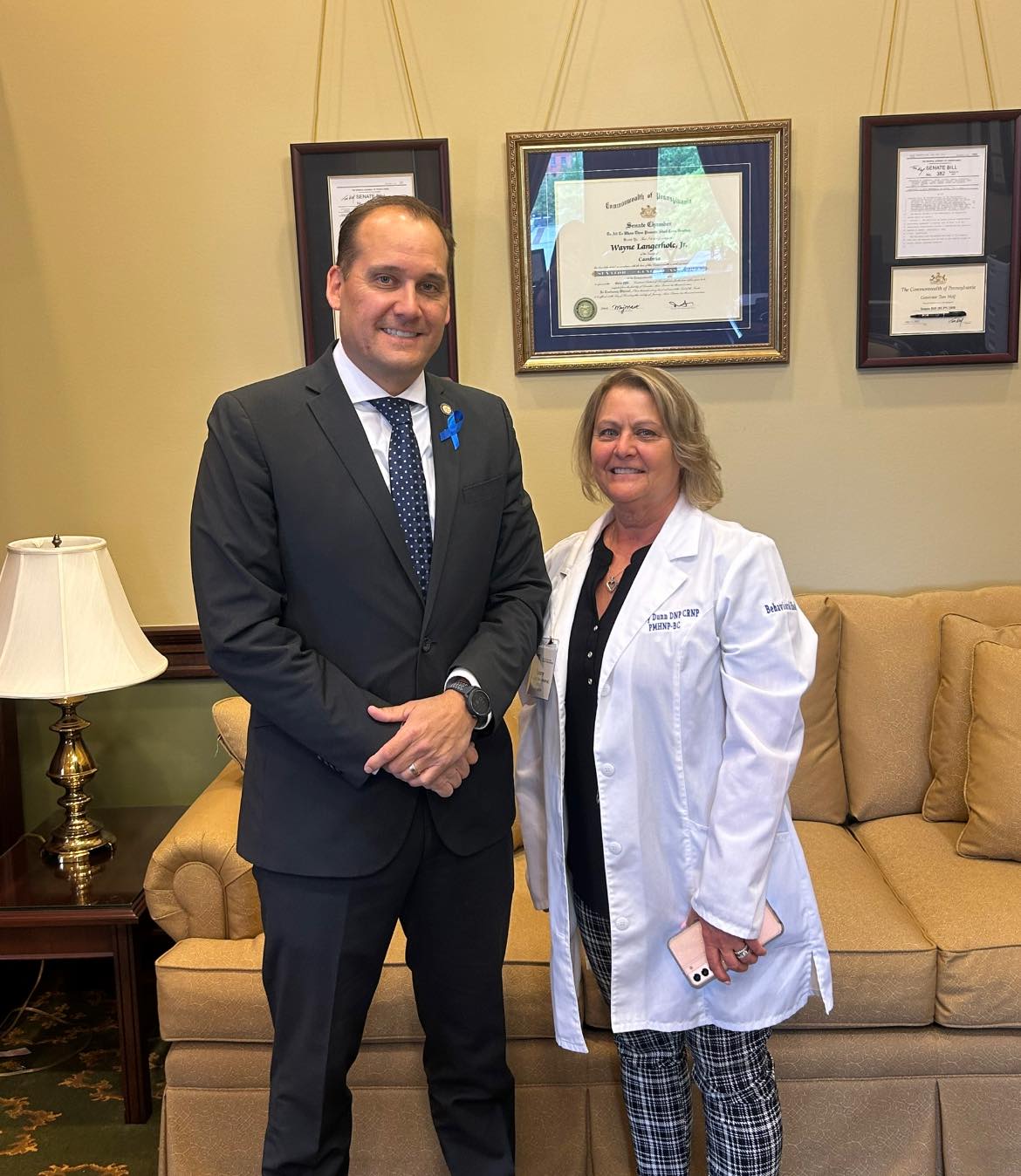 It was great to meet with Tammy Dunn from Cambria County, who visited Harrisburg to discuss issues facing nurse practitioners and the need for Senate Bill 25 of which I am a proud co-sponsor!
Safeguarding-Taxpayer Funded Public Assistance from Waste, Fraud and Abuse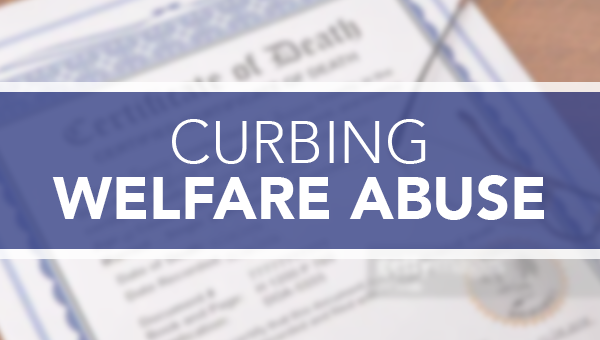 A package of bills to better protect taxpayer dollars spent on public assistance from fraud and abuse passed the Senate this week. The bills were sent to the House of Representatives for consideration.
Senate Bill 243 would ensure that Supplemental Nutritional Assistance Program (SNAP) and Medical Assistance benefits are not spent on the deceased. It would require the Department of Human Services to check death certificates with the Department of Health's Bureau of Vital Statistics. A state audit found 2,324 Electronic Benefit Transfer (EBT) cardholders received benefits after they passed away.
Senate Bill 244 would require the Department of Human Services to compare income and employment records held by the Department of Labor and Industry with recipients of SNAP and medical assistance benefits to prevent fraud. According to the Office of the State Inspector General, 85 Pennsylvanians have been charged with public assistance fraud in 2023.
Senate Bill 245 would update the Public Assistance Integrity Act to require the Department of Human Services to issue a yearly report on its efforts to ensure lottery winners are not receiving cash benefits. The Public Assistance Integrity Act closed a loophole that did not require lottery winnings to be considered as income when determining eligibility for benefits.
Prohibiting Drug Injection Sites in PA Communities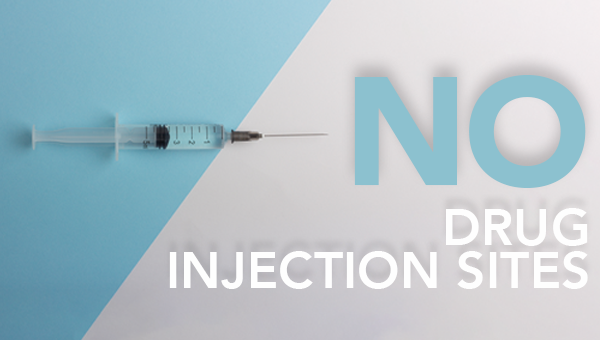 As part of our ongoing effort to strengthen Pennsylvania by advancing policies to foster healthy and safe communities, the Senate passed a bill to prohibit drug "injection sites" in our communities.
Such sites do not help to overcome addiction. They encourage the continued use of illegal – and often deadly – drugs and attract drug dealers who sell to those entering the sites, which operate under a "bring your own drugs" policy. Drug trafficking occurs in plain sight, and drug-related violence increases as dealers protect their turf.
These sites have very poor track records of moving those with substance use disorders into treatment, with some referral rates as low as 1%. They are counterproductive to finding the appropriate strategy to curb the drug abuse epidemic. Rather than sending the incorrect message that illegal drugs can be used safely, we must focus on adequately funding treatment and community-based recovery support services.
Preventing Tax Increases and Keeping Tax Dollars Local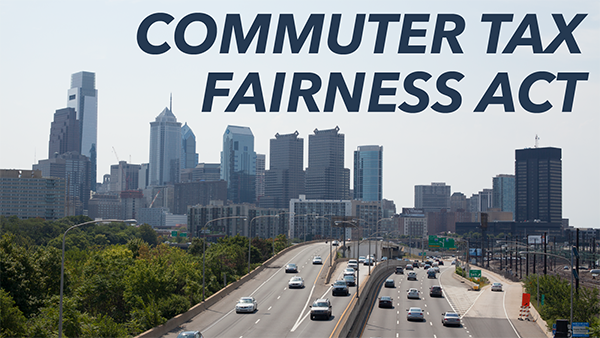 The Commuter Tax Fairness Act, passed by the Senate, supports Senate Republicans' goal of limiting the tax burden for Pennsylvanians by adjusting Philadelphia's City Wage Tax for non-city residents.
Currently, the 3.44% city wage tax is imposed on salaries, wages, commissions and other compensation paid to people working for a Philadelphia employer. Non-residents – even those who work remotely and never go into the city – are forced to pay the full Philadelphia City Wage Tax if their employer is based in the city.
With the passage of the Commuter Tax Fairness Act, the Philadelphia City Wage Tax for non-residents would remain 3.44% but 1% could be redirected to the workers' home municipalities for municipalities that have an earned income tax. The change would reduce the increased burden placed on others living in surrounding municipalities who must pay more for basic services like fire, police and emergency medical services because none of Philadelphia's City Wage Tax is shared.
Pennsylvanians' tax dollars should stay local and help their communities, not be diverted to another part of the state. The bill now moves to the House of Representatives for consideration.
Grants to Improve Access to Healthy Food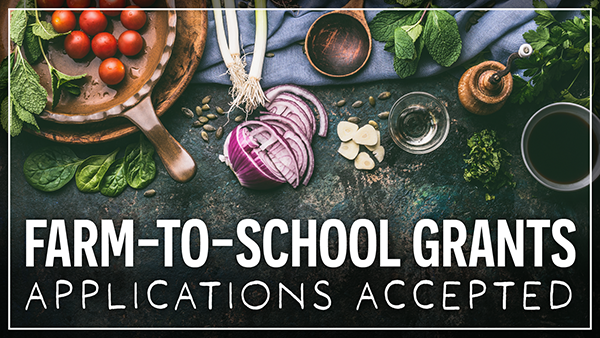 Schools and childhood education centers may apply for up to $15,000 per school for a PA Farm Bill Farm-to-School Grant for projects to improve access to healthy, local foods. The money can also be used to increase hands-on learning experiences for children in pre-kindergarten through eighth grade.
Farm-to-School Grants enrich the connection between families and local producers of fresh, healthy food by changing food purchasing habits in schools. Projects increase access to markets for local farms and expose children early to agriculture, agriculture careers and healthy food choices.
Grant applications must be submitted online here by May 19 at 5 p.m.
Recognizing National Mental Health Awareness Month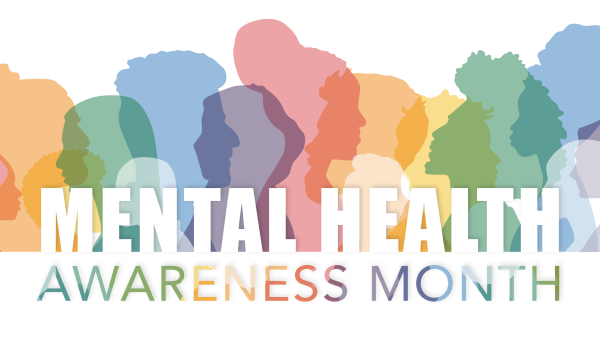 Mental Health Awareness Month has been observed in the United States since 1949 to fight stigma, provide support, educate the public and advocate for policies that support millions of Americans impacted by mental health challenges.
Senate Republicans have pushed for investments in mental health, and that push continued last year as we fought for mental health financial support to schools, funding for more support staff in nursing facilities and workforce recruitment and retention payments for frontline workers. We also worked to pass important legislation last session to allow for greater access to drug and alcohol programs.
My colleagues and I will continue to make mental health funding a priority this legislative session.
If you or someone you know is struggling with mental health challenges, find resources here.
Good Luck to PA Horse in the Kentucky Derby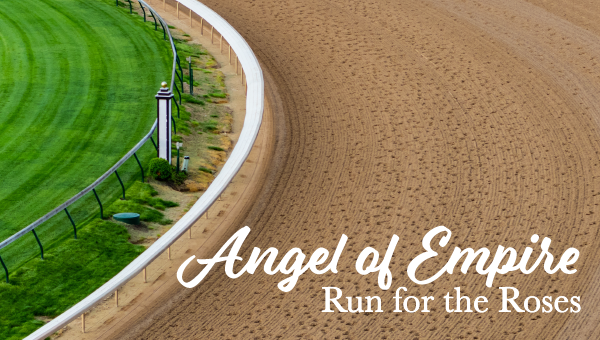 Congratulations to Angel of Empire, the three-year-old colt that started racing in 2022 and is headed to the Kentucky Derby.
The thoroughbred racehorse was born and raised at Blackstone Farm in Pine Grove in Schuylkill County. His win in the Arkansas Derby made him a horse to watch in the Run for the Roses. The colt will try to become the third Pennsylvania-bred horse to win the Kentucky Derby after Lil E. Tee in 1992 and Smarty Jones in 2004.
Good luck to Angel of Empire in the Kentucky Derby, which will begin on Saturday, May 6, at 6:57 p.m.

If you are not already subscribed to this newsletter please sign up here.