In this Update:
More Than $3.1 Million Funded for Transportation Projects in District
Crime and Public Safety Hearing in Ebensburg on Monday
Upcoming Events in Senate District 35
$53 Million Invested to Accelerate the Expansion of U.S. 219
Press Conference at John Murtha Cambria County Airport
Vehicle Electrification in Pennsylvania
Ribbon Cutting Ceremony for New Lockheed Martin F-16 Manufacturing Center
Ribbon Cutting Ceremony at Keller Williams Exclusive Johnstown
Applications Open for Watershed Cleanup Grants
Share Your Views on PennDOT's Winter Services
Summer Camp for Teens Interested in Law Enforcement, Military
Call 811 Before Excavation Projects
Child Abuse Prevention Month
---
More Than $3.1 Million Funded for Transportation Projects in District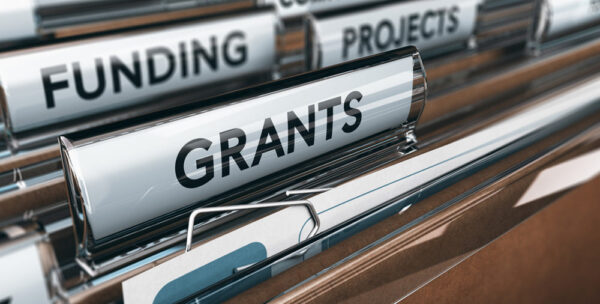 This week seven bridge, road and pedestrian projects in the district were selected for $3,145,497 in funding through the Multimodal Transportation Fund.
As Chairman of the Senate Transportation Committee, I know the tremendous impact these funds will have on our local infrastructure needs. These projects will increase the quality of life for our residents by expanding access to hiking trails, addressing pedestrian and accessibility concerns, improving safety for bicyclists as well as boost economic development. I am grateful to PennDOT for the funding.
The projects include:
Bedford County
Southampton Township – $470,523 to rehabilitate Covered Bridge Road and Johnson Road, providing access to the historic Hewitt Covered Bridge, two popular hiking trails, and state game lands in southern Bedford County.
Cambria County
Borough of Portage – $443,000 for the fifth phase of the Borough's streetscape program to establish pedestrian connectivity and improve pedestrian safety through installation of new sidewalk, curb, and ADA ramps.
Summerhill Township – $241,361 to relocate 2,962 linear feet of Shaft Road from Donald Street to the bottom of Wilmore Heights Road to connect from Donald Street to the top of Wilmore Heights Road, 1,800 linear feet. The project includes installation of cross drains, guiderail, and signage.
Clearfield County
Bradford Township – $706,188 to widen the roadway and replace Egypt Road Bridge, a deteriorating one-lane bridge, heavily-traveled by campers and school buses, with a two-lane box culvert to accommodate the safe passage of wider vehicles. The project includes improvements for bicycle and pedestrian traffic.
Curwensville Borough – $589,832 to repair, mill, and pave nine borough streets.
Houtzdale Borough – $575,417 to improve sidewalks and provide lighting for safe pedestrian access along Hannah Street and enhance the connection between the Central Business District and the Houtzdale Line Rail Trail.
Penn Township – $119,176 for rehabilitation of Melody Road and Kratzer Run Road to increase safety for motorists and pedestrians.
Click here for more information about the program.
Crime and Public Safety Hearing in Ebensburg on Monday
Senate Majority Policy Chair Mario Scavello (R-40) announced a series of hearings on the topic of crime and public safety that will begin next week in Cambria County and continue throughout the Commonwealth during the next few months.
A top priority for Senate Republicans is to ensure Pennsylvanians feel safe in the towns, cities, and communities that they call home. These hearings on crime and public safety will help legislators better understand the trends in crime from law enforcement and key stakeholders to position the legislative branch to create more effective policies that match our Commonwealth's economic goals with our community objectives throughout Pennsylvania.
I welcome the Senate Majority Policy Committee to the 35th District and look forward to discussing ways we can effectively combat crime in our communities. As crime has increased on the national, state and local levels, we must take steps to stop it. Having dedicated the better part of my career to law enforcement as an Assistant District Attorney, I appreciate and welcome the testimony of my esteemed former colleagues across all disciplines of law. It is my plan to identify and subsequently implement policies to stop this dangerous trend.
The first hearing will be held on Monday, April 25, 2022, at 1:30 p.m. at the Cambria County Courthouse Courtroom 1, 200 South Center Street, Ebensburg, Pa. The next hearing will be held in Lancaster County.
Unfortunately, when it comes to crime in Pennsylvania, we are witnessing a rise in senseless acts that are hitting the core of our communities. Most recently, Philadelphia experienced one shooting per hour throughout a 24-hour period resulting in more than two dozen victims, and in the City of Pittsburgh, over Easter weekend citizens experienced a mass shooting incident that included 11 individuals who were shot of which two teenagers were killed.
Upcoming Events in Senate District 35
Public Utility Commission Educational Forum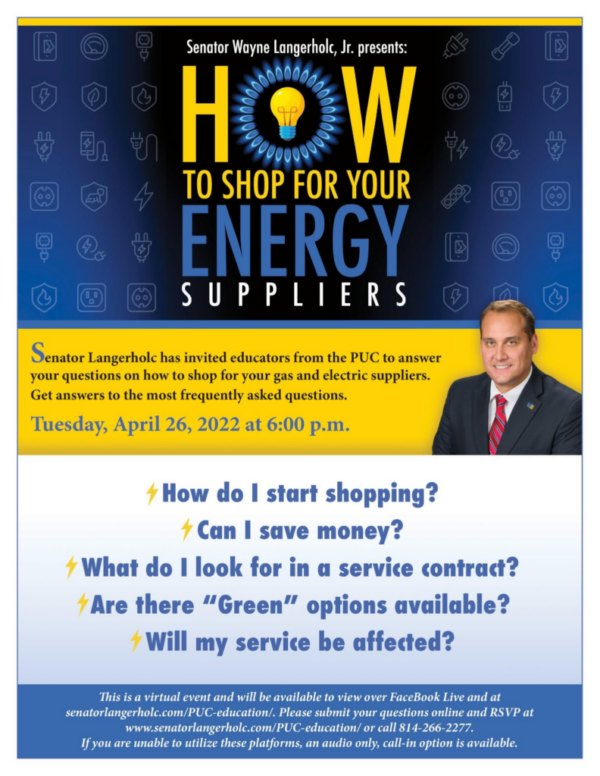 Tuesday, April 26 at 6 p.m, Virtual
Educators from the Public Utility Commission will discuss how to shop for gas and electric suppliers.
To submit questions and register for this virtual event, visit here.
Concealed Carry Educational Seminar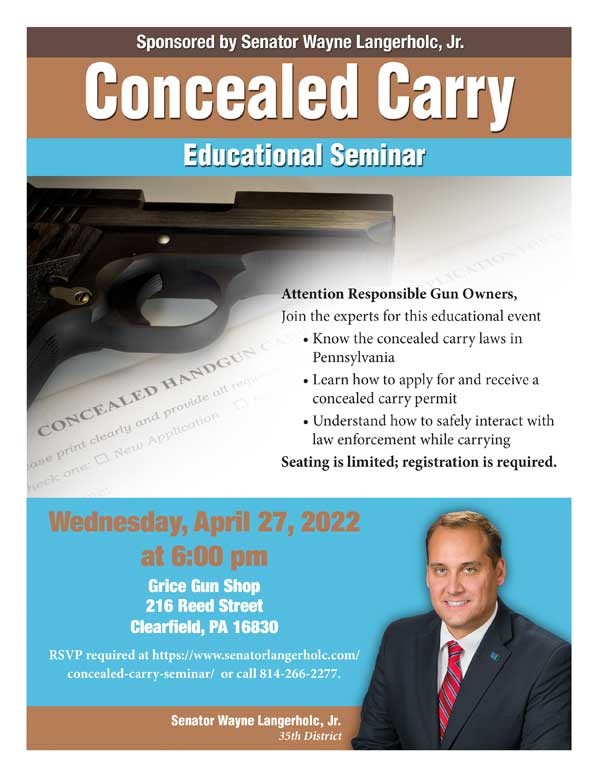 Wednesday, April 27 at 6 p.m., Grice Gun Shop, 216 Reed St., Clearfield
Law enforcement representatives will speak on the rules and regulations regarding firearms and conceal carry in Pennsylvania. Register here.
American Red Cross Blood Drive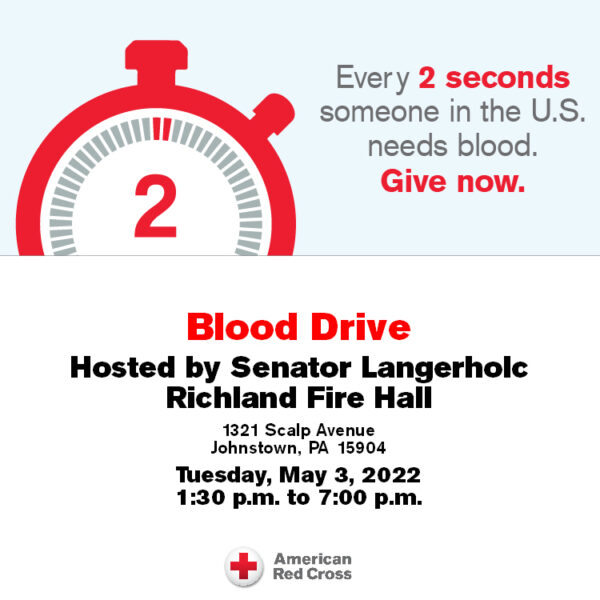 Tuesday, May 3 from 1:30-7 p.m., Richland Fire Hall, 1321 Scalp Ave., Johnstown
Please call 1-800-RED CROSS (1-800-733-2767) or visit RedCrossBlood.org and enter "Richland" to schedule an appointment.
Lyme Disease Prevention Seminar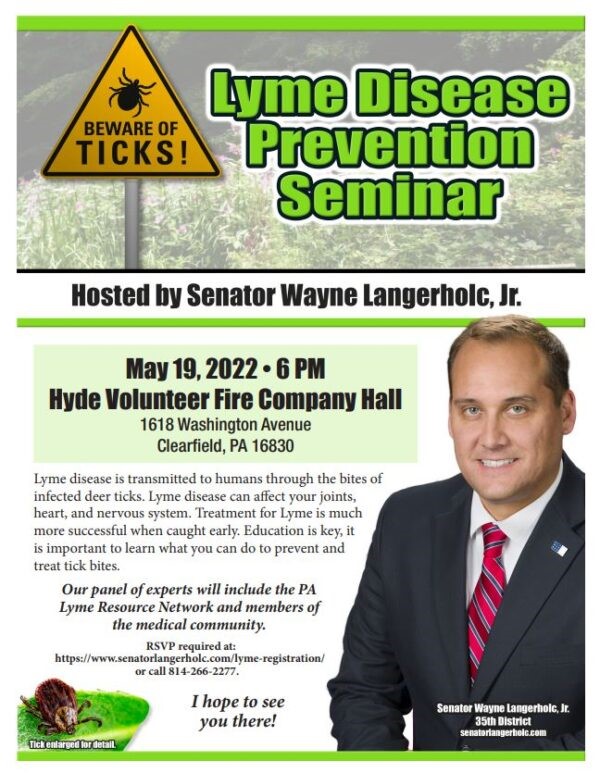 Thursday, May 19 at 6 p.m., Hyde Volunteer Fire Company Hall, 1618 Washington Avenue, Clearfield
This seminar will focus on tick bite prevention, as well as how to improve early diagnosis of Lyme disease and other tick-born infections. Register here.
$53 Million Invested to Accelerate the Expansion of U.S. 219
The Pennsylvania Department of Transportation announced that additional Appalachian Program Development (APD) funding in the federal Bipartisan Infrastructure Law is helping to accelerate the expansion of U.S. 219 in Somerset County.
The $53 million investment was committed today to continue the remaining pre-construction phase activities of final design, right-of-way, and utilities to upgrade the county's last remaining two-lane section of U.S. 219 to a four-lane, limited-access highway.
This funding is in addition to the $6 million in APD funds announced in November 2020 that have been used to begin the environmental studies and alignment selection phase of the project.
Senator Pat Stefano (R-32) and I have been advocating for this expansion project of U.S. 219 for years to improve interstate commerce and highway safety. This announcement of securing $53 million of Federal Appalachian Program Development funding will complete essential pre-construction activities and will continue promoting the project's benefits to secure funding for the construction of this critical corridor.
As part of the Appalachian Development Highway System, U.S. 219 qualifies for federal APD funding, which was created in 1965 as a way of funding corridor projects that would provide access to regional and national markets, contributing to growth opportunities and improved access in Appalachia.
The studies are intended to advance the portion of U.S. 219 from the southern end of the Meyersdale Bypass to the northern end of the recently completed U.S. 219/Interstate 68 interchange near Old Salisbury Road in Maryland.
Press Conference at John Murtha Cambria County Airport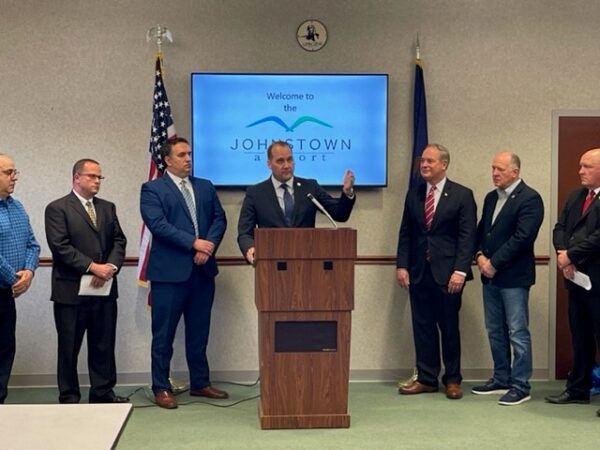 This week, I attended a press conference announcing the arrival of $4 million in federal funds for the John Murtha Cambria County Airport. I look forward to what the future holds for the John Murtha Cambria County Airport.
Vehicle Electrification in Pennsylvania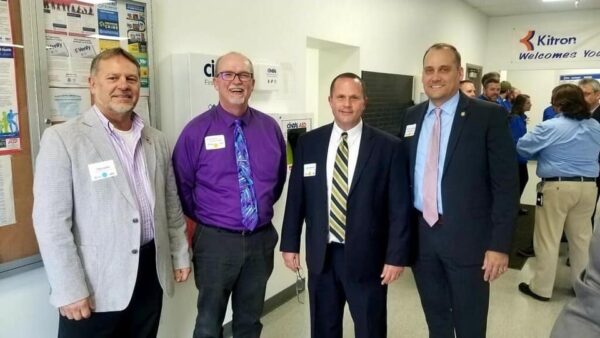 I would like to thank JARI for the opportunity to speak on "Vehicle Electrification in Pennsylvania" at their Business Development Forum.
Ribbon Cutting Ceremony for New Lockheed Martin F-16 Manufacturing Center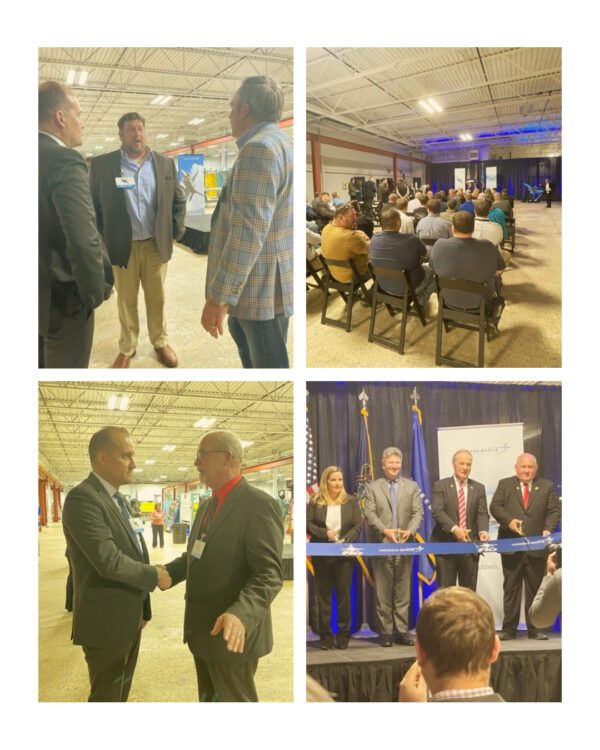 This week, I attended the ribbon cutting ceremony for the new Lockheed Martin F-16 Manufacturing Center. Thank you for the invitation.
Ribbon Cutting at Keller Williams Exclusive Johnstown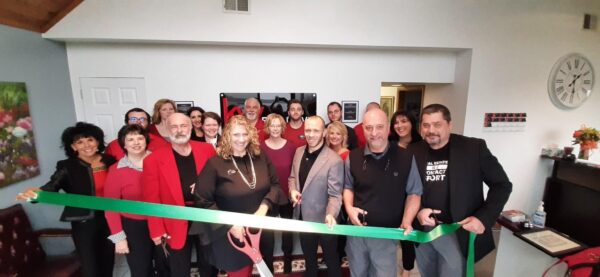 This week, my staff attended the ribbon cutting for Keller Williams Exclusive Johnstown. Keller William Exclusive offers real estate services in the area. Congratulations and best of luck!
Applications Open for Watershed Cleanup Grants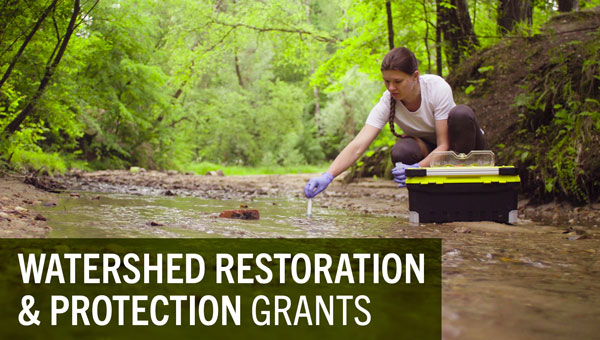 Applications are being accepted for Growing Greener Plus grants to help protect creeks, rivers and other waterways from pollution and restore impaired watersheds.
The funding supports projects aimed at reducing nonpoint source pollution, which is caused by abandoned mine drainage, urban and agricultural runoff, on-lot sewage systems, earthmoving, and streambank and shoreline degradation.
Eligible applicants include counties, municipalities, municipal authorities, county conservation districts, watershed organizations, councils of governments, educational institutions and other authorized organizations involved in water resource restoration and protection.
Share Your Views on PennDOT's Winter Services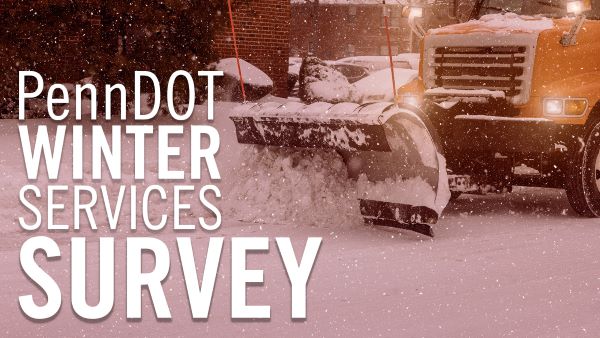 How did PennDOT do this winter? Motorists have until April 29 to provide feedback via an online survey.
The 17-question survey asks respondents about their timeline expectations for safe and passable roadways, how they rank snow-removal priorities and how they rate PennDOT's winter services.
The survey should take about five minutes to complete. All responses are completely anonymous.
Summer Camp for Teens Interested in Law Enforcement, Military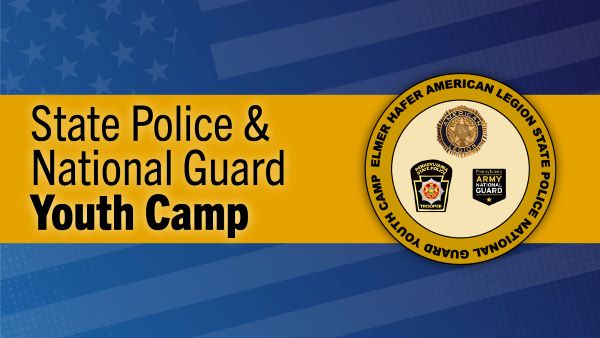 Teens ages 15 to 17 interested in a career in law enforcement or the military can apply now for a summer leadership camp held by the Pennsylvania State Police, Pennsylvania National Guard and the American Legion.
The Elmer Hafer-American Legion-State Police-National Guard Youth Camp will be held June 5-11 at Messiah University in Mechanicsburg, Cumberland County. The cost is $175.
During the camp, cadets work on team-building exercises, physical fitness training, classroom activities involving police and military careers and a marksmanship course. Cadets will also visit the State Police Academy in Hershey and Fort Indiantown Gap National Guard Training Center in Lebanon County. In addition, the camp offers three $1,000 scholarship awards at the conclusion of the week.
Call 811 Before Excavation Projects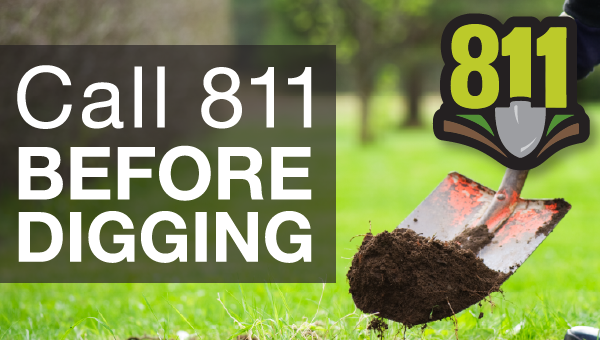 Nearly half of all underground line "hits" occurring during excavations are caused by failure to contact the PA One Call system by calling 811 before digging, or failure to wait the required three business days before projects begin.
The Pennsylvania Public Utility Commission is using Safe Digging Month to remind homeowners, businesses, contractors and anyone else involved in excavation projects of the importance of calling 811 before any project begins and allowing time for utility operators to locate and mark their lines before any digging.
Hits on underground lines pose a danger to contractors, utility workers, nearby residents and bystanders. Each incident carries the possibility of serious injuries, service interruptions and costly repairs.
Child Abuse Prevention Month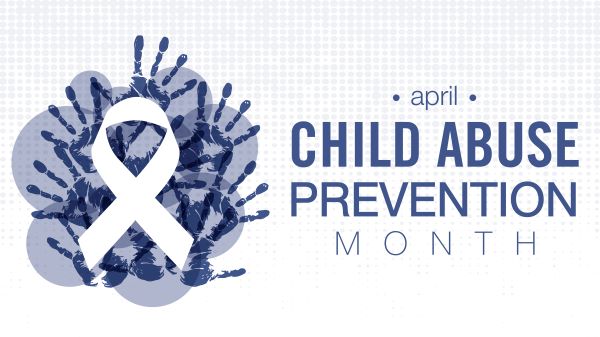 April is Child Abuse Prevention Month, a time to rededicate ourselves to strengthening families and preventing child abuse and neglect.
The U.S. Department of Health and Human Services provides an array of information aimed at preventing child abuse, protecting children from the risk of abuse and promoting healthy families.