In this Update:
Senate Transportation Committee Hearing on Aviation
Chamber of Business & Industry of Centre County Legislative Breakfast
Upcoming Events in Senate District 35
PMTA Annual Conference
Rural Roads Safety Week
Ribbon Cutting in Downtown Johnstown
Growing Greener Watershed Grant Program Opens Friday
How to Apply for a Veterans ID Card
Keystone State ChalleNGe Academy for At-Risk Youth Accepting Applications
Check Out a State Park Near You
Recognizing the Vital Role of Volunteers
---
Senate Transportation Committee Hearing on Aviation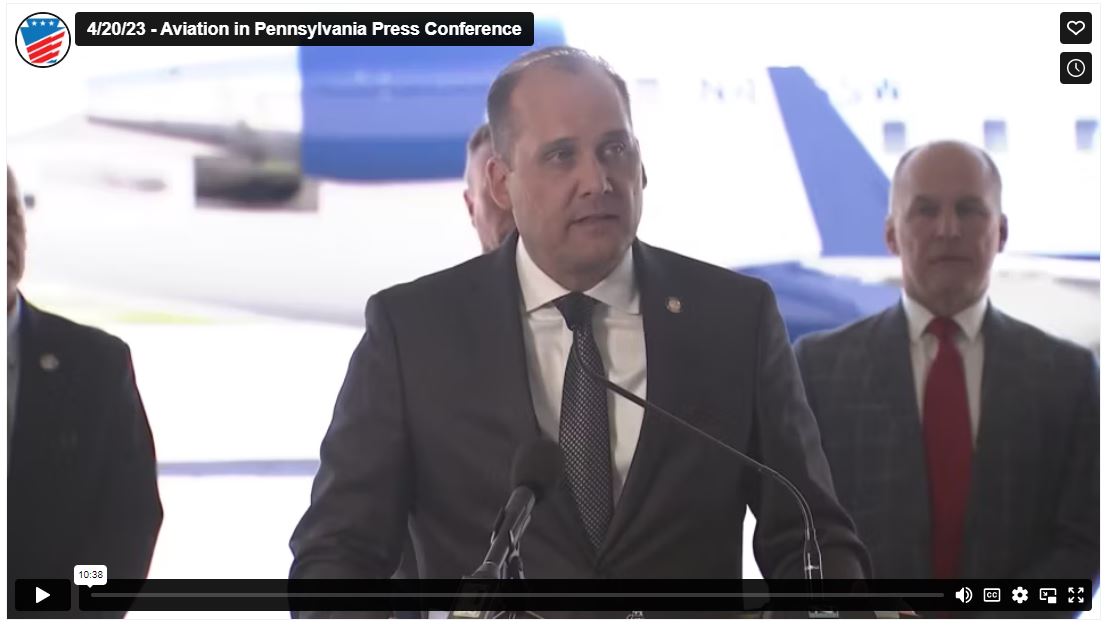 Yesterday was an exciting day in Cambria County as we welcomed aviation leaders including Pennsylvania Department of Transportation Acting Secretary Mike Carroll. Thank you to the Johnstown-Cambria County Airport and Nulton Aviation Services, Inc. for hosting the Senate Transportation Committee for the public hearing on Aviation and press conference. To watch the hearing click here.
I am looking forward to returning to the airport for the inaugural Aerium Aviation Summit from May 30th through June 1st. The Summit includes over 50 speakers and will give insights into the opportunities that exist in piloting, mechanics, avionics, drone operation, and engineering – not only here in Johnstown, but across the Commonwealth.
Chamber of Business & Industry of Centre County Legislative Breakfast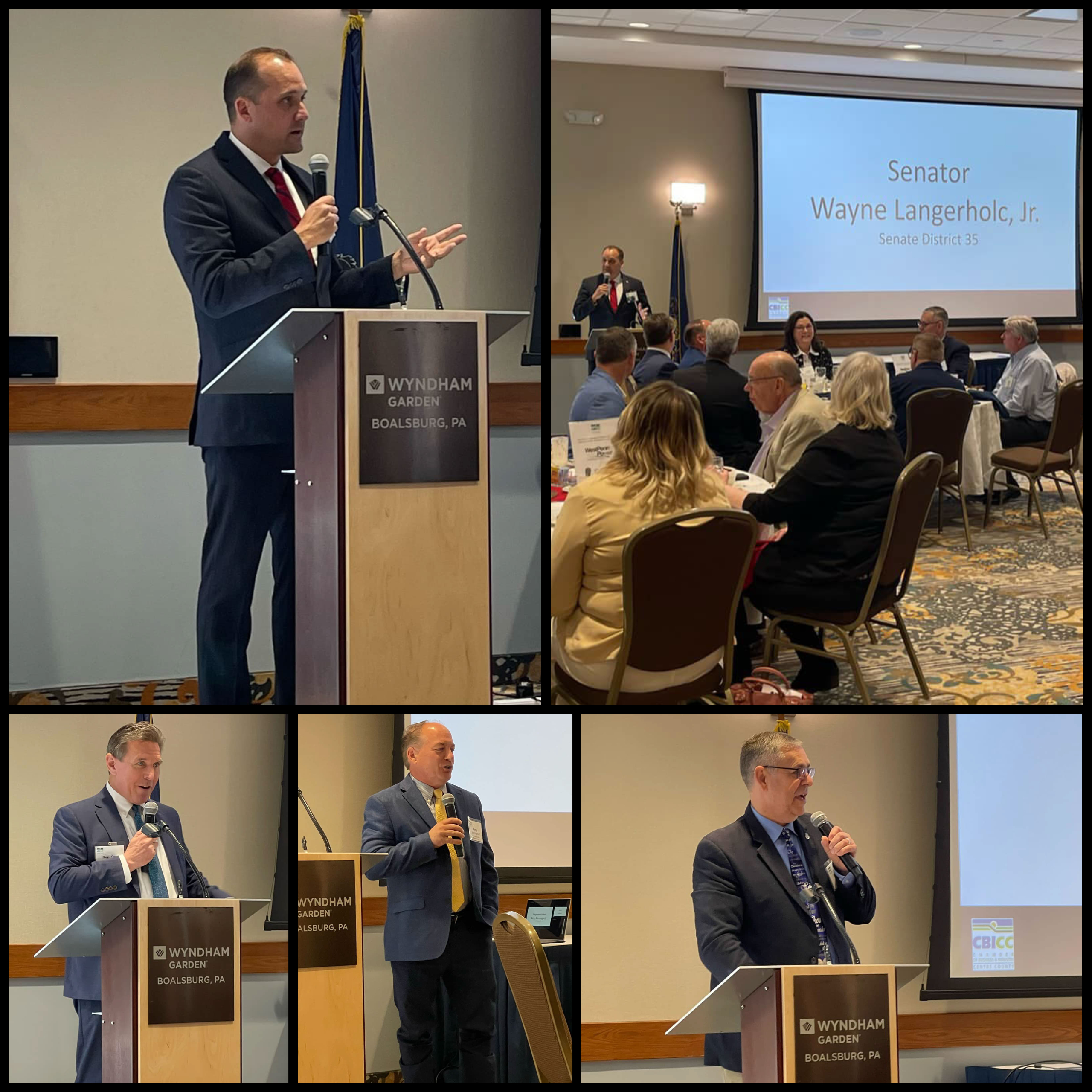 It was great to attend the Chamber of Business & Industry of Centre County Legislative Breakfast with Senator Cris Dush, PA State Reps. Kerry Benninghoff and Paul Takac.
Upcoming Events in Senate District 35
Blood Drive: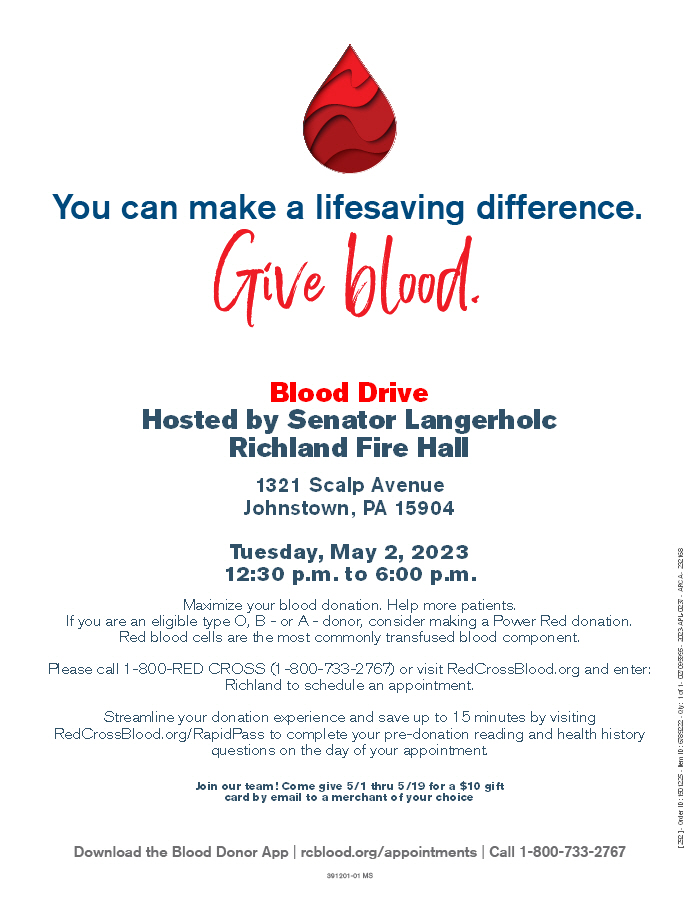 Please help us save lives by registering to donate during our Blood Drive on May 2nd from 12:30pm – 6pm at the Richland Fire Hall on Scalp Avenue in Johnstown. To schedule an appointment visit here, enter RICHLAND and scroll down to find May 2nd.
Cambria County Residents: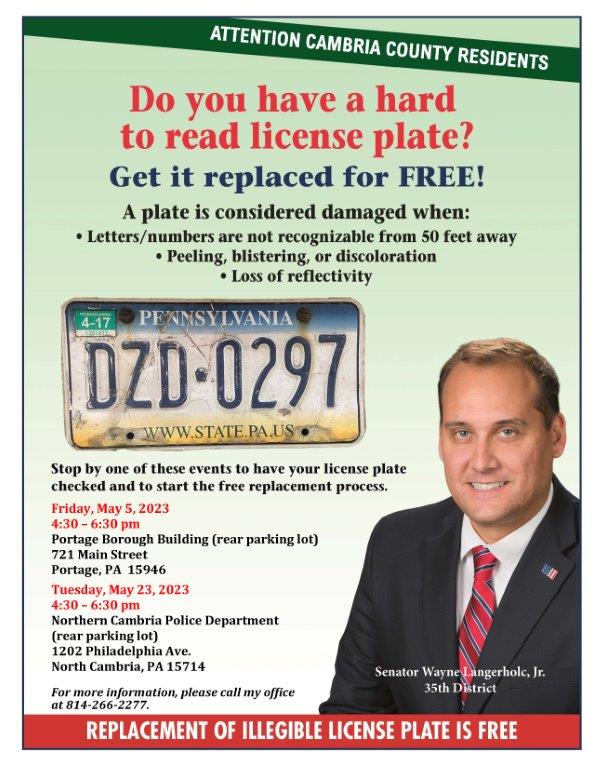 We will be at the Portage Borough Building on May 5th and at the Northern Cambria Borough Police Department on May 23rd for license plate replacement events. We will also be holding replacement events in Ebensburg and Johnstown!
Centre County Residents: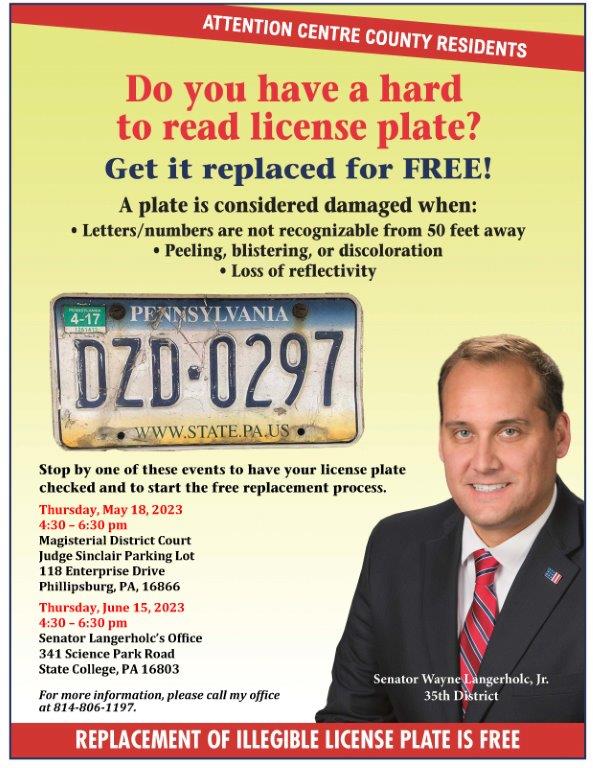 License Plate Replacement Events are scheduled for May 18th in Phillipsburg and June 15th at my office in Ferguson Township.
Clearfield County Residents: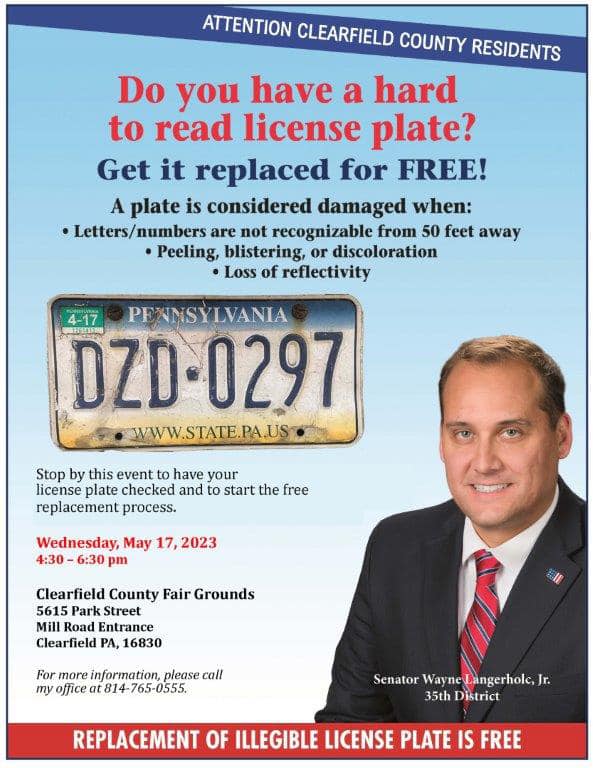 On May 17th, I will be hosting a License Plate Replacement Event at the Clearfield County Fair Grounds from 4:30 – 6:30 pm.
Attention Non-Profits: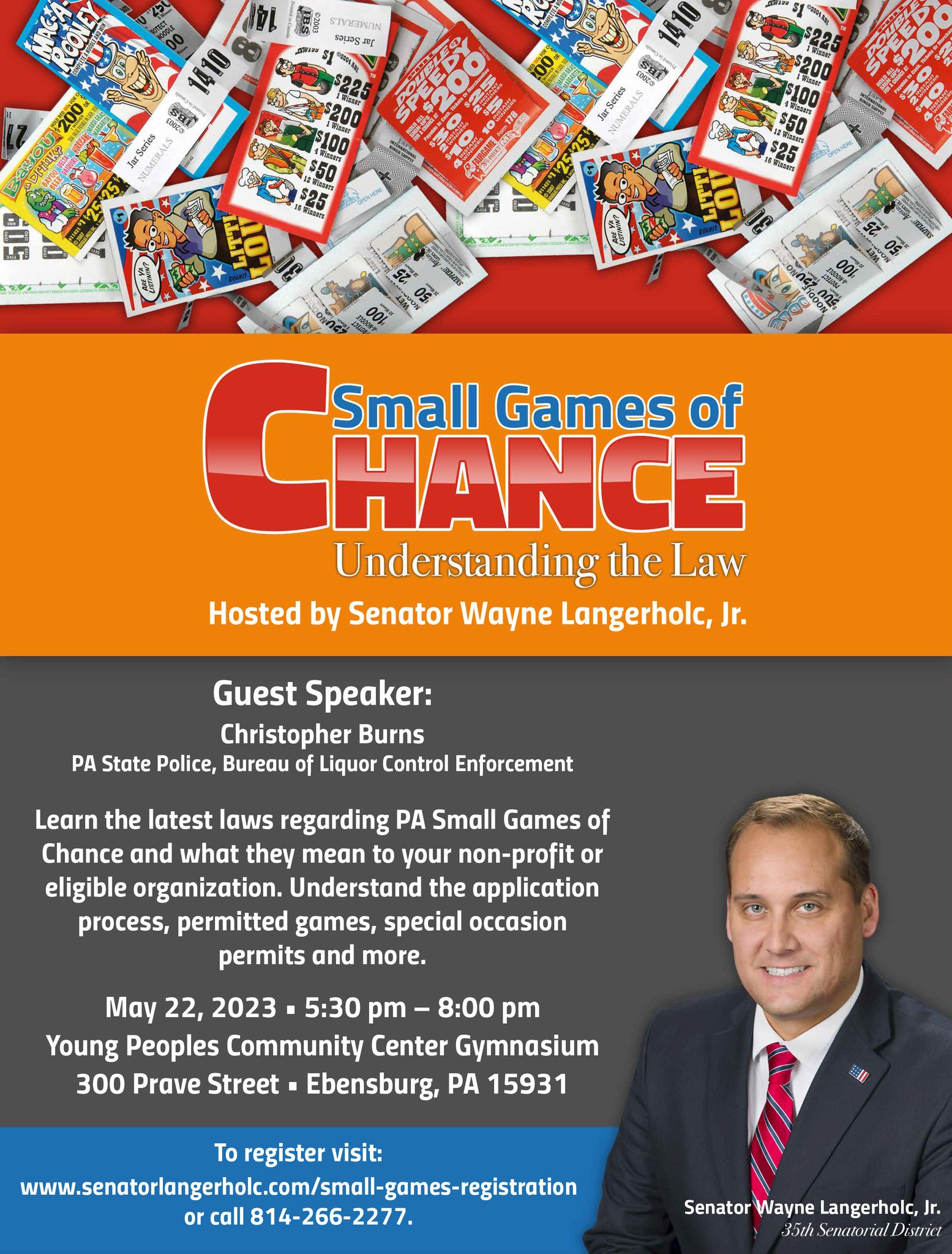 Please join me on May 22nd from 5:30pm – 8:00 pm at the Young Peoples Community Center in Ebensburg for a Small Games of Chance Seminar presented by PA State Police, Bureau of Liquor Control Enforcement. To register visit here.
PMTA Annual Conference
I joined the new House Transportation Chairs, Ed Neilson and Kerry Benninghoff, for a panel discussion on issues facing the trucking industry at the annual membership conference of the Pennsylvania Motor Truck Association in Bedford.
Rural Roads Safety Week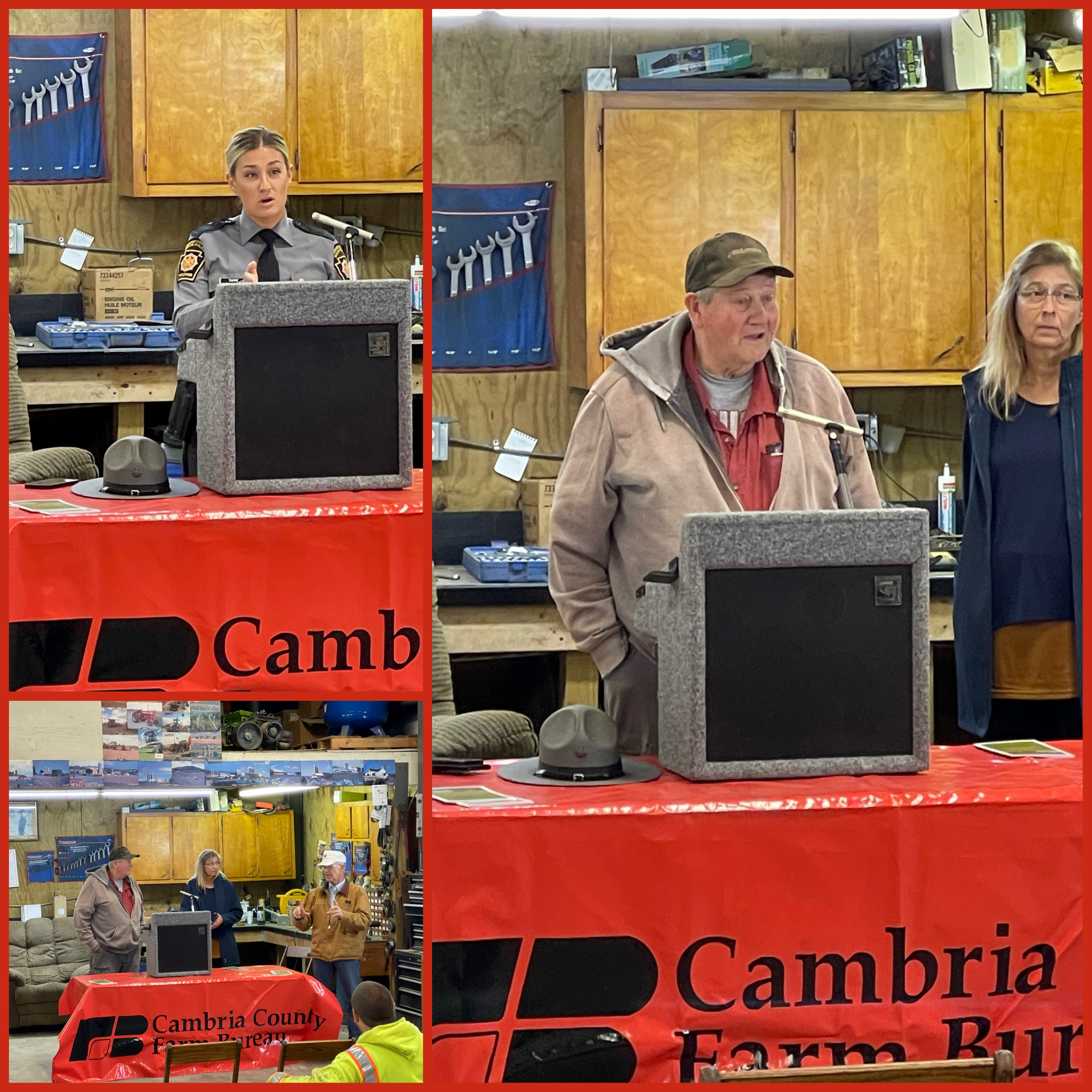 The Cambria County Farm Bureau hosted a news conference to promote Rural Roads Safety Week, which is an awareness campaign designed to reduce the potential for accidents involving Pennsylvania motorists and farm vehicles. Please join me in driving safely on rural roads to reduce the chances of accidents with farm vehicles. Spring is one of the busiest times of the year for farmers as they use their equipment on rural roads during planting season. Please slow down and proceed with caution, once you see a farm vehicle on the road.
Ribbon Cutting in Downtown Johnstown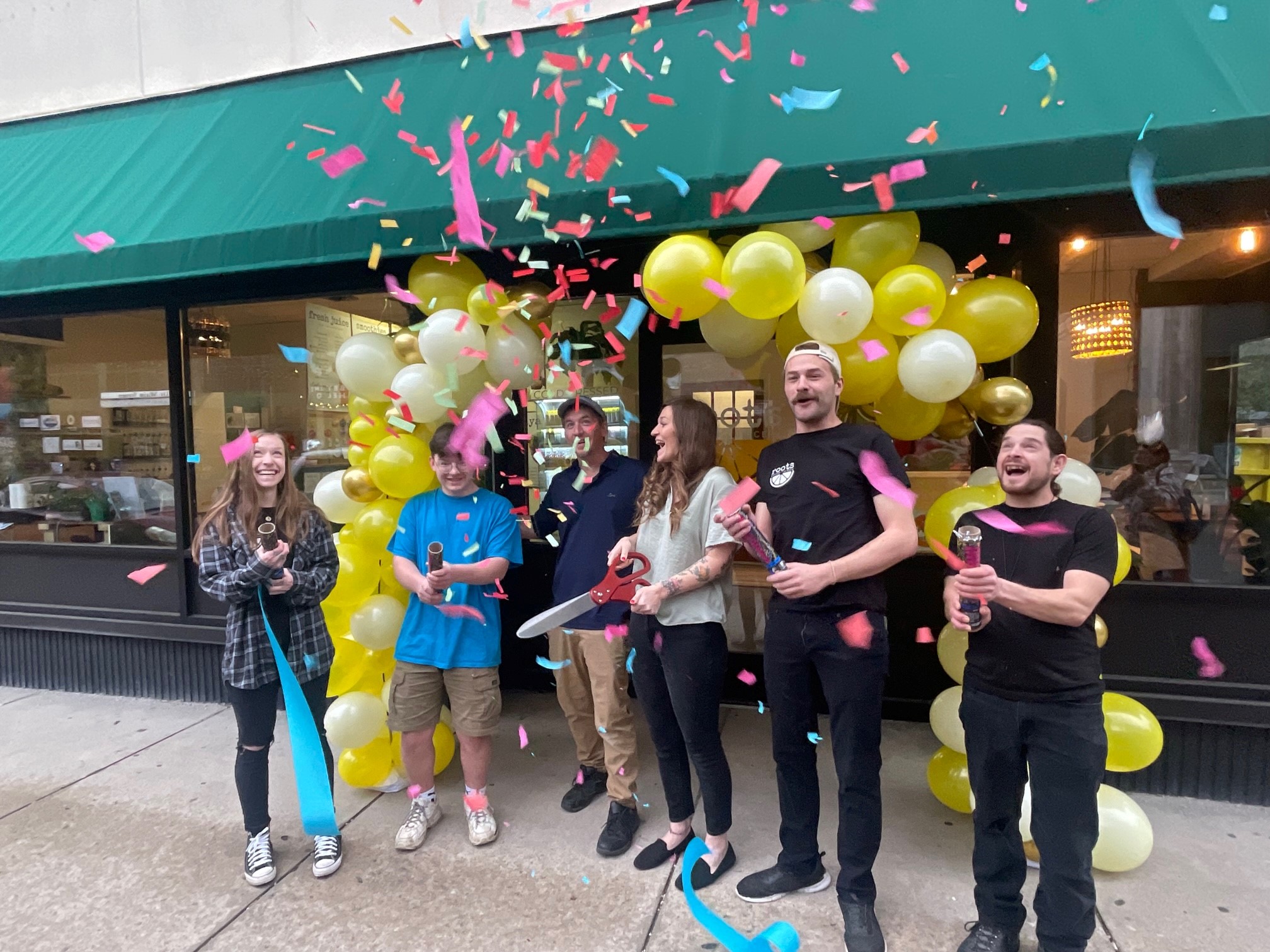 Congratulations to ROOTS kitchen + juicery on their Grand Opening and Ribbon Cutting. Next time you are in downtown Johnstown, stop by and visit them. Best of Luck!
Growing Greener Watershed Grant Program Opens Friday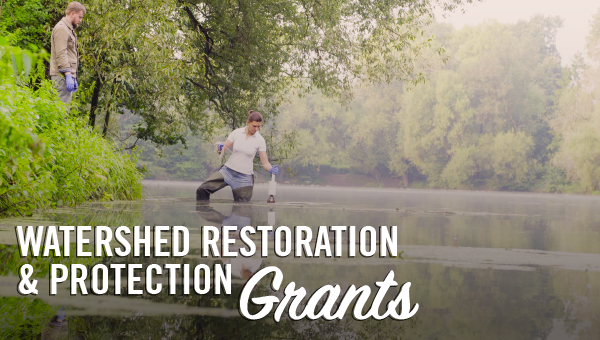 Beginning Friday, April 21, organizations involved in water resource restoration and protection can apply for the next round of Growing Greener grants through the Department of Environmental Protection's Growing Greener Plus Grants Program.
Growing Greener grants are designed to improve or protect this Commonwealth's waters from nonpoint source pollution associated with agricultural activities, acid mine drainage, stormwater runoff, energy resource extraction and streambank and shoreline degradation.
Counties, municipalities, municipal authorities, county conservation districts, watershed organizations, councils of governments, educational institutions and other organizations dedicated to water clean-up and preservation can apply. The application deadline is June 23.
How to Apply for a Veterans ID Card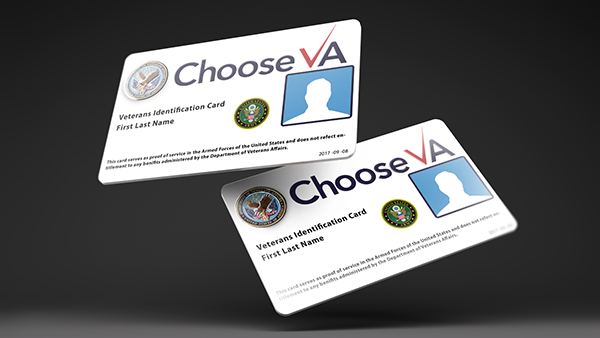 Many former service members are unsure how to prove they are a veteran to take advantage of discounts offered by businesses. These include restaurants, hotels, stores, recreational activities, home improvement and more.
The easiest way is to apply for the U.S. Department of Veterans Affairs' Veterans ID Card (VIC), which is a digital photo ID you can use to get those discounts. Since September 2022, all new Veterans ID cards have been digital. A veteran with a physical ID card can continue using it to get discounts. The VIC is separate from the VA health care ID, which a veteran receives when enrolling in VA health care.
Find out how to apply for a card here. If you have any questions or need help, email VA's VIC program at vetidcard@va.gov.
Keystone State ChalleNGe Academy for At-Risk Youth Accepting Applications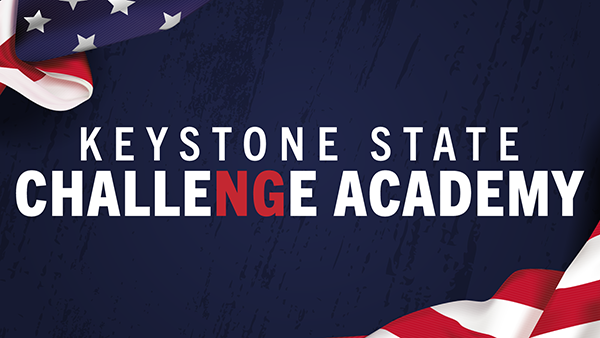 The Keystone State ChalleNGe Academy (KSCA) is accepting applications for its third class of cadets, which begins in July. KSCA is designed to give academically challenged teens a second chance at obtaining their basic education, as well as learning leadership, self-discipline and responsibility.
The program is open to 16- to 18-year-old male and female Pennsylvania residents who are failing to progress in high school or may not be on a clear path to graduating. Applicants must be willing to be drug free, free of felony convictions and voluntarily commit to the program. The program lasts for 17 months, with the first five months consisting of residential training at Fort Indiantown Gap in Lebanon County, followed by a year of mentorship back in the community.
Learn more about eligibility requirements and begin the application process here. Anyone who prefers to have an application mailed or would like to talk with someone about the program may contact the academy by emailing RA-MVPAChallenge@pa.gov or calling 717-861-7767 or 717-861-8831.
Check Out a State Park Near You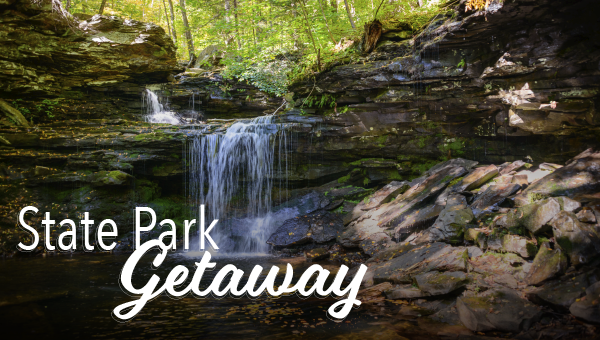 Now that spring has arrived, the nicer weather will allow Pennsylvanians more opportunities to explore our state's 124 beautiful state parks, operated by the Department of Conservation and Natural Resources. Pennsylvania's state parks system manages more than 300,000 acres for popular recreation activities, such as hiking, picnicking, camping, fishing, hunting and boating.
Pennsylvania state parks do not charge an entrance fee; however, fees do apply for some activities.
If you like to enjoy the outdoors with your dog, 56 of our state parks offer dog-friendly campgrounds. Learn more or find a park nearby here. Make reservations online here to secure campsites, cabins, picnic pavilions, whitewater boating launch time permits and more.
Recognizing the Vital Role of Volunteers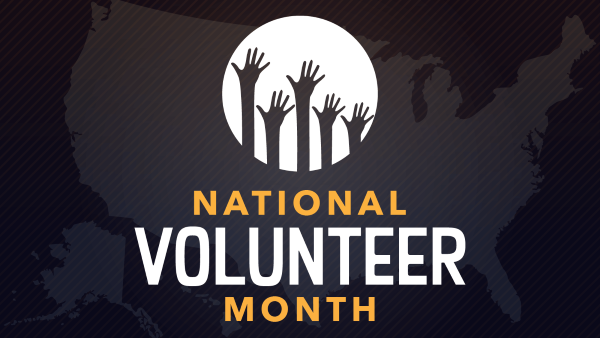 The strength of America is found not in the relationship between citizens and government, but between citizens themselves: Neighbors helping neighbors through the act of volunteering.
An estimated 23.2% of Americans or more than 60.7 million people formally volunteered with organizations between September 2020 and 2021. For everyone who steps up and gives time, effort and more, you have my deep appreciation.

If you are not already subscribed to this newsletter please sign up here.