In This Update:
Senate Approves Bill to Open Career Opportunities for Individuals in Recovery
Senate Committee Passes Langerholc's Legislation to Return Johnstown Flood Tax Dollars to Area
Senate Continues Bipartisan Review of Election Issues Next Week
Harry Beal: First Navy Seal Remembered
Senate Advances Bridge Naming Bill
Korean War Veteran Gets Diploma
March 20 & 21 – PA Turnpike Closing Overnight Between Breezewood and New Stanton Interchanges
COVID-19 Restrictions Relaxed on Businesses, Gatherings
Budget Hearings Continue with Discussion on Education
Unemployment Compensation Programs Extended
World Down Syndrome Day is March 21
---
Senate Approves Bill to Open Career Opportunities for Individuals in Recovery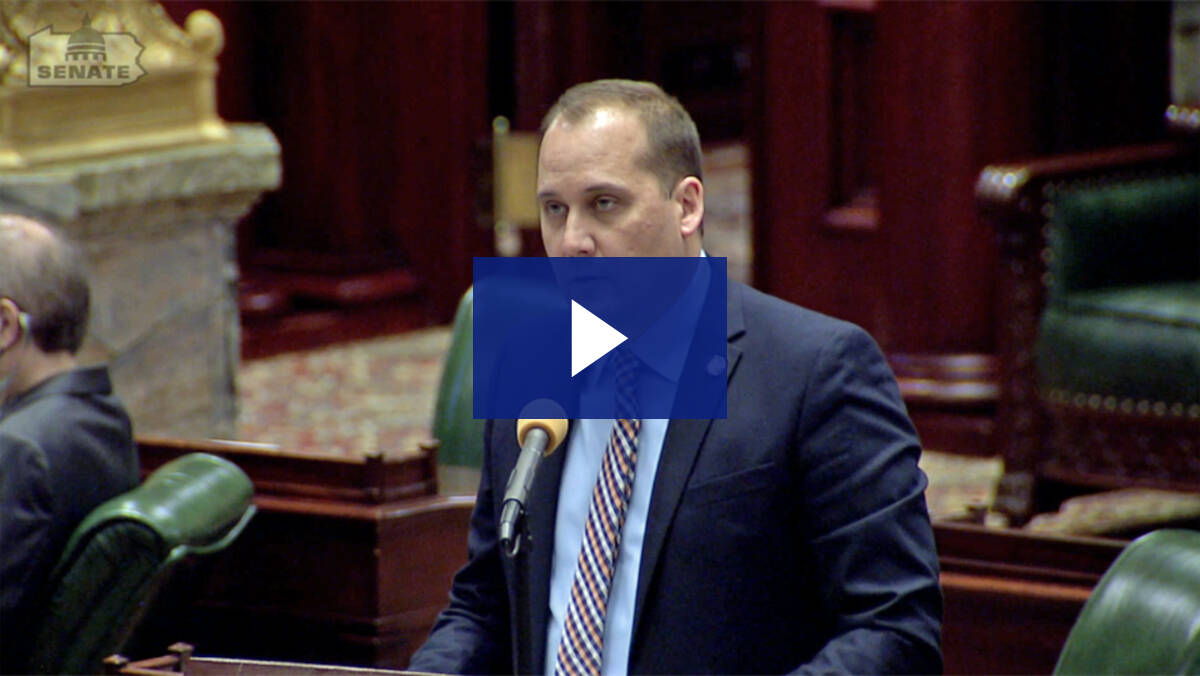 The State Senate this week also approved my SB69 that would offer individuals in recovery for substance use disorders a better chance to break the cycle of addiction by maintaining meaningful employment.
Senate Bill 69 would create a Recovery to Work pilot program to connect individuals suffering from substance use disorders with high-priority occupations through local workforce development boards.
While our current focus may be on the corona virus pandemic, we must not forget about continuing the fight against the opioid epidemic and the scourge it has laid upon our communities. This legislation will strengthen our united fight against the heroin and opioid crisis facing this Commonwealth.
The pilot program would be led by the Department of Labor and Industry with the assistance of the departments of Health, Community and Economic Development, and Drug and Alcohol Programs, as well as the Pennsylvania Commission on Crime and Delinquency.
As part of the program, local workforce development boards will work with the treatment and recovery community as well as local employers and training providers to find job training and employment opportunities.
The bill was sent to the House of Representatives for consideration.
Senate Committee Passes Langerholc's Legislation to Return Johnstown Flood Tax Dollars to Area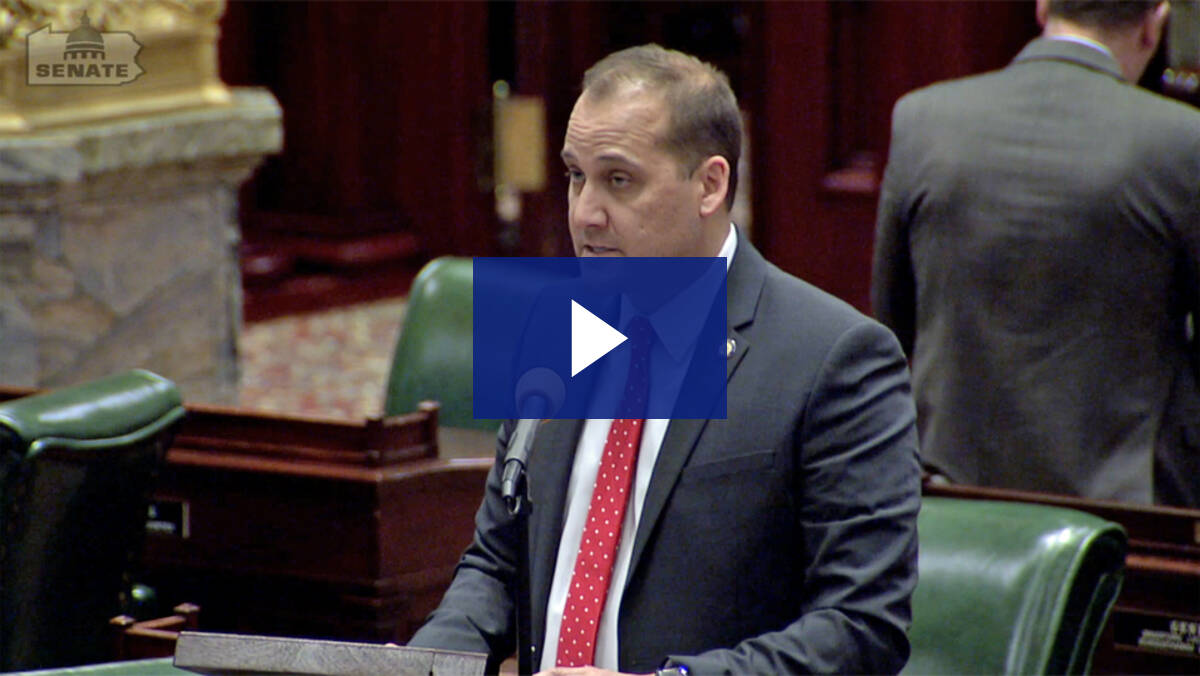 This week the Senate Community, Economic, and Recreational Development Committee, chaired by Senator John Yudichak, passed SB154 out of committee. This legislation will provide crucial funding for Act 47 municipalities using an existing funding source by diverting 5.6% of the funds collected from the Johnstown Flood Tax to these municipalities. While there are currently 16 municipalities under Act 47, including Johnstown and Franklin, the Wolf Administration projects that the number will rise to 43 municipalities by the end of this fiscal year and 62 municipalities by the end of next fiscal year, due to the COVID-19 pandemic. SB154 now heads to the full Senate for consideration.
Senate Continues Bipartisan Review of Election Issues Next Week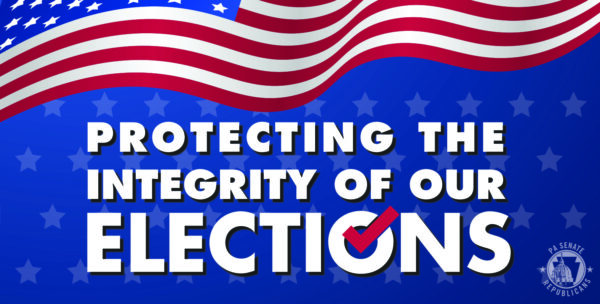 The Special Committee on Election Integrity and Reform will continue its comprehensive review of the 2020 General Election with a hearing on Tuesday at 10 a.m. The hearing will include testimony from the Pennsylvania Department of State, local election officials and county officials to gather state and local insight on the administration of the election.
The committee held its first meeting on Monday to review best practices of election integrity and security from other states. State residents are encouraged to submit their thoughts and comments through the online form.
Harry Beal: First Navy Seal Remembered

Senator Pat Stefano (R-32) and Senator Wayne Langerholc, Jr. (R-35) introduced and spoke on a condolence resolution that they offered on behalf of First Class Petty Officer Harry Milton Beal (USN, Retired).
Harry Milton Beal was born on August 16, 1930, in Meyersdale, Pennsylvania. At the age of 18, he enlisted in the United States Navy as a gunner's mate aboard the U.S.S. Shenandoah. In 1955, he joined the specialized underwater demolition team. On January 1, 1962, the Navy established the SEAL (Sea, Air & Land) Program. Harry was the first to volunteer for the SEALs. Ultimately, Harry was deployed for more than seven years of his 20-year Navy career. Most famously, Harry was credited with pulling Astronaut John Glenn out of the water after his Mercury-Atlas 6 space mission in February 1962. Later, Harry became a SEAL instructor, serving until his retirement from the U.S. Navy in 1968. Harry went on to work for the Pennsylvania Department of Transportation for twenty years. He was married to Marjorie Jane (Bowman) Beal for 67 years. On January 26, 2021, Harry passed away at the age of 90.
"As an elected official, one of our hardest tasks is to find the words to reflect upon the life of one of our constituents — let alone a soldier or veteran," said Sen. Stefano. "No matter how many times I have done it, it is still difficult for me to say goodbye to those that did so much for this great country. Harry Beal lived an extraordinary life, believing in the ideals of this great nation, believing in his mission, and making a difference in the world. While we can't ease his loved one's pain, we can honor and remember Harry — much like we did in 2019, when we named the Bridge along State Route 2047 in Meyersdale Borough, over the Flaugherty Creek, as the Harry Beal Bridge. May you rest in peace, my friend; thank you for your service."
"When President John F. Kennedy called for volunteers for a new unit called the SEALs in 1962, Harry Beal was the first to answer without hesitation. Harry epitomized what we now refer to as the greatest generation of Americans and we are forever indebted to him for his bravery and service to this great nation," said Langerholc. "Men like Harry Beal have set a standard that many today strive to achieve. Honor, integrity, strength, duty are words they lived by and never let us forget how the heroic actions of one individual from Somerset changed this country. I'm certain the legacy of Harry Beal will live on to inspire others."
Senators Stefano and Langerholc introduced Senate Resolution 41.
Click HERE for a link to Senator Langerholc's Speech.
Senate Advances Bridge Naming Bill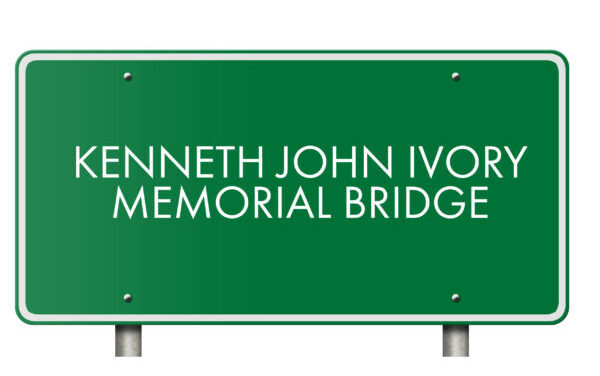 This week the Senate unanimously supported Senate Bill 70 which would designate the bridge, identified as Bridge Key 8556, carrying State Route 1008 (Eckenrode Mill Road) over Chest Creek, in East Carroll Township, Cambria County, as the Kenneth John Ivory Memorial Bridge. It now advances to the House for consideration.
Korean War Veteran Gets Diploma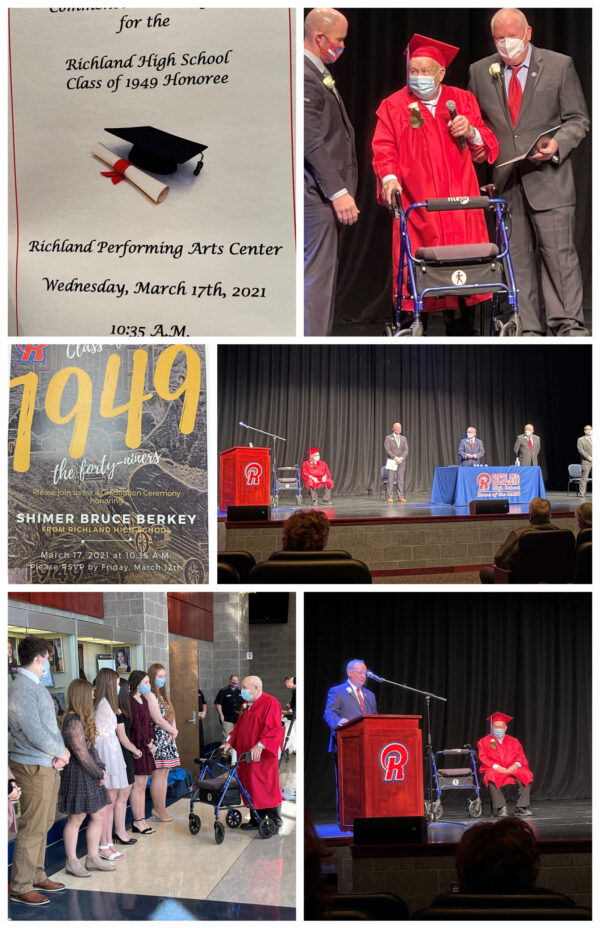 This week, my staff attended a Commencement Ceremony for a member of the Richland High School Class of 1949. Shimer Bruce Berkey enlisted in the military seven days after turning 18 years of age, while still in high school, and never received his diploma. Almost 72 years later, Mr. Berkey finally received it. During the Korean War, he was wounded five times and received five Purple Hearts. He was also a POW. I want to congratulate Mr. Berkey and say thank you for your service to our Commonwealth and country.
March 20 & 21 – PA Turnpike Closing Overnight Between Breezewood and New Stanton Interchanges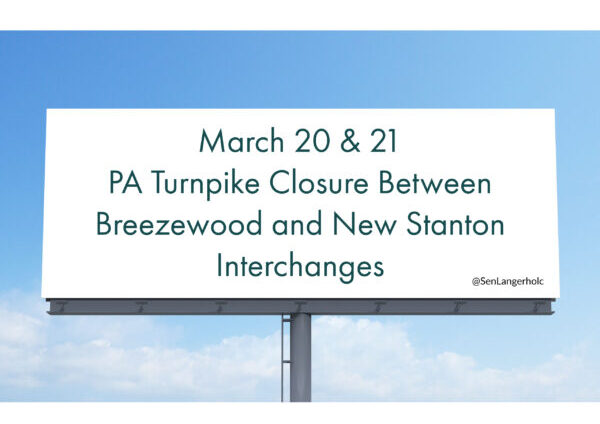 The Pennsylvania Turnpike Commission advises motorists that an 86-mile stretch of the turnpike will be closed in both directions overnight starting at 11 p.m. on March 20 between the New Stanton (Exit #75) and Breezewood (Exit #161) interchanges. The roadway will reopen at approximately 6 a.m. on March 21.
The closure is necessary for crews to safely remove the Country Ridge Road bridge which carries traffic over the turnpike at milepost 144.85 in Bedford Twp., Bedford County. Blasting will be used to remove the bridge. Those living in the area have been notified but should expect to hear the blast overnight.
Motorists at Breezewood and New Stanton interchanges will be given the following suggested detour routes:
Westbound traffic:
Exit PA Turnpike at Breezewood
Follow US Route 30 West for 18.7 miles.
Follow US Interstate 99 North for 30.1 miles.
Follow US Route 22 West for 64.5 miles.
Follow PA Toll Route 66 South for 13.9 miles.
Enter PA Turnpike at New Stanton #75
Eastbound traffic:
Exit at New Stanton Interchange
Follow US Route 66 Business north for 0.2 miles.
Follow PA Toll Route 66 north for 14.2 miles.
Follow US Route 22 east for 63.7 miles.
Follow Interstate 99 south for 30.4 miles.
Follow US Route 30 east for 18.3 miles.
Reenter PA Turnpike at Breezewood Interchange
The more than 100-mile detour is needed because shorter alternate routes cannot safely accommodate the diverted traffic volumes.
Vehicles will be permitted to enter the turnpike at Somerset (Exit #110) and Donegal (Exit #91) interchanges and travel westbound. Vehicles will also be permitted to enter the turnpike at Bedford Interchange (Exit #146) and travel eastbound.
Expect higher traffic volumes on detour roads during the closure. Message boards will be placed to inform customers of the closure.
Prior to the closure information will be posted, and announcements will be made at both the North Midway Service Plaza in Bedford County and the South Somerset Service Plaza in Somerset County warning customers of the closure. If customers remain in those service plazas after 11 p.m. on March 20, they will be required to stay until the road reopens.
COVID-19 Restrictions Relaxed on Businesses, Gatherings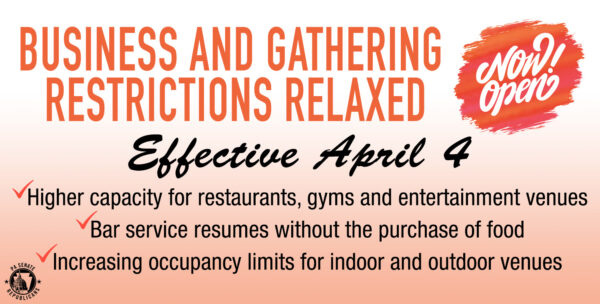 After weeks of dedicated advocacy from lawmakers, employers and employees, Governor Wolf finally announced that several restrictions on businesses and gatherings would be relaxed effective April 4. Some of the changes include:
Increasing indoor dining capacity to 75 percent for restaurants that self-certify compliance with cleaning and mitigation requirements;
Allowing bar service and alcohol service without the purchase of food;
Removing the curfew on serving alcoholic drinks; and
Increasing occupancy for gyms, entertainment facilities and personal services facilities.
In addition, occupancy limits will be increased to 25 percent for indoor venues and 50 percent for outdoor venues, regardless of size.
Although this is positive news for industries impacted by Governor Wolf's unilateral orders and restrictions, the fact that these restrictions are still in place today speaks to the dangers of allowing one branch of government to control all the power during an extended emergency declaration. Lawmakers approved potential amendments to the Pennsylvania Constitution that would give the people a stronger voice in emergency response through their elected officials. An explanation of the amendments – and how Governor Wolf is working to sabotage them – is available in this editorial.
Budget Hearings Continue with Discussion on Education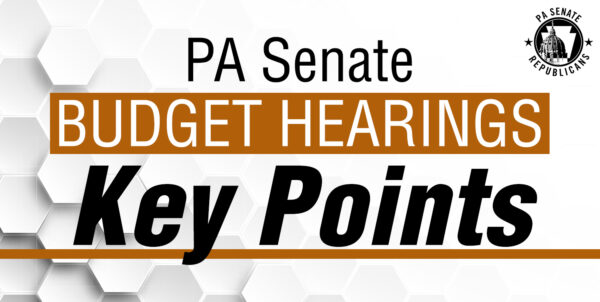 The Senate Appropriations Committee's series of hearings on Governor Wolf's budget proposal continued this week with a discussion regarding the future of education in Pennsylvania with the Department of Education and representatives from the Pennsylvania State System of Higher Education.
Some of the topics of discussion included the importance of returning students to in-person instruction safely, the need for schools to use federal stimulus funding prudently, and redesigning PASSHE to provide a quality education to students at an affordable price. Key Points
Budget hearings will continue Monday, March 21, with the Department of Corrections and Board of Probation and Parole at 10 a.m. and the Department of Community and Economic Development at 2 p.m. The hearings will be streamed live at www.PASenateGOP.com.
Unemployment Compensation Programs Extended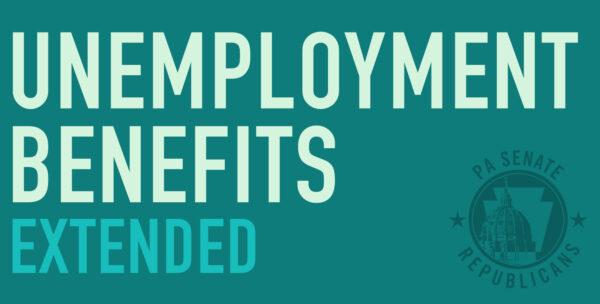 The federal government recently extended all Unemployment Compensation programs, including the additional $300 weekly Federal Pandemic Unemployment Compensation payments, through September 6. The maximum number of weeks of eligibility for the Pandemic Emergency Unemployment Compensation program was also extended from 24 weeks to 53 weeks, and the maximum number of weeks of eligibility for Pandemic Unemployment Assistance is extended from 50 weeks to 79 weeks.
In addition, up to $10,200 of unemployment benefits for an individual (or $20,400 for a couple, if both members received unemployment benefits) will not be considered federal taxable income in 2020, assuming the individual or couple earned less than $150,000 in adjusted gross income for the year.
World Down Syndrome Day is March 21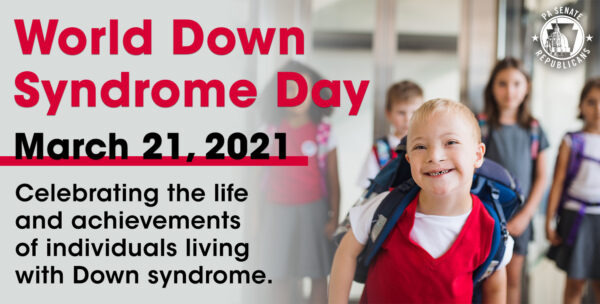 March 21 is designated as World Down Syndrome Day by numerous states and countries in recognition of the incredible achievements of the individuals living with this condition. Each person with Down syndrome has different talents, abilities and needs – and that makes every person living with this condition special and unique.
More information on World Down Syndrome Day is available here.