Dear Friend,
Thank you for taking the time to read my e-newsletter. These periodic updates allow me to keep constituents informed about state and local issues through email without burdening taxpayers with printing and mailing costs.
If you find this information to be useful, I also invite you to visit my website at www.senatorlangerholc.com and on Facebook or Instagram.  If you do not wish to receive these e-newsletters, please click the unsubscribe button at the bottom of the page.  If you would like to contact my office, please go to my web page and click the contact button.  Please do not reply directly to this e-mail.
Senator Wayne Langerholc, Jr

Harrisburg Happenings
Governor's Budget Proposal
On Tuesday, Governor Wolf presented to the General Assembly his proposal of $36.1 billion state General Fund budget for Fiscal Year 2020-21. After hearing his proposal, I offered the following comments.
As with any budget plan, the governor's proposal is a starting point that will need vetted closely in the months ahead.
As Chairman of the Senate Education Committee, I'm glad the governor's plan continues to fund education at historic levels — giving every student the best chance to succeed. However, I am disappointed that the governor's proposal cuts funding for school safety grants from $60 million to $15 million. This vital program has been extremely successful in providing the resources and funding to ensure that our schools and students are secure. Rather than cutting funding for this vital program, I believe we should be devoting more resources to a core government function — keeping our kids safe from harm."
Being a member of the Senate Appropriations Committee, I will play a key role in a three-week series of departmental budget hearings beginning on February 18. The hearings provide an opportunity for the Appropriations Committee to receive testimony from cabinet secretaries and other administration officials detailing their plans for the upcoming fiscal year. The state's current fiscal year ends on June 30."
We've gotten to this point by fiscal conservatism. My focus during the upcoming budget process is to remain mindful of the many hardworking taxpayers of our Commonwealth and advocate for a budget that we can all live with — one that is within our means and continues to move this Commonwealth forward."
Governor's Call for Gun Control
During the Governor's budget speech, he highlighted his plan for gun reform which I found troubling. In the wake of the actions taken by other state legislatures impacting our second amendment rights, I'm deeply concerned the movement this administration is taking on gun policy. I shall remain vigilant and steadfast in upholding responsible gun owners' rights under the second amendment.
In addition, I will continue to push for my SB 531 which provides for Pennsylvania State Preemption over firearms and ammunition regulations. Specifically, this legislation would prevent local jurisdictions from imposing ordinances more restrictive than laws passed by the General Assembly.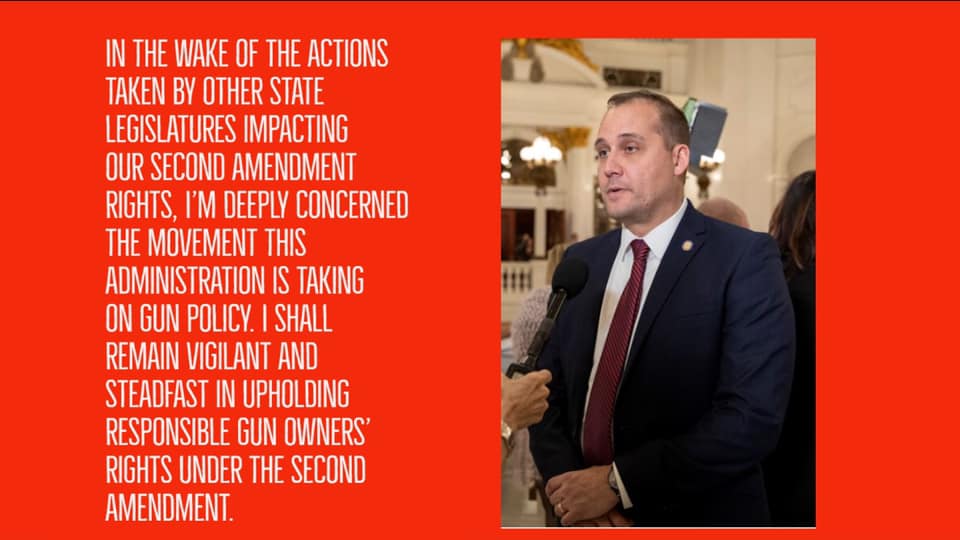 Senate Bill 850: Community Engaged Schools for Success Pilot Program
The State Senate approved legislation sponsored by myself and Senator Pat Browne (R-16) that would establish a pilot program to encourage community-based services in Pennsylvania schools.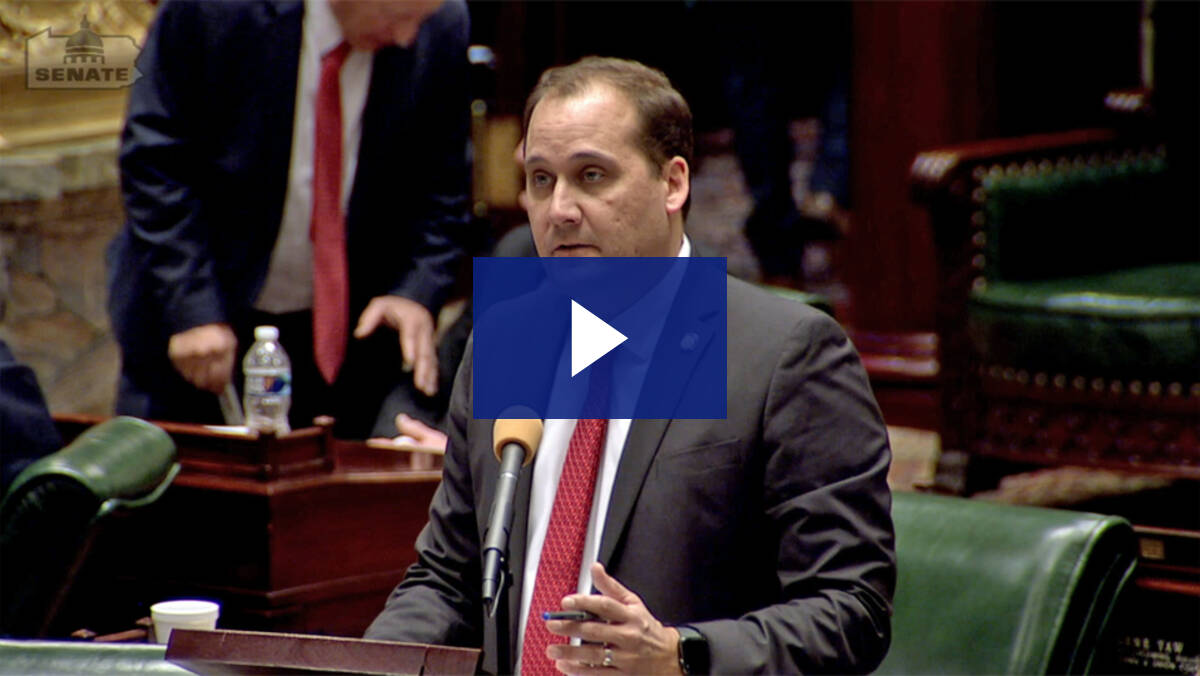 Senate Bill 94: Workers' Compensation Coverage for Members of Volunteer Fire Companies
The Senate unanimously approved Senate Bill 94 that would protect workers' compensation coverage for injured volunteer fire and EMS personnel. Senate Bill 94 would ensure coverage for all active volunteers and integral members of a volunteer fire, ambulance or rescue companies insured through the State Workers Insurance Fund (SWIF). The legislation would apply to 1,550 volunteer fire companies and 92 ambulance organizations that are insured by SWIF. The bill would only apply to active volunteers. Social members would not be included.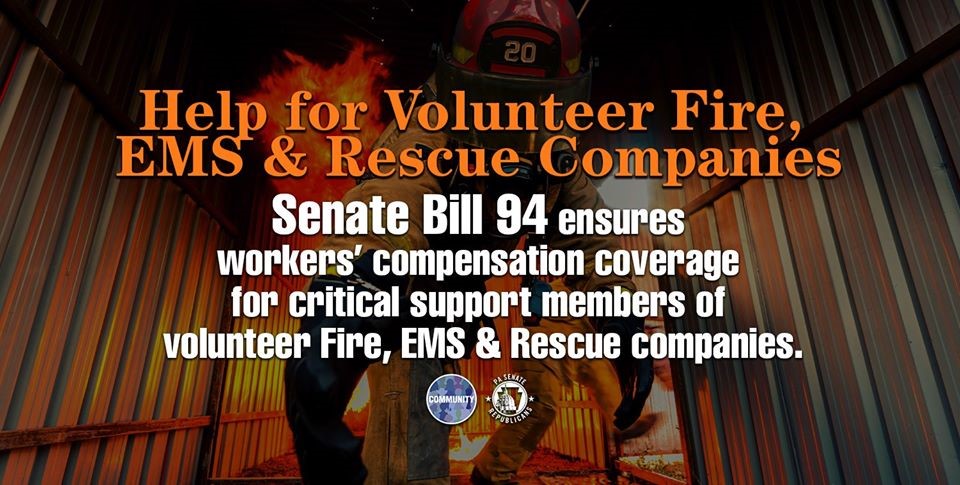 Farm Vitality
Attention all farmers, the Agricultural Business Development Center has announced $1 million in grants to offset planning costs through the Farm Vitality Planning Program. Funds may be used to reimburse up to 75% of out-of-pocket costs, not to exceed $7500 for working with a consultant to develop business plans, transition/succession plans or expansion plans. Deadline to apply is April 3, 2020.#pafarmers
https://www.agriculture.pa.gov/Pages/Farm-Vitality-Planning-Program.aspx
Cornucopia – honoring Pennsylvania Agriculture
The Capitol Rotunda was alive with activity as Harrisburg hosted the Cornucopia honoring Pennsylvania Agriculture and celebrating all that our farms and farmers do to keep our Commonwealth sustained. I was happy to meet with so many producers, including the Pennsylvania Farm Bureau Vice President, Chris Hoffman and Pennsylvania Department of Agriculture Secretary Russell Redding. #farmingfirst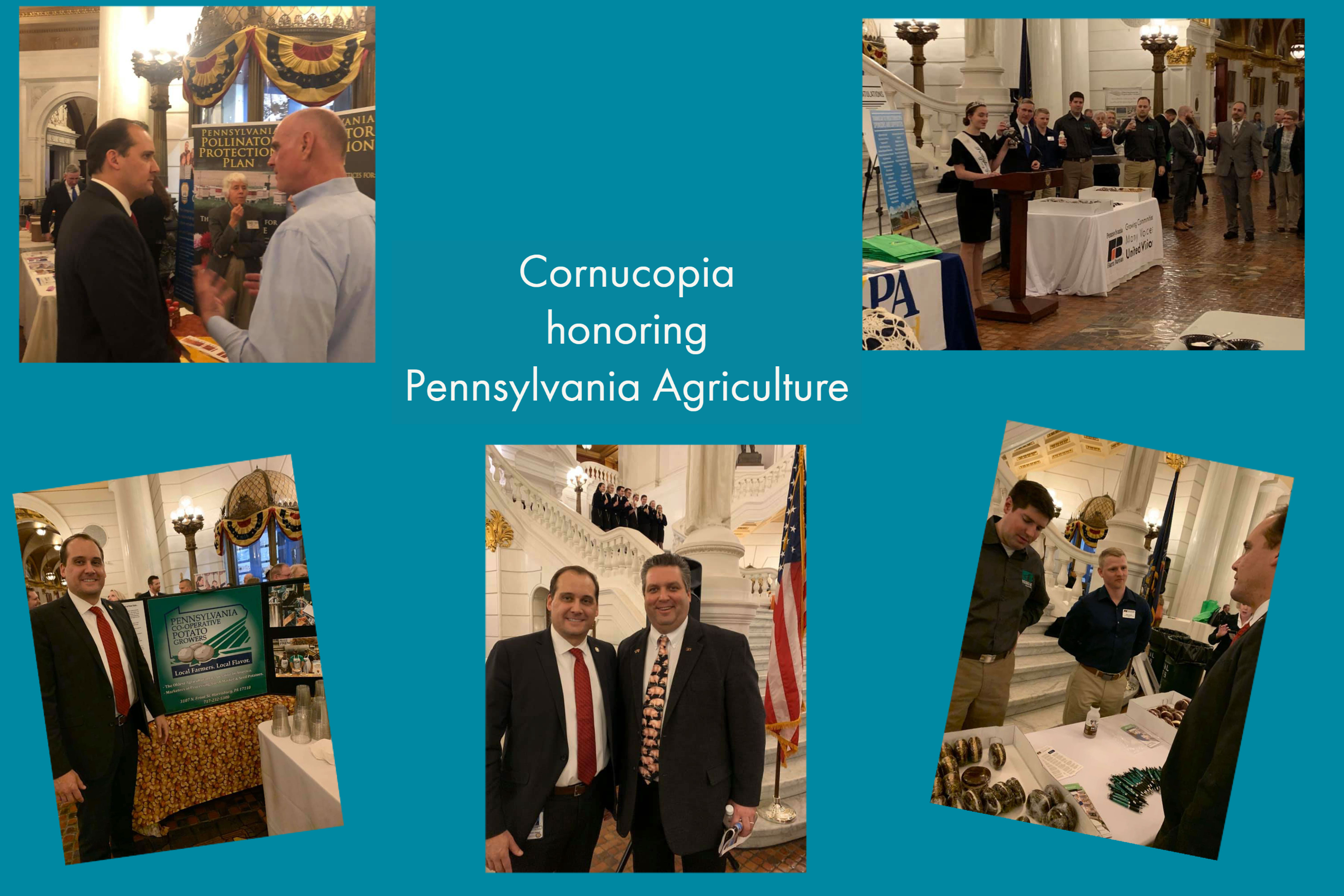 District Happenings
Chestnut Ridge District V AA Football Champions
I had the opportunity to meet and present citations to the 2019 District V-AA Champion Lions football team! Coach Max Shoemaker and Assistant Coach Eric Zeznanski along with all of the Chestnut Ridge Lions Football Program are to be commended for an outstanding season!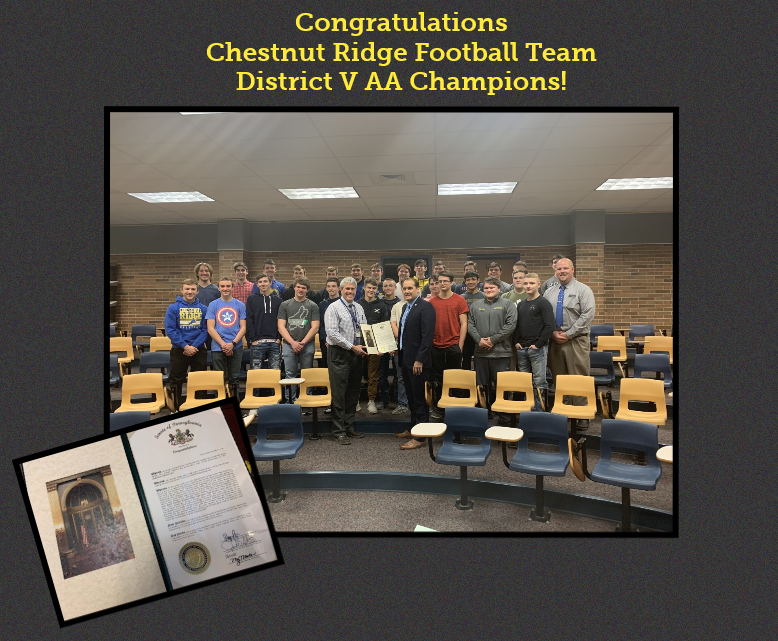 Chestnut Ridge Senior High School Visit
I enjoyed the opportunity to speak with students in Mrs. Tantornos and Mrs. Benton's American Government and Social Studies classes at Chestnut Ridge Senior High School. Lots of great questions and a healthy debate on a variety of issues. Thank you Dr. Mark Kudlawiec, Superintendent and Mr. Max Shoemaker, High School Principal for having me as a guest speaker.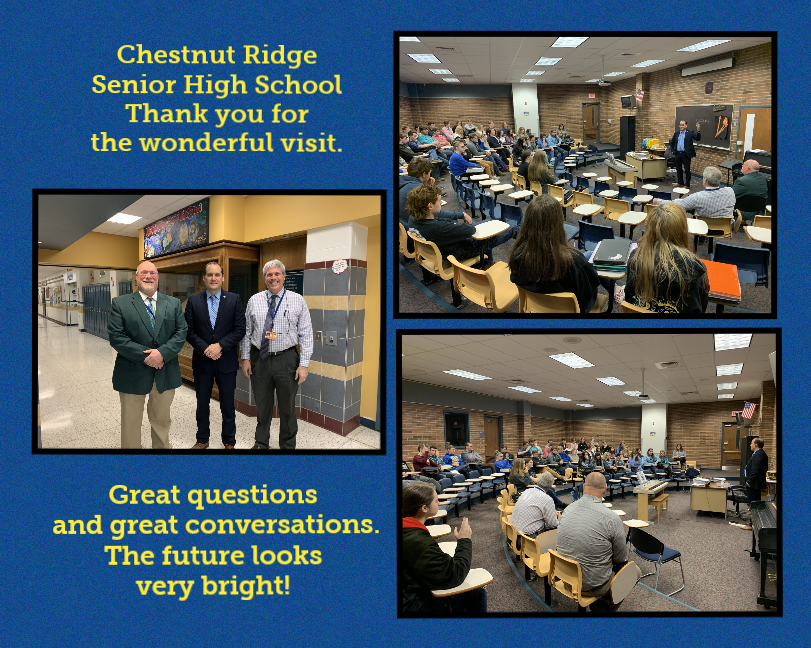 Local Officials Open House
Thanks to all the local officials that stopped in my Bedford, Cambria or Clearfield office to learn more about grant opportunities as well as all the services our office can assist with. A special thank you to our Grant Team for being on hand to answer questions and assist municipalities with ideas and projects important to their communities. If you were unable to make it but would like additional information, please feel free to call any of my district offices.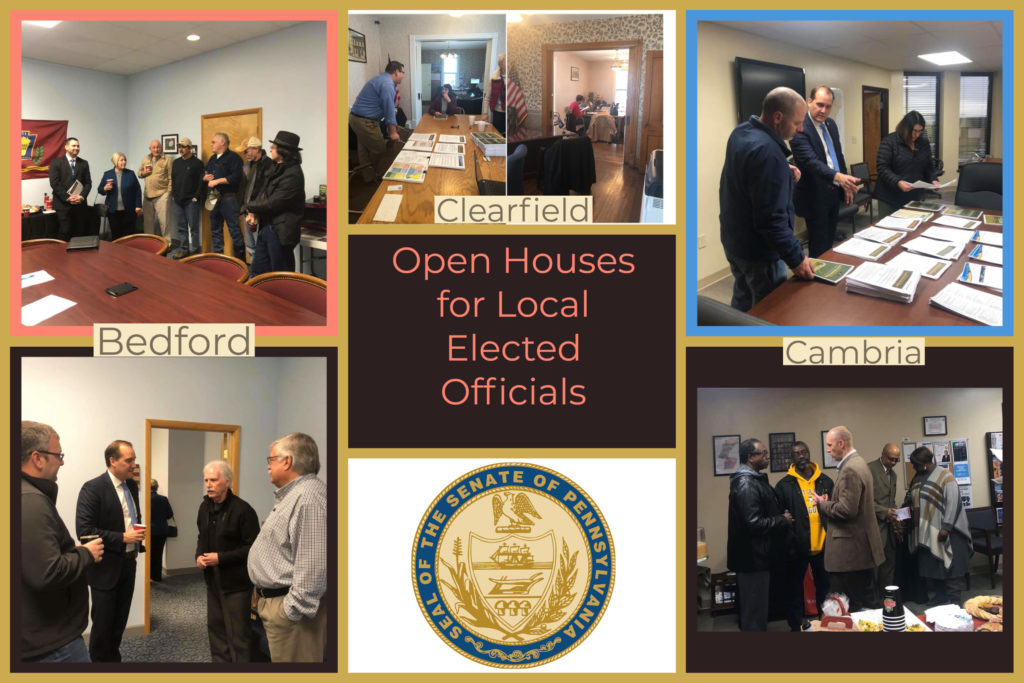 Congratulations Ed's Steakhouse on your 65th Anniversary
It was a pleasure to stop by Ed's Steak House in Bedford to present a citation to owners Jason and Kim McDevitt recognizing their 65th anniversary in business. Family owned and operated, Ed's Steak House opened in 1954 and was the first full-scale restaurant and cocktail lounge to be established in the developing PA Turnpike – Bedford – 146 interchange. Ed's as it is affectionately known by the locals is also a popular stop for those passing through or visiting beautiful Bedford County. Congratulations to the McDevitt family on this momentous occasion!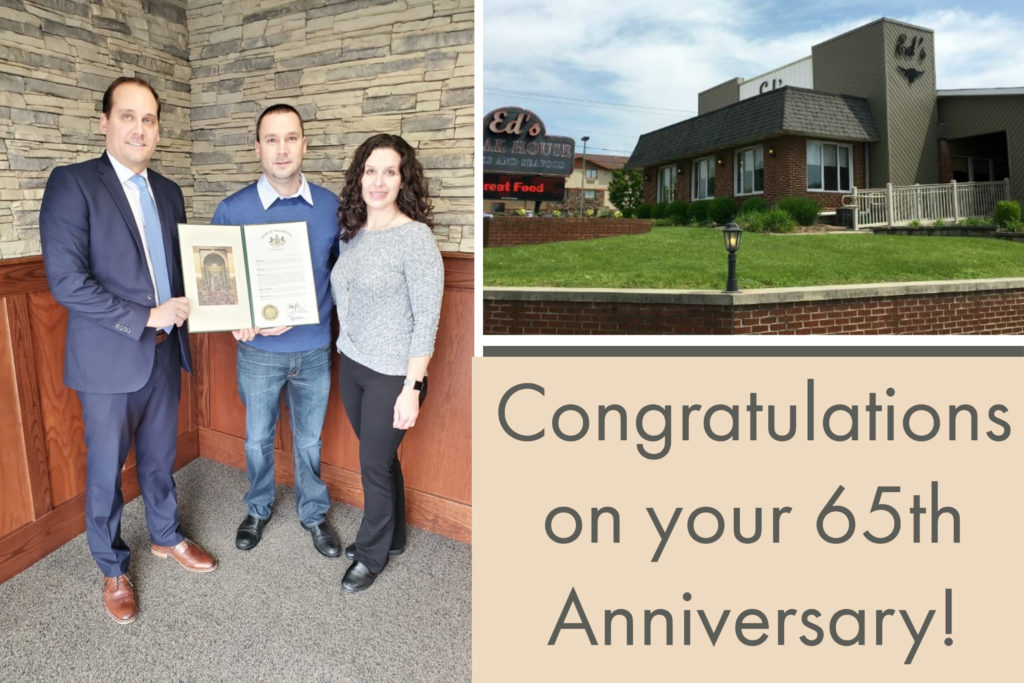 National School Counselors Week
On Monday, the Senate unanimously passed my SR 297 making February 3-7, 2020 "National School Counseling Week" in Pennsylvania.
Additionally, I was able to present the SR 297 to Beth Stem, PSCA – The Pennsylvania School Counselors Association President during a training session for Cambria County school counselors at Forest Hills Elementary School. Counselors promote success in all of our schools, and it was my honor to recognize their dedication and hard work for all of our Pennsylvania students. #NSCW2020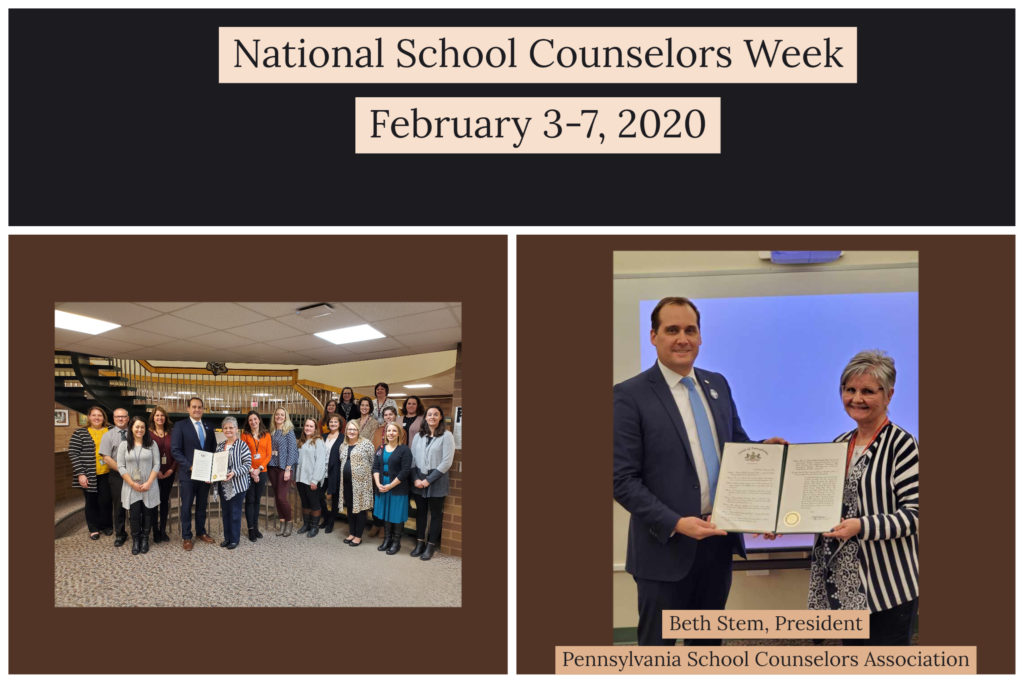 Upcoming Events
Senior Expo March 26, 2020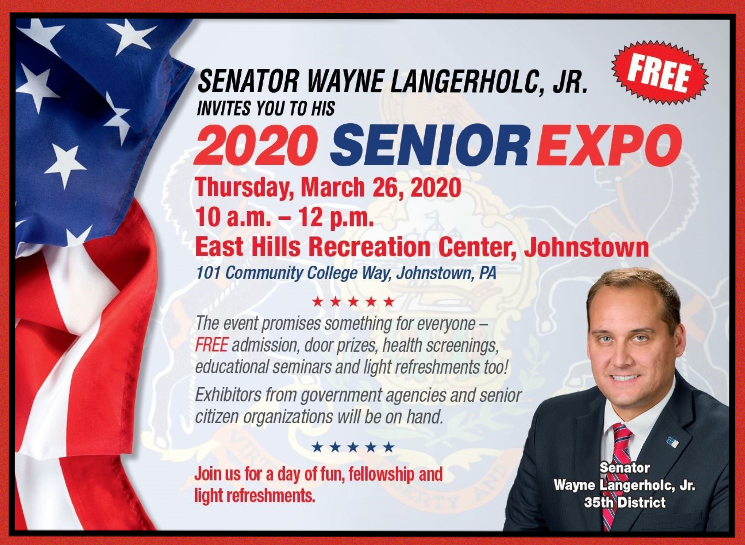 c
Watch for more information on our Facebook page and upcoming ENewsletters.
Visitors to Harrisburg
I would like to remind constituents, to please feel free to stop in my office, Room 187, when you are visiting the capitol. My staff and I welcome the opportunity to say hello to you. If you are visiting on a session day, I can also introduce you as my guest during session. Feel free to call 717-787-5400 if you know in advance that you will be visiting the capitol. If you are interested in a capitol tour, you can schedule your visit online: http://www.pacapitol.com/plan-a-visit/tours.cfm
How We Can Help You?
Here are some of the ways that my office can assist you:
Assistance with preparation of Property Tax/Rent Rebate claim forms.
Citations from the PA Senate for notable local accomplishments and family milestones.
Information and problems with PA Insurance programs: Medical Assistance and CHIP.
Fishing and hunting information.
Information on financial assistance for higher education.
PennDOT forms for special tags and driver and vehicle services.
Pennsylvania Personal Income Tax forms.
Pennsylvania road maps.
Requests for copies of legislation, bills and regulations.
Requests for literature for students and senior citizens.
Tours of the State Capitol for individuals or groups.
Unemployment compensation issues
Birth and Death Certificate Application
Real ID information
Grant Information
Reminder to Follow Me on Social Media
My Facebook page provides not only legislative updates but those all-important PennDOT construction updates for our district. I post pictures of constituents that I meet and information on other local events happening in our neighborhoods and communities. You can also follow me on Twitter and Instagram – my handle is @SenLangerholc. If you haven't already, check out my social media pages.