In This Update:
Governor's Budget Plan Features Massive Tax Increases
$912 Million COVID-19 Relief Package Sent to Governor
Secretary of State Resigns After Critical Error on Constitutional Amendment
Reverend Andrew William Tilly, Jr., Bridge Advances to the House
Senate Unanimously Approves Senate Bill 81 to Allow Expert Witnesses To Aid Victims of Domestic Violence, Human Trafficking
Restoring the Voice of the People
Senate Hearing Exposes Serious Shortfalls in Wolf Administration's Vaccination Plan, Including Struggles of Long-Term Care Residents
Resources Available to Answer Unemployment Claimants' Year-End Tax Questions
New Fraud Attempts Target Social Media Users
2021 Trout Stocking Schedule Available Now
---
Governor's Budget Plan Features Massive Tax Increases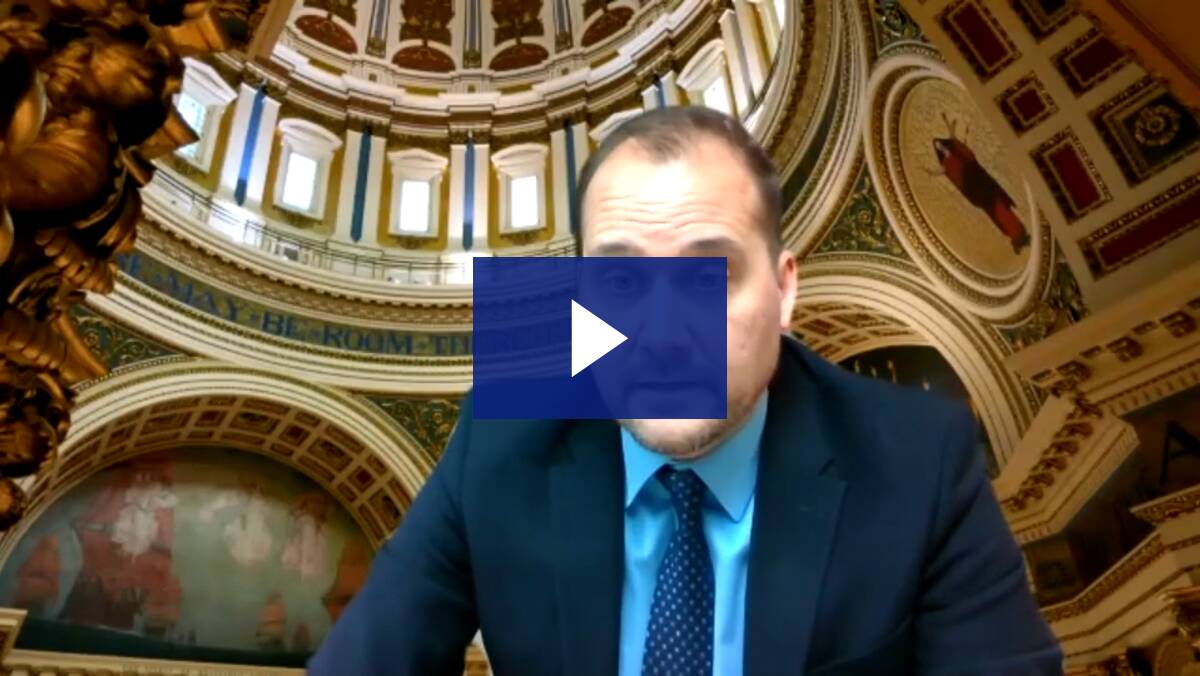 During my tenure in office, I have looked forward to working with the Governor and all members of the General Assembly to pass bi-partisan legislation to help working families across the 35th Senatorial District and our Commonwealth. However, this proposed budget is not only out-of-touch with the residents of the 35th Senatorial District but all the residents of the Commonwealth.
At a time when businesses are dying and closing their doors, the Governor has proposed the largest tax increase in state history. That is not the answer. We need to be working to get businesses safely open not impose additional taxes.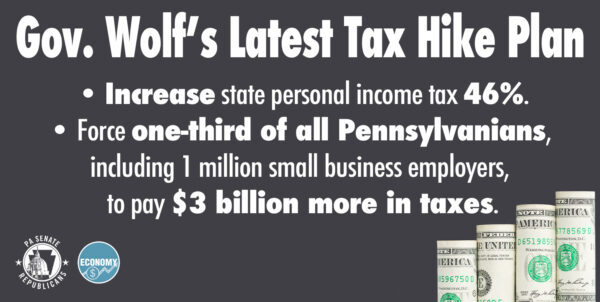 The proposal calls for an increase to broadband access which has been and continues to be a key component throughout the COVID-19 pandemic. However, this proposal eliminates $5 million in funding for Act 132 of 2020 (SB 835) which provides funding for broadband service in underserved communities. This legislation that I primed sponsored passed the General Assembly unanimously and was signed by the Governor. Yet, 70 days later he is calling for elimination of that very funding. This will hurt the efforts being made to bring broadband access to all areas in our Commonwealth, thus hurting those individuals attempting to work from home, attend school remotely and advancing our agricultural community.
Further, the proposal calls for entering into the Regional Greenhouse Gas Initiative (RGGI) which will increase electricity costs for families. It will close our power plants and cut family-sustaining jobs from our communities.
Finally, the Governor failed to mention anything about improving the distribution of the COVID-19 vaccine. Pennsylvania ranks 49th in vaccine distribution. The Governor needs to develop a real plan so our residents that so desperately need them can get them.
In the coming weeks and months, we will be having these tough conversations on how to move Pennsylvania forward. This must be done in a bi-partisan and transparent manner. As a member of the Senate Appropriations Committee, I look forward to participating in the upcoming hearings to ensure whatever is passed in June will be in the best interest of all the residents of the 35th Senatorial District and the Commonwealth.
912 Million COVID-19 Relief Package Sent to Governor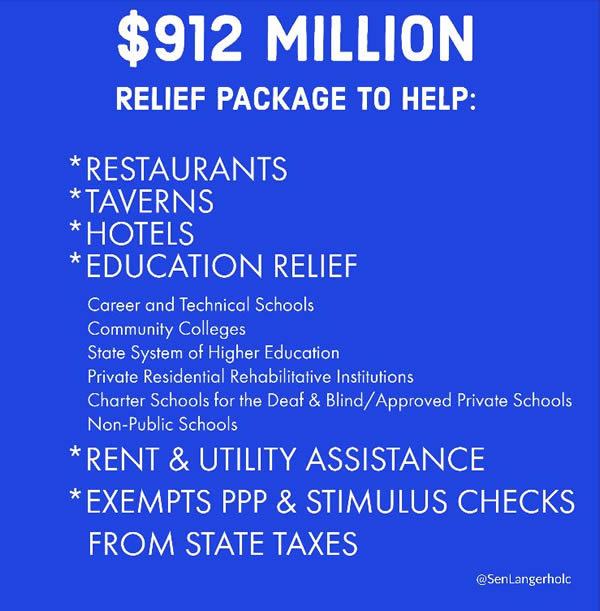 A comprehensive $912 million relief package to help restaurants, schools, employers, and tenants impacted by the COVID-19 pandemic, which I strongly supported, received final legislative approval today and was sent to the Governor's desk for enactment into law.
Senate Bill 109 amends the state Fiscal Code to allocate $569.8 million for Rental and Utility Assistance, $197 million for education programs, and $145 million to support Pennsylvania's struggling hospitality industry as it copes with the devastation created by the COVID-19 pandemic and the Governor's mandated closings and restrictions. In addition, the bill exempts income received from the federal Paycheck Protection Program (PPP) and stimulus checks from state taxes.
Under the measure, federal funding for rental and utility assistance would be proportionally distributed to counties based on their population. The conditions set by Senate Bill 109 will ensure the funding is used prudently and responsibly with the intention of providing a financial safety net for tenants and landlords. Funding for the Rental and Utility Assistance program would be provided by federal Coronavirus stimulus money as part of H.R. 133, Consolidated Appropriations Act 2021.
The $197 million for education, which is also supported by federal funding, would be used to create a $150 million competitive grant program under the Department of Education to assist non-public schools that have been impacted by the pandemic and have not received government assistance.
The remaining $47 million would provide:
$20 million for Career and Technical Centers.
$14 million for Community Colleges.
$8.075 million for Private Residential Rehabilitative Institutions, charter schools for the deaf and blind, and approved private schools.
$5 million for the State System of Higher Education to support its restructuring initiative.
The third component in the sweeping relief package would transfer $145 million from the Workers' Compensation Security Fund to the COVID-19 Response Restricted Account to provide county block grants to assist the hospitality industry, including restaurants, bars and hotels.
Grants would be provided in increments of $5,000 up to $50,000. Grants may not be used to pay for the same operating expenses already covered by a federal PPP loan or the state's prior $225 million Small Business Assistance Program.
Secretary of State Resigns After Critical Error on Constitutional Amendment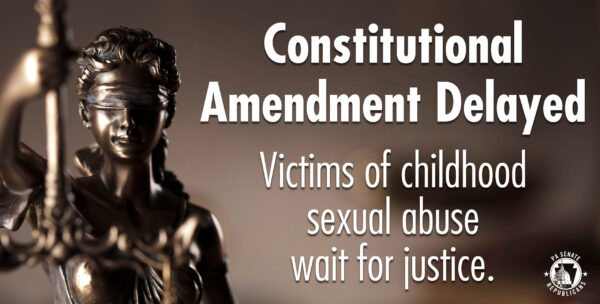 Secretary of State Kathy Boockvar, Governor Wolf, and his administration have failed the victims of sexual abuse. This gross negligence is abhorrent, unconscionable, and a slap in the face to the many survivors and victims of abuse.
While the Governor continued to defend and commend the Secretary of State, she was clearly neglecting her most basic duty to the citizens of Pennsylvania. This failed secretary of state was solely focused on using her position to advance her political agenda by having her biased editorials printed in every newspaper across the state. Because of her cavalier actions, victims of sexual assault have been further victimized and failed by the system.
While her resignation will save this Commonwealth from further incompetence, her actions must be investigated, and she must be held accountable. We will not allow a resignation to end the narrative on this complete failure.
Please know that I remain committed to ensuring those victims who have suffered countless days, months, and years, will most certainly get the justice they deserve.
Reverend Andrew William Tilly, Jr., Bridge Advances to the House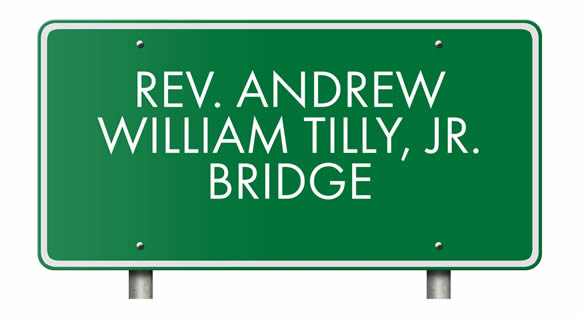 This afternoon, the Senate unanimously passed Senate Bill 49, which I was the prime sponsor. SB 49 designates Bridge Key 8659, carrying State Route 3037, also known as William Penn Avenue, over the Norfolk Southern and Lehigh Valley Rail Management rail lines in the City of Johnstown, as the Reverend Andrew William Tilly, Jr., Bridge.
An Army Sergeant, Reverend Tilly served proudly in World War II with the F Company, 85th Infantry, at Fort Riley, Kansas. After his military service, Reverend Tilly established the Pleasant Hill Baptist Youth Fellowship, which mentored children on Christian education, values, self-esteem, American citizenship, self-responsibility, love and respect for others. In 1968, Reverend Tilly established the Pleasant Hill Baptist Church Reverend Doctor Martin Luther King, Jr., Memorial Day, one of the longest-running celebrations of Dr. King's legacy in Pennsylvania.
As a faculty member at the University of Pittsburgh at Johnstown, Reverend Tilly recruited hundreds of disadvantaged students across Pennsylvania, giving them an opportunity for a college education. Reverend Tilly's dedication to the entire Johnstown community will be remembered and honored with the dedication of this bridge.
Senate Unanimously Approves Senate Bill 81 to Allow Expert Witnesses To Aid Victims of Domestic Violence, Human Trafficking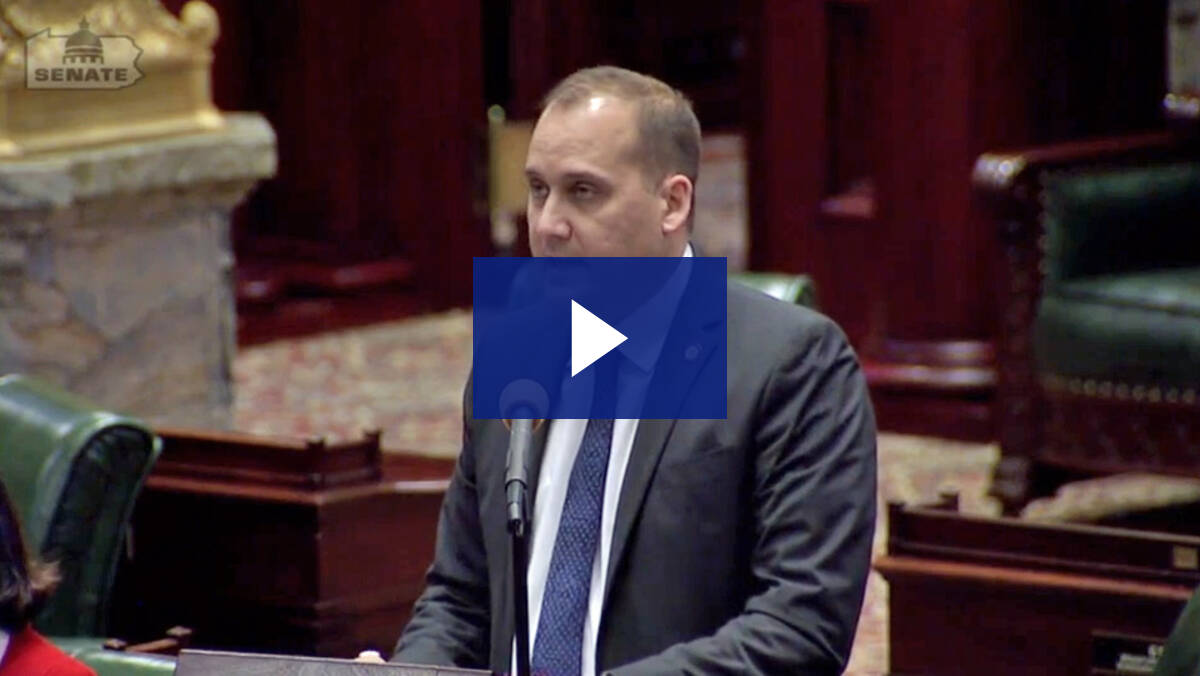 The State Senate this week approved a bill I sponsored that would provide new and critical resources to aid victims of domestic violence and human trafficking who are involved in court cases against their abusers.
Senate Bill 81 would amend the Judicial Code to permit the Commonwealth to call expert witnesses in court cases involving victims of domestic violence and human trafficking in order to provide a clearer picture of the crime, how it impacts victims and affects their behavior.
The state judicial code currently allows expert witnesses to testify in cases of sexual violence about the dynamics of the crime, the victim's response and the impact of sexual violence on victims both during and after the assault.
These expert witnesses have been crucial to helping jurors understand the tremendous trauma that a sexual assault can have on a victim and how that trauma can affect their behavior and their overall health. Seeing how valuable these experts have been to providing justice to victims of sexual assault, and the links between these crimes, I believe these expert witnesses should also be permitted in cases of domestic violence and human trafficking. They will be a valuable asset to victims at a time when they need it most.
Restoring the Voice of the People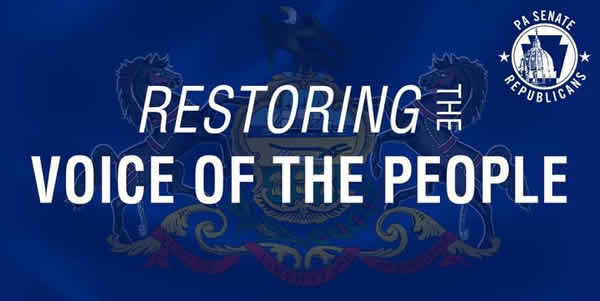 Late this morning, the House passed Senate Bill 2 by a vote of 116-86. Last week, the Senate passed the legislation which is the proposed constitutional amendment that would limit the length of future emergency disaster declarations unless an extension is approved by the General Assembly. The proposed amendment now heads to the people to decide on the May ballot.
Senate Hearing Exposes Serious Shortfalls in Wolf Administration's Vaccination Plan, Including Struggles of Long-Term Care Residents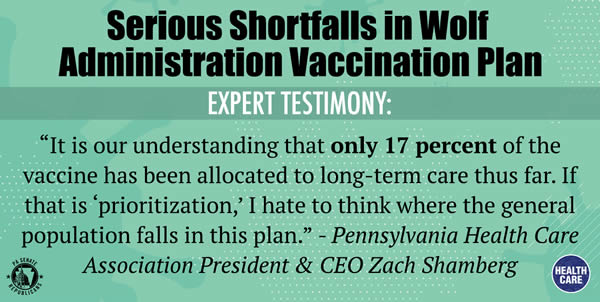 The Wolf Administration's efforts to care for residents of long-term care facilities was called into question again during a joint Senate hearing regarding the state's stunted rollout of the COVID-19 vaccine.
The Senate Health and Human Services Committee, chaired by Senator Michele Brooks (R-50), and the Senate Aging and Youth Committee, chaired by Senator Judy Ward (R-30), heard testimony on the state vaccine distribution plan from representatives from the Pennsylvania Department of Health, hospitals, long-term care advocates and pharmacies.
The hearing included testimony on a wide range of issues, including delays in administering first doses after they have been allocated to the state; abrupt changes in guidance and vaccine eligibility criteria from the state; a lack of information on providers who have available doses of the vaccine, particularly for older Pennsylvanians who are not familiar with new technology; inadequate supply of vaccines from the federal government; ensuring providers adhere to guidance and provide vaccines only to eligible individuals; and expanding vaccine access to rural areas.
"The hearing today was very constructive in identifying how the department can move forward on a quicker and more accessible path, to help Pennsylvanians who want to receive the COVID-19 vaccine in a way that is more streamlined and less chaotic," Sen. Michele Brooks said. "In my ongoing discussions with the department, I will continue to advocate for significantly larger vaccination clinics and a more nimble local process."
The struggles of long-term care facilities to vaccinate residents and staff was the most prominent area of discussion. Senator Ward shared her frustrations about how the slow roll-out of the vaccine is impacting the residents of these facilities, who have suffered immensely throughout the pandemic.
"I feel like it's déjà vu because providers testified before us last year about their struggle to obtain PPE and testing for vulnerable residents," Senator Ward said. "Now providers are pleading once again to the state to get help with vaccines. They are in an awful position of waiting, while their residents don't have that kind of time on their side."
According to the U.S. Centers for Disease Control data tracker, as of the day of the hearing, Pennsylvania ranked 45th in the percentage of received COVID-19 vaccines administered.
Pennsylvania Health Care Association President and CEO Zach Shamberg testified that only 32 of the state's 1,200 assisted living facilities and personal care homes have been scheduled or received their first vaccine, and approximately 150 of the state's 700 nursing homes have not completed their first vaccination clinic.
Shamberg pointed out that while many long-term care residents have been unable to receive the vaccine, the Pennsylvania Department of Health has expanded the list of people who are eligible for the vaccine to include a broader number of Pennsylvanians, including smokers.
"It is our understanding that only 17 percent of the vaccine has been allocated to long-term care thus far. If that is 'prioritization,' I hate to think where the general population falls in this plan," Shamberg said. "Every day without a vaccine is one more day in which we risk the lives of our most vulnerable residents."
Penn Medicine Lancaster General Health Chief Clinical Officer Dr. Michael Ripchinski testified that the abrupt changes in guidance from the Department of Health complicated efforts to vaccinate vulnerable populations.
"When the Department of Health initially set vaccination guidelines for providers, it outlined that the initial limited vaccine supply be given to those most at-risk of illness, such as older adults, health care workers, and Pennsylvanians living in long-term care facilities," Ripchinski said. "Frankly, the health systems and vaccine providers were not ready for the abrupt change and the public believed that they could now somehow get their vaccination faster than before."
Adam Marles, President and CEO of LeadingAge PA, said the state's lack of a clear distribution plan left many long-term care providers scrambling to schedule vaccinations.
"Conflicting messaging about whether personal care homes and assisted living residences were included or not in the state's priority phasing in the vaccination plan happened for more than three weeks," Marles said. "The inconsistencies in access and vaccine administration have left tens of thousands of seniors without a plan for how to receive vaccines."
"It is clear, when reviewing the revised iterations of Pennsylvania's vaccine distribution plan, that there is still no plan to improve access to the vaccine for seniors living in congregate settings," he added.
Peter Becker Community CEO Suzanne Owens described her frustrations about residents not being scheduled to receive vaccinations until March 8. The timeline for her facility was eventually moved up after public outcry resulting from a TV segment highlighting their struggle. However, many similar facilities have not seen the same consideration, she said.
"There is no possible reason that it can be seen as acceptable that such a high percentage of long-term care residents await vaccination on this date in February," Owens said. "The Department of Health should abandon the system they put in place to vaccinate long-term care because it isn't working… Why is our most vulnerable and isolated population so neglected?"
Pennsylvania pharmacists raised concerns about their inability to get enough doses of the vaccine. Bretton Walberg, owner of Walberg Family Pharmacies in Mercer County, outlined a process that allowed them to administer more than 2,500 doses of the vaccine in about 20 hours through community clinics. However, getting the necessary number of doses to conduct these clinics remains a challenge.
"Our common goal of vaccinating our community members as quickly as possible is 100 percent achievable when we have the vaccine available to us. We urge you to let us keep doing what we do best," Walberg said. "We cannot sit back and let the vaccine take up freezer space. People need vaccinated as quickly as possible."
Lehigh Valley Health Network Executive Vice President and Chief Physician Executive Dr. Robert Murphy, Jr. said their health system has the capacity to deliver up to 30,000 vaccinations a week if an adequate supply of doses is available. However, he urged the state not to apply a one-size-fits-all approach to determine vaccination distribution.
"Vaccine distribution should be based on an organization's ability to quickly and efficiently distribute vaccine to the largest number of people across the largest region," he said. "U.S. Department of Health and Human Services data show that LVHN hospitals were caring for the most COVID-19 patients in our communities for many months. That makes us more motivated than ever to get the vaccine to our community."
Murphy also highlighted the efforts of the health network's mobile vaccination teams to vaccinate vulnerable community members in skilled nursing and long-term nursing facilities.
Providers offered several suggestions to improve the state's distribution plan and ensure more vaccines are distributed to eligible Pennsylvanians quickly and efficiently. Acting Secretary of Health Alison Beam expressed a willingness to explore new options to improve the state's distribution plan.
The Wolf Administration has been criticized repeatedly throughout the COVID-19 crisis for failing to protect residents of long-term care facilities. The COVID-19 mortality rate for nursing home and long-term care residents in Pennsylvania remains among the highest in the nation.
Hearing video and written testimony is available at www.pasenategop.com.
Resources Available to Answer Unemployment Claimants' Year-End Tax Questions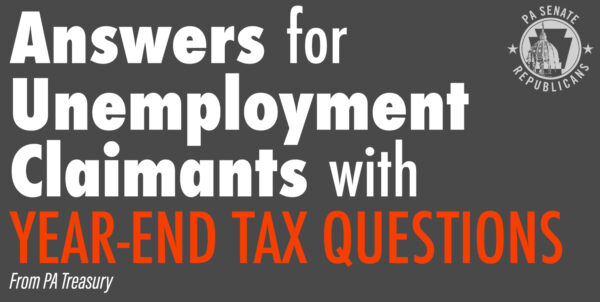 Unemployment claimants who have year-end tax questions can find answers through a new Frequently Asked Questions page developed by Pennsylvania Treasurer Stacy Garrity's office. The page includes information on what claimants should do if they have not received their 1099G, how to dispute the amount reported on a 1099G form, and what Pennsylvanians should do if they receive a 1099G because they were a victim of fraud or identity theft, among other topics.
Information is also available on how state residents can report identity theft and fraud related to unemployment benefits, as well as how Treasury can provide evidence that fraud has taken place so victims of these crimes can resolve the issue. The Department of Labor and Industry also has its own FAQ page that covers questions about how to obtain forms, report fraudulent activity and more.
New Fraud Attempts Target Social Media Users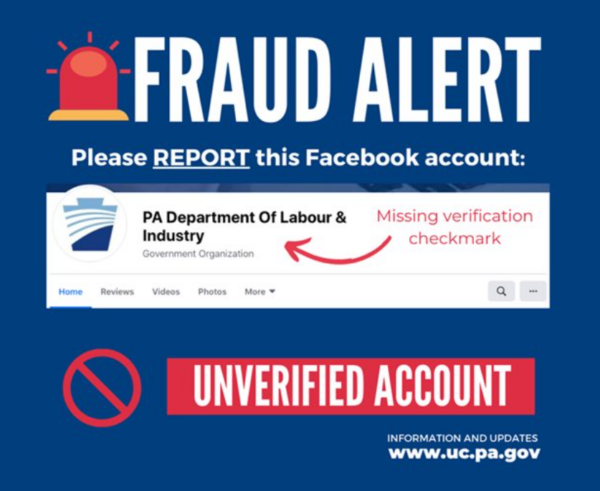 The Pennsylvania Department of Labor and Industry is urging social media users to be on the lookout for fraud attempts involving fake Facebook pages and profiles. By creating fake pages and social media profiles posing as department employees, criminals can attempt to obtain the personal information of Pennsylvanians.
A few helpful reminders:
The department does not communicate directly to claimants through replies to posts or private messages.
The department will never ask individuals to call or text a phone number or send an email.
The department's official Facebook account has a blue check next to the name that identifies it as a verified page.
Pennsylvanians should never divulge personal information to the department through social media.
If you have a question pertaining to unemployment benefits, the contact information for the Department of Labor and Industry is:
2021 Trout Stocking Schedule Available Now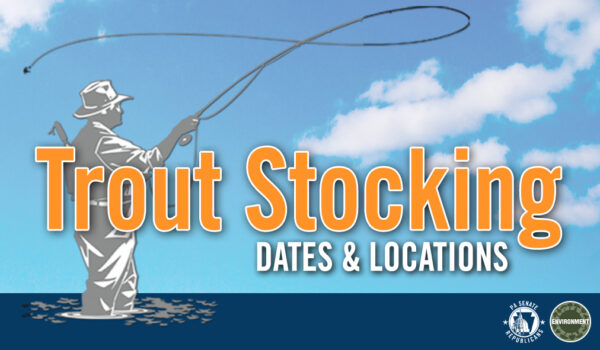 The Pennsylvania Fish and Boat Commission recently announced its 2021 trout stocking schedule for all Pennsylvania waterways. This year, the Pennsylvania Fish and Boat Commission plans to stock approximately 3.2 million trout in 701 streams and 128 lakes open to public angling.
Trout season will officially open on April 3, following a single statewide Mentored Youth Trout Fishing Day on March 27.