Dear Friend,
Thank you for taking the time to read my e-newsletter. These periodic updates allow me to keep constituents informed about state and local issues through email without burdening taxpayers with printing and mailing costs.
If you find this information to be useful, I also invite you to visit my website at www.senatorlangerholc.com and on Facebook or Instagram.  If you do not wish to receive these e-newsletters, please click the unsubscribe button at the bottom of the page.  If you would like to contact my office, please go to my web page and click the contact button.  Please do not reply directly to this e-mail.
Senator Wayne Langerholc, Jr

Harrisburg Happenings
Real ID – October 1, 2020
Real ID is optional for Pennsylvania residents. If you do not get a REAL ID, you must have an alternate form of federally-acceptable identification (valid passport, military ID, etc.) to board domestic commercial flights and enter certain federal facilities after October 1, 2020. Any questions on the process, please feel free to call my Richland Township District Office at (814) 266-2277.
Details and applications: https://www.dmv.pa.gov/realid/pages/default.aspx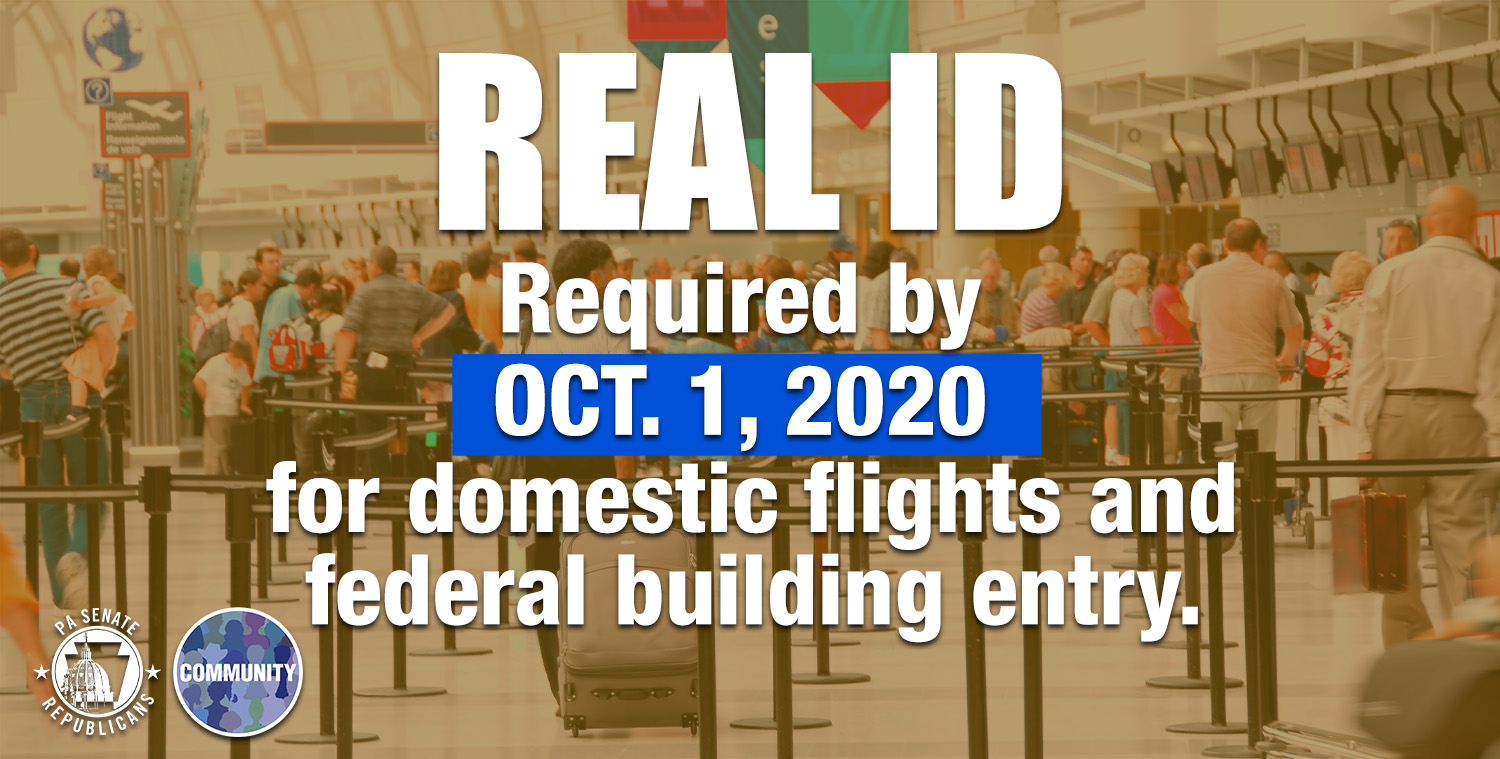 "Talk to your State Senator" – Statewide Video Competition
Attention Middle and High School Students: The 3rd Annual Talk to Your State Senator Statewide Video Competition will be accepting entries until January 31, 2020. For more details, please visit: https://www.legis.state.pa.us/talk-to-your-state-senator/ #farmingfirst #PAFarmShow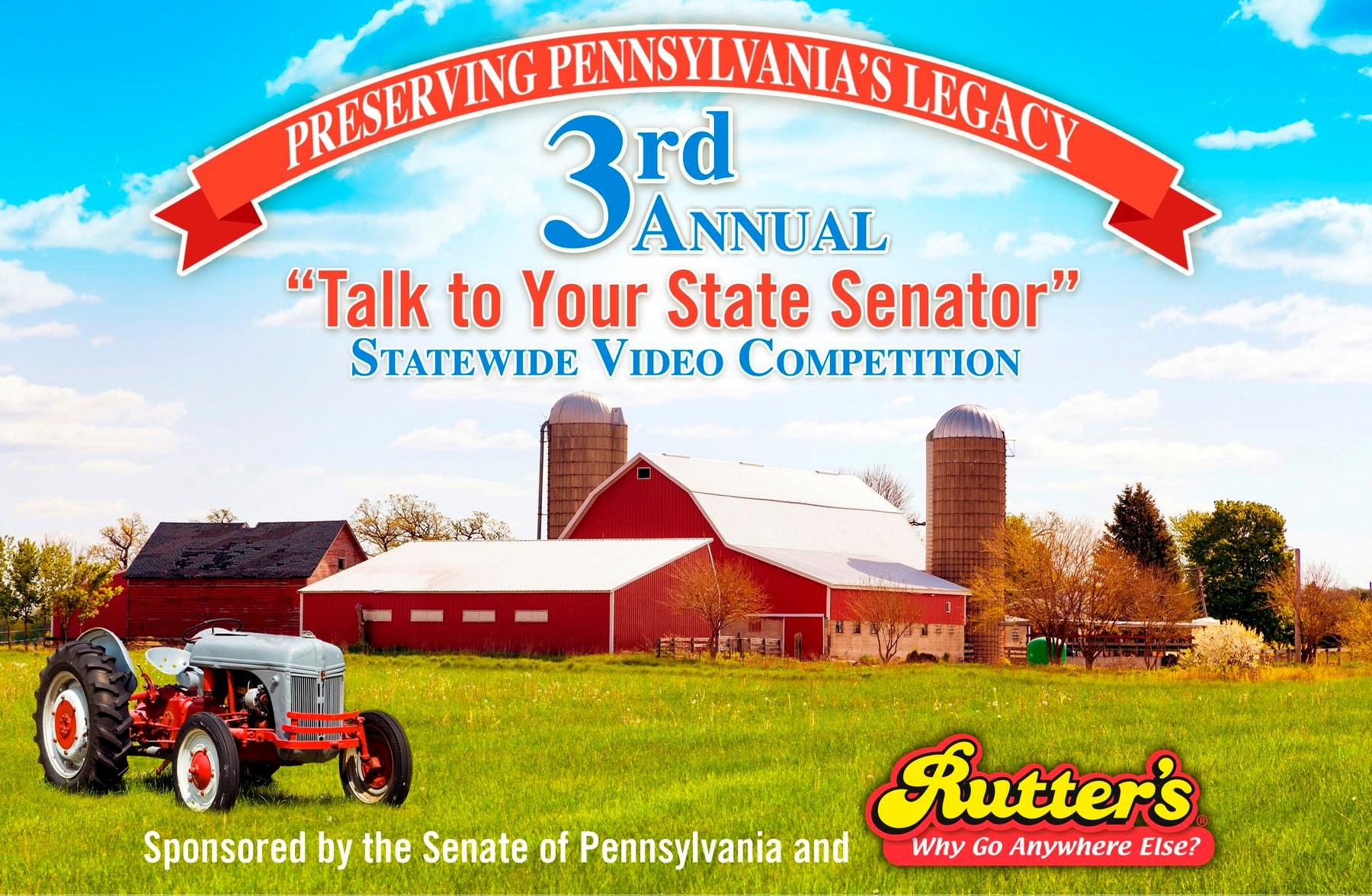 2020 Farm Show Scholarship Foundation Winner
I am pleased to see that Bedford County's own Macy Walason was selected as a 2020 PA Farm Show Scholarship Foundation Winner. I was privileged to meet with Macy as she received her award at the Farm Show. Macy served as the 2018 Bedford County Fair Queen and has been participating at the Farm Show for many years. I wish Macy the very best in her future endeavors.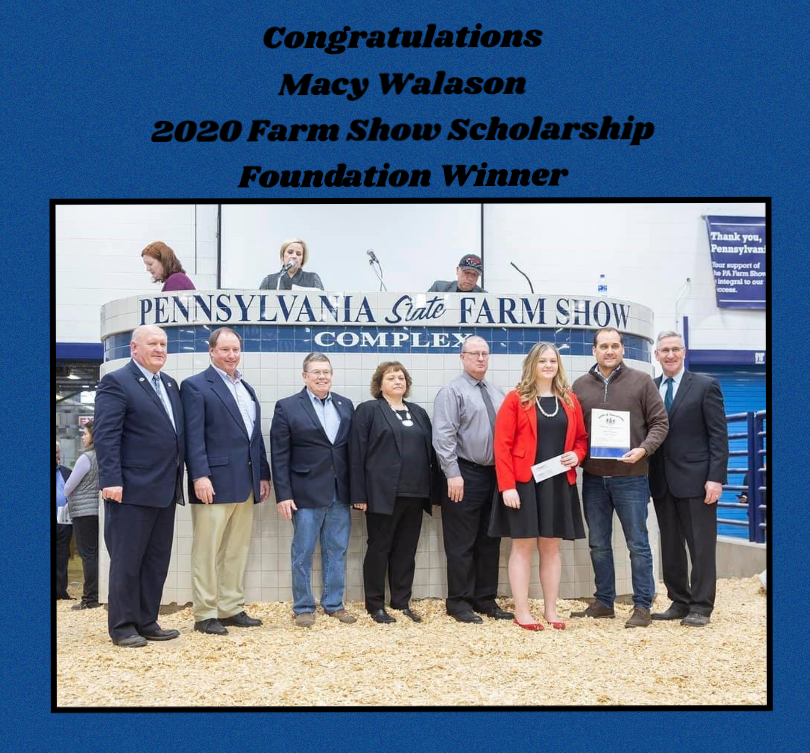 Farm Show Fun
Cortney and I had an opportunity to visit the Pennsylvania Farm Show. It is the nation's largest indoor agricultural event held in Harrisburg with 12,000 competitive exhibits!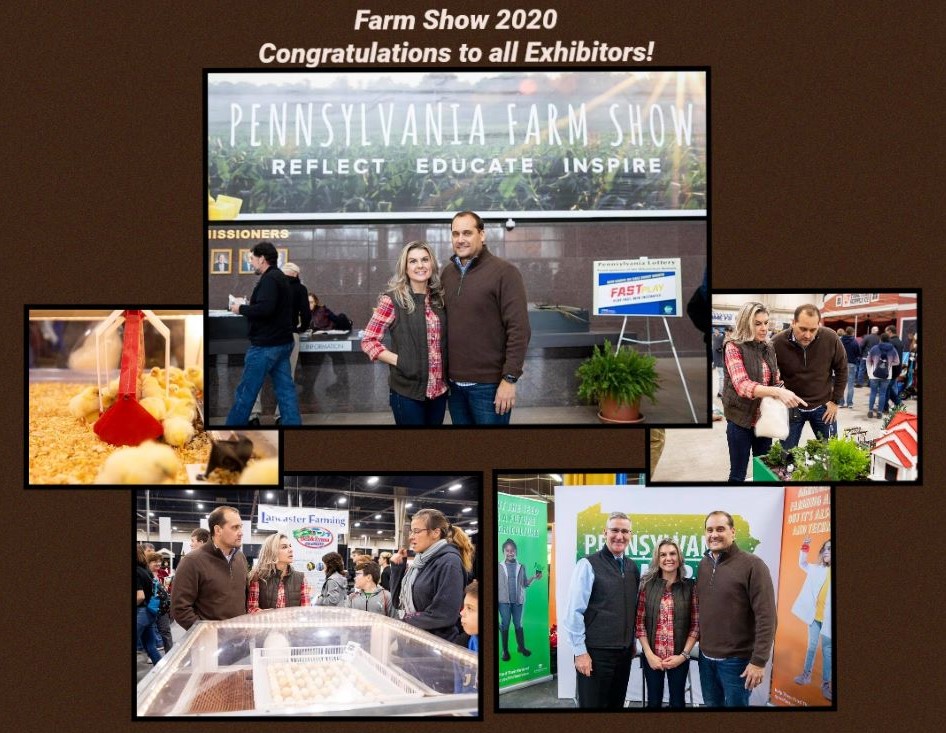 I want to thank Pennsylvania Department of Agriculture Secretary Redding for taking a few minutes to discuss issues important to the farming community and the future of agriculture.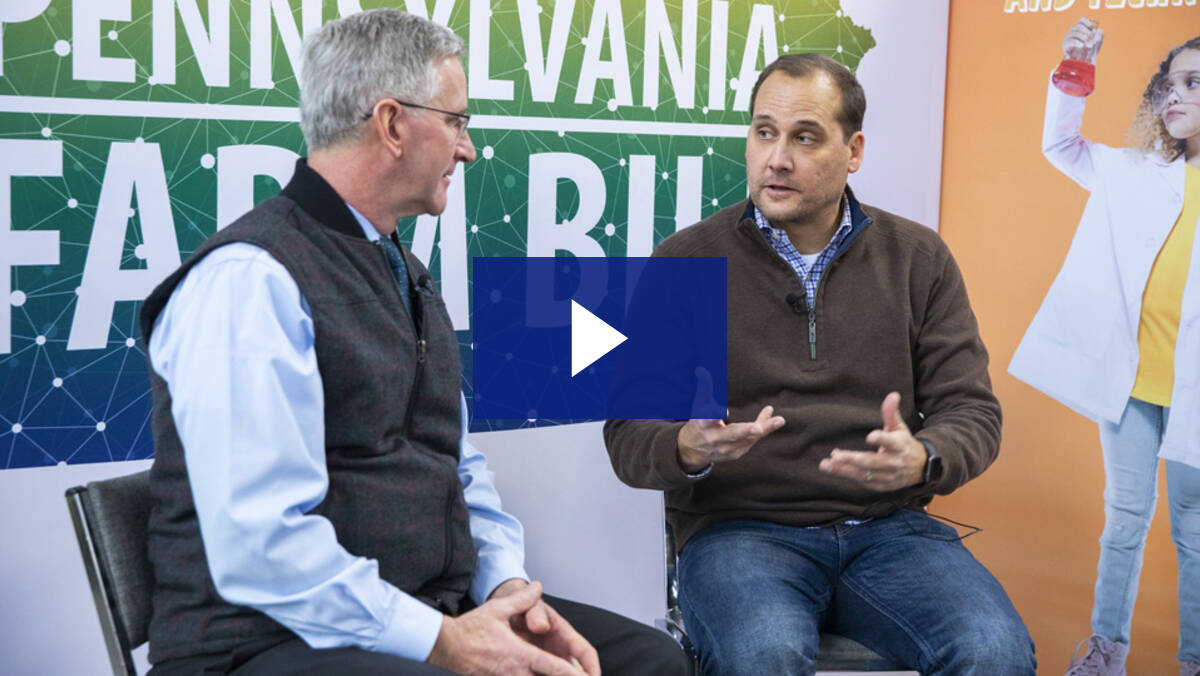 District Happenings
Pennsylvania's 2020 Trail of the Year
Congratulations to the Cambria County Conservation & Recreation Authority for The Ghost Town Trail being named Pennsylvania's 2020 Trail of the Year. We are very fortunate to have the trails that we do throughout the region. If you haven't already gotten the chance to explore Pennsylvania's trails, take time out to explore PA's trail of the year!
https://wjactv.com/news/local/ghost-town-trail-named-2020-trail-of-the-year?fbclid=IwAR13ppDMjIdKKWJxTxjOqZ9ZNZa0Saaw8_cfZ-3OMPDbWRYw3ZM3U4tJU6Y
Celebrating 101st Birthday
I had the honor of presenting a Pennsylvania Senate Citation to Sara Livingston as she is celebrating her 101st birthday. Ms. Livingston has been an outstanding citizen who exemplifies the finest virtues in life. She has won the respect of her many family members, friends and neighbors who have come to know and admire her. I hope her future is filled with much happiness and health. Happy Birthday Sara!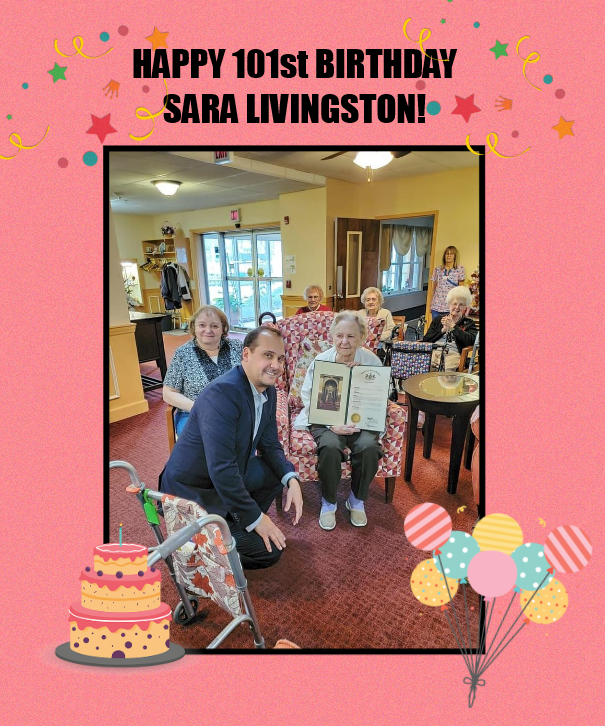 Retirement after 45 Years
I presented Dennis Petimezas with a Pennsylvania Senate Citation as he is retiring after 45 years as owner of Watchmaker's Diamonds & Jewelry in Richland Township, Cambria County.
Established in 1975, Watchmaker's Diamonds and Jewelry has received many business recognition awards since its founding and has served as an integral part of the Johnstown community and this Commonwealth.
Congratulations to Dennis on 45 great years and best wishes on your retirement!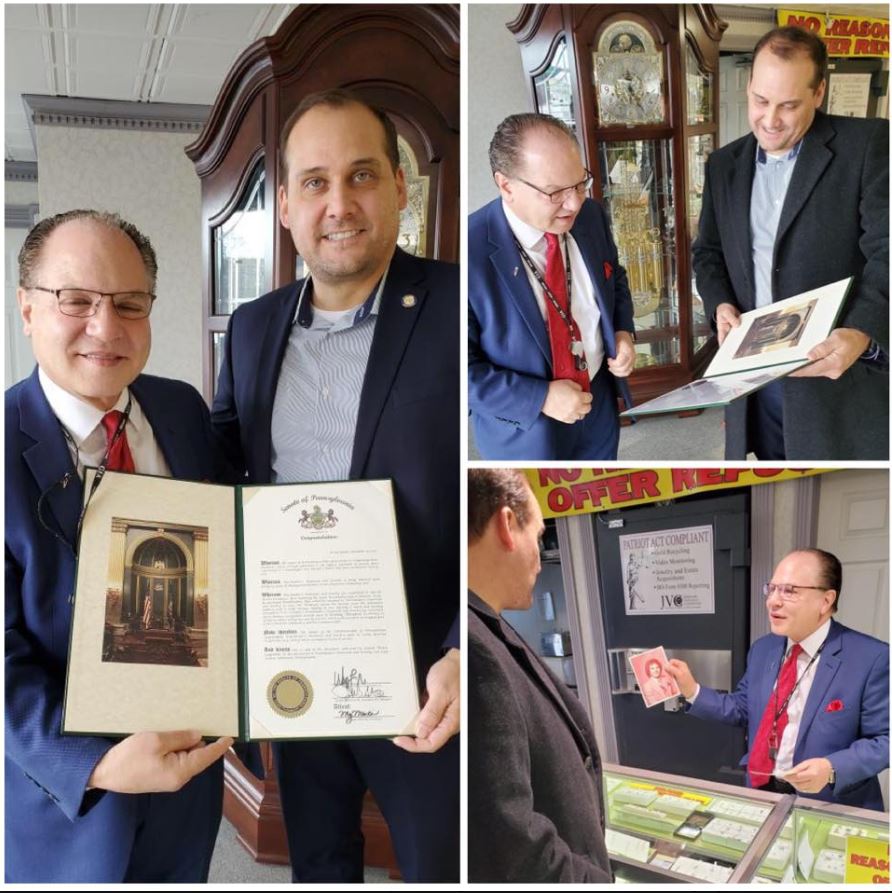 45 Years of Service
On behalf of the Pennsylvania State Senate, I would like to congratulate Lois Pudliner and Bonnie Camblin on 45 years of distinguished service to the Arbutus Park Retirement Community. Throughout their careers, Lois and Bonnie have striven to adhere to the highest standards of service and have rightly earned the respect and admiration of their many friends and colleagues. Congratulations Lois and Bonnie and best wishes for continued success in the years to come.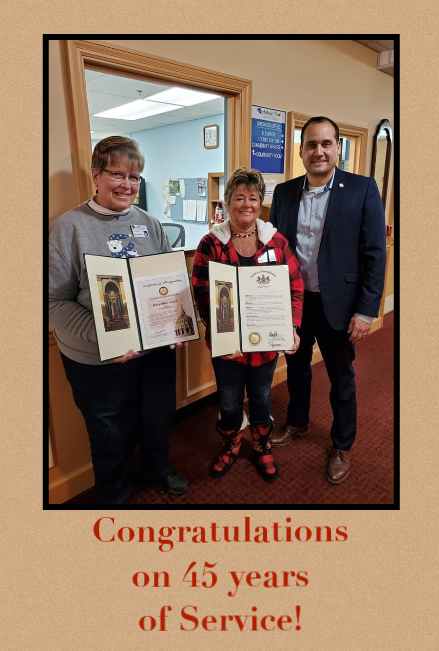 Celebrating 105th Birthday
It was a privilege to present a Pennsylvania State Senate Citation to Ms. Rhea Hornyak celebrating her 105th Birthday. A graduate of Indiana University of Pennsylvania, she served as an English, reading, history, art and music teacher at Portage Area Elementary School for many years.
Over the years, she has proven herself to be an outstanding citizen and has won the respect of her many family members, friends, neighbors and acquaintances who have come to know and admire her. Happy Birthday, Rhea!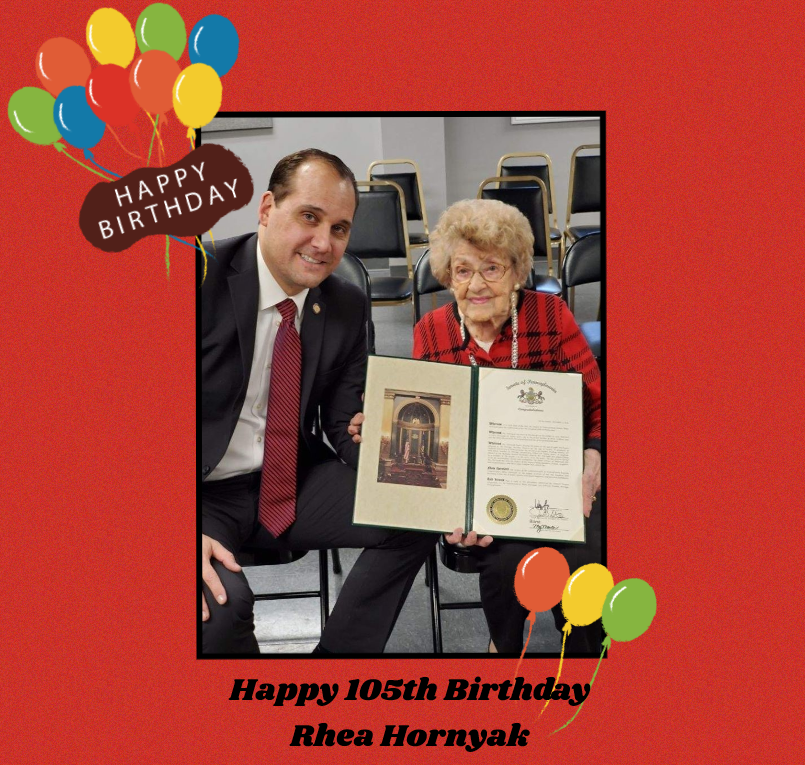 Cambria County Courthouse Retirements
I stopped by the Cambria County Courthouse to present Senate Citations to four long-serving office holders. Susan Kuhar, Patty Sharbaugh, Carla Portash and Debbie Martella are retiring after many extraordinary years working for Cambria County. On behalf of the Commonwealth of Pennsylvania, I want to congratulate them all for their many years of loyalty and service to the residents of Cambria County. Congratulations and best wishes!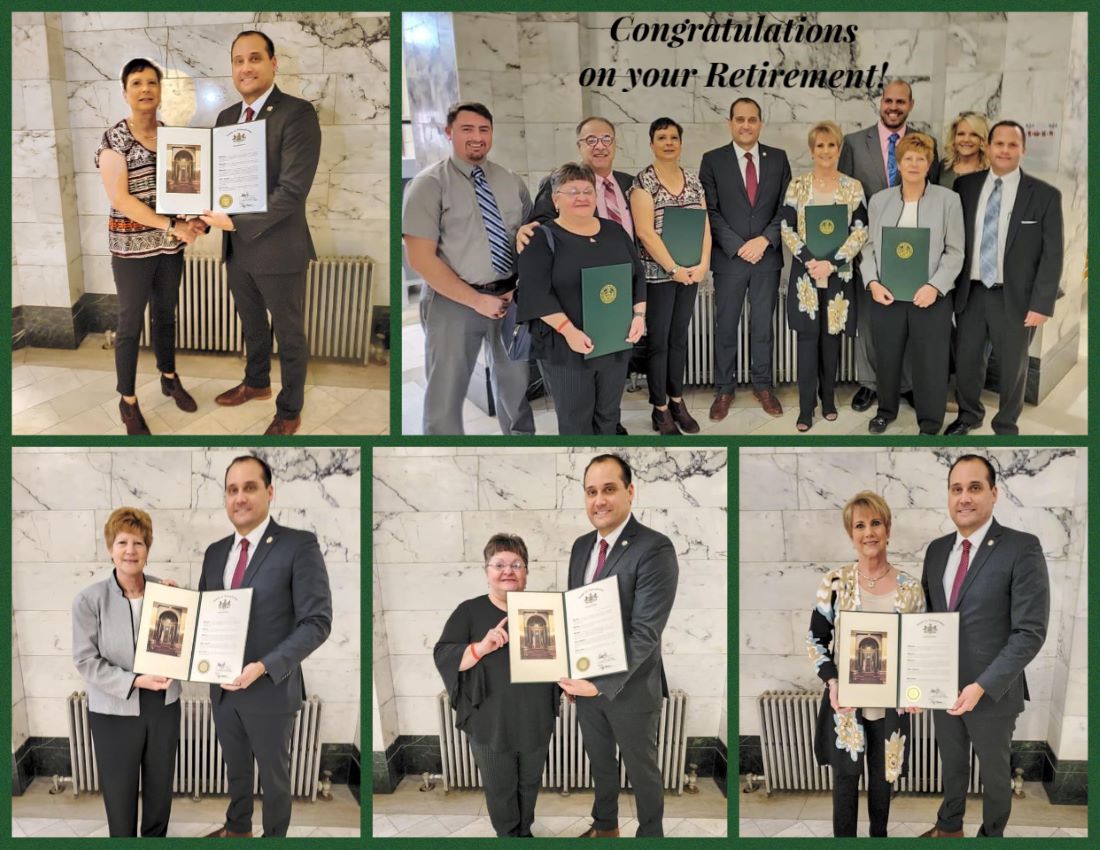 Central Cambria High School Fall Sport District 6 Champions
It was an honor presenting Pennsylvania Senate Citations to many talented student athletes and coaches at the Central Cambria School District. The Central Cambria Girls Tennis Team, Girls Golf Team and both the Boys and Girls Cross Country Teams all won District VI Championships. Also, Stella Kuntz was the District VI Class AA Girls' Individual Cross Country Champion and Olivia and Emma Ratchford captured the District VI Girls' Class AA Doubles Tennis Championship.
It takes many hours of practice and dedication by so many to produce Champions. It is quite evident that there is plenty of hard work and commitment at the Central Cambria School District. Congratulations to all!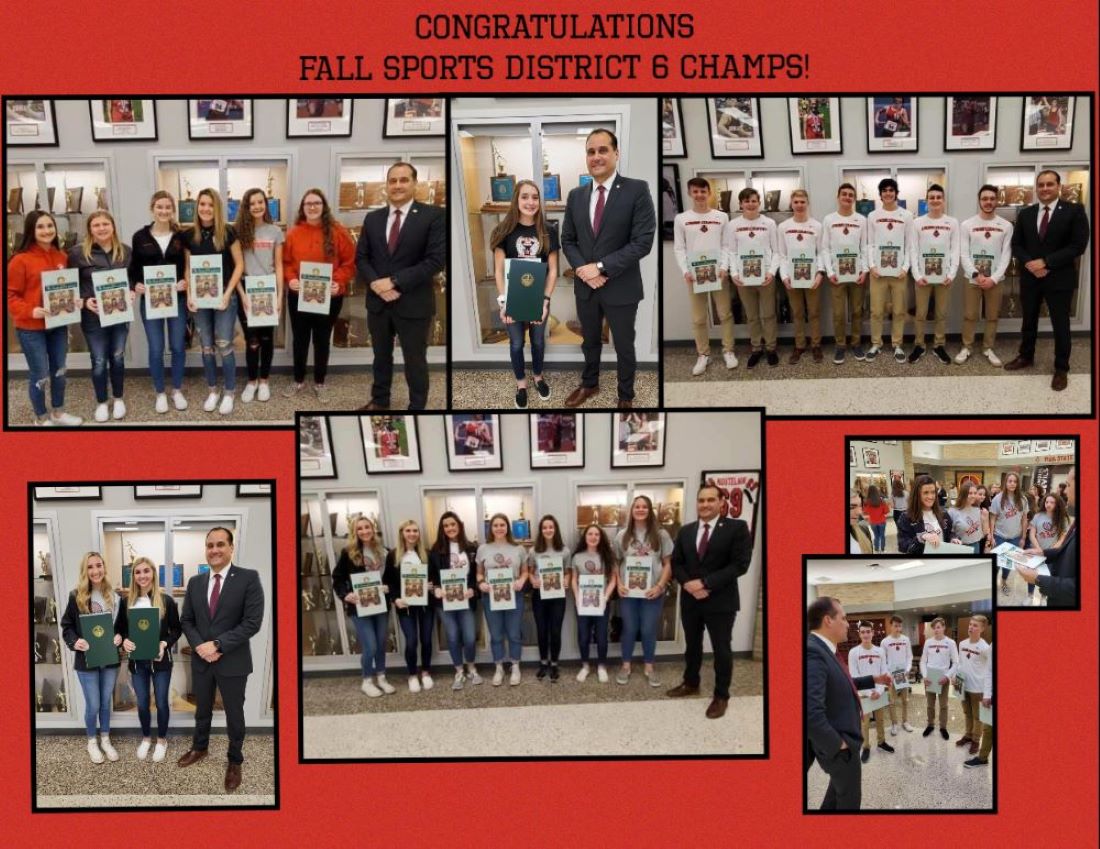 Northern Cambria Girls Volleyball District 6 Champions
I presented Pennsylvania State Senate Citations to the 2019 PIAA State Class A Girls Volleyball Champions from Northern Cambria School District. The Colts defeated Nativity Blessed Virgin Mary High School to capture their second consecutive title. With a season record of 23 wins and 1 loss, they further distinguished themselves during the 2019 season by capturing first place in the Heritage Conference and the PIAA District VI Class A Championships.
Congratulations to Head Coach Mike Hogan, Assistant Coach Jen Dumm and to all team members on yet another fantastic season!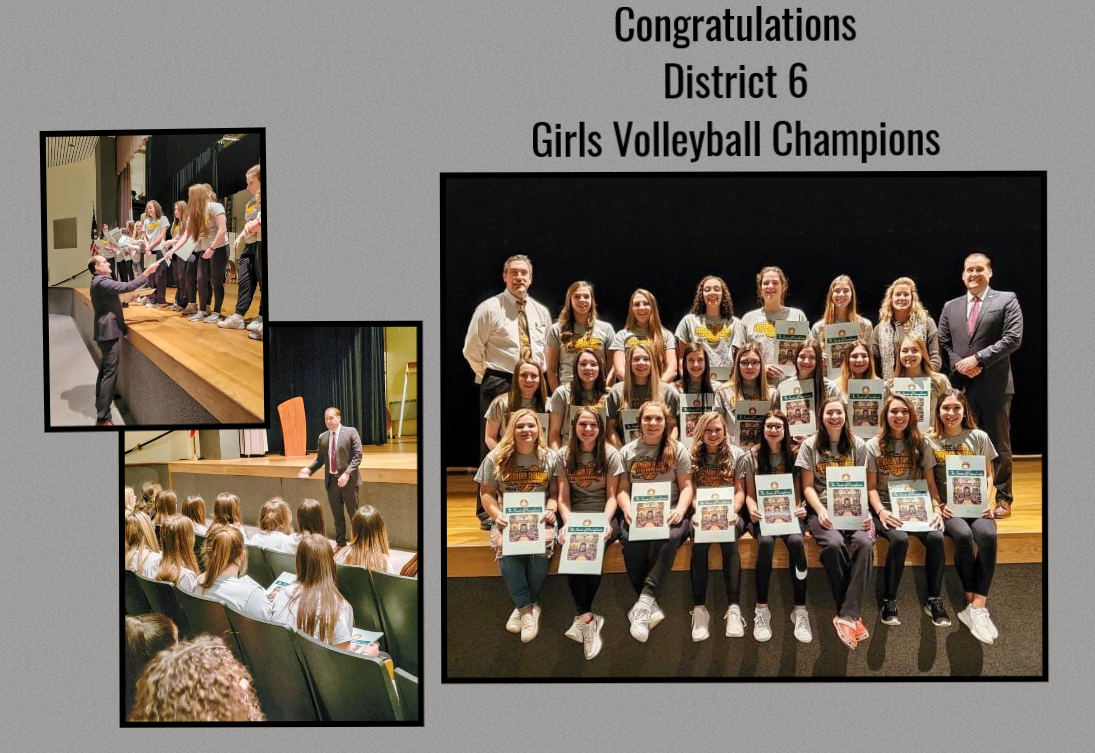 VFW Post No. 155 – 100th Anniversary
I presented a Senate of Pennsylvania Citation to VFW Post No. 155 in Geistown Borough, Cambria County, upon celebrating their 100th Anniversary. VFW Post 155 has more than 400 active members and includes approximately 390 life members. To its great credit, it currently operates under the leadership of Ronald Miller, Commander: George Kohan, Senior Vice Commander; and John Pietron, Quartermaster. Congratulations on your 100th Anniversary!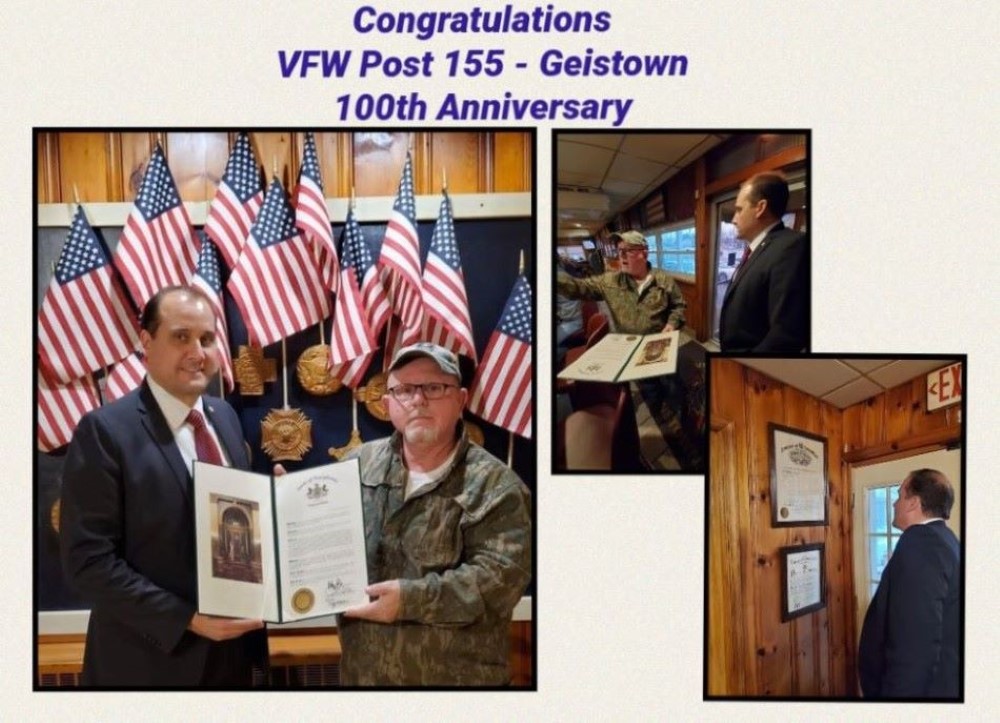 Johnstown YMCA 150th Anniversary
I want to congratulate the Greater Johnstown Community YMCA on celebrating their 150th Anniversary. I presented a Pennsylvania Senate Citation to CEO Shawn Sebring, who recently was named to this position. I wish Shawn well and continued success to the YMCA!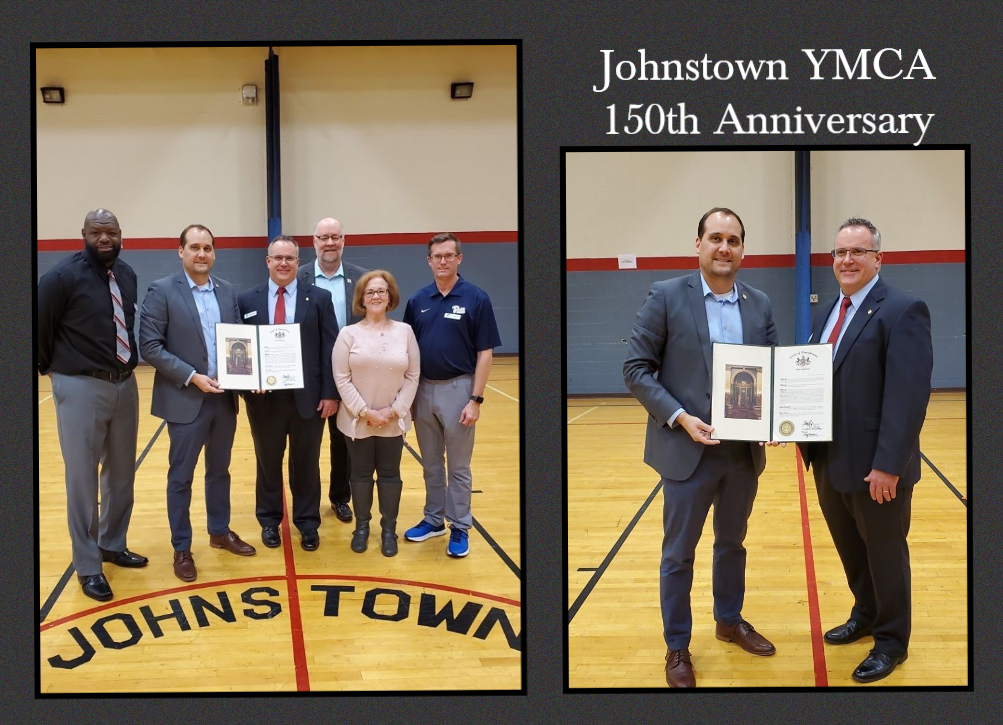 I want to congratulate the Greater Johnstown Community YMCA on celebrating their 150th Anniversary. I presented a Pennsylvania Senate Citation to CEO Shawn Sebring, who recently was named to this position. I wish Shawn well and continued success to the YMCA!

Visitors to Harrisburg
I would like to remind constituents, to please feel free to stop in my office, Room 187, when you are visiting the capitol.  My staff and I welcome the opportunity to say hello to you.  If you are visiting on a session day, I can also introduce you as my guest during session.  Feel free to call 717-787-5400 if you know in advance that you will be visiting the capitol.  If you are interested in a capitol tour, you can schedule your visit online.
How We Can Help You?
Here are some of the ways that my office can assist you:
Assistance with preparation of Property Tax/Rent Rebate claim forms.
Citations from the PA Senate for notable local accomplishments and family milestones.
Information and problems with PA Insurance programs: Medical Assistance and CHIP.
Fishing and hunting information.
Information on financial assistance for higher education.
PennDOT forms for special tags and driver and vehicle services.
Pennsylvania Personal Income Tax forms.
Pennsylvania road maps.
Requests for copies of legislation, bills and regulations.
Requests for literature for students and senior citizens.
Tours of the State Capitol for individuals or groups.
Unemployment compensation issues
Reminder to Follow Me on Social Media
My Facebook page provides not only legislative updates but those all-important PennDOT construction updates for our district. I post pictures of constituents that I meet and information on other local events happening in our neighborhoods and communities. You can also follow me on Twitter and Instagram – my handle is @SenLangerholc. If you haven't already, check out my social media pages.