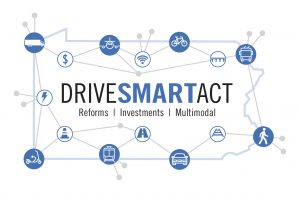 Delivering Reforms and Investments for Vehicle Efficiency and Supporting Motor carriers, Airports, Rails & trails and Transit agencies
Senator Wayne Langerholc, Jr. (R-35)
Chairman, Senate Transportation Committee
Reforms:
Study the PA Department of Transportation's (PennDOT) maintenance funding formula (S.R. 53-Baker).
Create a short-term partnership with the Auditor General and the Treasurer to evaluate cost-saving measures at PennDOT.
Provide a roadmap towards testing driverless Highly Automated Vehicles.
Increase fines for traffic safety laws that receive the most violations, such as unregistered vehicles.
Save the PA Turnpike Commission (PTC) $175 million if they followed the same environmental regulations as PennDOT (co-sponsorship memo-Langerholc).
Provide a vehicle registration discount to subject vehicle owners who improved their air quality in the following counties: Blair, Cambria, Lackawanna, Luzerne, Lycoming, Mercer and Westmoreland.
Reform the Public-Private Transportation Partnership (P3) statute and void the PennDOT Pathways Major Bridges P3 Initiative (S.B. 382-Langerholc).
Require PennDOT to maintain stormwater systems in rural boroughs and towns (S.B. 283-Hutchinson).
Reinstate the registration sticker (S.B. 410-K. Ward).
Create the Clean Transportation Infrastructure Act (S.B. 435-Mensch).
Enhance penalties for offenses in active work zones (S.B. 614-Vogel).
Authorize an e-scooter pilot program in Pittsburgh (co-sponsorship memo-Langerholc and Costa).
Exempt the 5 newest model year vehicles from the emissions test (co-sponsorship memo-Langerholc).
Streamline the home delivery of agricultural products (co-sponsorship memo-Langerholc).
Investments:
Authorize PennDOT to bond for the Interstate Transportation Improvement Program under the innovative federal Grant Anticipation Revenue Vehicles (GARVEE) program ($2 billion).
Create a 5-year pilot program for Electric Vehicles to pay a Mileage Based User Fee ($0.03 per mile) or opt-out and pay an annual fee of $400.
Following S.B. 382–Langerholc, encourage the P3 Board to consider only tolling the I-95 Gerard Point Bridge, which is the longest bridge in the State and includes a double-stack roadway ($600 million).
Dedicate a portion of the American Rescue Plan Act (ARPA) to provide immediate relief for the design and construction of PennDOT's highways and bridges.
Reduce the transfer from the Motor License Fund to the PA State Police (PSP) while ensuring a reliable, sustainable funding source for the PSP (S.B. 242-Pittman).
Provide uniform standards for "peer-to-peer" vehicle rental platforms (S.B. 548-Stefano).
Multimodal:
Dedicate a portion of ARPA for transit capital improvements to provide immediate relief to PTC.
Update Title 74 (Transportation) with an agreed-to proposal from rural and small urban transit agencies, Southeastern Pennsylvania Transportation Authority (SEPTA) and the Port Authority of Allegheny County (PAAC) to better manage transit agencies across the Commonwealth.
Authorize local revenue generating options for SEPTA and PAAC.
Reallocate funding over 5 years from the Public Transportation Trust Fund to support intercity passenger rail facility upgrades.
Dedicate more funding from the Multimodal Transportation Fund for active transportation.
Establish Airport Land Development Zones (S.B. 562-Scavello and Langerholc).
Deregulate small airport hangar development (co-sponsorship memo-Langerholc)
---
Please complete the form below if you would like to provide public input on the DRIVE SMART Act or if you want to submit any other idea to reform and invest in the Commonwealth's multimodal transportation system.