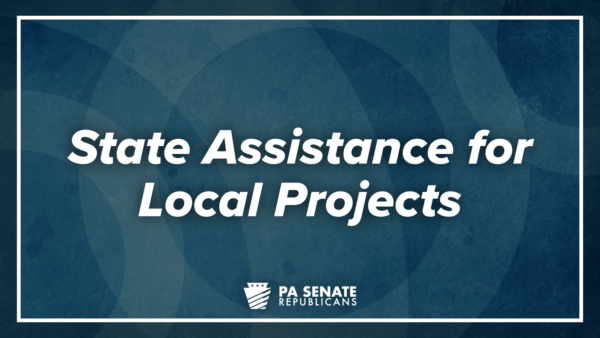 HARRISBURG – Sen. Wayne Langerholc, Jr. (R-35) today announced more than $8 million in Commonwealth Financing Authority (CFA) funding is being awarded for local projects in Cambria, Centre and Clearfield counties.
"The approval of these grants by the CFA will provide immense benefits to our community," Langerholc said. "I look forward to seeing the organizations complete these projects across the 35th Senatorial District to enhance the quality of life for our residents."
Grants were approved for the following projects:
Cambria County
Blacklick Township to replace street signs. $ 28,370
Cambria County Conservation & Recreation Authority for equipment. $172,000
Carrolltown Borough to purchase a new mower and tractor. $25,151
City of Johnstown for the purchase of a new trail maintenance vehicle. $28,115
Conemaugh Township to purchase a multi-use tractor. $65,425
Conemaugh Township to rehabilitate two playgrounds. $51,972
Conemaugh Township Police Department to purchase new equipment. $56,584
Cresson Borough for upgrades to emergency service radios. $300,000
Cresson Borough to install sidewalk and curbing along Keystone Avenue. $366,146
Croyle Township to resurface Oaks Road. $500,000
Croyle Township to resurface Lake Road. $292,000
Daisytown Borough to purchase a dump truck and snowplow. $85,000
Dale Borough to repair a floodwall along Solomon Run. $635,340
East Conemaugh Borough to replace and/or repair stormwater inlets. $140,000
East Taylor Township to purchase a police cruiser. $33,855
Ebensburg Borough to renovate the Ebensburg Borough Pool. $134,600
Ferndale Borough to purchase a police vehicle. $51,750
Franklin Borough for the demolition of 11-blighted properties. $170,000
Franklin Borough for the purchase of new fire. $83,925
Franklin Borough for the purchase of a multi-functional tractor. $87,053
Geistown Borough for a winter maintenance vehicle. $62,183
Jackson Township Water Authority for a new water authority vehicle. $61,700
Lower Yoder Township for the purchase of a backhoe and dump truck.$187,984
Nanty Glo Borough to repair the Davis Run Reservoir. $66,616
Northern Cambria Borough for the construction of a new fire station. $500,000
Richland Township to rehabilitate Luray Avenue Park. $935,100
Stonycreek Township for playground equipment. $220,840
Stonycreek Township for three dash cameras and 10 body cameras $32,085
Centre County
Huston Township Authority for the replacement of grinder pumps. $166,480
Moshannon Valley Economic Development Partnership for EMS building project. $200,000
Patton Township for improvements on Toftrees Avenue. $200,000
Rush Township for improvements along Richard Street. $129,600
Clearfield County
Beccaria Township for the purchase of a mowing tractor. $ 148,428
Burnside Borough to purchase a plow truck. $ 71,873
Curwensville Borough for streetscape improvements. $525,000
Grampian Borough for ADA accessibility and renovations at the fire hall. $ 31,750
Gulich Township to pave two roads in the Village of Morann. $160,958
Lawrence Township for repairing a bridge. $ 80,000
Penn Township to repave three roads. $210,000
Funding for the projects is being provided through the CFA which was established in 2004 as an independent agency of the Pennsylvania Department of Community and Economic Development to administer the commonwealth's economic stimulus packages. Specifically, the projects were awarded through the Local Share Account (LSA) and the Multimodal Transportation Fund (MTF).
CONTACT: Gwenn Dando