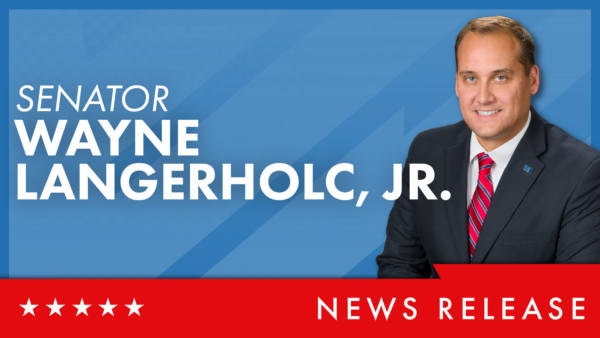 HARRISBURG – Sen. Wayne Langerholc, Jr. (R-35) announced today the investment of more than $11 million for two local water infrastructure improvement projects through the Pennsylvania Infrastructure Investment Authority (PENNVEST).
"Ensuring our communities continue to have clean and accessible water infrastructure is essential," Langerholc said. "Today's funding announcement will dramatically improve the health and reliability of our water infrastructure facilities, and I am thankful to PENNVEST for recognizing the importance of these two projects."
The Curwensville Municipal Authority in Clearfield County received $2,498,800 through a non-repayment grant toward the replacement of its outdated sanitary sewer infrastructure. The Portage Area Sewer Authority in Cambria County received $8,608,600 to help address flooding issues within its wastewater treatment plant.
The projects received the necessary funding through low-interest loans and non-repayment grants, which come from a combination of state funds approved by voters, federal grants to PENNVEST from the U.S. Environmental Protection Agency and recycled loan repayments from previous PENNVEST funding awards. The funding is provided for sewer, stormwater and water projects.
Langerholc was recently appointed by Senate President Pro Tempore Kim Ward (R-39) to serve on PENNVEST's Board of Directors.
"As chair of the Senate Transportation Committee, Sen. Langerholc's deep knowledge of how infrastructure plays a critical role in advancing economic opportunity made him a natural choice for the PENNVEST Board of Directors," said Ward. "I am confident that Sen. Langerholc's experience will not only help PENNVEST achieve their environmental and economic development improvements through water infrastructure, but also prepare our communities for future growth."
"I am humbled to be appointed to the PENNVEST Board of Directors by President Pro Tempore Ward," Langerholc said. "I am ready to work with the other board members to achieve environmental improvements and economic developments for my district and throughout Pennsylvania."
PENNVEST was founded on March 1, 1988, to serve the communities and citizens of Pennsylvania by funding sewer, storm water and drinking water projects. PENNVEST holds regular board meetings to discuss projects, grant applications, milestones and more.
CONTACT: